Press translations [Japan]. Political Series 0226, 1946-01-26.
translation-number: political-0940
call-number: DS801 .S85
---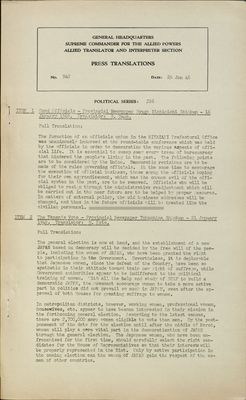 (View Page Image)
GENERAL HEADQUARTERS

SUPREME COMMANDER FOR THE ALLIED POWERS

ALLIED TRANSLATOR AND INTERPRETER SECTION

PRESS TRANSLATIONS

POLITICAL SERIES: 226

ITEM 1 Good Officials - Provincial Newspaper Hyuge Nichinichi Shimbun - 16 January 1946. Translator: S. Sano.
Full Translation:

The formation of an officials union in the MIYAZAKI Prefectural Office was unanimously indorsed at the round-table conference which was held by the officials in order to democratize the various aspects of official life. It is essential to sweep away ever trace of bureaucracy that hindered the people's living in the past. The following points are to be considered by the Union. Democratic revisions are to be made of the rules governing officials. At the same time to encourage the execution of official business, those among the officials hoping for their own aggrandizement, which was the common evil of the official system in the past, are to be removed. Officials who will be obliged to resign through the administrative readjustment which will be carried out in the near future are to be helped by proper measures. In matters of external policy, the old business addresses will be changed, and thus in the future officials will be treated like the civilian personnel.

ITEM 2 The Women's Vote - Provincial Newspaper Tokushima Shimbun - 21 January 1946. Translator: H. Kato.
Full Translation:

The general election is now at hand, and the establishment of a new JAPAN based on democracy will be decided by the free will of the people, including the women of JAPAN, who have been granted the right to participation in the Government. Nevertheless, it is deplorable that Japanese women, since the defeat of the Country, have been so apathetic in their attitude toward their new right of suffrage, while Government authorities appear to be indifferent to the political training of women. With all the help and study of SCAP to build a democratic JAPAN, the movement encourage women to take a more active part in politics did not prevail so much in JAPAN, even after the approval of both Houses for granting suffrage to women.

In metropolitan districts, however, working women, professional women, housewives, etc. appear to have become interested in their mission in the forthcoming general election. According to the latest census, there are 2,700,000 more women eligible to vote than men. By the postponement of the date for the election until after the middle of March, women will play a more vital part in the democratization of JAPAN through the general election. The Japanese women, who have been enfranchised for the first time, should carefully select the right candidates for the House of Representatives so that their interests will be properly represented in the Diet. Only by active participation in the coming election can the women of JAPAN gain the respect of the women of other countries.

(View Page Image)
POLITICAL SERIES: 226 (Continued)
A spokesman for the Women's division of the Civil Information and Education Section of General Headquarters made the following comments at a recent press conference:

Question: Should we adopt the American way of a preliminary election system in order to check the number of votes.

Answer: I don't think there are such powerful political parties in JAPAN as there are in the UNITED STATES.

Question: What is the policy of education for the enlightment of women and wives in rural areas.

Answer: Newspapers, periodicals, and radios are most effective in this work. In order to actively participate in the Government it is good for women to join a party if they can do so.

Question: What should be done about the fact that newspapers and radios are not available in all localities, especially rural areas?

Answer: It is now under consideration, but moderate measures will be taken in co-operation with Japanese women.

Question: Japanese women recently gained the right to vote not for themselves, but as a gift from the UNITED STATES. What about this?

Answer: The current movement in JAPAN for women to take active part in politics as part of a world movement to obtain greater political freedom for women of the world.

ITEM 3 Fortune of 1946 is Predicted by a Noted Japanese Fortune Teller - Provincial Newspaper The Hyuga Mainichi - 21 January 1946. Translator: S. Hirata.
Summary:

Mr. KODAMA, Donsho, a noted authority on fortune telling in JAPAN went to the UNITED STATES just 32 years ago. He became famous when he predicted the re-election and remarriage of President WILSON. He is said to have a large circle of acquantance in the UNITED STATES. From a scientific point of view, fortune telling may be utterly nonsensical, but it is very well known by Orientals. Let us introduce his prediction of 1946.

JAPAN: Full of troubles all the year round. But it is net impossible to say that hope is still high for her future. The crop of agricultural products will be uncommonly good. Marine products: The catch of fish will be little both in the PACIFIC and in the JAPAN Sea. Earthquakes: Slight ones will take place in districts southward or southwestward of TOKYO. Fire: Scarcely any big ones. Finance: No calamitous inflation will take place. The UNITED STATES will be occupied with an abundance of conferences. The best crop of agricultural products is predicted. Union of Soviet Socialist Republics: Rehabilitation of economy will progress favorably. BRITAIN will be troubled by continuous domestic quarrels like those between husband and wife. CHINA: Politically stormy. Good crop of agricultural products. KOREA: Bad crop of rice on account of rains and floods. The Progressive Party: Omens unfavorable. Will be greatly disappointed. Full of internal struggles. The Liberal Party: Extremely auspicious. The Emperor: Sound and safe in every sense of the word. H.R.H. the Crown Prince: Will travel much to improve his culture. General MacARTHUR: His good administration will resemble that of the famous Chinese general in ancient times—KON-MIN, who surrendered the southern barbarous states. Karshal STALIN: Will decline in his health on account of illness. Will be unable to recover good health which he

- 2 -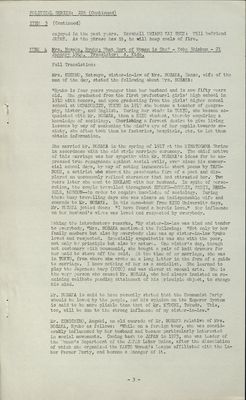 (View Page Image)
POLITICAL SERIES: 226 (Continued)
enjoyed in the past years. Marshall CHIANG KAI SHEK: Will befriend JAPAN. As the phrase has it, he will heap coals of fire.

ITEM 4 Mrs. Nosaka, Ryuko; What Sort of Woman is She? - Kobe Shimbun - 21 January 1946. Translator: A. Kido.
Full Translation:

Mrs. KUZUNO, Hatsuyo, sister-in-law of Mrs. NOSAKA, Sanzo, wife of the man of the day, stated the following about Mrs. NOSAKA:

"Ryuko is four years younger than her husband and is now fifty years old. She graduated from the first prefectural girls' high school in 1910 with honors, and upon graduating from the girls' higher normal school at OCHANOMIZU, TOKYO in 1917 she became a teacher of geography, history, and English. During her study in TOKYO, she became acquainted with Mr. NOSAKA, then a KEIO student, thereby acquiring a knowledge of sociology. Cherishing a fervent desire to give living lessons by way of awakening the mind's eye of her pupils towards society, she often took them to factories, hospitals, etc. to let them obtain information.

She married Mr. NOSAKA in the spring of 1917 at the MINATOGAWA Shrine in accordance with the old style marriage ceremony. The chief motive of this marriage was her sympathy with Mr. NOSAKA's ideas for he expressed true repugnance against social evils, ever since his commercial school days, by way of noting innumerable short poems by TAKUBOKU, a satirist who showed the passionate fire of a poet and displayed an uncommonly refined character that had attracted her. Two years later she went to ENGLAND with her husband. In spite of persecution, the couple travelled throughout EUROPE—BERLIN, PARIS, BRUSSELS, MOSCOW—in order to acquire knowledge of sociology. During these busy travelling days she was always an indispensable wife and comrade to Mr. NOSAKA. In his memo-book from KEIO University days, Mr. NOSAKA jotted down: "I have found a heroic love." Her influence on her husband's views was loved and respected by everybody.

Making the introductory remarks, "My sister-in-law was kind and tender to everybody, "Mrs. NOSAKA mentioned the following: "Not only by her family members but also by everybody else was my sister-in-law Ryuko loved and respected. Especially sympathetic was she with the poor, not only by principle but also by nature. One winter's day, though not customary with housemaid, she bought a pair of knit drawers for her maid to stave off the cold. At the time of my marriage, she was in TOKYO, from where she wrote me a long letter in the form of a guide to marriage. I know nothing of her as a socialist. She learned to play the Japanese harp (KOTO) and was clever at manual arts. She is the very person who caused Mr. NOSAKA, who had always insisted on remaining celibate pending attainment of his principle object, to change his mind.

Mr. NOSAKA is said to have recently stated that the Communist Party should be loved by the people, and his opinion on the Emperor System is said to be more pliable than that of Mr. KYUCHI, Tokudo. This, too, will be due to the strong influence of my sister-in-law."

Mr. ZENICHIRO, Aogaki, an old comrade of Mr. NOSAKA relative of Mrs. NOSAKA, Ryuko as follows: "While on a foreign tour, she was considerably influenced by her husband and became particularly interested in social movements. Coming back to JAPAN in 1923, she was leader of the Women's Department of the JAPAN Labor Union, after the dissolution of which she organized the KANTO Women's League affiliated with the Labor Farmer Party, and became a manager of it.

- 3 -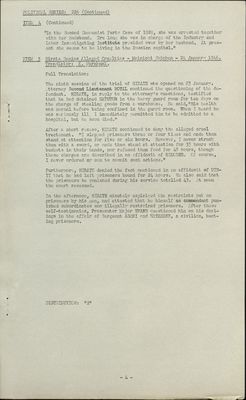 (View Page Image)
POLITICAL SERIES: 226 (Continued)
"In the Second Communist Party Case of 1928, she was arrested together with her husband. Ere long she was in charge of the Industry and Labor Investigating Institute presided over by her husband. At present she seems to be living in the Russian capitol."

ITEM 5 Hirate Denies Alleged Cruelties Mainichi Shimbun 24 January 1946. Translator: K. Murakami.
Full Translation:

The ninth session of the trial of HIRATE was opened on 23 January. Attorney Second Lieutenant ROYAL continued the questioning of the defendant. HIRATE, in reply to the attorney's questions, testified that he had detained SATUTON in the heavy guard room for ten days on the charge of stealing goods from a warehouse. He said, "His health was normal before being confined in the guard room. When I heard he was seriously ill. I immediately permitted him to be admitted to a hospital, but he soon died."

After a short recess, HIRATE continued to deny the alleged cruel treatement. "I slapped prisoners three or four tines and made them stand at attention for five or six hours. However, I never struck them with a sword, or made them stand at attention for 33 hours with buckets in their hands, nor refused them food for 48 hours, though these charges are described in an affidavit of REDCREE. Of course, I never ordered my men to commit such actions."

Furthermore, HIRATE denied the fact mentioned in an affidavit of UINTI that he had left prisoners bound for 24 hours. He also said that the prisoners he punished during his service totalled 43. At noon the court recessed.

In the afternoon, HIRATE minutely explained the restraints put on prisoners by his men, and attested that he himself as commandant punished subordinates who illegally restrained prisoners. After these self-testimonies, Prosecutor Major EVANS questioned him on his dealings in the affair of Sergeant ASARI and WATANABE, a civilian, beating prisoners.

DISTRIBUTION: "X"

- 4 -