Press translations [Japan]. Political Series 0174, 1946-01-12.
translation-number: political-0731
call-number: DS801 .S85
---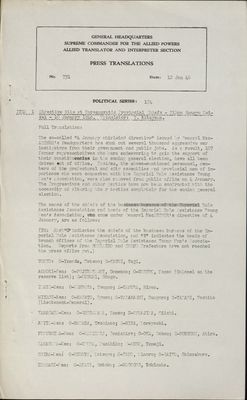 (View Page Image)
GENERAL HEADQUARTERS

SUPREME COMMANDER FOR THE ALLIED POWERS

ALLIED TRANSLATOR AND INTERPRETER SECTION

PRESS TRANSLATIONS

POLITICAL SERIES: 174

ITEM 1 Directive Hits at bureaucratic Provincial Chiefs - Nihon Sangyo Keizai - 10 January l946. Translator: T. Kitayama.
Full Translation:

The so-called "4 January whirlwind directive" issued by General MacARTHUR's Headquarters has shut out several thousand aggressive war instigators from their government and public jobs. As e result, 107 former representatives who were endeavoring to gain the support of their constituencies in the coming general election, have all been driven out of office. Besides, the above-mentioned personnel, members of the prefectural and city assemblies and provincial men of importance who were connected with the Imperial Rule Assistance Young Men's Association, were also removed from public office on 4 January. The Progressives and other parties have now been confronted with the necessity of altering their tactics completely for the coming general election.

The names of the chiefs of the business bureaus of the Imperial Rule Assistance Association and heads of the Imperial Rule Assistance Young Men's Association, who come under General MacARTHUR's directive of 4 January, are as follows:

(TN: Mark "O" indicates the chiefs of the business bureaus of the Imperial Rule Assistance Association, and "X" indicates the heads of branch offices of the Imperial Rule Assistance Young Men's Association. Reports from HOKKAIDO and EHIME Prefecture have not reached the press office yet.)

TOKXO: O-Yamada, Tatsuo; X-YASUI, Toji.

AOMORI-Ken: O-FUJIBAYASHI, Genemon; O-SHINTO, Kenzo (Colonel on the reserve list); X-KUSUMI, Shogo.

IWATE-Ken: O-KENBOTA, Tsuguo; X-TAMURA, Hiken.

MIYAGI-Ken: O-NAGATO, Ryuzo; O-TAKAHASHI, Bungoro; X-TAKAGI, Yoshito (Lieutenant-General).

YAMAGATA-Ken: O-SHIBANAWA, Kenzo; X-KUWAJ
[illegible]
A, Giichi.
AKITA-Ken: O-NAKADA, Yoshinao; X-NITA, Noreyoshi.

FUKUSHWA-Ken: O-MAKIHARA, Genichiro; O-OYA, Gohen; X-NOBECHI, Akira.

KANAGAWA-Ken: O-OKURA, Kunihiko; X-ANDO, Tameji.

CHIBA-Ken: O-KUBOTA, Katsuya; O-YANO, Minoru; O-SAITO, Shinzaburo.

IBARAGI-Ken: O-AKAGI, Sotoku; X-NAGOSHI, Tokinaka.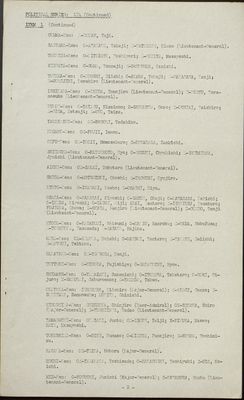 (View Page Image)
POLITICAL SERIES: 174 (Continued)
GUMMA-Ken: K-COKAN, Yuji.

SAITAMA-Ken: O-AYAKAWA, Takeji; X-WATANABE, Kinzo (Lieutenant-General).

TOCHIGI-Ken: O-KITAZATO, Yoshiyori; X-MORITA, Masayoshi.

NIIGATA-Ken: O-SOMA, Tsuneji; X-NAGUNUMA, Kenichi.

TOYAMA-Ken: O-EBOSHI, Eiichi; O-AKANA, Tokuji; X-NAYAGAWA, Kanji; X-MORIJIRI, Korehiro (Lieutenant-General).

ISHIKAWA-Ken: O-CHIDA, Tomojiro (Lieutenant-General); X-KOSYU, Toranosuke (Lieutenant-General).

FUKUI-Ken: O-TAYASU, Nizaimon; O-SAWAMURA, Goro; X-OCHIAI, Keishiro; X-GIGA, Ketsuji; X-UNO, Taizo.

YAMANASMI-Ken: OX-NADORI, Tadahiko.

NAGANO-Ken: OX-FUJII, Iemon.

GIFU-Ken: OX-TORII, Momosaburo; X-KUWABARA, Zenkichi.

SHIZUOKA-Ken: O-MATSUMOTO, Ryo; O-SUZUKI, Chyukichi; K:-SH
[illegible]
BAYAMA, Jyuichi (Lieutenant-General).
AICKI-Ken: OX-SAKAI, Tokutaro (Lieutenant-general).

SHIGA-Ken: O-MOTSUZUXI, Choshi; X-YAGUCHI, Kyujiro.

KYOTO-Ken: O-INAGAKI, Kosho; X-OHASHI, Riyu.

OSAKA-Ken: O-NAKARAI, Kiyoshi; O-SANBE, Choji; O-KAWARADA, Kakichi; O-IKEDA, Kiyoshi; O-YASUI, Miji; ARAI, Eentaro; K-ISHTKURA, Kosaburo; FUJIOKA, Chowa; X-AMAYA, Naojiro (Lieutenant-General); X-GONDO, Denji (Lieuteant-General).

HYOGC-Ken: O-NAGATOMI, Hatsumi; O-MA
[illegible]
IO, Hanroku; X-WADA, Nobufusa; X-YOGHIOKA, Kasusada; X-SASABE, Hajime.
NARA-Ken: OX-U
[illegible]
A, Buichi; O-MATSUI, Tentaro; X-YAMABE, Seiichi; X-MATSUI, Teitaro.
WAKAYAMA-Ken: OX-TS
[illegible]
BOGA, Kenji.
TOTTORI-Ken: O-KURCDA, Fujishige; O-SAKAGUCHI, Hyoe.

SHIMANE-Ken: O-YAMAZAKI, Sanemichi; O-ITOHARA, Taketaro; C-HORI, Gijuro; X-SAKURAI, Saburoemon; X-YAMADA, Takeo.

OKAYAMA-Ken: ISHIHARA, KIichiro (Major-General); K-AKAGI, Genzo; K-SUCIYAMA, Zennosuke; MORIYA, Shinichi.

HIROSHIMA-Ken: SHIGEOKA, Shinjiro (Rear-Admiral); OX-SEGAWA, Shiro (Major-General); X-YOSHIZAWA, Tadao (Lieutenant-general).

YAMAGUCHI-Ken: OKAZAKI, Junto; OX-ISOBE, Teiji; X-KIMUPA, Masao; HATA, Masayoshi.

TOKUSHIMA-Ken: O-MIKI, Kumazo; O-MIZUTA, Fusajiro; X-MAGAO, Yoshimizu.

KAGAWA-Ken: OX-TEIKA, Noboru (Major-General).

KOCHI-Ken: OX-YAMANAKA, Yoshisada; O-NAKAGOSHI, Yoshiyuki; X-UDA, Koichi.

MIE-Ken: O-NOGUCHI, Junichi (Major-General); X-KAWAMURA, Shobu (Lieutenant-General).

- 2 -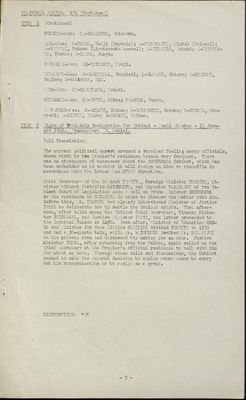 (View Page Image)
POLITICAL SERIES: 174 (Continued)
FUKUOKA-Ken: OX-NAKAMUDA, Shinroku.

SAGA-Ken: C-YOKOO, Keiji (Captain); X-UTSUNOMIYA, Michio (Colonol); K-NOGUCHI, Fukuzo (Lieutenant-Ceneral); K-MIYAJIMA, Hakuki; K-KISHTMA-WA, Yoshio; K-IKEDA, Junya.

NAGASAMI-Ken: OX-WATAKUZU, Ryoji.

KUMANOTO-Ken: O-WASHIYAMA, Shinichi; X-ARAKAWA, Shinro; K-INATOMI, Hajime; X-NAKAHARA, Eii.

CIDA-Ken: OX-KASHIWARA, Koichi.

MIYAZAKI-Ken: OX-SUGIO, Akira; OX-HIDA, Fucho.

KAGOSHIMA-Ken: O-SAKAKI, Shibao; O-SAKAGUCHI, Sosuke; O-KODAMA, Naoyoshi; X-IJICHI, Shiro; X-SAKAKI, Shibao.

ITEM 2 Signs of Wholesale Resignation Now Evident - Asahi Shimbun - 11 January 1946. Translator: R. Ochiai.
Full Translation:

The current political unrest aroused a strained feeling among officials, whose visit to the Premier's residence became very frequent. There was an atmosphere of tenseness about the SHIDEHARA Cabinet, which has been undecided as to whether it will resign en bloc or reshuffle in accordance with the latest MacARTHUR directive.

Chief Secretary of the Cabinet TSUGITA, Foreign Minister YOSHIDA, Minister without Portfolio MATSUHOTO, and Director NARAHASHI of the Cabinet Board of Legislation made a call on Prime Minister SHIDEHARA at his residence at SETAGAYA in order to discuss the matter with him. Before this, Mr. TSUGITA had already interviewed Minister of Justice IWATA to deliberate how to settle the Cabinet crisis. That afternoon, after talks among the Cabinet Chief Secretary, Finance Minister SHIBUSAWA, and Justice Minister IWATA, the latter proceeded to the Imperial Palace at 1430. Soon after, Minister of Education MAEDA and Minister for Home Affairs HORIKIRI visited TSUGITA at 1330 and had a 30-minute talk, while Mr. MATSUMOTO invited Mr. NARAHASHI to his private room and discussed the matter for an hour. Justice Minister IWATA, after returning from the Palace, again called on the Chief Secretary at the Premier's official residence to talk with him for about an hour. Through these calls and discussions, the Cabinet seemed to make its general decision to employ every means to carry out the reorganization or to resign as a group.

DISTRIBUTION: "X"

- 3 -