Press translations [Japan]. Political Series 0159, 1946-01-08.
translation-number: political-0676
call-number: DS801 .S85
---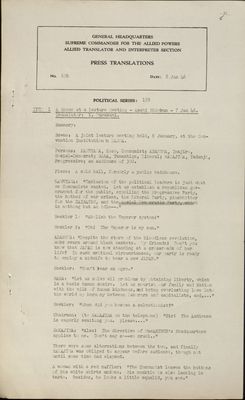 (View Page Image)
GENERAL HEADQUARTERS

SUPREME COMMANDER FOR THE ALLIED POWERS

ALLIED TRANSLATOR AND INTERPRETER SECTION

PRESS TRANSLATIONS

POLITICAL SERIES: 159

ITEM 1 A Scene at a Lecture Meeting - Asahi Shimbun - 7 Jan 46, Translator: K. Murakami.
Summary:

Scene: A joint lecture meeting held, 6 January, at the Convention Institution in KANDA.

Persons: KAMEYAMA, Kozo, Communist; ASANUMA, Inajiro, Social-Democrat; HARA, Tamashige, Liberal; NAKAJIMA, Yadanji, Progressive; an audience of 300.

Place: A cold hall, formerly a public bathhouse.

KAMEYAMA: "Exclusion of the political leaders is just what we Communists wanted. Let us establish a republican government for the public, expelling the Progressive Party, the hotbed of war crimes, the Liberal Party, pinchhitter for the ZAIBATSU, and the Social Democratic Party, which is nothing but an idle—."

Heckler 1: "Abolish the Emperor system!"

Heckler 2: "Oh! The Emperor is my sun."

ASANUMA: "Despite the storm of the bloodless revolution, mobs swarm around black markets. My friends! Don't you know that JAPAN is now standing at a crossroads of her life? In such critical circumstances, our party is ready to employ a midlife to bear a new JAPAN."

Heckler: "Don't bear an ogre."

HAHA: "Let us solve all problems by obtaining Liberty, which is a basic human desire. Let us nourish our family and Nation with the milk of human kindness, and bring everlasting love into the world by harmony between laborers and capitalists, and, . . . "

Heckler: "When did you become a Salvationist?"

Chairman: (to NAKAJIMA on the telephone) "Sir! The Audience is eagerly awaiting you. Please. . . ."

NAKAJIMA: "Alas! The directive of MacARTHUR's Headquarters applies to me. Don't say so—so cruel . . "

There were some altercations between the two, and finally NAKAJIA was obliged to appear before audience, though not until some time had elapsed.

A woman with a red muffler: "The Communist leaves the buttons of his white shirts undone. His necktie is also lacking in taste? Besides, he looks a little squalid, you see."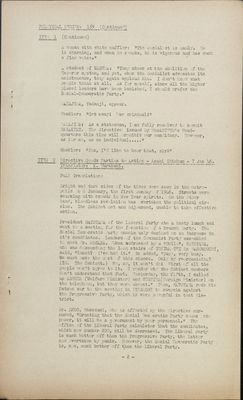 (View Page Image)
POLITICAL SERIES: 159 (Continued)
A Woman with white muffler: "The Socialist is manly. He is charming, and when he speaks, he is vigorous and has such a fine voice."

A student of WASEDA: "They cheer at the abolition of the Emperor system, and yet, when the Socialist advocates its maintenance, they again applaud him. I don't know what people think at all. As for myself, since all the higher placed leaders have bean banished, I should prefer the Social-Democratic Party."

MAKAJIMA, Yadanji, appear.

Heckler: "Get away! War criminal!"

NAKAJIMA: As a statesman, I am fully resolved to commit HARAKIRI. The directive issued by MacARTHUR's Headquarters this time will prohibit our candidacy. However, as for me, as an individual . . . . "

Heckler: "Yes, I'd like to hear that, sir!"

ITEM: 2 Directive Goods Parties to Action - Asahi Shimbun - 7 Jan 46. Translator: K. Murakami.
Full Translation:

Bright and dark sides of the times were seen in the metropolis on 6 January, the first Sunday of 1946. Streets were swarming with crowds in New Year spirits. On the other hand, bloodless revolution has overtaken the political circles. The Cabinetemet and adjourned, unable to take effective action.

President HATOYAMA of the Liberal Party ate a hasty lunch and went to a meeting for the formation of a branch party. The Social Democratic Party unanimously decided on an increase in it's candidates. Leaders the Communist Party assembled to meet Mr. NOSAKA. When addressed by a "Hello", HATOYAMA, who was descending the long stairs of TOKIWA-TEI in MARUNOUCHI, said, "Lunch? I've had it." He added, "Busy, very busy. "We must make the most of this chance. Only by reorganizing? (TN. The Cabinet.) No, no, it won't do! First of all the people won't agree to it. I wonder why the Cabinet members don't understand that fact. Yesterday, the fifth, I called up ASHIDA (Welfare Minister) and YOSHIDA (Foreign Minister) on the telephone, but they were absent." Then, HATOYAMA rode his Datson car to the meeting in ITABASHI to campain against the Progressive Party, which is very powerful in that district.

Mr. ANDO, Masazumi, who is affected by the directive murmured, "Granting that the Social Democratic Party come into power, it will be a government by poor personnel." The office of the Liberal Party calculates that the candidates, which now number 200, will be decreased. The Liberal Party is much better off than the Progressive Party, the latter now overtaken by panic. However, the Social Democratic Party is, now, much better off than the Liberal Party.

- 2 -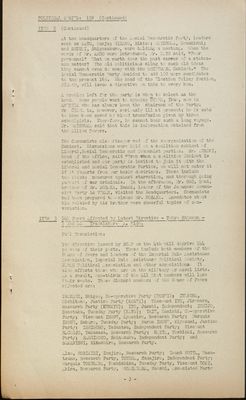 (View Page Image)
POLITICAL SERIES: 159 (Continued)
At the headquarters of the Social Democratic Party, leaders such as KATO, Kanju; HIRANO, Rikizo; MATSUOKA, Komakichi; and SUZUKI, Shigesaburo, were holding a meeting. When the words of Mr. ANDO were introduced, Mr. KATO said, "Poor personnel? What on earth does the past career of a statesmen matter? The old politicians cling to such old ideas they cannot even do away with the SHIDEHARA Cabinet." The Social Democratic Party decided to add 150 more candidates to the present l65. The head of the Election Policy Section, HIRANO, will issue a directive on this to every ken.

A problem left for the party is whom to select as the head. Some people want to appoing ŌYAMA, Ikuo, now in AMERICA who has always been the chairman of the Party. Mr
[illegible]
YMA is, however, seriously ill at present; he is said to have been saved by blood transfusion given by three schoolgirls. Therefore, he cannot bear such a long voyage. Mr. MATSUOKA said that this is information obtained from the Allied Powers.
The Communists also disapproved of the reorganization of the Cabinet. Discussions were hold on a coalition cabinet of Liberal, Social Democratic and Communist parties. Mr. KUROKI, head of the office, said "Even when a coalition Cabinet is established and our party is invited to join it with the Liberal and Social Democratic Parties, we will not enter it if at departs from our basic doctrines. These include two items: measures against starvation, and thorough going pursuit of war criminals. In the afternoon, Mr. ONO, Goni, brother of Mr. NOSAKA, Sanni, leader of the Japanese Communist Party in VENAN, visited the headquarters. Communists had been prepared to welcome Mr. NOSAKA. Anecdotes about him related by his brother were cheerful topics of conversation.

ITEM 3 144 Peers Affected by Latest Directive - Tokyo Shimbun - 7 Jan 45. Translator: A. Kido.
Full Translation:

The directive issued by SCAP on the 4th will deprive 144 persons of their posts. These include both members of the House of Peers and leaders of the Imperial Rule Assistance Association, Imperial Rule Assistance Political Society, JAPAN Political Association and other associations. It also affects those who are on the military or naval lists. As a result, one-thirds of the 411 Diet members will lose their seats. Those diehard members of the House of Peers affected are:

IWANAMI, Shigeo, Co-operative Party (DOSEI); IWAKURA, Michitomo, Justice Party (KOSTEI); Viscount ITO, Jiromaru, Research Party (KENKYU); ITO, Jusshi, Independent; ICHIJO, Sanetaka, Tuesday Party (KAYO); IRIE, Kanichi, Co-operative Party; Viscount INOUE, Kyoshiro, Research Party; Marquis INOUE, Saburo, Tuesday Party; Baron INOUE, Kiyozumi, Justice Party; ISHIGURO, Tadaatsu, Independent Party; Viscount HACHIJO, Takamasa, Research Party; NATTA, Yoshiaki, Research Party; HASHIMOTO, Seinosuke, Independent Party; and SAKANISHI, Rihachiro, Research Party.

Also, HORIKIRI, Zenjiro, Research Party; Count HOTTA, Masatsune, Research Party, TOYODA, Sadajiro, Independent Party; Marquis TOKUGAWA, Yoshichika, Tuesday Party, Viscount DOKI, Akira, Research Party, OGASAWARA, Naoshi, Associated Party

- 3 -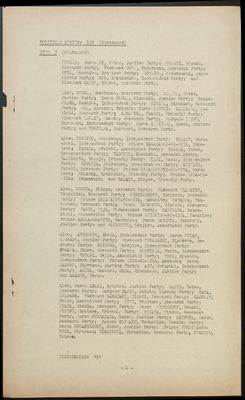 (View Page Image)
POLITICAL SERIES: 159 (Continued)
(DOWA); Baron OI, Motoo, Justice Party; OHASHI, Risuke, Research Party; Viscount OOKA, Tadatsuna, Research Party; OOTA, Masahiro, Research Party; OOTAIRA, Komatsuchi, Associated Party; ONO, Rokuichiro, Independent Party; and Viscount OKABE, Chokei, Research Party.

Also, OGURA, Masatsune, Research Party; KAWADA, Retsu, Justice Party; Baron OKURA, Kimmochi, Justice Party; Prince OYAMA, Kashiwa, Independent Party; OSHIMA, Rikutaro, Research Party; OKA, Kishiro, Friendly Party (KOYU); KAWARADA, Kakichi, Research Party; KAWAMURA, Takeji, Friendly Party; Viscount KAWASE, Makoto, Research Party; Warquis KACHO, Hironobu; Independent Party; Baron KAMIYAMA, Kazui, Justice Party; and YOKOYAMA, Sukenari, Research Party.

Also, YOSHINO, Nobutsugu, Independent Party; TANABE, Harumichi, Independent Party; Prince YAMANASHI-NO-MIYA, Takehiko; TANAKA, Tokichi, Associated Party; TANAKA, Takeo, Co-operative Party; TAGUCHI, Sukeichi, Research Party; TAKESHITA, Toyoji, Friendly Party; TAKI, Masao, Independent Party; TSUGITA, Daisaburo, Co-operative Party; SHIMAZU, Juichi, Research Party; Prince HIGASHIKUNI-NO-MIYA, Naruhiko; NAGAOKA, Ryuichiro, Friendly Party; Prince KAYA-NO-MIYA: Tsunenori; and NAKANO, Shigeo, Friendly Party.

Also, UCHIDA, Shinya, Research Party; Viscount URAMATSU, Tomomitsu, Research Party; KURIBAYASHI, Tokuichi, Research Party; Prince TAKAMATSU-NO-MIYA, Nobuhito; YAMAOKA, Mannosuke, Research Party; Count YAMAMOTO, Kiyoshi, Research Party; YASUI, Eiji, Independent Party; MARUYAMA, Tsurukichi, Cooperative Party; Prince CHICHIBU-NO-MIYA, Yasuhito; Prince ASAKA-NO-MIYA, Hatohiko; Baron MATSUDA, Masayuki, Justice Party; and MATSUMOTO, Kenjiro, Associated Party.

Also, ATSUMOTO, Shoji, Independent Party; Baron FUKAO, Ryutaro, Justice Party; Viscount FUNABASHI, Kiyoksta, Research Party; KOIZUMI, Matajiro, Independent Party; KODAWA, Hideo, Research Party; KOBIYAMA, Naoto, Independent Party; EGUCHI, Teijo, Associated Party; ENDO, Ryusaku, Independent Party; Prince KUNI-NO-MIYA, Asatomo; Baron YASUHO, Kiyotane, Justice; Party; ABE, Nobuyuki, Independent Party; ARITA, Hachiro, HAGA, Mitsutoyo, Justice Party; and AKASMI, Teruo.

Also, Baron ASATA, Ryoitsu, Justice Party; SAITO, Tatsu, Research Party; Marquis SAIGO, Jutoku, Tuesday Party; SAKA, Chiyaki. Viscount SAKATANI, Kiichi, Research Party; SAKONJI, Seizo, Associated Party; YUKI, Toyotaro, Research Party; YUASA, Michio, Research Party; Count MIZOGUCHI, Naoaki, MIZUNO, Rentaro, Friendly Party; MIYATA, Mitsuo, Research Party, Baron SHIBAYAHA, Masao, Justice Party; KATSUDA, Kazue, Research Party; Prince SHIMAZU, Tadashige, Tuesday Party; Baron HIGASHIKUZE, Hideo, Justice Party; Prince FUSHIMI-No-MIYA, Hiroyasu; HIRATSUKA, Hiroshige, Research Party; SENGOKU, Yotaro

DISTRIBUTION "X"

- 4 -