Press translations [Japan]. Political Series 0115, 1945-12-24.
translation-number: political-0496
call-number: DS801 .S85
---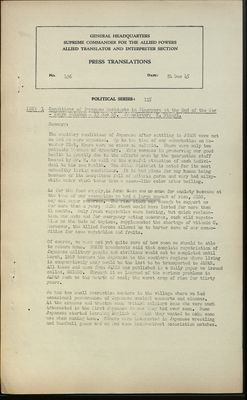 (View Page Image)
GENERAL HEADQUARTERS

SUPREME COMMANDER FOR THE ALLIED POWERS

ALLIED TRANSLATOR AND INTERPRETER SECTION

PRESS TRANSLATIONS

POLITICAL SERIES: 115

ITEM 1 Conditions of Japanese Residents in Singapore at the End of the War - Tokyo Shimbun - 23 Dec 45. Translator: K. Minagi.
Summary:

The sanitary conditions of Japanese after settling in JURON were not so had were expected. Up to the time of our embarkation on November 21st, there were no cases of malaria. There were only two patients because of dysentry. This success in preserving our good health in greatly due to the efforts made by the quarantine staff headed by Dr. II. as well as the careful attention of each individual to his own health. The JURON District is noted for its most unhealthy living conditions. It is bad place for any human being because of its mosquitoes fill of malaria germs and very bad milky-white water which turns into a sauce-like color after boiling.

As for the food supply, in Juron there was no cause for anxiety because at the time of our evacuation we had a large amount of rice, MISO, soy and sugar reserves. The rice stock was enough to support us for more than a year; MISO stock would have lasted for more than 21 months. Only fresh vegetables were lacking, but quick reclamation was made and for emergency eating measures, such wild vegetables as the buds of tapioca, supplemented the shortage of vitamin C. Moreover, the Allied Forces allowed us to barter some of our commodities for some vegetables and fruits.

Of course, we were not yet quite sure of how soon we should be able to return home. TOKYO broadcasts said that complete repatriation of Japanese military people and civilians would not be completed until March, 1949 because the Japanese in the southern regions where living is comparatively easy would be the last to be transported to JAPAN. All these sad news from JAPAN was published in a daily paper we issued called, SHINDO. Through it we learned of the serious problems in JAPAN such as the dearth of coal; the worst crop of rice for thirty years.

We had two small recreation centers in the village where we had occasional performance of Japanese musical concerts and cinemas. At the cinemas and theatre some British soldiers come who were much interested in the first Japanese dances they had ever seen. Some Japanese started learning English of which they wanted to make some use when coming home. Others were interested in Japanese wrestling and baseball games and we had some inter-street association matches.

(View Page Image)
POLITICAL SERIES: 115 (Continued)
After three month's detention following the end of the war, we had an unexpected directive which called for homeward embarkation, much to our great joy. We all expected at least two or three years' time of internment before our repatriation. The order of our departure was decided by lottery. The number of Japanese left in the south are: 120,000 (In MALAYA only). In all the southern areas excepting the PHILIPPINES 600,000.

It is said that the MOUNTBATTEN Headquarters, which is now in INDIA, will move to SINGAPORE soon. In that case, a close connection with all former southern Japanese troops moved from SAIGON to SINGAPORE would be possible. Thus Japanese repatriation will come much earlier because they can use Japanese boats which are now in the south instead of waiting for the arrived of boats from JAPAN.

ITEM 2 Suicide a Problem In War Crime Prosecution - The Minpo - 23 Dec 45. Translator: S. Kawasaki.
Full Translation:

The suicide of Prince KONOE, Fumimaro, who was named as a war crime suspect by Allied Headquarters, will have a great effect upon war crime trials carried out in the future, because the Prince was an important figure and a center of political circles before the war. Actual aspects of the war must be investigated in war criminal trials opened hereafter. Therefore, the existence of KONOE would have been very helpful. As for the suicide of the Prince, there have been certain discussions on the guarding and protecting of war criminals untill the date of their arrival at appointed prisons. From the time the prisoners are named by Allied Headquarters until they are delivered at prison, they are treated in accordance with their station in life. The directives on their arrests are reported to them through the Home Office. Special arrangements are not made, for their safety and protection. However, it is said that, when war crime suspects commit suicide, the Home Office must be responsible, to some degree, for that office is the responsible authority to which the directives of Allied Headquarters are directed. The Home Office has this to say regarding that point:

"According to the directives of Allied Headquarters, in the future, the suspects themselves will receive notices to report. However, concerning guarding and policing after, the issuance of an arrest order, no special directives have been received. The Home Office is responsible for the protection of the suspects as the authorities responsible for transmitting the arrest order. The Home Office has, of course, responsibility for preventing attacks and acts of violence. However, the Home Office has not felt responsible for such suicides".

With regard to this Allied Headquarters has not taken any action yet. The authorities can not protest against suicides, we think, because suicide cannot be prevented by a suspects own family. Moreover, railway trains, gas, poison, rivers, the sea, a lake, a volcano, and falls are all means of suicide and cannot be removed by us. Suicide should be regarded as an act which we cannot prevent.

- 2 -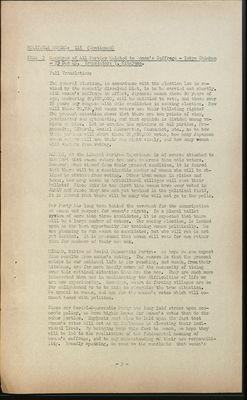 (View Page Image)
POLITICAL SERIES:115 (Continued)
ITEM 3 Measures of All Parties Related to Woman's Suffrage - Tokyo Shimbun - 23 Dec 45. Translator: T. Kitayama.
Full Translation:

The general election, in accordance with the election law as revised by the recently dissolved Diet, is to be carried out shortly. With women's suffrage in effect, Japanese women above 20 years of age, numbering 20,920,000, will be entitled to vote, and those over 25 years may compete with male candidates in seeking election. How will these 20,920,000 woman voters use their balloting rights? The present situation shows that there are two points of view, pessimistic and optimistic, and that opinion is divided among various parties. Let us examine the opinions of all parties, Progressive Liberal, Social Democratic, Communist, etc., as to how these parties will share those 20,920,000 votes, how many Japanese woman voters will use their new right visely, and how many women will abstain from voting.

MAN
[illegible]
, of the Liberal Party:- Importance is of course attached to the fact that woman voters are more numerous than male voters. However, when viewed from their present condition, it is feared that there will be a considerable number of women who will be obliged to abstain from voting. Other than women in cities and towns, how many woman in agricultural villages will cast their ballots? Since this is the first time women have over voted in JAPAN and since they are not yet trained in the political field, it is feared that there will be many who will not go to the polls.
Our Party has long been behind the movement for the emancipation of women and respect for women's rights, In a plural ballet system of more than three candidates, it is expected that there will be a large number of voters. The coming election, is looked upon as the best opportunity for training women politically. We are planning to run women as candidates, but who will run is not yet decided. It is presumed that women will vote for men rather than for members of their own sex.

HIRANO, Rikizo of Social Democratic Party:- We hope we can expect fine results from women's voting. The reason is that the present crisis in our national life is far reaching, and women, from their kitchens, are far more keenly aware of the necessity of tiding over this critical situation than are the men. They are much more interested than men in ameliorating the difficulties of life we are now experiencing. Nowadays, women in farming villages are so far enlightened as to be able to recognize the true situation. We appeal to women, and ask for the women's votes which will connect homes with politics.

Since our Social-Democratic Party has long laid stress upon economic policy, we have higher hopes for women's votes than do the other parties. Emphasis must also be laid upon the fact that women's votes will act as an influence in elevating their individual lives. By bringing homo this fact to women, we hope they will be led to the realization of the fundamental meaning of women's suffrage, and to any understanding of their new responsibility. Broadly speaking, we come to the conclusion a that women's

- 3 -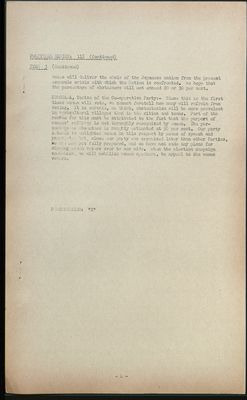 (View Page Image)
POLITIICAL SERIES: 115 (Continued)
votes will deliver the whole of the Japanese nation from the present economic crisis with which the Nation is confronted. We hope that the parcentage of abstainers will not exceed 20 or 30 per cent.

KUROSAWA, Torizo of the Co-operative Party:- Since this is the first times women will vote, we cannot foretell how many will refrain from voting. It is certain, we think, abstentesism will be more prevalent in agricultural villages than in the cities and towns. Part of the reason for this must be attributed to the fact that the purport of womens' suffrage is not throughly recognized by women. The percentage of absentees is roughly estimated at 50 per cent. Our party intends to enlighten women in this respect by means of speech and pamphlet but, since our party was organized later than other Parties, we are not yet fully prepared, and we have not made any plans for winning women voters over to our side. When the election campaign commences, we will mobilize women speakers, to appeal to the women voters.

DISTRIBUTION: "X"

- 4 -