Press translations [Japan]. Political Series 0110, 1945-12-23.
translation-number: political-0471
call-number: DS801 .S85
---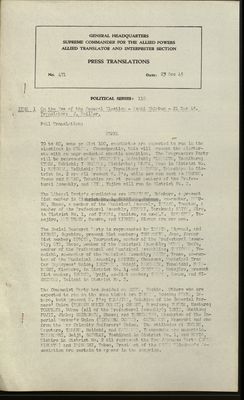 (View Page Image)
GENERAL HEADQUARTERS

SUPREME COMMANDER FOR THE ALLIED POWERS

ALLIED TRANSLATOR AND INTERPRETER SECTION

PRESS TRANSLATIONS

POLITICAL SERIES: 110

ITEM 1 On the Eve of the General Election - Asahi Shimbun - 21 Dec 45. Translator: J. Weiller.
Full Translation:

OSAKA

70 to 80, some predict 100, candidates are expected to run in the elections in OSAKA. Consequently, this will present the electorate with an unprecedented chaotic condition. The Progressive Party will be represented by ICCHIMATSU, Sadakichi; YAMANOTO, Yoshiharu; UYEDA, Kokichi; YOSHIKAWA, Kichirobei; OKAWA, Kozo in District No. 1; KATSUDA, Yeikichi; ISAMA, Toyomitsu; MATSUDA, Takechiyo in District No. 2 are all present M. P's, while new men such as KUSUINO, Yasuo and NAKAO, Takehiro are at present members of the Prefectural Assembly, andKITA, Yujiro will run in District No. 2.

The Liberal Party's candidates are MURAYASU, Shinkuro, a present Diet member in District No. 1, NAKAYAMA, Fukuzo, ex-member, FURUNO, Shuzo, a member of the Municipal Assembly, TAKANO, Tamotsu, a member of the Prefectural Assembly, HINUAMI, Torakumi; ARITA, Jiro, in District No. 1, and TANAKA, Manitsu, an ex-M.P. NAKAGAWA, Tanejiro, MATSUNAGA, Busshu, and KISHIDA, Hisama are new men.

The Social Democrat Party is represented by TAKATA, Kiyocmi, and NISHIO, Suyehiro, present Diet members; TSUKAMOTO, Juzo, former Diet member; KUBOTA, Tsurumatsu, member of the Prefectural Assembly; OYA, Shozo, member of the Municipal Assemblies; MURAC, Shofu, member of the Prefectural and Municipal Assemblies; TAKIGAWA, Yoneichi, ex-member of the Municipal Assembly; MAEDA, Taneo, ex-member of the Municipal Assembly; MATSUDA, Chozaemo, Municipal Tram Car Employees' Union; ISHIWARA, Shinji, KANEKASA, Yonekichi, NAKABASHI, Kisaburo, in District No. 1; and SUGIYAKA, Motojiro, present Diet member; INOUYE, Ryoji, ex-Diet member; TANABA, Osamu, and NISHIMURA, Yeiichi in District No. 2.

The Communist Party has decided on SHICA, Yoshio. Others who are expected to run on the same ticket are TANAKA, Tosaku; OKURA, Saburo, both present M. P's; TERAJIMA, Soichiro of the Imperial Farmers' Union (KOKOKU NOMIN DOMEI);OHASHI, Harufusa; YONEDA, Usaburo; TOKUNAGA, Udane (all of the Prefectural Assembly); ISHII, Sohoitsu; FUJII, Jimbo; SHIRAHATA, Shozo; and YOSHIMATSU, Masakatsu of The Imperial Worker's Union (KINROSHA DOMEI). OMINAKOTO, Masayuki and one from the War Calamity Sufferers' Union. The attitudes of SUGANO, Kazutaro, YAMANO, Heiichi, and KAWA
[illegible]
Yasunosuke are uncertain. TAKAHASHI, Seiji, SAKURAI, Yoshikuni in District No. 1, and HONDA, Uichiro in District No. 2 all represent the New Japanese Party (SHINIHONTO) and IWAHASHI, Takeo, President of the OSAKA Plindmen's Association are certain to appear in the campaign.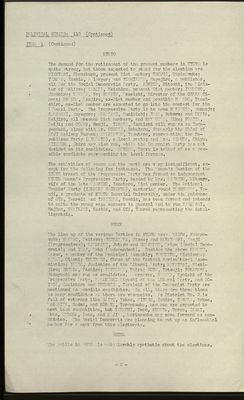 (View Page Image)
POLITICAL SERIES: 110 (Continued)
KYOTO

The demand for the retirement of the present members in KYOTO is quite strong, but those expected to stand for the election are. MIZUTANI, Chozaburo, present Diet member; TSUJII, Taminosuke; TANAKA, Yoshio, a lawyer; and YOSHIKAWA, Suyejiro, a publisher, all for the Social Democratic Party. ASHIDA, Hitoshi, the Minister of Welfere; TANAKA, Waichiro, present Diet member; IKEMOTO, Jinshiro; TANAKA, Ko; NAGATA, Masaichi, Director of the OSAKA Cinema; FITUD; Kanjiro, ex-Diet member and possibly
[illegible]
, Taneichiro, ex-Diet member are expected to go into the contest for the liberal Party. The Progressive Party is to name NAKAMURA, Sannojo; KAWASAKI, Suyegoro; MURAKAMI, Kunikichi; IMAO, Noboru; and OKADA, Keijiro, all present Diet members, and NAKAGAWA, Kiku; FUJITA, Keiji; and OGAWA, Hanji. TANAKA, Isakichi will run as en Independent, along with Dr. OTSUTI, Nobuharu, formerly the Chief of MOJI Railway Bureau; KAWAKATSU, Yasutaro, representing the Republican Party (NYOWATO), a local party; and Mrs. KIMURA, Chiyo. MITAMURA, Shiro may also run, while the Communist Party has not decided on its candidates. HITOMI, Tooru is talked of as a. possible candidate representing the local farmers.
The activities of women and the youth are very insignificant, except for the following few instances. The Women's Section of the KYOTO branch of the Progressive Party has formed an independent KYOTO Women's Progressive Party, headed by Mrs. WASHINO, Mitsuye, wife of the late WASHINO, Yonetaro, Diet member. The National Youths' Party (ZENKOKU SEINENTO), centering round YOSHIMURA, Yauji, a graduate of KYOTO Imperial University, under the guidance of OTA, Tenreii and TAKIYAMA, Koshin, has been formed and intends to unite the young wage earners in general and to run KAWAKAMI, Hajime, TAKIKAWA, Koshin, and OTA, Tenrei representing the intelligentsia.

HYOGO

The line up of the various Parties in HYOGO are: MAEDA, Fusanosuke; HAMANO, Keitaro; SHIRAKAWA, Hisao; and KOBAYASHI, Kenji (Progressives); KAWAKAMI, Jotaro and SAKAMOTO, Katsu (Social Democrats); and IMAI, Kako (Independent). Besides the above NAGEYE, Kazuo, a member of the Municipal Assembly; YONEKUBU, Michisuke; KAWAI, Giichi; YUKINAGA, Chozo of the Central Agricultural Association; IKEDA, Junichiro of the Liberal Party; NAKATANI, Kichijiro; SHIODA, Gashiro; TATEKAWA, Taira; GOTO, Yetsuji; FUKAGAWA, Hideyoshi may run as candidates. Moreover,
[illegible]
, Ryoichi of the Progressive Party, KAWANISHI Niyoshi of the Liberal Party, and AOYAGI, Zenichiro and YUZUHISA, Toraichi of the Communist Party are mentioned as possible candidates. In all, there are three times as many candidates as there are vacancies. As District No. 2, is full of veterans like SAITO, Takao, KIYOSE, Ichiro, TANAKA, Takeo, WAKAMIYA, Sadao, and KOBATA, Toranosuke, new men are expected to meet keen competition, but TABUCHI, Iwao, KUWATA, Torao, SASAI, Ikko, KURODA, Iwao, and KAJIMA, Morinosuke may come forward as candidates. The Social Democrats are planning to put up an influential member for a seat from this electorate.
SHIGA

The public in SHIGA is unbelievably apathetic about the elections.

- 2 -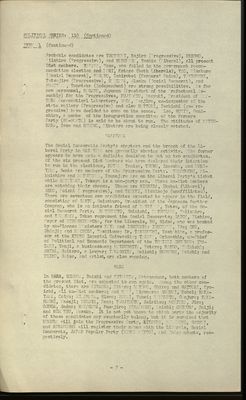 (View Page Image)
POLITICAL SERIES: 110 (Continued)
Probable candidates are TSUTSUMI, Kojiro (Progressive), BESSHO, Kiichiro (Progressive), and NOBUMASA, Yoshio (Liberal), all present Diet members. TANAKA, Yozo, who failed in the government recommendation election and MORI, Kotero (both Liberals), YAO, Kisaburo (Social Democrat), KUSANO, Ichirobei (Farmers' Union), TANIGUCHI, Tetsujiro (Progressive), UMEZAWA, Jisaku (Social Democrat), and FUJIYAMA, Tomotaka (Independent) are strong possibilities. As for new personnel, NAGANO, Juyemon (Presidnet of the Prefectural Assembly) for the Progressives, FUJIMOTO, Naoyuki, President of
[illegible]
TORA Aeronautical Laboratory, SUGA, Kenjiro, ex-inspector of the state railway (Progressive) and also HATTORI, Iwakichi (ex-Progressive) have decided to come on the scene. Also, HORIE, Genichiro, a member of the inauguration committee of the Farmers Party (NO-HONTO) is said to be about to run. The attitudes of MATSUBARA, Iozo and HIRONO, Kikutaro are being closely watched.
WAKAYAWA

The Social Democratic Party's chapters and the branch of the Liberal Party in WAKAYAMA are gradually showing activity. The former appears to have made a definite decision to put up two candidates. Of the six present Diet Members who have declared their intention to run in the elections, KOYAMA Tanizo, TSUNO, Inosuke, and MORIYAMA, Senta are members of the Progressive Party. YAMAGUCHI, Kikuichiro and MATSUYAMA, Tsunejiro are on the Liberal Party's ticket while NAKATANI, Takeyo is a non-party man. Three ex-Diet members are watching their chance. These are NISHIDA, Ikuhei (Liberal), SEKO, Koichi (Progressive), and TAMAKI, Kichinojo (unaffiliated). There are seventeen new candidates expected to appear in the field, consisting of SANTO, Seizaburo, President of the Japanese Feather Company, who is an intimate friend of KATAYAMA, Tetsu, of the Social Democrat Party. MATSUMOTO, Shinichi, MATSUZAKA, Yeiichiro, and YAMANAKA, Takeo represent the Social Democrats; SAIGA , Iichiro, Mayor of MINOSHIMA*Cho, for the Liberals, BO, Hideo, who was backed by ex-Finance Ministers KAYA and ISHIWATA: ISHIKAWA, Ide; ONO, Shinji; and MACHIDA, Yoshitomo; Dr. TANIGUCHI, Yoshihika, a professor at the KYOTO Imperial University; TANAKA, Orinoshin, ex-Chief of Political and Economic Department of the YOMIURI SHIMBUN: IWAZAKI, Tanji, a businessman; MATSUSHITA, Kotaro; BANDO, Yaikichi; SHIBA, Seitaro, a lawyer; YAMASHITA, Seiichi; NOGUGHI, Koichi; and TEINO, Seizo, and artist, are also running.

NARA

In NARA, UEMURA, Buichi and KITAMURA, Matazaemon, both members of the present Diet, are expected to run again. Among the other candidates, there are KITAURA, Kitaro; MARSUO, Shiro; and HATTORI, Kyoichi, all ex-Diet members; .and TAKI, Kiyomaro; SUZUKI, Kohei; NAKAYAMA, Caiyu; MIZUHARA, Hisao; KOMAI, Tohei; KAMEMOTO, Genjuro; TAKAHASHI, Masaji; KURATA, Kozo; TSUJTMOTO, Seiritsu; MORIOKA, Jiro; OSUGA, Sadao; NAKAGAWA, Fusajiro; NIRAKOSHI, Koichi; OKUMURA, Saiji; and KOMATSU, Mosaku. It is not yet known to which party the majority of these candidates may eventually belong, but it is surmised that UEMURA will join the Progressive Party, KITAURA,
[illegible]
, SUZUKI, and HIRAKOSHI will register their names with the Liberals, Social Democrats, JAPAN Popular Party (
[illegible]
), and Independents, respectively.
- 3 -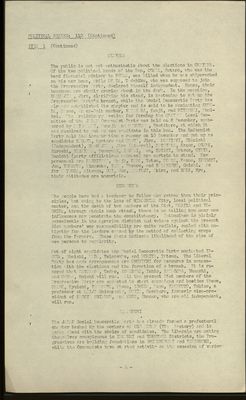 (View Page Image)
POLITICAL SERIES: 110 (Continued)
OKAYAMA

The public is not yet enthusiastic about the elections in OKAYAMA. Of the two political heads of the Ken, OGAWA, Gotaro, who was the head financial advisor in BURMA, was killed when he was shipwrecked on his way home, while OKADA, Tadahiko, who was supposed to join the Progressive Party, declared himself independent. Hence, their henchmen are simply groping about in the dark. In the meantime, H
[illegible]
, Jiro, clarifying his stand, is hastening to set up the Progressive Party's branch, while the Social Democratic Party has already established its chapter and is said to be nominating KURODA, Kezuo, an ex-Deit member, NAKAHARA, Kenji, and MIYAMUKI, Kunihei, The Preliminary Meeting for forming the OKAYAMA Local Committee of the JAPAN Communist Party was held on 8 December, sponsored by
[illegible]
, Kumaji and MARUYAMA, Yoshitaro, at which it was resolved to put up one candidate in this ken. The Reformist Party held its inauguration caremony on 10 December and put up as candidate NAGAYU, Ryotaro and FUJTI, Jiro. MORITANI, Shinichi (Independent), HOSH
[illegible]
, Jiro (Liberal), KATAYAMA, Kazuo, OSAWA, Hiroshi, HISAYAMA, Tomoyuki, INUKAI, Ken, KOTANI, Setsuo, UYEYA, Genichi (party affiliations unknown; are certain to stand. New personnel are KASHIYAMA, Traji, NABA, Tetsu, KOEDA, Kazuo, IKEGAMI, Jun, TSURUTA, Minosuke, TAGA, Yasuro, and NAKANISHI, Goichi. As for MATSUDA, Mitsugu, DOI, Sho, AMAFUJI, Akira, and HARA, Hyo, their attitudes are uncertain.
HIROSHIWA

The people here had a tendency to follow men rather than their principles, but owing to the loss of HIROSHIMA City, local political center, and the death of two members of the Diet, MORITA and YOSHIDA, through atomic bomb attack, there is no telling how many new influences may penetrate the constitutency. Enthusiasm is plainly perceivable in the agrarian district and voices against the present Diet members' war responsibility are quite audible, cupled with antipathy for the leaders caused by the method of collecting crops from, the farmers. These facts indicate likelihood of the rise of new persons to popularity.

Out of eight candidates the Social Democratic Party nominated YASUDA, Shoichi, WADA, Yeinosuke, and MORITA, Tatsuo. The Liberal Party has made arrangements are ONOMICHI for measures in connection with the elections and the formation of a branch. It is rumored that WATANABE, Tadao, KUWABARA, Ichio, NAKAGAWA, Shunshi, and OMURA, Hoichi will run. All the present Diet members of the Progressive Party are expected to start campaigns and besides these, OKANO, Ryuichi, YAMAKOTO, Hisao, ISHIDA, Koso, YAMAMOTO, Takizo, a professor at MEIJI University, OMIYA, Gosaburo, formerly vice-president of NAGOYA SHIMBUN, and KUBO, Shunzo, who are all independent, will run.

KAWAGUCHI

The JAPAN Social Democratic Party has already formed a prefectural chapter backed by the workers of UBE KOSAN (TN: Factory) and is going ahead with the choice of candidates. The Liberals are making themselves conspicuous in IWAKUNI and TOKUYAMA Districts, the Progressives are building foundations in SHIMONOSEKI and YAMAGUCHI, while the Communists have started activity on the occasion of various

- 4 -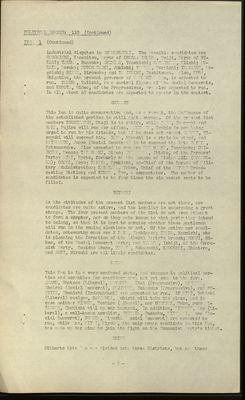 (View Page Image)
POLITICAL SERIES: 110 (Continued)
industrial disputes in SHIMONOSEKI. The possible candidates are HOSOMICHI, Kanemitsu, Mayor of ONODA: ISOEBE, Teiji, Mayor of HIKARI; TAKUMA, Bunsuke; SHIMIEU, Tamekichi; NAGASHIMA, Kiichij MURATA, Kosuke; MOTOH GASHI, Jukichi; TAMURA, Toraichi; IMANISHI, Maegoichi; HIMEI, Hirosuke; and TAKIGUCHI, Yoshitsugu. Also, KURA, Shigehisa, the present governor of
[illegible]
Ken, is expected to run. TAMURA, Teiichi, as a central figure of the Social Democrats, and KUBOTA, Hideo, of the Progressives, are also expected to run, In all, about 40 candidates are expected to appear in the contest.
SHIMANE

This Ken is quite conservative and, as a result, the influence of the established parties is still quite strong. Of the present Diet members TSUNEWMATSU, Otoji is to retire, while TABE, Tomoyuki and HARA, Fujiro will run for office. SHIMADA, Toshio is now being urged to run by his friends, but if he does, not aceept
[illegible]
, Hiroyuki will succeed him.
[illegible]
, Hiroshi is certain to stand, and MATSUMOTO, Junzo (Social Democrat) is to succeed the late TANAKA, Katsunosuke. Also expected to run are TAKAHASHI, Yenzaburo; OKISHIMA, Kenzo; TAKAHASHI, Hideo;
[illegible]
, Ittoku, of the Farmers' Party; MIKI, Ryoko, formerly of the League of Rising ASIA (KOA DOME) OGAWA, Koyu; TANAKA, Ryukichi, ex-Chief of the Bureau of Military Administration; KANAZAWA, Takeo, Chief of the MATSUE Broadcasting Station; and KURUMA, Kyo, a commentator. The number of candidates is expected to be four times the six vacant seats to be filled.
TOTTORI

As the attitudes of the present Diet members are not clear, new candidates are quite active, and the locality is undergoing a great change. The four present members of the Diet do not even attempt to form a chapter, nor do they make known to what party they intend to belong, so that it is hard to surmise whether these gentlemen will run in the coming elections or not. Of the active new candidates, noteworthy ones are NAKADA, Yoshimase; INADA, Naomichi, who is planning the formation of the Liberal Party's branch; SHOJI, Hikao, of the Social Democrat Party; and KAWAGA, Ichiji, of the Communist Party. Besides these, TAWAKA, Nobuyoshi, KADOWAKI, Shintaro, and AOKI, Hiroshi are all likely candidates.

KAGANY

This Ken is in a very confused state, and changes in political parties and scrambles for candidacy have not yet come to the fore AMANO, Shotaro (Liberal). MATSUURA Ihei (Progressive),
[illegible]
, Shoichi (Social Democrat), FUJIKATO, Sutesuke (Progressive), and FUKUIYE, Shunichi (Independent) are expected to run. If MIKI, Bukichi (Liberal) resigns, NAKAMURA, Kokichi will take his place, and in case neither KISHII, Toshiro (Liberal), nor UKEKAWA, Taku, runs MIYAWAKI, Chokichi will appear instead. In addition, KIKICHI, Man (Liberal), a well-known novelist, SHIMADA, Suenobu,
[illegible]
, sao (Social Democrat), FUKUDA, Kiyoshi (Social Democrat) are expected to run, while Mrs. MIYAI, Kiyoka, the only woman candidate in this Ken, has made up her mind to join the fight on the Communist Party's ticket.
EHIKE
Hitherto this Ken was divided into three Districts, but no these

- 5 -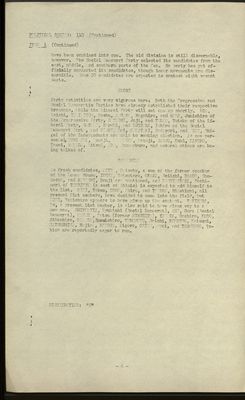 (View Page Image)
POLITICIAL SERIES: 110 (Continued)
have been combined into one. The old division is still discernible, however. The Social Democrat Party selected its candidates from the east, middle, and southern parts of the Ken. No party has yet officially nominated its candidates, though inner movements are discernible. Some 20 candidates are expected to contest eight vacant seats.

KOCHI

Party activities are very vigorous here. Both the Progressive and Social Damocratic Parties have already established their respective branches, while the liberal Party will set one up shortly. UDA, Koichi,
[illegible]
, Koshu, NAGANO, Nagahiro, and HARA, Junichiro of the Progressive Party, HAYASHI, and TERAO, Yutaka of the Liberal Party, and OISHI, Dai, NAKATANI, Ichiro of the Social Democrat Party, and OISHI, Dai, NAKATANI, Sadayori, and ASAI, Shigei of the Independents are said to seeking election. As new personnel, KUNIKAWA, Kumaji,
[illegible]
, Wakeji, SAIJO, Kuki, KANEKO, Tamei, HAMADA, Mitsui, ABE, Chunaburo, and several others are being talked of.
TOKUSHIMA

As fresh candidates, AKITA, Daisuke, a son of the farmer speaker of the Lower House, IUCH", Tetsutaro, OKADA, Seiichi, BANDO, Shuhachi, and HATASHI, Hanji are mentioned, and KASHIWABARA, Yoshinori of TENRIKYO (a sect of Shinto) is expected to add himself to the list. MIKI, Takeo, KORO, Akira, and TAMURA, Hidekichi, all present Diet members, have decided to come into the field, but MIKI, Yokichiro appears to have given up the contest. TANIHARA, Ko, a present Diet member, is also said to have given way to a new man. SHINOMIYA, Kyukichi (Social Democrat), ABE, Goro (Social Democrat), KANABE, Katsu (former MINSEITO), YAMADA, Hachiro, KUBO, Gihachiro, KAMADA, Sawaichiro, YENOMOTO, Saichi, KOMATSU, Katsumi, MATSUSHIMA, Hajime, NARUSE, Kigoro, ORIME, Mori, and TADOKORO, Takizo are reportedly eager to run.

DISTRIBUTION: "X"

- 6 -