Press translations [Japan]. Political Series 0108, 1945-12-22.
translation-number: political-0465
call-number: DS801 .S85
---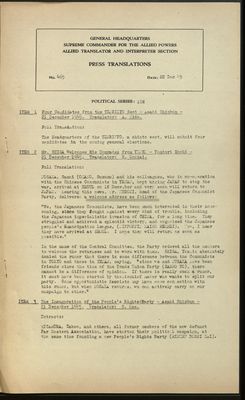 (View Page Image)
GENERAL HEADQUARTERS

SUPREME COMMANDER FOR THE ALLIED POWERS

ALLIED TRANSLATOR AND INTERPRETER SECTION

PRESS TRANSLATIONS

POLITICAL SERIES: 108

ITEM 1 Four Candidates from the TENRIKYO Sect - Asahi Shimbun - 21 December 1945. Translator: A. Kido.
Full Translation:

The Headquarters of the TENRIKYO, a shinto sect, will submit four candidates in the coming general elections.

ITEM 2 Mr. SHIGA. Welcomes His Comrades from YENH

[illegible]

- Yomiuri Hochi - 21 December-1945. Translator: R. Ochiai.
Full Translation:

NOSAKA, Sanni (OKANO, Susumu) and his colleagues, who in co-operation with the Chinese Communists in YENAN, kept urging JAPAN to stop the war, arrived at SEOUL on 18 December and very soon will return to JAPAN. Hearing this news, Mr. KUROKI, head of the Japanese Communist Party, delivered a welcome address as follows:

"We, the Japanese Comnunists, have been much interested in their homecoming, since they fought against every kind of trouble, including the Japanese imperialistic invasion of CHINA, for a long time. They struggled and achieved a splendid victory, and organized the Japanese people's Emancipation League, (NIPPONJIN KAIHO REMMEI). How, I hear they have arrived at SEOUL. I hope they will return as soon as possible."

In the name of the Central Comnittee, the Party ordered all the members to welcome the returnees and to work with them. SHIGA, Yoshio absolutely denied the rumor that there is some difference between the Communists in TOKYO and those in YENAN, saying, "since we and NUSAKA have been friends since the time of the Trade Union Party (SANRO TO), there cannot be a difference of opinion. If there is really such a rumor, it must have been started by themischief maker who wants to split our party. Some opportunistic fascists may have some connection with this rumor, but when NOSAKA returns, we can actively carry on our campaign to ether."

ITEM 3 The Inauguration of the People's Rights Party - Asahi Shimbun - 21 December 1945. Translator: S. Ono.
Extracts:

MITAMURA, Takeo, and others, all former members of the new defunct Far Eastern Association, have started their political campaign, at the same time founding a new People's Rights Party (MINKEN DOSHI KAI).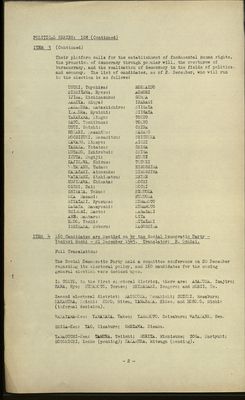 (View Page Image)
POLITICAL SERIES 108 (Continued)
Their platform calls for the establishment of fundamental human rights, the promotion of democracy through popular will, the overthrow of bureaucracy, and the realization of democracy in the fields of politics and economy. The list of candidates, as of 2
[illegible]
December, who will run in the election is as follows:
USUKI, Toyohisa:
HOKKAIDO
NISHIZAWA, Ryozo:
AOMORI
IJIMA, Kichinosuke:
GUMMA
MAMIYA, Mioya:
IBARAGI
NAKAMURA, Matashichiro;
NIIGATA
I

[illegible]

A

[illegible]

URA, Ryuichi;
NIIGATA
TAKAYAMA, Kingo:
TOKYO
SATO, Yoshikuma:
TOKYO
USUI, Soichi:
CHIBA
HOKARI, Masahiko;
NAGANO
MOCHIZUKI, Masamitsu:
SHIZUOKA
KAWANO, Kinsyo:
AICHI
TANAKA, Yotatsu:
SHIGA
KUSANO, Ichirobei:
SHIGA
IKUTA, Nogiji:
HUKUI
KAJIKAWA, Shizue:
TOTORI
W

[illegible]

TA

[illegible]

ABE, Tadao:
HIROSHIMA
HANAZAKI, Ainosuke:
HIROSHIMA
WATANABE, Kishimatsu:
EHIME
HUJIKAWA, Chimata:
KOCHI
OISHI, Dai:
KOCHI
SHIBATA, Tokuo:
HUKUOKA
OKA Masami:
HUKUOKA
MIYAZAKI, Ryusuke:
KUMAMOTO
NAGATA Masayoshi:
KUMAMOTO
SHIMOMI, Naoto:
NAGASAKI
ABEM Mantaro:
OITA
ENDO, Yoshi:
MITAZAKI
ISHIHARA, Noboru:
KAGOSHIMA
ITEM 4 160 Candidates are Decided on by the Social Democratic Party - Yomiuri Hochi - 21 December 1945. Translator: R. Ochlai.
Full Translation:

The Social Democratic Party held a committee conference on 20 December regarding its electoral policy, and 160 candidates for the coming general election were decided upon.

In TOKYO, in the first electoral district, there are: ASANUMA, Inajiro, HARA, Hyo; KUNAMOTO, Torazo; SHIMAGAMI, Zengoro; and MORII, Ko.

Second electoral district: MATSUOKA, Komakichi; SUZUKI, Mosaburo; NAKAMURA. Koichi: KONO, Mitsu, YAMABANA, Hideo, and HOSOMO, Michio (informal decision).

WAKAYAMA-Ken: YAMAKA, Takeo; YAMAMOTO, Seizaburo; WATANABE, Sen.

SHIGA-Ken: YAO, Kisaburo; OMEZAWA, Kisaku.

YAMAGUCHI-Ken: TAMURA, Teiichi; MORITA, Michisuke; ZOGA Nariyuki; HOSOMICHI, Kenko (pending); KAKAMURA, Mitsugu (pending).

- 2 -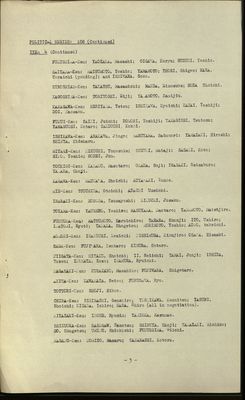 (View Page Image)
POLITICAL SERIES: 108 (Continued)
FUKUSHIMA-Ken: YAOZAKA, Masashi; OIGAWA, Koryu; SUZUKI, Toshio.

SAITAMA-Ken: MATSUMOTO, Yoshio; YAMAMOTO; THORI, Shigeo; HARA, Toraichi (pending); and ISHIWARA, Soko.

HIROSHIAM-Ken: TAKATSU, Masamichi; MAEDA, Einosuke; HODA Shoichi.

KAGOSHIMA-Ken: TOMIYOSHI, Eiji; YA
[illegible]
MOTO, Kamijiu.
KANAGAWA-Ken: SERIYAMA, Tetsu; ISHIKAWA, Kyoichi; KANAI, Yoshiji; DOI, Naosaku.

FUKUI-Ken: SAIKI, Juichi; DOMORI, Yoshiji; YAMAGISHI, Tsutomu; YAMAGUCHI, Kotaro; TAKEUCHI, Kokki.

ISHIKAWA-Ken: ARAKAWA, Jingo; MARUYAMA, Sadumori: YAMAZAKI, Hiroshi SHINYA, Hideharu.

MIYAGI-Ken: KIKUCHI, Yonosuke; SUZUKI, Mataji; SASAKI, Kozo; HINO, Yoshio; SODEI, Jun.

TOCHIGI-Ken: KANAKO, Masutaro; OKADA, Soji; IWASAKI, Seisaburo; YA
[illegible]
ADA, Choii.
KAGAWA-Ken: MAEKAWA, Shoichi; MIYAWAKI, Tomoo.

MIE-Ken: TSUCHIDA, Otoichi; ADACHI Umeichi.

IBARAKI-Ken: HOSODA, Tsunayoshi; KIKUCHI, Jusaku.

TOYAMA-Ken: YAUSHRO, Yoshizo; MASUYAMA, Naotaro; YAMAMOTO, Matsijiro.

FUKUOKA-Ken: MATSUMOTO, Haruichiro; TAHARA, Shunji; ITO, Ushiro; I
[illegible]
ATOMI, Ryoto; TANAKA, Shogetsu; MORIMOTO, Yoshio; ADNO, takeichi.
AOMORI-Ken: IWABUCHI, Kenichi; NISHIMURA, Kikujiro: OSAWA, Hisaaki.

SAGA-Ken: FUJIWARA, Kentaro; KIMURA, Sotaro.

NIIGATA-Ken: MIYAKE, Shoichi; II, Seiichi; TAMAI, Junji; ISHIDA, Yuzen; INCMATA, Zozo; INAMURA, Ryuichi.

NAGASAKI-Ken: KUSAKABE, Masahiko; FUJIWARA, Shigetaro.

AKITA-Ken: KAWAMATA, Seion; FURUSAWA, Ryo.

TOTTORI-Ken: SHOJI, Hikoo.

CHIBA-Ken: ISHIBASHI, Genshiro; YOSHIKAWA, Kenmitsu; YASUBE, Shoichi; KITADA, Ichiro; HARA, Shiro (all in negotiation).

MIYAZAKI-Ken: INOUE, Ryomin; TAMIOKA, Kazunao.

SHIZUOKA-Ken: HASEGAW, Tamotsu; SHIBUYA, Shoji; YANAZAKI, Michiko; SO, Shugetsu; UMINO, Shinkichi; FUKUSHIMA, Giichi.

NAGANO-Ken: KOMIZO, Masaru; TANABASHI, Kotora.

- 3 -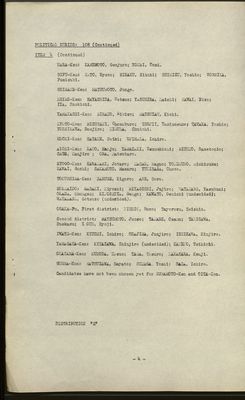 (View Page Image)
POLITICAL SERIES: 108 (Continued)
NARA-Ken: KAMEMOTO, Genjuro; YONAI, Tomi.

GIFU-Ken: KATO, Ryozo; HIRAKU, Kiichi; SHIMIZU, Yoshio; VOSHIKA, Fumisuki.

SHIMANE-Ken: MATSUMOTO, Jungo.

EHIME-Ken: HAYASHIDA, Tetsuo; YASUHIRA, Kaichi; KAWAI, Eizo; IYA, Shokichi.

YAMANASHI-Ken: HIRANO, Rikizo; MATSUZAW, Kichi.

KYOTO-Ken: MIZUTANI, Chosaburo; TSUJII, Taminosuke; TAWAKA, Yoshio; YOSHIKAWA, Suejiro; KIMURA, Chuichi.

KOCHI-Ken: SATAKE, Sei
[illegible]
i; UJIHARA, Ichiro.
AICHI-Ken: KATO, Kanju; YAMAZAKI, T
[illegible]
unekicni; MIZUNO, Sanetonio; SATO, Kanjiro ; OBA, Matsutaro.
HYOGO-Ken: KAWAKAMI, Jotaro; NACAE, Kaguo; YONEKUBO, Michisuke; KAWAI, Guchi; SAKAMOTO, Masaru; YUKISASA, Chozo.

TOKUSHIMA-Ken: NARUSE, Kigoro; ABE, Goro.

HOKKAIDO: MASAKI, Kiyoshi; MIYAGISHI, Jujiro; WATANABE, Yasukuni; OKADA, Shungen; KINOSHITA, Gengo; KAWATO, Genichi (undecided); WATANABE, Sotsuzo (undecided).

OSAKA-Fu, First district: NISHIO, Suco; Tayorozu, Seishin.

Second district: MATSUMOTO, Junzo; TANABE, Osamu; TAKIGAWA, Suekazu; I
[illegible]
OUE, Ryoji.
IWATE-Ken: KIUCHI, Ichiro; ODAJIMA, Junjiro; ISHIKAWA, Kinjiro.

YAMAGATA-Ken: KITAZAWA, Shinjiro (undecided); KANENO, Teihichi.

OKAYAMA-Ken: KURODA, Kezuo; TAGA, Yasuro; NAKAHARA, Kenji.

GUMMA-Ken: MATSUZAWA, Hayato; SUNAGA, Yoshi: SADA, Ichiro.

Candidates have not been chosen yet for KUMAMOTO-Ken and OITA-Ken.

DISTRIBUTION "X"

- 4 -