Press translations [Japan]. Political Series 0104, 1945-12-21.
translation-number: political-0450
call-number: DS801 .S85
---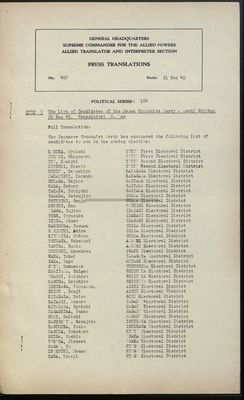 (View Page Image)
GENERAL HEADQUARTERS

SUPREME COMMANDER FOR THE ALLIED POWERS

ALLIED TRANSLATOR AND INTERPRETER SECTION

PRESS TRANSLATIONS

POLITICAL SERIES: 104

ITEM 1 The List of Candidates of the Japan Communist Party - Asahi Shimbun 20 Dec 45. Translator: S. Ono
Full Translation:

The Japanese Communist Party has announced the following list of candidates to run in the coming election:
K

[illegible]

KUDA, Kyuichi
TOKYO First Electoral District
KUR

[illegible]

KI, Shigenori
TOKYO First Electoral District
ITO, Kenichi
TOKYO Second Electoral District
KUTSUMI, Husako
TOKYO Second Electoral District
UCHIN, Ta

[illegible]

echiyo
KANAGAWA Electoral District
NAKANISHI, Inosuke
KANAGAWA Electoral District
SUNAGA, Hajime
SAITAMA Electoral District
HARA, Saburo
SAITAMA Electoral District
TAKADA, Tomiyuki
SAITAMA Electoral District
YAMADA, Katsujiro
GUMMA Electoral District
TSUTSUMI, Genju
GUMMA Electoral District
EGUCHI, Kan
T

[illegible]

CHIGI Electoral District
OZAWA, Yujiro
IBARAGI Electoral District
YUGE, Tokusuke
IBARAGI Electoral District
IKEDA, Mineo
IBARAGI Electoral District
KAMIMURA, Susumu
CHIBA Electoral District
H

[illegible]

RIUCHI, Akira
CHIBA Electoral District
KIYCMIYA, Noboru
CHIBA Electoral District
TSUKAWA, Takeichi
AOMORI Electoral District
TAMURA, Humio
AOMORI Electoral District
HUKUCHI, Masaharu
IWATE Electoral District
WADA, Yohei
YAMAGATA Electoral District
SAKA, Yuyo
MIYAGI Electoral District
GOTO, Kakuemon
HUKUSHIMA Electoral District
KAMIYAMA, Shigeo
SHIZUOKA Electoral District
OHASHI, Koichiro
SHIZUOKA Electoral District
MASUDA, Kaichiro
SHIZUOKA Electoral District
ISHIKAWA, Tomoemon,
AICHI Electoral District
SHIND

[illegible]

, Kanji
AICHI Electoral District
KITAHARA, Taizo
GIHU Electoral District
HAYASHI, Momoro
NAGAN

[illegible]

Electoral District
MIYAZAWA, Syoichi
NAGAN

[illegible]

Electoral District
NAGASHIMA, Takao
NAGAN

[illegible]

Electoral District
SUMI, Seiichi
NAGAN

[illegible]

Electoral District
NASHIM

[illegible]

TO, Sakujiro
ISHIKAWA Electoral District
HASUMURA, Tokio
ISHIKAWA Electoral District
YASUDA, Tokutaro
KYOTO Electoral District
SHIGA, Yoshio
OSAKA Electoral District
YOKOTA, Jintaro
OSAKA Electoral District
NAGAO, Yu
HYOGO Electoral District
INOKUCHI, Masao
HYOGO Electoral District
TADA, Tomeji
HYOGO Electoral District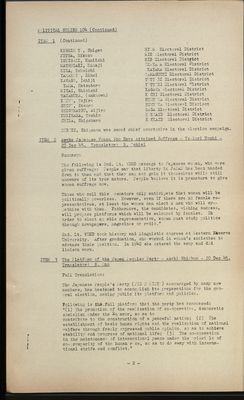 (View Page Image)
POLITICAL SERIES 104 (Continued)
KISHIM

[illegible]

T

[illegible]

, Shigeo
HY

[illegible]

G

[illegible]

Electoral District
NITTA, Hikozo
MIE Electoral District
ISHIGAKI, Kuniichi
MIE Electoral District
MATSUZAKI, Kumaji
OKAYAMA Electoral District
KIDA, Takeichi
OKAYAMA Electoral District
YAMAMOTO, Rihei
YAMAGUCHI Electoral District
KAWAGE, Ichiji
TOTTORI Electoral District

[illegible]

YAMA, Hatsutaro
TOTTORI Electoral District
MIYAI, Shinichi
KAGAWA Electoral District
TAKAMURA, (unknown)
K

[illegible]

CHI Electoral District
KONNO, Yojiro
HUKU

[illegible]

KA Electoral District
SHINO, Etsuro
HUKU

[illegible]

KA Electoral District
SHIGEMATSU, Aijiro
SAGA Electoral District
KURIHERA, Toshio
H

[illegible]

KKAID Electoral District
CHIBA, Shigeharu
H

[illegible]

KKAID Electoral District
KUROKI, Shigenou was named chief exectutive in the election campaign.

ITEM 2 Awake Japanese Women Who Have Attained Suffrage - Yomiuri Hochi - 20 Dec 45. Translator: R.

[illegible]

chiai
Summary:

The following is 2nd. Lt. WEED message to Japanese women, who were given suffrage: People sap that liberty in JAPAN has been handed down to them and that they can not gain it themselves while still unaware of its true nature. People believe it is premature to give women suffrage now.

Those who call this remature only anticipate that women will be politically powerless. However, even if there are no female representatives, at least the women can elect a man who will sympathize with them. Futhermore, the candidates, wishing success, will propose platforms which will be welcomed by females. In order to elect an able representative, women must study politics through newspapers, magazines or radio."

2nd. Lt. WEED took history and linguistic courses at Western Reserve University. After graduation, she worked in women's societies to advance their position. In 1942 she entered the army and did liaison work.

ITEM 3 The Platform of the Japan Peoples Party - Asahi Shimbun - 20 Dec 45. Translator: S. Ono
Full Translation:

The Japanese People's Party (NIH
[illegible]
N MINT
[illegible]
) encouraged by many new members, has hastened to accomplish its preparations for the general election, making public its platform and policies.
Following is the full platform that the party has announced: "(l) The promotion of the realization of co-operative, democratic socialism under the Emperor, so as to contribute to the construction of a peaceful nation; (2) The establishment of basic human rights and the realization of national welfare through freely expressed public opinion, so as to achieve stability and progress of national life; (3) The co-operation in the maintenance of international peace under the principle of co-prosperity of the human race, so as to do away with international strife and conflict."

- 2 -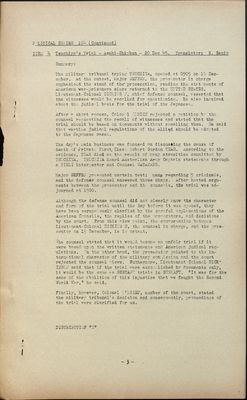 (View Page Image)
POLITICAL SERIES 104 (Continued)
ITEM 4 Tsuchiya's Trial - Asahi-Shimbun - 20 Dec 45. Translator: S. Sanio
Summary:

The military tribunal trying TSUCHIYA, opened at 0905 on 19 December. At the outset, Major GEFFEN, the prosecutor in charge emphasized the stand of the prosecution, reading the statements of American war-prisoners since returned to the UNITED STATES. Liautenant-Colonel DICKINS
[illegible]
N, chief defense counsel, asserted that the witnesses would be recalled for questioning. He also inquired about the judical basis for the trial of the Japanese.
After a short recess, Colonel OERIEN rejected a petition by the counsel requesting the recall of witnesses and stated that the trial should be based on documents without recalling them. He said that wartime judical regulations of the Allied should be adopted to the Japanese cases.

The day's main business was focused on discussing the cause of death of Private First Class Robert Gordon TEAS. According to the evidence, TEAS died as the result of many atrocities committed by TSUCHIYA. TSUCHIYA heard Australian Army Captain statements through a NISEI interperter and Counsel WATANABE.

Major GEFFEN presented certain test; mang
[illegible]
regarding 5 criminals, and the defense counsel answered those chaps. After heated arguments between the prosecutor and the counsels, the trial was adjourned at 1500.
Although the defense counsel did not clearly know the character and form of the trial until the day before it was opened, they have been serupulously clarfied by the careful explanations of the American Counsils, the replies of the prosecutors, and decisions by the court. From this view point, the conversation between Lieutenant-Colonel DICKINS
[illegible]
N, the counsel in charge, and the prosecutor on 19 December, is important.
The counsel stated that it would become an unfair trial if it were based upon the written statements and American judical regulations. On the other hand, the prosecutor pointed to the international character of the military commission and the court rejected the counsel views. Futhermore, Lieutenant Colonel DICK* INSON said that if the trial were accomplished by documents only, it would be the same as GESTAPO trials in GERMANY. "It was for the sake of the abolition of this injustice that we faught the Second World War," he said.

Finally, however, Colonel
[illegible]
'
[illegible]
RIEN, member of the court, stated the military tribunal's decision and consequently, proceedings of the trial were clarified for us.
DISTRIBUTION "X"

- 3 -