Press translations [Japan]. Political Series 0091, 1945-12-18.
translation-number: political-0400
call-number: DS801 .S85
---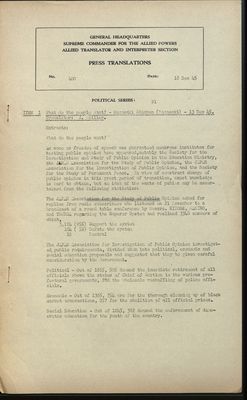 (View Page Image)
GENERAL HEADQUARTERS

SUPREME COMMANDER FOR THE ALLIED POWERS

ALLIED TRANSLATOR AND INTERPRETER SECTION

PRESS TRANSLATIONS

POLITICAL SERIES: 91

ITEM 1 What do the people Want? - Nagasaki Shimbun (Nagasaki) - 13 Dec 45. Translator: J. Weiller.
Extracts:

What do the people want?

As soon as freedom of speech was guaranteed numerous institutes for testing public opinion have appeared, notably the Society for the Investigation and Study of Public Opinion in the Education Ministry, the JAPAN Association for the Study of Public Opinion, the JAPAN Association for the Investigation of Public Opinion, and the Society for the Study of Permanent Peace. In view of construct change of public opinion in this great period of transition, exact knowledge is hard to obtain, but an idea of the wants of public may be ascertained from the following statistics:

The JAPAN Association for the Study of Public Opinion asked for replies from radis subscribers who listened on 21 November to a broadcast of a round table conference by Messrs. KIYOSE, MAKINO, and TOKUDA regarding the Emperor System and reclined 3348 answers of which,

3,174 (95%) Support the system
164 (5%) Defute the system
10 Neutral

The JAPAN Association for Investigation of Public Opinion investigated public requirements, divided them into political, economic and social education proposals and suggested that they be given careful consideration by the Government.

Political - Out of 1265, 505 demand the immediate retirement of all officials above the status of Chief of Section in the various pre-fectural governments, 280 the wholesale reshuffling of police officials.

Economic - Out of 1365, 754 are for the thorough cleaning up of black market transactions, 257 for the abolition of all official prices.

Social Education - Out of 1245, 382 demand the enforcement of democratic education for the youth of the country.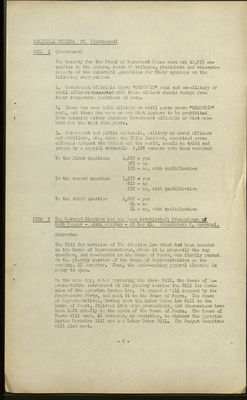 (View Page Image)
POLITICAL SERIES: 91 (Continued)
The Society for the Study of Permanent Peace sent out 10,975 enquiries to the mayors, heads of villages, presidents and vice-presidents of the Municipal Assemblies for their opinions on the following suggestions:
Government officials above "CHOKNIN" rank and ex-military or civil officers connected with these offices should resign from their respective positions at once.
Those who once held military or civil posts above "CHOKUNIN" rank, and those who were or are Diet members to be prohibited from becoming either Japanese Government officials or Diet members for the next five years.
Government and public officials, military or naval officers and civilians, who, since, the CHINA Incident, committed grave offenses against the Nation and the world, should be tried and judged by a special tribunal: 2,166 answers have been received
| | |
| --- | --- |
| To the first question: | 1,627 - yes |
| | 327 - no |
| | 175 - no, with qualification |
| To the second question | 1,275 - yes |
| | 612 - no |
| | 232 - no, with qualification |
| To the third question | 1,862 - yes |
| | 84 - no |
| | 54 - no, with qualification |
ITEM 2 The Revised Election Law has been Established; Proceedings of Both Houses - Asahi Shimbun - 16 Dec 45. Translator: K. Murakami.
Extracts:

The Bill for Revision of The Election Law which had been amended in the House of Representatives, where it is presently the top question, and re-amended in the House of Peers, was finally passed at the plenary session of the House of Representatives on the morning, 15 December. Thus, the epoch-making general election is ready to open.

On the same day, after approving the above bill, the House of Representative introduced at its plenary session the Bill for Revision of the Agrarian System Law. It passed a bill amended by the Progressive Party, and sent it to the House of Peers. The House of Representatives, having sent the Labor Union Law Bill to the House of Peers, finished it's main proceedings, and discussions have been left chiefly in the hands of the House of Peers. The House of Peers will meet, 16 December, in committee, to discuss the Agrarian System Revision Bill and the Labor Union Bill. The Budget Committee will also meet.

- 2 -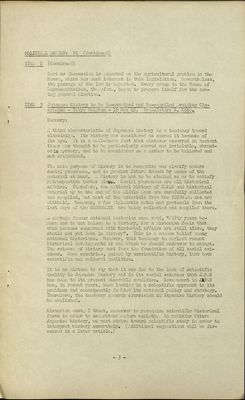 (View Page Image)
POLITICAL SERIES: 91 (Continued)
Serious discussion is expected on the agricultural problem in the House, which has much interest in this legislation. Nevertheless, the passage of the Law is expected. Every group in the House of Representatives, therefore, began to prepare itself for the coming general election.

ITEM 3 Japanese History to be Re-examined and Re-compiled Avoiding Classicism - Tokyo Shimbun - 16 Dec 45. Translator: H. Kato.
Summary:

A third characteristic of Japanese history is a tendency toward classicism. Its history was considered as sacred it because of its age. It is a well-known fact that whatever occurred in ancient times was thought to be particularly sacred and inviolable, shrouded in mystery, and to be considered as a matter to be believed and not criticized.

The main purpose of history is to recognize and clarify modern social phenomena, and to predict future trends by means of the material at hand. A history is not to be studied so as to satisfy retrospective tastes alone. Social phenomena are all historical affairs. Therefore, the national history of JAPAN and historical material up to the end of the Middle Ages are carefully collected and compiled, but most of the materials from the TOKUGAWA era are withheld. However, a few diplomatic notes and protocols from the last days of the SHOGUNATE are being collected and compiled there.

A certain famous national historian once said, "Fifty years before now do not belong to a history, for a historian feels that when persons concerned with historian affairs are still alive, they should not yet down in history". This is a common belief among national historians. However, this tendency to neglect recent historical developments is one which we should endeavor to change. The science of history must form the foundation of all social sciences. Some countries, guided by unscientific history, lack both scientific and cultural qualities.

It is no mistake to say that it was due to the lack of scientific quality in Japanise history and in its social sciences that JAPAN has come to its present miserable condition. Government in JAPAN has, in recent years, been lacking in a scientific approach to its problems and consequently fumbled its national policy and strategy. Therefore, the tendency towards classicism in Japanise history should be abolished.

Historian must, I think, endeavor to recognize scientific historical facts in order to understand modern society. In revising future Japanise history, we must strive toward scientific study in order to interpret history accurately. (Additional suggestions will be discussed in a later article.)

- 3 -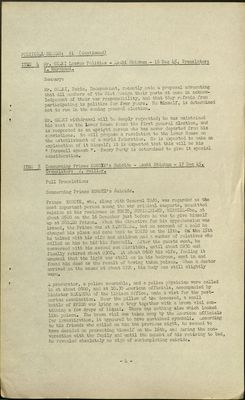 (View Page Image)
POLITICAL SERIES: 91 (Continued)
ITEM 4 Mr. OZAKI Leaves Polities - Asahi Shimbun - 16 Dec 45. Translator: K. Murakami.
Summary:

Mr. OZAKI, Yukio, Independent, recently made a proposal advocating that all members of the Diet resign their posts at once in acknowledgement of their war responsibility, and that they refrain from participating in politics for four years. He himself, is determined not to run in the coming general election.

Mr. OZAKI withdrawal will be deeply regretted; he has maintained his seat in the Lower House since the first general election, and is respected as an upright person who has never departed from his convictions. He will propose a resolution to the Lower House on the establishment of a world federation. He is expected to make an explanation of it himself; it is expected that this will be his "farewell speech". Every Party is determined to give it special consideration.

ITEM 5 Concerning Prince KONOYE's Suicide - Asahi Shimbun - 17 Dec 45. Translator: J. Weiller.
Full Translation:

Concerning Prince KONOYE's Suicide.

Prince KONOYE, who, along with General TOJO, was regarded as the most important person among the war criminal suspects, committed suicide at his residence in TOKYO, SUGINAMI-KU, NISHIDA-Cho, at about 0500 on the 16 December just before he was to give himself up at SUGAMO Prison. When the directive for his apprehension was issued, the Prince was at KARUIZAWA, but on account of a cold he changed his plans and came back to TOKYO on the 12th. On the l5th he talked with his wife and children and a number of relatives who called on him to bid him farewell. After the guests went, he conversed with his second son Michitaka, until about 0230 and finally retired about 0300. At about 0600 his wife, feeling it unusual that the light was still on in his bedroom, went in and found him dead as the result of having taken poison. When a ductor arrived on the scene at about 0720, his body was still slightly warm.

A procurator, a police constable, and a police physician were called in at about 0800, and at 10.30 American officials, accompanied by Minister NAKAMURA of the Liaison Office, made a vist for the postmortem examination. Near the pillow of the deceased, a small bottle of EPIOS was lying on a tray together with a brown vial containing a few drops of liquid. There was nothing else which looked like poison. The brown vial was taken away by the American officials for investigation, it appeared to have contained cyankali. According to his friends who called on him the previous night, he seemed to have decided on presenting himself on the 16th, and during the conversation with the family and until the moment of his retiring to bed, he revealed absolutely no sign of contemplating suicide.

- 4 -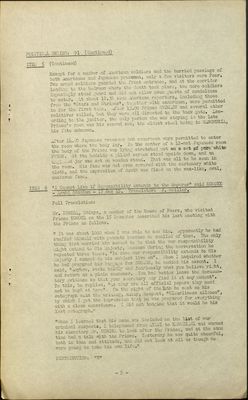 (View Page Image)
POLITICAL SERIES: 91 (Continued)
Except for a number of American soldiers and the hurried passings of both Americans and Japanese pressmen, only a few visitors were Peer. Two armed soldiers guarded the front entrance, and at the corridor leading to the bedroom where the death took place, two more soldiers imposingly stood guard and did not allow even guests of condolence to enter. At about 12.30 some American reporters, including those in from the "Stars and Stripes", together with cameramen, were permitted in for the first time. After 13.00 Prince SHIMAZU and several other relatives called, but they were all directed to the back gate. According to the janitor, the only person who was staying in the late Prince's room was his second son, the eldest, steel being in MANCHURIA, his fate unknown.

After 14.00 Japanese pressmen and cameramen were permitted to enter the room where the body lay. In the center of a 12-mat Japanese room the body of the Prince was lying stretched out on a set of pure white FUTON. At the bedside a gilded screen stood upside down, and an unglased jar was set on wooden stand. That was all to be seen in the room. His face was not even covered with the customary white cloth, and the expression of death was fixed on the wax-like, oval, unshaven face.

ITEM 6 "I Cannot Live if Responsibility extends to the Emperor" said KONOYE - Asahi Shimbun - 17 Dec 45. Translator: J. Weiller.
Full Translation:

Mr. UCHIDA, Shinya, a member of the House of Peers, who visited Prince KONOYE on the 15 December described his last meeting with the Prince as follows.

"It was about 1000 when I was able to see him. Apparently he had stuffed himself with peanuts because he smelled of them. The only thing that worried him seemed to be that the war responsibility might extend to His Majesty, because during the conversation he repeated three times, "In case war responsibility extends to His Majesty I cannot do his subject live on". When I inquired whether he had prepared his baggage for SUGAMO, he nodded his assent. I said, "Anyhow, state boldly and fearlessly what you believe right, and return as a plain commoner. You had better leave the documentary evidence so that your secretary may find it at any moment". To this, he replied," As they are all official papers they need not be kept at home". On the night of the 14th he sent me his autograph with the writing, amity, Respect, "Clearliness silence", by which I got the impression that he was prepared for everything with a clean conscience. I did not imagine that it would be his last autograph."

"When I learned that his name was included on the list of war criminal suspects, I telephoned from ATAMI to KARUIZAWA and warned his sicretary Mr. USHIBA to look after the Prince, and at the same time had a talk with the Prince. Yesterday he was quite cheerful, both in tone and attitude, and did not look at all as though he were going to take his own life."

DISTRIBUTION: "X"

- 5 -