Press translations [Japan]. Political Series 0074, 1945-12-12.
translation-number: political-0314
call-number: DS801 .S85
---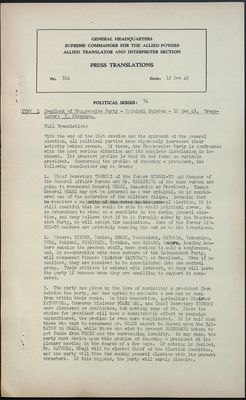 (View Page Image)
GENERAL HEADQUARTERS

SUPREME COMMANDER FOR THE ALLIED POWERS

ALLIED TRANSLATOR AND INTERPRETER SECTION

PRESS TRANSLATIONS

POLITICAL SERIES: 74

ITEM 1 Deadlock of Progressive Party - Mainichi Shimbun - 10 Dec 45. Translator: T. Kitayama.
Full Translation:

With the end of the Diet session and the approach of the general election, all political parties have vigorously increased their activity behind scenes. Of these, the Progressive Party is confronted with the most serious situation and its complete dissolution is imminent. Its greatest problem is that it has found no suitable president. Concerning the problem of choosing a president, the following conclusions may be drawn:
Chief Secretary TSURUMI of the former MINSEI-TO and Manager of the General Affairs Bureau and Mr. NAKAIKAWA of the same bureau are going to recommend General UGAKI, Kazushige as President. Though General UGAKI may not be interned as a war criminal, he is considered one of the moderates of the military clique. Assuming that he receives a majority of the votes in the general election, it is still doubtful that he would be able to wield political power. He is determined to stand as a candidate in the coming general election, and many believe that if he is formally asked by the Progressive Party, he will accept the nomination. Some of the former MINSEI-TO members are privately sounding him out as to his intentions.
Messrs. KIYOSE, Ichiro, KUBOI, Yoshimichi, MATSUDA, Takechiyo, UEDA, Kokichi, NISHIKATA, Toshima, and NAGANO, Mamoru, leading members outside the present staff, have decided to hold a conference, and, in co-operation with come members of the Independent Party, will recommend Finance Minister SAIBUSAWA as President. Even if he declines, they are resolved to be consolidated into one central group. Their attitude is watched with interest, as they will leave the party if someone whom they are unwilling to support is nominated.
The party has given up the idea of nominating a president from outside the party, and has agreed to nominate a new man as such from within their ranks. In this connection, Agriculture Minister MATSUMURA, Commerce Minister OGASAWARA, and Chief Secretary TSURUMI were discussed as candidates, but nothing came of it. Since the choice for president will have a considerable effect on campaign expenditures, the problem is even more complicated. It is said that those who want to recommend Mr. UGAKI expect to depend upon the ZAIBATSU in OSAKA, while those who wish to present SHIBUSAWA intend to get funds from TOKYO and the surrounding locality. In any case, the party must decide upon this problem of choosing a president at its plenary meeting in the course of a few lays. If nothing is decided, Mr. MATSUDA, Chuji will be elected Chief of the Election Committee, and the party will face the coming general election with its present structure. If this happens, the party will surely dissolve.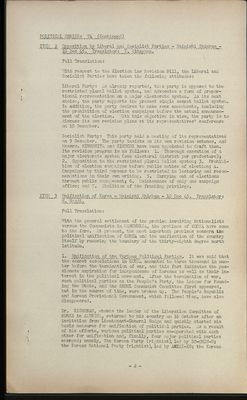 (View Page Image)
POLITICAL SERIES: 74 (Continued)
ITEM 2 Opposition by Liberal and Socialist Parties - Mainichi Shimbun - 10 Dec 45. Translator: T. Kitayama.
Full Translation:

With respect to the Election Law Revision Bill, the Liberal and Socialist Parties have taken the following attitudes:

Liberal Party: As already reported, this party is opposed to the restricted plural ballot system, and advocates a form of proportional representation on a major electorate system. As its next choice, the party supports the present single secret ballot system. In addition, the party desires to make some amendments, including the prohibition of election campaigns before the actual announcement of the election. With this objective in view, the party is to discuss its own revision plans at its representatives' conference on 10 December.

Socialist Party: This party held a meeting of its representatives on 9 December. The party insists on its own revision schemes, and Messrs. KINOSHITA and KIKUCHI have been appointed to draft them. Its revision program is as follows: 1. Thorough execution of a major electorate system (one electoral district per prefecture); 2. Opposition to the restricted plural ballot system; 3. Prohibition of election campaigns before public notice of election; 4. Campaigns by third persons to be restricted to lecturing and recommendations in their own writing. 5. Carrying out of elections through public management; 6. Maintenance of only one campaign office; and 7. Abolition of the franking privilege.

ITEM 3 Unification of Korea - Mainichi Shimbun - 10 Dec 45. Translator: H. Naoji.
Full Translation:

With the general settlement of the problem involving Nationalists versus the Communists in MANCHURIA, the problems of KOREA have come to the fore. At present, the most important problems concern the political unification of KOREA and the unification of the country itself by removing the boundary of the thirty-eighth degree north latitude.

1.
Unification of the Various Political Parties.
It was said that the secret associations in KOREA amounted to three thousand in number before the termination of war, and this fact indicates the passionate aspiration for independence of Koreans as well as their interest in the political movement. After the termination of war, such political parties as the People's Party, the League for Founding the State, and the SEOUL Communist Committee first appeared, but in the course of time, were broken up. The People's Republic and Korean Provisional Government, which followed them, have also disappeared.
Dr. RISHOBAN, who was the leader of the Liberation Committee of KOREA in AMERICA, returned to his country on 16 October after an invitation from Lieutenant-General Hodge and quickly started his basic measures for unification of political parties. As a result of his efforts, various political parties co-operated with each other for unification and, finally, four major political parties emerged; namely, The Korean Party (rightist), led by SO-CHIN-U; the Korean National Party (rightist), led by ANZAI-KO; the Korean

- 2 -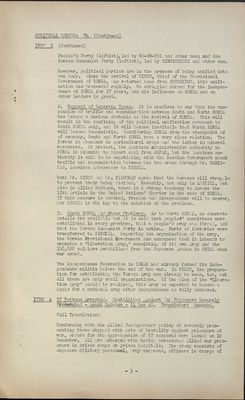 (View Page Image)
POLITICAL SERIES: 74 (Continued)
People's Party (leftist), led by RO-UN-TEI and other men; and the Korean Communist Party (leftist), led by KINNICHISEI and other men.

However, political parties are in the process of being unified into one body. Since the arrival of KINKU, Chief of the Provisional Government of KOREA, who returned home from CHUNGKING, this unification has proceeded rapidly. He struggled abroad for the independence of KOREA for 27 years, and his influence on KOREA and on other leaders is great.

2.
Removal of Separate Zones.
It is needless to say that the suspension of traffic and communication between South and North KOREA has become a serious obstacle to the revival of KOREA. This will result in the confining of the political unification movement to South KOREA only, and it will become inevitable that North KOREA will become Communistic. Considering KOREA from the standpoint of economy, South and North KOREA have a very close relation. The former is abundant in agricultural crops and the latter in mineral resources. At present, the American administrative authority in KOREA is planning to import coal from JAPAN, but the American authority is said to be negotiating with the Russian Government about traffic and communication between the two areas through Mr. HARRIMAN, American Ambassador to RUSSIA.
Both Mr. KINKU and Mr. KISHOBAN agree that the Koreans will struggle to prevent their being divided. Recently, not only in AMERICA, but also in Allied Nations, there is a strong tendency to invoke the 12th Article in the United Nations' Charter in the case of KOREA. If this measure is invoked, freedom and independence will be nearer, but RUSSIA is the key to the solution of the problems.

3.
North KOREA and Other Problems.
As to North KOREA, no concrete details are available but it is said that peoples committees were established in every province, that a people's army was formed, and that the Korean Communist Party is active. Parts of factories were transferred to SIBERIA. Regarding the organization of the army, the Korean Provisional Government has announced that it intends to organize a "Liberation Army," consisting of its own Army and the 150,000 soldiers demobilized from the Japanese Armies in CHINA when war ended.
The Independence Federation in YENAN had already formed its independence militia before the end of the war. In KEIJO, the preparation for establishing the Korean Army can already be seen, too, but all these are only small organizations. If the plan of the "Liberation Army" should be realized, this Army is expected to become a basis for a national army after independence is fully achieved.

ITEM 4 57 Persons Arrested. Brutalities Against War Prisoners Severely Prosecuted - Asahi Shimbun - 11 Dec 45. Translator: Daasche.
Full Translation:

Conforming with the Allied Headquarters policy of severaly prosecuting those charged with acts of brutality against prisoners of war, orders for the apprehension of 57 suspects were, issued on 10 December. All are acharged with having persecuted Allied war prisoners in prison camps or prison hospitals. The group consists of Japanese military personnel, army surgeons, officers in charge of

- 3 -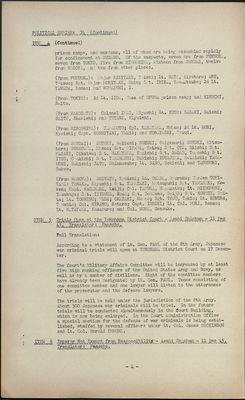 (View Page Image)
POLITICAL SERIES: 74 (Continued)
prison camps, and wardens, all of whom are being assembled rapidly for confinement at SUGAMO. Of the suspects, seven are from FUKUOKA, seven from TOKYO, five from HIROSHIMA, sixteen from SENDAI, twelve from NAGOYA, and ten from other places.

(From FUKUOKA): Major RIKITAKE, Yoichi; Lt. HATA, Kiyotaro; ABE, Tatsuo; gt. Major MORITAKE, Shin; Sgt. IRIRA, Yes
[illegible]
tsuke; 2d Lt. YAMADA, Konzo; and NOMAICHI, I.
(From TOKYO): 2d Lt. IIDA, Waza of OFUNA prison camp; and KIKUCHI, Seito.

(From HAKODATE): Colonel IMAI, Kiyoshi; Lt. KOTO: SASAKI, Scichi; SAITO, Shokichi; and YUTANI, Kiyoichi.

(From HIROSHIMA): YAMAMOTO; Cpl. KANAYAMA, Nobuo; 2d Lt. MORI, Kyoichi; Capt. HOSHITANI, Yukii; and KOBAYASHI, Yasui.

(From SENDAI): SUZUKI, Keiichi; SUZUKI, Shigenori; SUZUKI, Mitsuhara; SUKEGAWA, Misao; Sgt. MIKAWA, Katsu; Sgt. OTA, Eiichi; Sgt. MASAKI, Oikatsu; Sgt. NAKAYAMA, Zonichi; Sgt. SAGAE, Toyoshi; Sgt. ITSU, C
[illegible]
okichi; Sgt. TAKAHASHI, Yukichi; KOTAJIMA, Keikichi; YAMAUCHI, Sokichi; SATO, Shinnosuke; Lt. SANO, Sokichi; and TAGUSORI, Sukeo.
(From NAGOYA): SHITATE, Ryoichi; Lt. OKADA, Myoruku; Warden TOMIYAWA: TANAKA, Kiyoshi; Sgt. YAMAZAKI, Hatsuyuki; Sgt. YAMANAKA, Koken; Capt. NAGAHARA, Keiji; Cpl. TAMURA, Nagematsu; Lt. MIZUGUCHI, Yasukaga; Sgt. IITSUKA, Koza; Sgt. Dondeau, Seiji; Sgt. KONOZE, Suita; Lt. TOSHINO; WADA; OKAZAKI, Kugao; Sgt. TOJO, Tokio; Lt. KOMURA, T
[illegible]
oshio; Col. HIRANO, Kotaro; Capt. ISHIKI; Lt. Col. MORI, Banzo; Lt. HATAYAMA, Kosaburo; and Col. NOMA, Gensuke.
ITEM 5 Trials Open at the Yokohama District Court - Asahi Shimbun - 11 Dec 45. Translator: Paasche.
Full Translation:

According to a statement of Lt. Gen. PAUL of the 8th Army, Japanese war criminal trials will open at YOKOHAMA District Court on 17 December.

The Court's Military Affairs Committee will be increased by at least five high ranking officers of the United States Army and Navy, as well as by a number of civilians. Eight of the committee members have already been designated by Lt. Gen. PAUL. Teams consisting of one committee member and one lawyer will listen to the utterances of the prosecutor and the defense lawyers.

The trials will be held under the jurisdiction of the 8th Army. About 300 Japanese war criminals will be tried. In the future trials will be conducted simultaneously in the Court Building, which is now being enlarged. In the Court Administration Office a special section for the defense of war criminals is being established, staffed by several officers under Lt. Col. James DICKINSON and Lt. Col. Harold EMMONS.

ITEM 6 Emperor Not Exempt from Responsibility - Asahi Shimbun - 11 Dec 45. Translator: Paasche.
- 4 -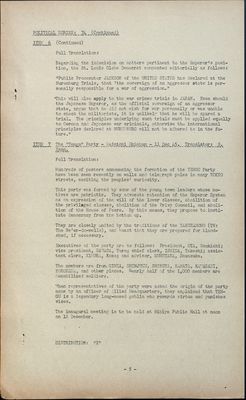 (View Page Image)
POLITICAL SERIES: 74 (Continued)
Full Translation:

Regarding the indecision on matters pertinent to the Emperor's position, the St. Louis Globe Democrat commented editorially as follows:

"Public Prosecutor JACKSON of the UNITED STATES has declared at the Nuremburg Trials, that 'the sovereign of an aggressor state is personally responsible for a war of aggression."

"This will also apply to the war crimes trials in JAPAN. Even should the Japanese Emperor, as the official sovereign of an aggressor state, argue that he did not wish for war personally or was unable to check the militarists, it is unlikely that he will be spared a trial. The principles underlying such trials must be applied equally to German and Japanese war criminals, otherwise the international principles declared at NUREMBERG will not be adhered to in the future."

ITEM 7 The "Tengu" Party, - Mainichi Shimbun - 11 Dec 45. Translator: S. Sano.
Full Translation:

Hundreds of posters announcing the formation of the TENGU Party have been seen recently on walls and telegraph poles in many TOKYO streets, exciting the peoples' curiosity.

This party was formed by some of the young town leaders whose motives are patriotic. They advocate retention of the Emperor System as an expression of the will of the lower classes, aboilition of the privileged classes, abolition of the Privy Council, and abolition of the House of Peers. By this means, they propose to institute democracy from the bottom up.

They are closely united by the traditions of the YAKUZAMONO (TN: The Ne'er-do-wells), and boast that they are prepared for bloodshed, if necessary.

Executives of the party ore as follows: President, OTA, Sankichi; vice president, SAWADA, Taro; chief clerk, ISHIDA, Takeshi; assistant clerk, KIMURA, Kozo; and advisor, MUNETAKA, Shunsuke.

The members are from GINZA, SHINJUKU, SHIBUYA, KAMATA, KAWASAKI, YOKOHAMA, and other places. Nearly half of the 1,000 members are demobilized soldiers.

When representatives of the party were asked the origin of the party name by an officer of Allied Headquarters, they explained that TENGU is a legendary long-nosed goblin who rewards virtue and punishes vices.

The inaugural meeting is to be held at Hibiya Public Hall at noon on 12 December.

DISTRIBUTION: "X"

- 5 -