Press translations [Japan]. Political Series 0072, 1945-12-14.
translation-number: political-0310
call-number: DS801 .S85
---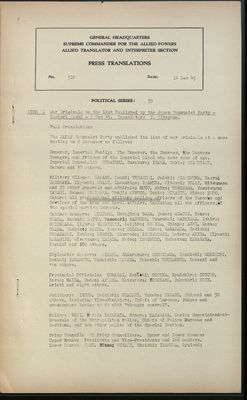 (View Page Image)
GENERAL HEADQUARTERS

SUPREME COMMANDER FOR THE ALLIED POWERS

ALLIED TRANSLATOR AND INTERPRETER SECTION

PRESS TRANSLATIONS

POLITICAL SERIES: 72

ITEM 1 War Criminals on the List Published by the Japan Communist Party - Yomiuri Hochi - 9 Dec 45. Translator: T. Kitayama.
Full Translation:

The JAPAN Communist Party published its list of war criminals at a mass meeting on 8 December as follows:

Emperor, Imperial Family: The Emperor, the Empress, the Empress Dowager, and Princes, of the Imperial Blood who have come of age. Imperial Household: KURATOMI, Yuzaburo; ISAWA, Takio; HYAKUTAKE, Saburo and 30 others.

Military Clique; NAGANO, Osami; TERAUCHI, Juichi; HISHINUMA, Kaoru; HASEGAWA, Kiyoshi; UGAKI, Kazushige; IMAMURA, Hitoshi; YONAI, Mitsumasa and 30 other generals and admirals; MUTO, Akira; TOMINAGA, Yasutsugu; YAHAGI, Nakao; ISHIHARA, Kanji; NEMOTO, Tsuto; HIRAIDE, Hideo; ENDO, Saburo; all professional, military police; officers of the Bureaus and Sections of the Army and Naval affairs, including all the officers of the special service bureaus.

Cabinet Members: KOIZUMI, Matajiro; OASA, Tadao; ADACHI, Kenzo; OBARA, Naoshi; KATSU, Masanori; MATSUNO, Tsuruhei; HATOYAMA, Ichiro; SHIDEHARA, Kijuro; WAKATSUKI, Reijire; UCHIDA, Shinya; AOKI, Kazuo; OKADA, Tadhiko; MAIDA, Yonezo; KODAMA, Hideo; KAWARADA, Kakichi; KOBAYASHI, Ichizo; HIROSE, Hisatada; ISHIWATARI, Sotaro; AKITA, Kiyoshi; HASAMIZU, Hisatsune; KAWADA, Retsu; ISHIGURO, Tadaatsu; KARASAWA, Toshiki and 100 others.

Diplomatic members: HIGAKA, Shinrokure; YOSHIZAWA, Kenkichi; HORIKIRI, Zenbei; YAMAMOTO, Kumaichi; HARADA, Takeshi; TSUKAMOTO, Takeshi and ten others.

Provincial Officials: KUMAGAI, Kenichi; TOZUKA, Kyuichiro; OTSUBO, Yasuo; MAIDA, Tamon; AIKAWA, Katsuroku; YOKOYAMA, Sukenari; SONE, Ariaki and eight others.

Judiciary: IMOTO, Daikichi; OKAZAKI, Yutaka; NAGATO, Shigemi and 30 others, including Vice-Ministers, Chiefs of Bureaus, judges and prosecutors having to do with "thought control".

Police: MORI, Motoi; YAMAGATA, Tamezo; NAKAGAWA, Nario; Superintendent Generals of the Metropolitan Police, Chiefs of Police Bureaus and Sections, and ten other police of the Special Section.

Privy Councils 21 Privy Councillers. Upper and Lower Houses: Upper House: Presidents and Vice-Presidents and 166 members. Lower House: KONO, Mitsu; MIYAKE, Shoichi; INAMURA, Ryuichi;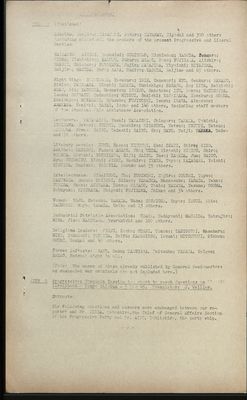 (View Page Image)
POLITICAL SERIES:

[illegible]

(Continued)
ASANUMA, Inajiro KAWAKAKI, Jotaro; KAWAMAT, Kiyoshi and 300 others including all the members of the present Progressive and Liberal Parties.

ZAIBATSU: MITSUI, Takakimi; SUMITOMO, Kichiemon; YASUDA, Zengero; OKURA, Kishichiro; KADONO, Jukuro; ASA
[illegible]
O, Rozo; FUJIYAMA, Aiichiro; OHASHI, Shintaro; FURUKAWA, Jujin; NAKAJIWA, Kiyoichi; MIYAJIMA, Seijiro; MASUDA, Taro; HARA, Kunizo; YASUDA, Haijime and 69 others.
Right Wing: SHIMONAKA, Yasaburor IRIE, Tanenori; ETO, Genkuro; HARANO, Rikizo. NAKAHARA, Kinshi; TANAKA, Kunishige; NAGANO, Ro; KITA, Reikichi; AKAO, Bin; YASUOKA, Masaatsu; ICHIJO, Sanetaka; IZU, Bonpu; TAKESHITA, Isamu; SHIMAZU, Tadashige; MITSUI, Sakichi; TACHIBANA, Kozaburo; HONMA, Kenichiro; MIYAZAKI, Ryusuke; FUJIYOSHI, Isamu; IWATA, Ainosuke; ASAHARA, Kenichi; SASAI, Iccho and 146 others, including staff members of the Imperial Rule Assistance Association.

Lecturers. TAKAHASHI, Yusai; TAKAISHI, Shingoro; TANAKA, Tokichi; ISHIKAWA Takemi; SUZUKI, Bunshiro; HISATOMI, Tatsuo; TSUKUI, Tatsuo;
[illegible]
UMURA, Kiwao. SAITO, Tadashi; SAITO, Sho; SATO, Teiji; TANAKA, Tadao and 72 others.
Literary people: KUME Masao; KIKUCHI, Kan; OZAKI, Shiro; HINO, Ashihei; HAYASHI, Fusao; ASANO, Cho; UEDA, Hiroshi; HIBINO, Shiro; MUNETA, Hiroshi; YOSHIKAWA, Eiji; SAIZO, Yaso; KAWADA, Jun; SAITO, Ryu; YOKOMIZU, Richi; JISHI, Hachiro; IWATA, Toyoo; NAKAGAWA, Yoichi; KISHIDA, Kunishi; YOSHIYA, Nobuko and 95 others.

Intellectuals: HIRAIZUMI, Cho; SUGIMORI, Kojiro; OGUSHI, Toyoo; NANIWADA, Haruo; KOIZUMI, Shinzo; YAMAOKA, Mannosuke; YAMADA, Takao; UCHIDA, Shozo; AKIYAMA, Kenzo; NAKANO, Tomie; TAKATA, Yasuma; OGUMA, Nobuyuki; HIHIKATA, Shigemi; FUJISAWA, Chikao and 34 others.

Women: TOJO, Katsuko, YAMADA, Waka; YOSHIOKA, Yayoe; INOUE, Hide; TAKEUCHI, Moyo; YAMADA, Teiko and 13 others.

Industrial Patriatic Association: OBATA, Tadayoshi; MACHIDA, Tatsujiro; MIWA, Jiso: MARUYAMA, Tsurukichi and 100 others.

Religions Leaders: OTANI, Kocho; OTANI, Tomoko; TANIGUCHI, Masaharu; MIKI, Tokuichi; YOSHIDA, Seifu; KANEMITSU, Iekuni; MOTSUZUKI, Nikken; OMORI, Zenkai and 45 others.

Former Leftists: SANO, Gaku; NABEYAMA, Kaitsuka; TANAKA, Seigen; NAKAO, Katsuo; eight in all.

(Note: The names of those already published by General Headquarters as suspected war criminals are not included here.)

ITEM 2 Progressives Complain Session too short to reach Questions on Livelihood - Tokyo Shimbun - 9 Dec 45. Translator: J. Weiller.
Extracts:

The following questions and answers were exchanged between our reporter and Mr. IKEDA, Takeshiro, the Chief of General Affairs Section the Progressive Party and Mr. AINO, Tokiichiro, the party whip.

- 2 -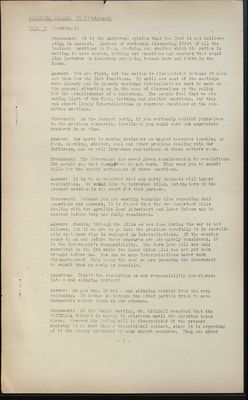 (View Page Image)
POLITICAL SERIES: 72 (Continued)
Statement: It is the universal opinion that the Diet is not deliberating in earnest. Instead of seriously discussing first of all the imminent questions on food, clothing and shelter which the Nation is waiting to have solved, nothing but questions and answers that sound like lectures on democracy are being tossed back and forth in the House.

Answer: You are right, but the nation is disappointed because it does not know how the Diet functions. Up until now most of the meetings were plenary and in plenary meetings interpellations must be made on the general situation as in the case of discussions on the policy for the establishment of a democracy. The people feel that we are making light of the food, clothing and shelter questions, but they can expect lively interpellations on concrete questions at the committee meetings.

Statement: As the largest party, if you seriously applied yourselves to the problems concerning livelihood you could work out appropiate measures in no time.

Answer: Our party is making decisions on urgent measures touching on food, clothing, shelter, coal and other problems dealing with War Sufferers, and we will introduce resolutions on these matters soon.

Statement: The Government has never given consideration to resolutions. The people say that resolutions do not work. They want you to submit bills for the speedy settlement of these questions.

Answer: It is to be expected that non party cabinets will ignore resolutions. We would like to introduce bills, but the term of the present session is too short for that purpose.

Statement: Because you are wasting valuable time repeating dull questions and answers, it is feared that the two important bills dealing with the Agralian Land Adjustment and Labor Unions may be shelved before they are fully considered.

Answer: Pushing through the bills as was done during the war is not allowed, but if we are to go into the problems carefully it is inavoidable that much time is employed in interpellations. If the session comes to an end before these measures are adequately considered, it is the Government's responsibility. The Farm Land Bill was only submitted on the 5th while the Labor Union Bill has not yet been brought before us. How can we make interpellations under such circumstances? This being the case we are pressing the Government to submit them as early as possible.

Question: Didn't the resolution on war responsibility deteriorate into a mud slinging contest?

Answer: As you say, it was a mud slinging contest from the very beginning. It became so because the other parties tried to make themselves appear clean at our expense.

Statement: At the Budget meeting, Mr. KAWASAKI remarked that the SHIDEHARA Cabinet is merely in existence until the election takes place. However the Nation will be disappointed if the present ministry is no more than a transitional cabinet, since it is expecting of it the steady enactment of many urgent measures. They are under

- 3 -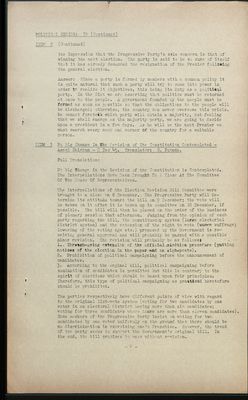 (View Page Image)
POLITICAL SERIES: 72 (Continued)
the impression that the Progressive Party's sole concern is that of winning the next election. The party is said to be so sure of itself that it has already demanded the resignation of the Premier following the general election.

Answer; Since a party is formed by members with a common policy it is quite natural that such a party will try to come into power in order to realize it objectives, this being its duty as a political party. In the Diet we are asserting that politics must be returned at once to the people. A government founded by the people must be formed as soon as possible so that the obligations to the people will be discharged; otherwise, the country can never overcome this crisis. We cannot foretell which party will obtain a majority, but feeling that we shall emerge as the majority party, we are going to decide upon a president in a few days. As he will be the next Premier we must search every nook and corner of the country for a suitable person.

ITEM 3 No big Change In The Revision of The Constitution Contemplated - Asaki Shimbun - 9 Dec 45. Translator: S. Fuknda.
Full Translation:

No big Change in the Revision of the Constitution is Contemplated. The Interpellations Have been Brought To A Close At The Committee Of The House Of Representatives.

The interpellations of the Election Revision Bill Committee were brought to a close on 8 December. The Progressive Party will determine its attitude toward the bill on 9 December; the vote will be taken on it after it is taken up in committee on 10 December, if possible. The bill will then be placed on the order of the business of plenary session that afternoon. Judging from the opinion of each party regarding the bill, the constituency system (large electorial district system) and the extension of the right to vote (women suffrage; lowering of the voting age etc.) proposed by the Government is receiving general approval and will probably be passed with a possible minor revision. The revision will probably be as follows)

Through-going extension of the official election procedure (putting notices of the election in the paper and on sign-posts)
Prohibition of political campaigning before the announcement of candidates.
According to the original bill, political campaigning before nomination of candidates is permitted but this is contrary to the spirit of elections which should be based upon fair principles. Therefore, this type of political campaigning as practiced heretofore should be prohibited.
The parties respectively have different points of view with regard to the original list-vote system (voting for two candidates by one voter in an electoral district having more than six candidates; voting for three candidates where there are more than eleven candidates). Some members of the Progressive Party insist on voting for two candidates by one voter uniformly on the ground that there should be no discrimination in exercising one's franchise. However, the trend of the party seems to support the Government's original bill. In the end, the bill promises to pass without revision.

- 4 -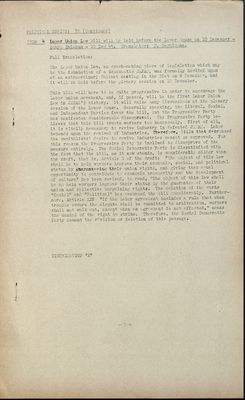 (View Page Image)
POLITICAL SERIES: 72 (Continued)
ITEM 4 Labor Union Law bill will be laid before the Lower House on 10 December - Tokyo Shimbun - 10 Dec 45. Translator: N. Tachibana.
Full Translation:

The Labor Union Law, an epoch-making piece of legislation which may be the foundation of a democratic JAPAN, was formally decided, upon at an extraordinary Cabinet meeting in the Diet on 8 December, and it will be laid before the plenary session on 10 December.

This bill will have to be quite progressive in order to encourage the labor union movement, and, if passed, will be the first Labor Union Law in JAPAN'S history. It will raise many discussions at the plenary session of the Lower House. Generally speaking, the Liberal, Social, and Independent Parties favor the bill, but the Progressive Party has manifested considerable disapproval. The Progressive Party believes that this bill treats workers too handsomely. First of all, it is vitally necessary to revive industry in defeated JAPAN. Labor depends upon the revival of industries. Therefore, bills that decreased the capitalists' desire to revive industries cannot be approved. For this reason the Progressive Party is inclined to disapprove of the measure entirely. The Social Democratic Party is dissatisfied with the fact that the bill, as it now stands, is considerably milder than the draft, that is, Article I of the draft: "The object of this law shall be to help workers improve their economic, social, and political status by
[illegible]
aranteeing their union rights, and giving them equal opportunity to contribute to economic prosperity and the development of culture" has been revised, to read, "The object of this law shall be to help workers improve their status by the guarantee of their union and collective bargaining rights. The deletion of the words "Social" and "Political" has weakened the bill considerably, Furthermore, Article XXV "If the labor agreement includes a rule that when trouble occurs the dispute shall be submitted to arbitration, workers shall not walk out, except when an agreement is not effected," means the denial of the right to strike. Therefore, the Social Democratic Party demand the rivision or deletion of this passage.
DISTRIBUTION "X"

- 5 -