Press translations [Japan]. Political Series 0066, 1945-12-11.
translation-number: political-0285
call-number: DS801 .S85
---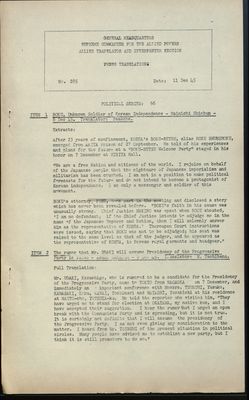 (View Page Image)
GENERAL HEADQUARTERS

SUPREME COMMANDER FOR THE ALLIED POWERS

ALLIED TRANSLATOR AND INTERPRETER SECTION

PRESS TRANSLATIONS

POLITICAL SERIES: 66

ITEM 1 BOKU, Unknown Soldier of Korean Independence - Mainichi Shimbun - 8 Dec 45. Translator: Paasche.
Extracts:

After 23 years of confinement, KOREA'S BOKU-RETSU, alias BOKU SHUNSHOKU, emerged from AKITA Prison of 27 September. He told of his experiences and plans for the future at a "BOKU-RETSU Welcome Party" staged in his honor on 7 December at HIBIYA Hall.

"We are a free Nation and citizens of the world. I rejoice on behalf of the Japanese people that the nightmare of Japanese imperialism and militarism has been crushed. I am not in a position to make political forecasts for the future and do not intend to become a protagonist of Korean independence. I am only a messenger and soldier of this movement.

BOKU's attorney, FUSE, took part in the meeting and disclosed a story which has never been revealed before. "BOKU's faith in his cause was unusually strong. Chief Justice MAKINO was upset when BOKU shouted, 'I am no defendant; if the Chief Justice intends to adjudge me in the name of the Japanese Emperor and Nation, then I will solemnly answer him as the representative of KOREA.' Thereupon Court instructions were issued, saying that BOKU was not to be adjudged; his seat was raised to the same level as that of the judger, and he appeared as the representative of KOREA, in Korean royal garments and headgear."

ITEM 2 The rumor that Mr. UGAKI will assume Presidency of the Progressive Party is false - Asani Shimban - 3 Dec 45. Translator: N. Tachibana.
Full Translation:

Mr. UGAKI, Kazushige, who is rumored to be a candidate for the Presidency of the Progressive Party, came to TOKYO from NAGAOKA on 7 December, and immediately an
[illegible]
important conference with Messrs, TSURUMI, Yusuke, KAWASAKI, Koku, KAWAI, Yoshinari and HAYASHI, Yasakichi at his residence at NAITO-cho, YOTSUYA-ku. He told the reporter who visited him, "They have urged me to stand for election at OKAYAMA, my native ken, and I have accepted their suggestion. I hear the rumor that I urged an open break with the Communists Party and is spreading, but it is not true. It is certainly not definite that I will assume the presidency of the Progressive Party. I am not even giving any consideration to the matter. I heard from Mr. TSURUMI of the present situation in political circles. Many people have advised me to establish a new party, but I think it is still premature to do so."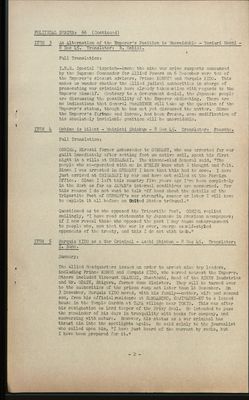 (View Page Image)
POLITICAL SERIES: 66 (Continued)
ITEM 3 An Alternation of the Emperor's Position is Unavoidable - Yomiuri Hochi - 8 Dec 45. Translator: R. Ochiai.
Full Translation:

I.N.S. Special Dispatch—Among the nine war crime suspects announced by the Supreme Commander for Allied Powers on 6 December were two of the Emperor's closest advisors, Prince KONOYE and Marquis KIDO. This makes us wonder whether the Allied judical authorities in charge of prosecuting war criminals have already taken action with regards to the Emperor himself. Contrary to a Government denial, the Japanese people are discussing the possibility of the Emperor abdicating. There are no indications that General MacARTHUR will take up the question of the Emperor's status, though he has not yet discussed the matter. Since the Emperor's fortune and income, has been frozen, some modification of his absolutely inviolable position will be unavoidable.

ITEM 4 Oshima is Silent - Mainichi Shimbun - 8 Dec 45. Translator: Paasche.
Full Translation:

OSHIMA, Hiroshi former Ambassador to GERMANY, who was arrested for war guilt immediately after setting foot on native soil, spent his first night in a villa at CHIGASAKI. The kimono-clad General said, "The people who co-operated with me in BERLIN know what I thought and felt. Since I was arrested in GERMANY I knew that this had to come. I have just arrived at CHIGASAKI by car and have not called at the Foreign Office. Since I left this country five years ago I've been completely in the dark as far as JAPAN's internal conditions are concerned. For this reason I do not want to talk off hand about the details of the Tripartite Pact of GERMANY's war strength, sooner or later I will have to explain it all before an United States tribunal."

Questioned as to who opposed the Tripartite Pact, OSHIMA replied smilingly, 'I have read statements by Japanese in American newspapers; if I now reveal those who opposed the pact I may cause embarrassment to people who, now that the war is over, emerge as self-styled opponents of the treaty, and this I do not wish to do."

ITEM 5 Marquis KIDO as a War Criminal - Asahi Shimbun - 8 Dec 45. Translator; S. Sano.
Summary:

The Allied Headquarters issued an order to arrest nine top leaders, including Prince KONOE and Marquis KIDO, who served nearest the Emperor. Others included Viscount OKAUCHI, Masatoshi, head of the RIKEN Inudstries and Mr. ODATE, Shigeru, former Home Minister. They will be turned over to the authorities of the prison camp not later than 16 December. On 3 December, Marquis KIDO moved, with his family—nother, wife and second son, from his official residence at SAMBANCHO, KOJIMACHI-KU to a leased house in the Temple Garden at TAMA village near TOKYO. This was after his resignation as Lord Keeper of the Privy Seal. He intended to pass the remainder of his days in tranquility with books for company, and conversing with nature. However, his status as a war criminal has thrust him into the spotlights again. He said calmly to the journalist who called upon him, "I have just heard of the warrant by radio, but I have been prepared for it."

- 2 -

(View Page Image)
POLITICAL SERIES: 66 (Continued)
While stirring up the scanty fire in his fire place, he calmly continued, "Since so many notables have been arrested, I thought this would come. The reasons I should bear war responsibilities are beyond my comprehension. They will be decided by the Allies. I will make a full reply after hearing the questions brought out in the trial. My present desire is only to read books without disturbances. I have nothing further to say now. Moreover, since it may lead to misunderstandings, as in the past, if I should comment on the war, I prefer to remain silent."

The journalist then remarked, "It is rumored that you were closest to the Emperor during the war. Even the Imperial families who called on the Emperor were not allowed to talk with the Emperor beyond ordinary conversation unless they should express opinions against the war. Is that true?"

"It cannot be true. That is also a misunderstanding," answered the Marquis.

He talked about the war responsibility of the Emperor which recently came into question among the Allied Nations and strongly densed the Emperor's responsibility.

"I believe the Emperor has no responsibility in the war because, according to the Constitution, there is one person who is responsible for all state affairs," he concluded.

ITEM 6 Generals OKAMURA, TADA Named War Criminals by CHINESE Reds - Asahi Shimbun 8 Dec 45. Translator: S. Kawasaki.
Full Translation:

The War Crimes Committee of the Communist Army charged that General OKAMURA, Neiji, Commander of the expeditionary forces to CHINA, took personal command of the butchery of inhabitants at an agricultural village in NORTH CHINA when he was the supreme commander of NORTH CHINA in 1942.

The committee has demanded his instant arrest as war criminal Number 1. At the same time, General TADA, Shun, his predecessor, was named war criminal Number 2 on the grounds that he conducted in 1941, a massacre of over 1,000 people of all ages and both sexes.

ITEM 7 Prosecution of War Criminals - Asahi Shimbun - 8 Dec 45. Translator: T. Kitayama.
Full Translation:

Mr. Joseph B. KEEAN, Chief Prosecutor of Japanese war criminals, arrived at the ATSUGI Aerodrome on 6 December, accompanied by his 38 assistants. Coming to Tokyo immediately, he occupied quarters at the Imperial Hotel. He is scheduled to meet with General MacARTHUR on 8 December and commence necessary arrangements for the trial of Japanese war criminals.

On the afternoon of 7 December, Mr. KEENAN was interviewed by the press. The following are questions and answers which made up the interview:

- 3 -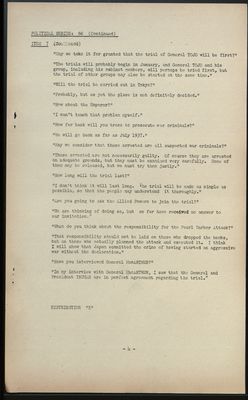 (View Page Image)
POLITICAL SERIES: 66 (Continued)
"May we take it for granted that the trial of General TOJO will be first?"

"The trials will probably begin in January, and General TOJO and his group, including his cabinet members, will perhaps be tried first, but the trial of other groups may also be started at the same time."

"Will the trial be carried out in Tokyo?"

"Probably, but as yet the place is not definitely decided."

"How about the Emperor?"

"I can't touch that problem myself."

"How far back will you trace to prosecute war criminals?"

"We will go back as far as July 1937."

"May we consider that those arrested are all suspected war criminals?"

"Those arrested are not necessarily guilty. Of course they are arrested on adequate grounds, but they must be examined very carefully. Some of them may be released, but we must try them justly."

"How long will the trial last?"

"I don't think it will last long. The trial will be made as simple as possible, so that the people may understand it thoroughly."

"Are you going to ask the Allied Powers to join the trial?"

"We are thinking of doing so, but so far have received no answer to our invitation."

"What do you think about the responsibility for the Pearl Harbor Attack?"

"That responsibility should not be laid on those who dropped the bombs, but on those who actually planned the attack and executed it. I think I will show that Japan committed the crime of having started an aggressive war without the declaration."

"Have you interviewed General MacARTHUR?"

"In my interview with General MacARTHUR, I saw that the General and President TRUMAN are in perfect agreement regarding the trial."

DISTRIBUTION "X"

- 4 -