Press translations [Japan]. Political Series 0023, 1945-11-26.
translation-number: political-0098
call-number: DS801 .S85
---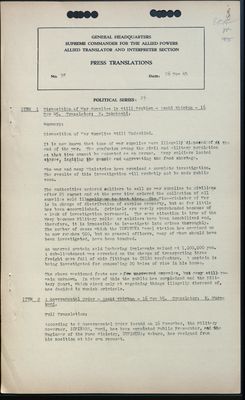 (View Page Image)
GENERAL HEADQUARTERS

SUPREME COMMANDER FOR THE ALLIED POWERS

ALLIED TRANSLATOR AND INTERPRETER SECTION

PRESS TRANSLATIONS

POLITICAL SERIES: 23

ITEM 1 Disposition of war Supplies Is Still Problem - Asahi Shimbun - 16 Nov 45. Translator: H. Takahashi
.
Summary:

Disposition of war Supplies Still Undecided.

It is now known that tons of war supplies were illegally disposeds of at the end of the war. The confusion among the civil and military population at that time cannot be accepted as an excuse. Many soldiers looted stores, inciting the people and aggravating the food shortage.

The war and many Ministries have promised a complete investigation. The results of this investigation will probably not be made public soon.

The authorities ordered soldiers to sell no war supplies to civilians after 29 August and at the same time ordered the collection of all supplies sold illegally up to that time. The Vice-Minister of War is in charge of distribution of surplus property, but so far little has been accomplished, Criminals are rarely apprehended because of a lack of investigation personnel. The same situation is true of the Navy because Military police or soldiers have been demobilized and, therefore, it is impossible to investigate into crimes thoroughly. The number of cases which the YOKOSUKA Naval station has examined up to now reaches 500, but no general officers, many of whom should have been investigated, have been touched.

An unarmed captain sold lumbering implements valued at 1,000,000 yen. A sub-lieutenant was arrested on the charge of transporting three freight cars full of ship fittings to CHIBA prefecture. A captain is being investigated for concealing 20 bales of rice in his house.

The above mentioned facts are a few uncovered examples, but many still remain unknown. In view of this the public has complained and the Military Court, which aimed only at regaining things illegally disposed of, has decided to punish criminals.

ITEM 2 A Governmental Order - Asahi Shimbun - 16 Nov 45. Translator: K. Murakami
.
Full Translation:

According to a Governmental Order issued on 16 November, the Military Governor, ICHIHARA, Fumi, has been appointed Public Presecutor, and the Engineer of the Home Ministry, UCHIMURA, Saburo, has resigned from his position at his own request.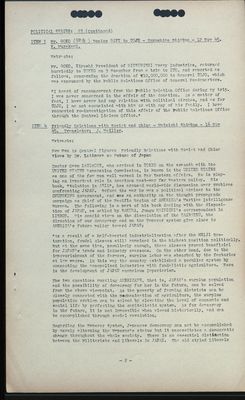 (View Page Image)
POLITICAL SERIES: 23 (Continued)
ITEM 3 Mr. GOKO (

[illegible]

) Denies GIFT to TOJO - Tokushima shimbun - 12 Nov 45. K. Murakami
.
Extracts:

Mr. GOKO, Kiyoshi President of MITSUBISHI Heavy Industries, returned hurriedly to TOKYO on 9 November from a trip to ITO, and reported as follows, concerning the donation of ¥10,000,000 to General TOJO, which was announced by the Public Relations Office of General Headquarters.

"I heard of announcement from the Public Relation Office during my trip. I was never concerned in the affair of the donation. As a matter of fact, I have never had any relation with political circles, and as for TOJO, I am not acquainted with him or with any of his family. I have requested re-investigation of this affair of the Public Relations Office through the Central Liaison Office."

ITEM 4 Friendly Relations with Soviet and China - Mainichi Shimbun - 16 Nov 45. Translator: J. Weiller
.
Extracts:

New Men As Central Figures Friendly Relations with Soviet and China views by Dr. Latimore on Future of Japan

Doctor Owen LATIMORE, who arrived in TOKYO on the seventh with the UNITED STATES Reparation Commission, is known in the UNITED STATES as one of the few men well versed in Far Eastern affairs. He is playing an important role in American post-war far Eastern policy. His book, "Solution in ASIA", has aroused world-wide discussion over problems confronting JAPAN. Before the war he was a political adviser to the CHUNGKING Government, and was an authority on the thought propaganda campaign as Chief of the pacific Region of AMERICA's Wartime Intelligence Bureau. The following is a, part of his book dealing with the disposition of JAPAN, as cabled by SAKURA, Jungu MAINICHI's correspondent in LISBON. His candid views on the dissolution of the ZAIBATSU, the direction of our democracy and on the Emperor system give clues to AMERICA's future policy toward JAPAN:

"As a result of a half-hearted industrialization after the MEIJI Restoration, feudal classes still remained in the highest position politically. But at the same tire, peculiarly enough, these classes proved beneficial for JAPAN's trade and industry overseas. On the other hand, due to the impoverishment of the farmers, surplus labor was absorbed by the factories at low wages. In this way the country established a peculiar system by connecting the monopolized industries with feudalistic agriculture. Here is the development of JAPAN anomalous Imperiarism.

The two questions puzzling AMERICANS, that is, JAPAN's surplus population and the possibility of democracy for her in the future, can be solved from the above viewpoint. As the poverty of farming districts can be closely connected with the mechanization of agriculture, the surplus population problem can be solved by elevating the level of economic and social life by perfecting the capitalistic system. As for democracy in the future, it is not impossible when viewed historically, and can be accomplished through social revolution.

Regarding the Emperor System, Japanese democracy can not be accomplished by merely alterning the Emperor's status but it necessitates a democratic change throughout the whole society. There is no essential distinction between the Militarists and Liberals in JAPAN. The old styled Liberals

- 2 -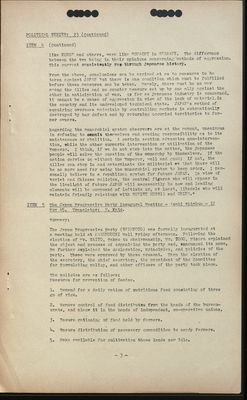 (View Page Image)
POLITICAL SERIES: 23 (Continued)
like KONOE and others, were like SCHACHT in GERMANY. The difference between the two being in their opinions concerning methods of aggression. This current consistently ran through Japanese history.

From the above, conclusions can be arrived at as to measures to be taken against JAPAN but there is one condition which must be fulfilled before these measures can be taken, Namely, there must be no war among the Allies and no counter measure set up by one ally against the other in anticipation of war. As far as Japanese industry is concerned, it cannot be a cause of aggression in view of the lack of material in the country and its undeveloped technical state. JAPAN's method of acquiring overseas materials by controlling markets is automatically destroyed by her defeat and by returning occupied territories to former owners.

Regarding the monarchial system observers are at the moment, unanimous in refusing to commit themselves and evading responsibility as to its maintenance or abolition. A certain section advocates non-intervention, while the other supports intervention or utilization of the Emperor. I think, if we do not step into the matter, the Japanese people will solve the question of the monarchy by themselves. If the nation carries on without the Emperor, well and good; if not, the Allies can step in and exterminate the militarist so that there will be no more need for using the monarchial system to keep order. I personally believe in a republican system for future JAPAN. In view of Soviet and Chinese policies, the central figures who will appear in the limelight of future JAPAN will necessarily be new and leading elements will be composed of leftists or, at least, liberals who will maintain friendly relations with SOVIET RUSSIA and CHINA."

ITEM 5 The Japan Progressive Party Inaugural Meeting - Asahi Shimbun - 17 Nov 45. Translator: H. Kato
.
Summary:

The Japan Progressive Party (SHIMPOTO) was formally inaugurated at a meeting held at MARUNOUCHI Hall Friday afternoon. Following the election of Mr. SAITO, Takao to chairmanship, Mr. TOGO, Minoru explained the object and process of organizing the party and, announced its name, He further explained the declaration, principles, and policies of the party. These were approved by those present. Then the election of the secretary, the chief secretary, the president of the Committee for Formulating policy, and other officers of the party took place.

The policies are as follows:

Measures for prevention of famine.

Demand for a daily ration of nutritious food consisting of three go of rice.
Remove control of food distributes from the hands of the bureaucrats, and place it in the hands of independent, co-operative unions.
Ensure rationing of food held by farmers.
Ensure distribution of necessary commodities to needy farmers.
Make available for cultivation those lands now idle.

- 3 -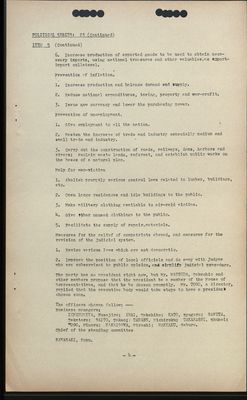 (View Page Image)



POLITICAL SERIES: 23 (Continued)





ITEM 5

(Continued)
Increase production of exported goods to be used to obtain necessary imports, using national treasures and other valuables. as import-import collateral.
Prevention of inflation.

Increase production and balance demand and supply.
Reduce national expenditures, taxing, property and war-profit.
Issue new currency and lower the purchasing power.
Prevention of unemployment.

Give employment to all the nation.
Hasten the increase of trade and industry especially medium and small trade and industry.
Carry out the construction of roads, railways, dams, harbors and rivers; reclaim waste lands, reforest, and establish public works on the bases of a natural plan.
Help for war-victims

Abolish promptly various control laws related to lumber, buildings, etc.
Open large residences and idle buildings to the public.
Make military clothing available to air-raid victims.
Give ether unused clothings to the public.
Facilitate the supply of repair materials.
Measures for the relief of compatriots abroad, and measures for the revision of the judicial system.

Revise various laws which are not democratic.
Improve the position of local officials and do away with judges who are subservient to public opinion, and simplify judicial procedure.
The party has no president right now, but Mr. MATSUDA, Takechio and other members propose that the president be a member of the House of Representatives, and that he be chosen promptly. Mr. TOGO, a director, replied that the executive body would take steps to have a president chosen soon.

The officers chosen follow; —-

Business managers:

ICHINOMIYA, Fusajiro; IMAI, Takehiko; KATO, Ryogoro; SAKUTA, Tekataro; SAITO, Takao; TANABE, Hichiroku; TAKAHASHI, Shuhei; TOGO, Minoru; NAKAIGAWA, Hiroshi; HAKKAKU, Saburo.

Chief of the standing committee

KAWASAKI, Koku.

- 4 -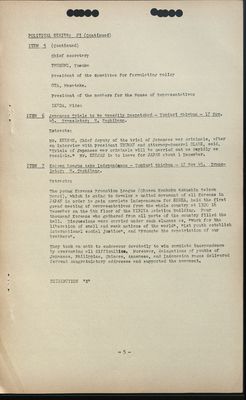 (View Page Image)
POLITICAL SERIES: 23 (Continued)
Chief secretary

TSURUMI, Yusuke

President of the committee for formulating policy

OTA, Masataka.

President of the members for the House of Representatives

IKEDA, Hideo

ITEM 6 Japanese Trials to Be Speedily Despatched - Yomiuri Shimbun - 17 Nov. 45. Translator: N. Tachibana
.
Extracts:

Mr. KEENAN, Chief deputy of the trial of Japanese war criminals, after an interview with president TRUMAN and Attorney-General CLARK, said, "Trials of Japanese war criminals will be carried out as rapidly as possible." Mr. KEENAN is to leave for JAPAN about 1 December.

ITEM 7 Korean League Asks Independence - Yomiuri Shimbun - 17 Nov 45. Translator: N. Tachibana
.
Extracts:

The young Koreans Promotion League (Chosen Kenkoku Sokushin Seinen Domei), which is going to develop a united movement of all Koreans in JAPAN in order to gain complete independence for KOREA, held the first grand meeting of representatives from the whole country at 1300 16 December on the 5th floor of the HIBIYA Aviation Building. Four thousand Koreans who gathered from all parts of the country filled the hall. Discussions were carried under such slogans as, "Work for the liberation of small and weak nations of the world", "Let youth establish international social justice", and "Promote the repatriation of our brothers".

They took an oath to endeavour devotedly to win complete independence by overcoming all difficulties. Moreover, delegations of youths of Japanese, Philippine, Chinese, Annamese, and Indonesian races delivered fervent congratulatory addresses and supported the movement.

DISTRIBUTION "X"

- 5 -