Press translations [Japan]. Editorial Series 0450, 1946-02-17.
translation-number: editorial-1391
call-number: DS801 .S82
---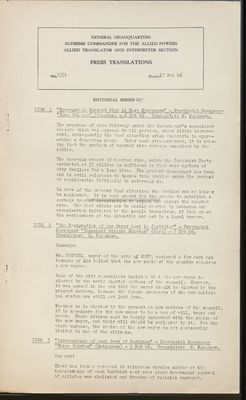 (View Page Image)
GENERAL HEADQUARTERS

SUPREME COMMANDER FOR THA ALLIED POWERS

ALLIED TRANSLATOR AND INTERPRETER SECTION

PRESS TRANSLATIONS

EDITORIAL SERIES: 450

ITEM 1 "Exposure of Hoarded Rice is Most Necessary" - Provincial Newspaper "Godo Shimbun" (Okayama) - 6 Feb 46. Translator: H. Furukawa.
The progress of rice delivery under the Government's compulsory measure which was opposed by all parties, shows little improvement, consequently the food situation urban districts is approaching a dangerous point. Under such circumstances, it is amazing that the problem of hoarded rice remains unnoticed by the public.

The enormous amount of hoarded rice, which the Communist Party estimated at 19 million is sufficient to feed vest numbers of city dwellers for a long time. The present Government has been and is still reluctant to tackle this problem under the pretext of considerable difficulty in solvering it.

In view of the present food situation the problem can no longer be neglected. It is most urgent for the people to establish a certain type of organization to expose and manage the hoarded rice. The food crisis can be easily averted by measures and organization initiated by the people themselves, if they grasp the seriousness of the situation and act in a legal manner.

ITEM 2 "The Resignation of our Mayor Must be Justified" Provincial Newspaper "Yamanashi Hinichi Shimbun"(Kofu) - 7 Feb 46. Translator: H. Furukawa.
Summary:

Mr. NOGUCKI, mayor of the city of KOFU, resigned a few days ago because of his belief that the now state of the country requires a new mayor.

Some of the city councillers insisted that now mayor be elected by the newly elected, members of the council. However, it was agreed in the end that the mayor should be elected by the present members, because the future prospects of the new municipal system are still not laid down.

Whether he is elected by the present or now members of the council, it is necessary for the new mayor to be a man of will, trust and power. Every citizen must be deeply concerned with the choice of the now mayor, and their will should be reflected by it. For the above purpose, the choice of the new mayor is not necessarily limited to one of the citizens.

ITEM 3 "Independence of each Sect of Buddhism" - Provincial Newspaper "Ehime Shimbun" (Matsuyama) - 9 Feb 46. Translator: H. Furukawa.
Summary:

There has been a movement in religious circles aiming at the independence of each Buddhist sect ever since Government control of religion was abolished and freedom of religion restored.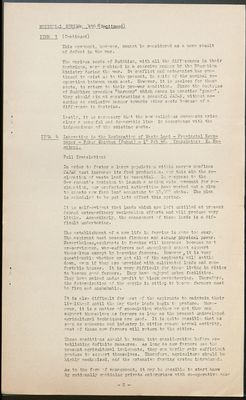 (View Page Image)
EDITORIAL SERIES: 450 (Continued)
This movement, however, cannot ho considered as a mere result of defeat in the war.

The various sects of Buddhism, with all the differences in their doctrines, were combined in a coercive manner by the Education Ministry during the war. So conflict and antagonism has continued to exist up to the present, in suite of the nominal cooperation between each sect. However, it is useless for these sects, to return to their pre-war condition. Since the doctrine of Buddhism preaches "harmony" which means in practice "peace'', they should aim at constructing a peaceful JAPAN, without assuming an exclusive manner towards other sects because of a difference in doctrine.

Lastly, it is necessary that the now religious movements arise along a peaceful and democratic line in accordance with the independence of the existing sects.

ITEM 4 Innovation in the Reclamation of waste Land - Provincial Newspaper - Fukui Shimbun (Fukui) - Feb 46. Translator: K. Nagatani.
Full Translation:

In order to foster a large population within narrow confines JAPAN mast increase its food production. For this aim the reclamation of waste land is essential. In response to the Government's decision to launch a nation wide movement for reclamation, our prefectural authorities have worked out a plan to create new farm land amounting to 10,000 chobu. The plan is scheduled to be put into effect this spring.

It is self-evident that lands which are left untilled at present demand extraordinary reclamation efforts and will produce very little. Accordingly, the management of these lands is a difficult undertaking.

The establishment of a new life in farming is none too easy. The aspirant mast possess firmness and strong physical power. Nevertheless, aspirants in farming will increase because most ex-servicemen, war-sufferers and unemployed cannot support themselves except by becoming farmers. However, it is very questionable whether or not all of the aspirants will settle down, oven if they are provided with cultivated lands and comfortable houses. It is very difficult for those living in cities to become good farmers. They have enjoyed, urban facilities. They have gained undue profit by black marketeering. Therefore, the determination of the people in cities to become farmers must be firm and unshakable.

It is also difficult for most of the aspirants to maintain their livelihood until the day their lands begin to produce. Moreover, it is a matter of speculation whether or not they can support themselves as farmers as long as the present undeveloped agricultural techniques are used. It is quite possible that as soon as commerce and industry in cities resume normal activity, most of those new farmers will return to the cities.

These conditions should be taken into consideration before establishing definite measures. As long as new farmers use the present agricultural implements, they can hardly gain sufficient produce to support themselves. Therefore, agriculture should be highly mechanized, and the extensive farming system introduced.

As to the form of management, it may be possible to start anew by rationally combining private enterprises with co-operative one
[illegible]
- 2 -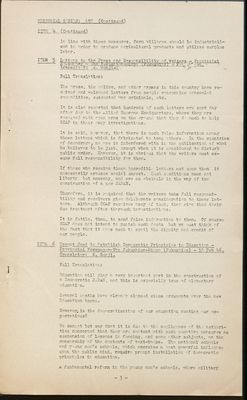 (View Page Image)
EDITORIAL SERIES: 450 (Continued)
In line with these measures, farm villages should he industrialized order to products agricultural products and utilize surplus labor.

ITEM 5 Letter to the Press and Responsibility of writers - Provincial Newspaper - The Fukushime-Mimpo (Fukushima) -

[illegible]

146. Translator: K. Gunjiur.
Full Translation:

The press, the police, and other organs in this country have received and welcomed letters from people concerning concealed, commodities, suspected, war criminals, etc.

It is also reported that hundreds of such letters are sent day after day to the Allied Supreme Headquarters, where they are received with open arms on the ground that they do much to help SCAP in their many investigations.

It is said, however, that there is much false information among these letters which is fabricated to trap others. In the countries of democracy, no one is interfered with in the publication of what he believes to be just, except when it is considered to disturb public order. However, it is obvious that the writers must assume full responsibility for them.

If those who receive these incredible letters act upon them, it necessarily arouses social unrest. Such conditions mean not liberty, but anarchy, and are an obstacle in the way of the construction of a new JAPAN.

Therefore, it is required that the writers take full responsibility and receivers give deliberate consideration to these letters. Although SCAP receives many of them, they give them their due treatment after thorough investigations.

It is futile, then, to send, false information to them. Of course SCAP does net intend to parish such deeds but we must think of the fact that it does much to spoil the dignity and credit of our people.

ITEM 6 Urgent Need to Establish Democratic Principles in Education - Provincial Newspaper-The Fukushima-Mimpo (Fukushima) - 10 Feb 46. Translator: K. Gunji.
Full Translation:

Education will play a very important part in the construction of a Democratic JAPAN, and this is especially true of elementary education.

Several months have already elapsed since arguments over the new Education began.

However, is the democratization of our education meeting our expectations?

We cannot but say that it is due to the negligence of the authorities concerned that they are content with such negative measures as suspension of lessons in fencing, and some other subjects, or the censorship of the contents of text-books. The national schools and young men's schools, which exorcise a most powerful influence upon the public mind, require prompt installation of democratic principles in education.

A fundamental reform in the young men's schools, where military

- 3 -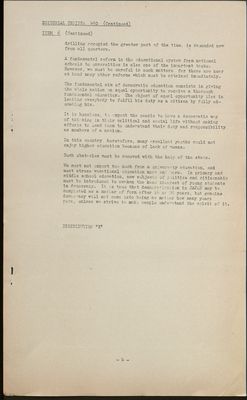 (View Page Image)
EDITORIAL SERIES: 450 (Continued)
drilling occupied the greater part of the time, is demanded now from all quarters.

A fundamental reform in the educational system from national schools to unversities is also one of the important tasks. However, we must he careful in such matters, for there are near at hand many other reforms which must he attained immediately.

The fundamental aim of democratic education consists in giving the whole nation on equal opportunity to receive a thorough fundamental education. The object of equal opportunity lies in leading everybody to fulfill his duty as a citizen by fully educating him.

It is hopeless, to expect the people to have a democratic way of thinking in their political and social life without making efforts to lead them to understand their duty and responsibility as members of a nation.

In this country, heretofore, many excellent youths could not enjoy higher education because of lack of moans.

Such obstacles must be removed with the help of the state.

We must not expect too much from a university education, and must stress vocational education more and more. In primary and middle school education, new subjects of politics and citizenship must be introduced to awaken the keen interest of young students in democracy. It is true that democratization in JAPAN may be completed as a matter of form after 16 or 20 years, but genuine democracy will not come into being no matter how many years pars, unless we strive to make people understand the spirit of it.

DISTRIBUTION "X"

- 4 -