Press translations [Japan]. Editorial Series 0381, 1946-02-08.
translation-number: editorial-1191
call-number: DS801 .S82
---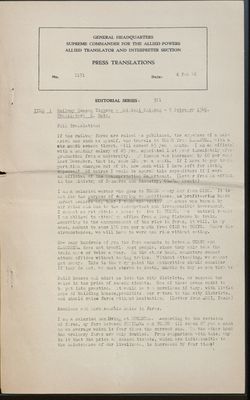 (View Page Image)
GENERAL HEADQUARTERS

SUPREME COMMANDER FOR THE ALLIED POWERS

ALLIED TRANSLATOR AND INTERPRETER SECTION

PRESS TRANSLATIONS

EDITORIAL SERIES: 381

ITEM 1 Railway Season Tickets - Kainichi Shimbun - 5 February 1946. Translator: K. Sato.
Full Translation:

If the railway fares are raised as published, the expenses of a salaried man such as myself, who travels to TOKYO from KAMAKURA, with a six month season ticket, will exceed 85 yen a month. I am an official with a monthly salary of 85 yen, appointed last year immediately after graduation from a university.
[illegible]
income was increased by 60 per cent last December, that is, some 120 yen a month. If I have to pay transportation charges out of it, now much will I have left for living expenses? Of course I would be spared this expenditure if were an official of the Transportation Department. (Letter from an office
[illegible]
in the Ministry of Commerce and Industry, OGAWA, kazuio)
I am a salaried worker who goes to TOKYO every day from OISO. It is not for the purpose of carrying commodities as,
[illegible]
profiteering black market dealers do, that I take the train. My house was burned by air raids and due to the incompetent and irresponsible Government, I cannot as yet obtain a house to live in TOKYO. As a natural result I am obliged to attend my office from a long distance by train. According to the announcement of the rise in fares, it will, in my case, amount to some 130 yen per month from OISO to TOKYO. Under the circumstances, we will have to work and ride without eating.
How many hundreds of yen the fare amounts to between TOKYO and KAGOSHIMA does not trouble most people, since they only tame the train once or twice a year. On the other hand, commuters cannot attend offices without taking trains. Without attending, we cannot get money. This is the very point the authorities should consider If they do not, we must starve to death, unable to buy season tick ts

Build houses and admit us into the city districts, or suspend the raise in the price of season tickets. One of these means ought to be put into practice. It would be too merciless if they, with little hope of building houses, prohibits our return to the city districts, and should raise fares without hesitation. (Letter from AOKI, Yasuo)

Reckless and, Unre
[illegible]
sonable Raise in Fares.
I am a salaried man living at KUGENUMA. According to the revision of fares, ray fare between FUJISAWA and TOKYO will reach 82 yen a month on an average which is four times the current sum. On the other hand the ordinary fares are only doubled. From comparison with this, why is it that the price of season tickets, which are indispensable to the maintenance of our livelihood, is increased by four times?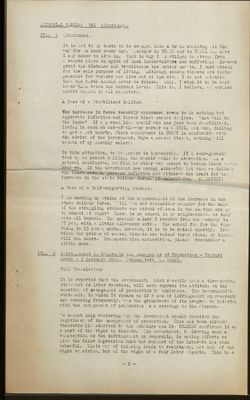 (View Page Image)
EDITORIAL SERIES: 381 (Continued)
It is not to my taste to be crammed into a train standing all the way for an hour every day.
[illegible]
either in TOKYO nor in YOKOHAMA, have I any house to live in. That is why I
[illegible]
m obliged to attend from a remote place in spite of much inconvenience and suffering. However great the distance and troublesome the matter may be, I must attend for the sole purpose of living. Although season tickets are indispensible for workers who live cut of the city, I do not maintain that the fares should never be raised. Only, I wish it to be kept lower than twice the current level. This is, I believe, an earnest desire common to all commuters.
A Case of a Demobilized Soldier.

The increase in fares recently announced seams to do nothing but aggravate inflation and foster black, market dealers. What will be the issue? If a person like myself who has just been demobilized, living in such an out-of-the-way corner as O
[illegible]
SUKI, and who, failing to get a job nearby, finds employment in TOKYO in conformity with the advice of the Government, buys a season ticket, nothing will remain of my monthly salary.
In this situation, to be honest is impossible. If I courageously took up an honest calling, the result would be starvation. As a natural conclusion, we find no other way except to become black
[illegible]
-brokers. If the Government has enough sincerity let them annihilate the black market, prevent inflation and withdraw the draft for the increase in the state railway fares. (YAMANASHI-Ken, YO
[illegible]
EKICHI)
A Case of a Self-supporting Student.

I am racking my brains at the announcement of the increase in the state railway fares, Will you not reconsider somehow for the sake of the struggling students who attend offices in the daytime and go to school at night? There is no school in my neighborhood, as they were all burned. The monthly salary I receive from the company is 37 yen, with a little allowance extra. The school fee for the time being is 15 yen a month, however, it is to be raised shortly. Provided the prices of season tickets are raised three times, my income will run short. Transportation authorities, please reconsider a little more.

ITEM 2 Infringement on Ownership and Management of Production - Yomiuri Hochi - 5 February 1946. Translator: K. Gunji.
Full Translation:

It is reported that the Government, which recently made a threatening statement on labor troubles, will soon express its attitude on the question of management of production by employees. The Government's statement, in which it speaks as if c
[illegible]
ses of infringement on ownership are occuring frequently, was the groundwork of its program to interfe
[illegible]
with the management of production
[illegible]
s a strategy in the dispute.
We cannot help wondering why the Government should question the legitimacy of the management of production. This has been already theoretically admitted by the scholars and Dr. SUEHIRO confirmed it a
[illegible]
a part of the right to dispute. The Government, by drawing such a conception as the infringement on ownership, is making efforts to give the false impression that the conduct of the laborers has been unlawful. Their way of thinking leads to resistance, not only of the right to stride, but of the right of a fair labor dispute. This is a
- 2 -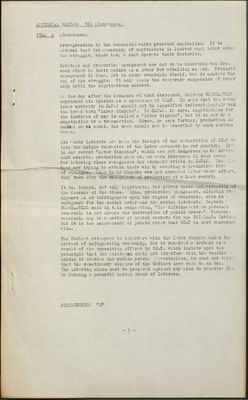 (View Page Image)
EDITORIAL SERIES: 381 (Continued)
retrogression to the feudalism which preceded capitalism. It is natural that the ownership of capitalists is limited when labor enter the struggle, since they cannot operate their factories.

Sabotage and production management are not to be discriminated from each other in their nature as a means for attaining an end. Production management is done, not to usurp ownership itself, but to achieve the end of the struggle. It only means the temporary suspension of owner ship until the negotiations succeed.

On the day after the issuance of that statement, Captain CONSTA
[illegible]
TINO expressed his opinion as a spokesman of SCAP. He says that the recent labor activity in JAPAN should not be classified indiscriminately und the broad term "labor dispute". In JAPAN, he says, negotiations for the increase of pay is called a "labor dispute", but it is mer
[illegible]
ly a negotiation or a transaction. Since, he says further, production is carried on
[illegible]
usual, the case should not he described by such serious words.
His words indicate how keen the insight of the authorities of SCAP is into the unique character of the labor movement in our country. Ind
[illegible]
in our recent "labor disputes", which are not dangerous as the Government asserts, production goes on, or even increases in some cases. Our laboring class recognizes the economic crisis in JAPAN. Therefore they are trying to attain their aim by adopting a productive form of struggle. When their demands are not accepted after every effort, they take over the management of production as a last resort.
It is, indeed, not only legitimate, but proves their understanding of the demands of the times. Thus, production management, although it appears as an infringement upon the rights of ownership, acts as a safeguard for the social order and the social interest. Captain CONSTANTINO said in this connection, "The infringement on personal ownership is not always the destruction of public order." Personal ownership may be a matter of utmost concern for the SHIDEHARA Cabinet but it is the maintenance of public order that SCAP is most concerned with.

The Cabinet attempted to interfere with the labor dispute under the pretext of safeguarding ownership, but it received a setback as a result of the opposition offered by SCAP, which insists upon the principle that the policeman shall not interfere with the trouble unless it menaces the public peace. Nevertheless, we must not belief that the reactionary schemes of the Cabinet have come to an end. The laboring class must be prepared against any plan to exercise for by forming a powerful united front of laborers.

DISTRIBUTION "X"

- 3 -