Press translations [Japan]. Editorial Series 0353, 1946-02-03.
translation-number: editorial-1102
call-number: DS801 .S82
---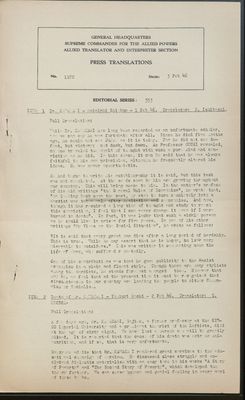 (View Page Image)
GENERAL HEADQUARTERS

SUPREME COMMANDER FOR THE ALLIED POWERS

ALLIED TRANSLATOR AND INTERPRTER SECTION

PRESS TRANSLATIONS

EDITORIAL SERIES: 353

ITEM 1 Dr. KAWAYAMI - Mainichi Snimbun - 1 Feb 46. Translator: B. Ishibashi.
Full Translation:

While Dr. KAWAKAMI has long been regarded as an unfortunate scholar, now we can say he was fortunate after all. Since he died five months ago, no could not see JAPAN as it is today. For he did not sea defeat, but victory; not dusk, but dawn. As Professor OUCHI revealed, no one traveled the world of thought with such a pure mind and conviction as he did. In this sense, it con be said that he was always faithful to his own principles, although he frequently altered his ideas. He was never opportunistic.

He had begun to write autobiography it is said, but this task was not completed. At the seeds sown by him are growing throughout our country. This will bring peace to him. In the author's preface of his old writings "the General Rules of Economics", he wrote that, "on locking back upon the past, my step to turn completely into a Marxist was taken only after hesitation and compromise. And now, though it has required a long time of thought and study reach this convicting, I feel that I can never change it even if I were burned to death". In fact, it was lucky that such a sickly person as he could live in prison for five years. In one of his other Writings "My Views on the Social Situation", he wrote as follows:

"It is sold that every great man dies after a long period of hardship. This is true. While he may assert that he is happy, he look very miserable to outsiders." This was written in commenting upon the life of Marx, who suffered repeatedly.

One of his contributions was that he gave publicity to the Maxist economics in a plain and fluent style. Though there are many stylists the Marxists, he stands foremost amongst them. However that may be, we feel that at the present time it must be recognized that circumstances in our country are loading the people to either Communism or Socialism.

ITEM 2 Death of Mr. KAWAKAMI - Hochi - 2 Feb 46. Translator: T. Narnso.
Full Translation:

A few days ago, Mr. KAWAKAMI, Hajime, a former professor at the KYOTO Imperial University and a preminent theorist of the Leftists, died at the age of sixty eight. We have lost a person who will be greatly
[illegible]
sed. It is reported that the cause of his death was extreme malputrition and if so, that is very unfortunate.
Everyone admits that Mr. KAWAKA I rendered great services to the educational compaign of Morxism. He discussed class struggle and explained dialectic materialism with an easy tone in his works "A Story of Poverty" and "The Second Story of Poverty", which developed the theory further. We can sense humane and genial feeling in every word of these books.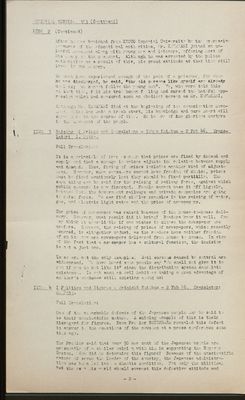 (View Page Image)
EDITORIAL SERIES: 353 (Continued)
After he was banished from KYOTO Imperial University by the
[illegible]
peressive measures of the educational authorities, Mr. KAWAKAMI joined an unlawful movement along with young men and laborers, offering most of his money to the movement. Although he was arrested by the police authorities as a result of this, his proud attitude at that time still live in our memory.
We must have experienced enough the pain of a prisoner, for when he was discharged, he said, "the old persons like myself are already useless; we cannot follow the young men" We who were told this at time, felt his true human feeling and cursed the hateful oppression which had censured such an obedient person as Mr. KAWAMI.

Although Mr. KAWAKAMI died at the beginning of the emancipation movement, which has made a fresh start, his knowledge and pure heart will s
[illegible]
in the course of time. He is no of the glorious martyrs in the movement of the people.
ITEM 3 Raising of Prices and Compulsions - Tokyo Shimbun - 2 Feb 46. Translator: I. Hotta.
Full Translations:

It is a principle of free economy that prices are fixed by demand and supply and that a change in prices adjusts the relation between, supply and demand. Thus, fixing of prices includes another kind of adjustment. However, when consumers cannot have freedom of choice, prices must be fixed cautiously lest they should be fixed partially. The same thing can be said for the raising of railway forces, against which public censure is now directed. People cannot pass it off lightly, because both the Government railways and private companies are going to raise fares. We can find similar examples in the raising of water, gas, and electric light rates and the price of newspapers.

The price of newspaper was raised because of the house-to-house delivery. However, what result did it bring? Readers know it well. One may think it unavoidable if one wishes to choose the newspaper one prefers. However, the raising of prices of newspapers, which recently occured, is altogether unjust, as the readers have neither freedom of choice nor are newspapers delivered from house to house. In view of the fact that a newspaper has a cultural function, the decision is not a just one.

These are not the only examples. Evil customs caused by control are widespread. We have heard some people say "We shall not give it to you if you do not like it" since the distribution, system came into existence. Is not such an evil habit as taking a mean advantage of another, weakness still existing among us?

ITEM 4 I Politics and Figures - Mainichi Shimbun - 2 Feb 46. Translator: M. Kato.
Full Translation:

One of the remarkable defeats of the Japanese people may be said to be their unscientific nature. A shining oxalic of this is their disregard for figures. Even Premier SHIDHARA revealed this defeat in answer to the questions of the newsmen at a press conference some time ago.

The Premier said that over 90 per cent of the Japanese people are presumably of a similar opinion with him in supporting the Emperor System. How did he determine this figure? Because of the unscientific nature of seven the leader of the country, the Japanese administration has been
[illegible]
into a chaotic condition. Not only the political but the
[illegible]
world should correct this defective attitude and
- 2 -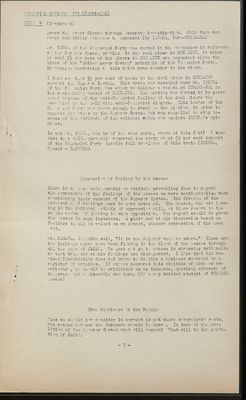 (View Page Image)
EDITORIAL SERIES: 353 (Continued)
grasp the exact figure through accurate investigation. Only then can exact scientific endeavor be expected (by TANAKA, Taro-SETAGAYA)

Mr. SHIGA of the Communist Party was quoted in the newspaper in reference to the Emperor System problem in the coal mines in HOKKAIDO, in which he said 99 per cent of the minors in HOKKAIDO are organized along the lines of the "Anti-Emperor System" principle of the Communist Party. My opinion pertaining to this point runs counter to his views.

I dare say that 99 per cent of those in the coal mines in HOKKAIDO support the Emperor System. This truth was revealed when Mr. TOKUDA of the Communist Party was about to deliver a speech at YUBARI-Shi in the coal-mining center of HOKKAIDO. The meeting was forced to be postponed because of the anti-Communist feeling of the coal miners who assembled in the hall with anti-Communist slogans. This leader of the Communist Party was brave enough to stand on the platform in order to express his views on the Emperor System but was compelled to stop because of the attitude of the audience which was against TOKUDA's opinions.

Is not Mr. SHIGA, who is of the same party, aware of this fact? I suspect that SHIGA, who is of the same party, aware of this purposely reported the story about 99 per cent support of the Communist Party despite full knowledge of this truth (TOKURA, Ryushi-SAPPORO)

Expression of Feeling by the Masses

There is no more undemocratic an attitude prevailing than to regard the expression of the feelings of the masses as were sentimentalism when considering their support of the Emperor System. The freedom, of the expression of feelings must be more esteemed. The masses, who are locking in the rational methods of expression will, at times resort to the simple means of jeering to show opposition. Due regard should be given the passes in such instances. A plain and simple discussion based on feelings should be valued as an honest, sincere expression of the mass mind.

Mr. KAGA, Toyohiko said, "It is the Emperor whom we adore." These are the feelings which have been flowing in the blood if the masses through all the ages of JAPAN. We must not go to excess in stressing nationalist so that true and simple feelings are disregarded. I hope that the revised Constitution does not prove to be like a business contract or a register of articles. If anyone censures this attitude of mine as reactionary, he should be criticized as an inhumane, mystical advocate of democracy and a miserable creature. (by a repetriated student of FUKUSHIKA-Ken)

True Happiness of the People

What we should now consider in earnest is not where sovereignty rests, but rather how can the Japanese people be happy. In case of the Emperor System what will happen? What will be the condition of JAPAN.

- 3 -

(View Page Image)
EDITORIAL SERIES: 353 (Continued)
I fear that there will appear, in rapid succession, ambitious men aspiring only for power and position who will cause endless strife and consequently reduce the people to great misery. (by a youth in KANAGAWA-Ken)

If the Emperor System is overthrown a president may replace the Emperor. However, national conditions in JAPAN are quite different from these in AMERICA. For example, the Japanese people lack the spirit of liberal "big heartedness". They are narrow-minded, exclusive, and are prone to divulge each other's defects. Therefore, in the case of the introduction of a president, this head of the country will be replaced in only a few days by another president and this will continue. Assassinations will occur frequently and great confusion will ensure. Thus, we can never expect peace in this country by the abolition of the Emperor System. (by YAMAKA of SHIBUYA-Ku)

Dangerous Trains of ODAKYU

An accident was reported recently of the derailment of an ODAKYA electric train in which over a hundred men were killed or injured. This was not an unavoidable accident. It was to be expected sooner or later, judging from the circumstances and condition of the railway line Nevertheless, the company made no attempt to remedy the situation. In this light, the case should be considered scandalous.

In general this company's electric trains are in such poor condition that they can be regarded as nothing more than freignt cars with roofs. Moreover, no steps have been taken for repairing the broken cars. Add to this the formidable congestion of the rush hours, the confused time schedules and we can readily understand way accidents have frequently occurred. Last year this company was irresponsible enough to demonstrate an indifferent attitude towards the victim in the casts of the death of a middle school boy who was thrown off the train. It is very doubtful that this company will take measures to cop with the situation. The Ministry of Transportation, which should supervise this company, cannot be freed from its responsibility for allowing this company to have its own way. (by AKAMATSU, Ichiro)

DISTRIBUTION "X"

- 4 -