Press translations [Japan]. Editorial Series 0340, 1946-02-01.
translation-number: editorial-1059
call-number: DS801 .S82
---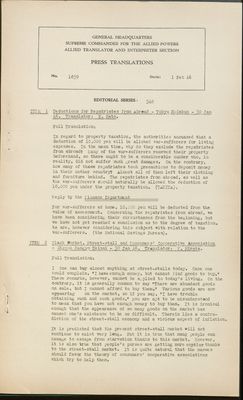 (View Page Image)
GENERAL HEADQUARTERS

SUPREME COMMANDER FOR THE ALLIED POWERS

ALLIED TRANSLATOR AND INTERPRETER SECTION

PRESS TRANSLATIONS

EDITORIAL SERIES: 340

ITEM 1 Deductions for Repatriates from Abroad - Tokyo Shimbun - 30 Jan 46. Translator: K. Sato.
Full Translation:

In regard to property taxation, the authorities anounced that a deduction of 10,000 yen will be allowed war-sufferers for living expenses. In the mean time, why do they exclude the repatriates from abroad? Many of the war-sufferers removed their property beforehand, so there ought to be a considerable number who, in reality, did not suffer such great damages. On the contrary, how many of those repatriates took precautions to deposit money in their mother country? Almost all of them left their clothing and furniture behind. The repatriates from abroad, as well as the war-sufferers should naturally be allowed the deduction of 10,000 yen under the property taxation. (TAKITA).

Reply by the Finance Department

For war-sufferers at home, 10,000 yen will be deducted from the value of assessment. Concerning the repatriates from abroad, we have been considering their circustances from the beginning, but we have not yet reached a conclusion as to the degree of taxation. We are, however considering this subject with relation to the war-sufferers, (the National Savings Bureau).

ITEM 2 Black Market, Street-stall and Consumers' Cooperative Association - Nippon Sangyo Keizai - 30 Jan 46. Translator: Y. Hirata.
Full Translation:

I One can buy almost anything at street-stalls today. Once one would complain, "I have enough money, but cannot find goods to buy." These remarks, however, cannot be applied to today's living. On the contrary, it is generally common to say "There are abundant goods on sale, but I cannot afford to buy them." Various goods are now appearing on the market, so if you say, "I have trouble obtaining such and such goods," you are apt to be misunderstood to mean that you have not enough money to buy them. It is ironical enough that the appearance of so many goods on the market has caused one's existence to be so difficult. Therein lies a contradiction of the street-stall economy and a vicious aspect of inflation.

It is predicted that the present street-stall market will not continue to exist very long. But it is true that many people can manage to escape from starvation thanks to this market. However, it is also true that people's purses are getting more emptier thanks to the street-stall market. It is quite natural that the masses should favor the theory of consumers' cooperative associations which try to help them.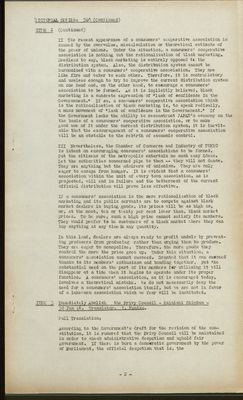 (View Page Image)
EDITORIAL SERIES: 340 (Continued)
II The recent appearance of a consumers' cooperative association is caused by the overvalue, miscalculation or theoretical estimate of the power of unions. Under the situation, a consumers' cooperative association is nothing but the rationalization of black marketing. Needless to say, black marketing is entirely opposed to the distribution system. Also, the distribution system cannot be harmonized with a consumers' cooperative association. They are like fire and water to each other. Therefore, it is contradictory and useless enough to try to improve the current distribution system on one hand and, on the other hand, to encourage a consumers' association to be formed. AS it is implicitly believed, black marketing is a concrete expression of "lack of confidence in the Government." If so, a consumers' cooperative association which is the rationalization of black marketing is, to speak radically, a mass movement of "lack of confidence in the Government." If the Government lacks the ability to reconstruct JAPAN's economy on the basis of a consumers' cooperative association, or to make good use of it under the current distribution system, it is inevitable that the encouragement of a consumers' cooperative association will be an obstable to the rebirth of economic control.

III Nevertheless, the Chamber of Commerce and Industry of TOKYO is intent on encouraging consumers' associations to be formed. But the citizens of the metropolis entertain no such easy ideas. Let the authorities concerned pipe to them — they will not dance. They are anything but the admirers of unionism. They are only eager to escape from hunger. It is evident that a consumers' association within the unit of every town association, as is projected, will end in failure and the betterment of the current official distribution will prove less effective.

If a consumers' association is the mere rationalization of black marketing and its public servants are to compete against black market dealers in buying goods, its prices will be as high as, or, at the most, ten or twenty per cent lower than, black market prices. To be sure, such a high price cannot satisfy its members. They would prefer to be customers of a black market where they can buy anything at any time in any quantity.

In this land, dealers are always ready to profit unduly by preventing producers from producing rather than urging them to produce. They are eager to monopolize. Therefore, the more goods they control the more the price goes up. Under this situation, a consumers' association cannot succeed. Granted that it can succeed thanks to its members' enthusiasm and banding together, yet the substantial need on the part of its numbers for utilizing it will disappear at a time when it begins to operate under its proper function. A consumers' association, as it is encouraged today, involves a theoretical mistake. We do not necessarily deny the need for a consumers' association itself, but we are not in favor of a lukewarm association which we fear will be instituted.

ITEM 3 Immediately Abolish the Privy Council - Mainichi Shimbun - 30 Jan 46. Translator: I. Kuniko.
Full Translation:

According to the Government's draft for the revision of the constitution, it is rumored that the Privy Council will be maintained in order to check administrative despotism and uphold fair government. If there is born a democratic government by the power of Parliament, the official despotism that is, the

- 2 -

(View Page Image)
EDITORIAL SERIES: 340 (Continued)
administrative despotism, will disappear, and this means the despotism of Parliament. Such is the idea of a Government which regards parliamentarianism as a dangerous force.

Needless to say, the Privy Council is a feudalistic system peculiar to JAPAN. In the history of CHINA, there was once a Privy Councillor whose authority, it was said, surpassed that of a Minister. In our privy Council system, it is prescribed that a veteran statesman or an expert is appointed Privy Councillor. There were many veterans or experts in the MFIJI Period, but at present there are none. Therefore, our Privy Council is, in fact, the headquarters of government officers.

The civil drafts for the revision of the Constitution, as well as for the Liberal Party, have abolished it. Dr. MINOHE, who is said to have participated as an adviser in the drafting of the Constitution revision by the Liberal Party, has been appointed privy Councillor. We think that he will work to abolish it officially.

As it is, we are struck with the change of times, for the Doctor, who is an advocate of the theory of "The Imperor is only an organ," has entered the Privy Council. Dr. SHIMIZU, Cho, Vice-Presi
[illegible]
President of the Privy Council opposes the theory, but he has agreed with Dr. MINOBE in the theory that "The nation is a corporation." Arguing against these two theories, the late Dr. U
[illegible]
SUGI, Shinkichi, had once said, "Our Imperial country shall exercise its sovereignty as a national body." We must absolutely oppose such theories by saying, "The Emperor is only an organ, a businessman or our servant."
Even the learned men of the Constitution agreed on this. So, it is no wonder that Dr. MINOBE was called 'a harmful and dangerous scholar.' We think there is nothing so dangerous as the fact that the heads of government regarded these two theories as dangerous.

ITEM 4 Question of School Teacher's Treatment - Tokyo Shimbun - 31 Jan 46. Translator: T. Naruse:
Full Translation:

It is reported that a professor who depended only on the food distributed by government authorities died of extreme malnutrition. If his faith rejected all injustice to the last and brought about this sad end, it may be said that he was too honest. But if he has had no other way except this, owing to financial reasons, the problem becomes more serious.

In reply to a student's question, a teacher said, "to my shame. I must confess that we teachers cannot live on our salary, so we cannot study enough to answer your question." On the other hand, it is said that there are teachers who have become illicit peddlers after seeing the wife next door earn money equal to his entire salary in only two or three hours. Without quoting the maxim "Well fed, well bred," the majority of the people have experienced such circumstances since the outbreak of war. As teachers must also eat, it is quite natural that they have attacked greater importance to their own life than to education.

Yet, the Government and private persons concerned have protested in chorus that to establish JAPAN's democracy, education must be the foundation. Despite this fact, although the problem of raising Government officials' salary has already been undertaken by the Government, and is now being solved, no measures to improve the treatment of school teachers have been considered. This indicates

- 3 -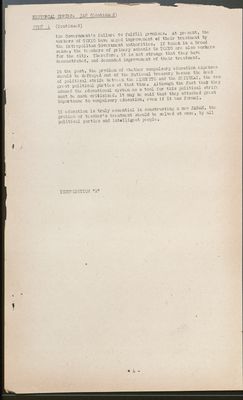 (View Page Image)
EDITORIAL SERIES: 340 (Continued)
the Government's failure to fulfill promises. At present, the workers of TOKYO have urged improvement of their treatment by the Metropolitan Government authorities. If taken in a broad sense, the teachers of primary schools in TOKYO are also workers for the city. Therefore, it is not strange that they have demonstrated, and demanded improvement of their treatment.

In the past, the problem of whether compulsory education expenses should be defrayed out of the National treasury became the seed of political strife between the MINSEITO and the SEIYUKAI, the two great political parties at that time. Although the fact that they abused the educational system as a tool for this political strife must be much criticized, it may be said that they attached great importance to compulsory education, even if it was formal.

If education is truly essential in constructing a new JAPAN, the problem of teacher's treatment should be solved at once, by all political parties and intelligent people.

DISTRIBUTION "X"

- 4 -