Press translations [Japan]. Editorial Series 0245, 1946-01-15.
translation-number: editorial-0777
call-number: DS801 .S82
---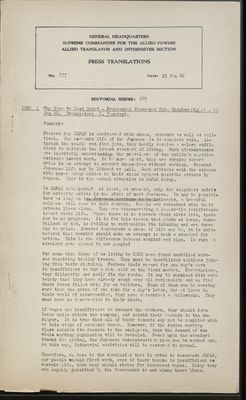 (View Page Image)
GENERAL HEADQUARTERS

SUPREME COMMANDER FOR THE ALLIED POWERS

ALLIED TRANSLATOR AND INTERPRETER SECTION

PRESS TRANSLATIONS

EDITORIAL SERIES: 245

ITEM 1 Why Have We Lost Hope? - Provincial Newspaper Kobe Shimbun (K

[illegible]

) - 10 Jan 46. Translator: K. Nagatani.
Summary:

Present day JAPAN is confronted with chaos, economic as well as political. The economic life of the Japanese is in complete ruin. Although the people can find jobs, they hardly receive a salary sufficient to maintain the lowest standard of living. Such circumstances are inevitably accentuating the prevalence of the public's negative attitude toward work. To be more exact, they are turning toward crime in an attempt to support themselves without working. Present Japanese life may be likened to hell. Good citizens walk the streets with paper money hidden in their shoes against possible attacks by rogues. This is the actual situation in JAPAN today.

Is JAPAN collapsing? At least, at present, only the slightest spirit for activity exists in the minds of most Japanese. It may be possible that as long as the Japanese continue to be lethargic, a dreadful collapse will come to this country. People are concerned with their private lives alone. They are demonstrating a lamentable indifference toward civic life. Where there is no concern about civic life, there can be no progress. It is for this reason that youth at large, demobilized or not, is failing to rationalize its thinking and are turning to crime. However degenerate a phase of life may be, it is quite natural that mankind should make an attempt to seek a standard for action. This is the difference between mankind and pigs. Is such a straight gate closed to our people?

For some time those of us living in KOBE have found unskilled workmen repairing trolley tracks. They must be demobilized soldiers judging from their clothing. Perhaps their regard for one day's work is insufficient to buy a cake sold on the black market. Nevertheless, they diligently and gaily fix the roads. It may be surmised with certainty that they have already swept away all rationality and we find their faces filled with joy as builders. None of them can be earning more than the price of one cake for a day's labor, but at least in their world of construction, they have determined a philosophy. They must have no reservation in their minds.

If wages are insufficient to support the workers, they should form labor union within the company, and submit their demands to the employer. It is true that all of their demands may not be complied with at this stage of economic chaos. However, if the entire working class submits its demands to the employers, then the demand of the whole working population will be revealed. Based upon the standard demand for living, the Japanese reconstruction plan can be worked out. In this way, industrial activities will be restored to normal.

Therefore, we come to the conclusion that in order to resurrect JAPAN, our people should first work, even if their income is insufficient to sustain life, then they should strive for increased wages. Today they are legally permitted by the Government to act along these lines.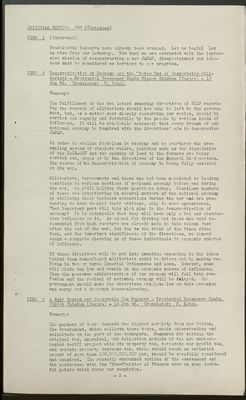 (View Page Image)
EDITORIAL SERIES: 245 (Continued)
Feudalistic bulwarks have already been crushed. Let us begin! Let us rise from our lethargy. Now that we are entrusted with the impressive mission of reconstructing a new JAPAN, disappointment and idleness must he considered as barriers to our progress.

ITEM 2 Democratization of Economy and the Wiping Out of Temporizing; Militarists -Provincial Newspaper Chubu Nippon Shimbun (Nagoya) -10 Jan 46. Translator: K. Ketel.
Summary:

The fulfillment of the two latest sweeping directives of SCAP regarding the removal of militarists should not only be left to the government, but, as a matter most closely concerning our nation, should be carried out eagerly and faithfully by the people by various kinds of influence. It will be absolutely necessary that every branch of our national economy be inspired with the directives' aim to democratize JAPAN.

In order to abolish feudalism in economy and to overthrow the prevailing system of absolute rulers, policies such as the dissolution of the ZAIBATSU and the opening of land to the farmers are being carried out, urged on by the directives of the general. Headquarters. The course of tie democratization of economy is being fully assisted on its way.

Militarists, bureaucrats and those who had been appointed to leading positions in various sections of national economy before and during the war, are still holding their positions today. Countless numbers of these are interferring in several matters of the national economy by utilizing their business connections during the war and are pretending to have changed their attitude, only to save appearances. What important part will this plot play in the democratization of economy? It is undeniable that they will have only a bad and abstructive influence on it. An appeal for driving out those who were recommended from high quarters was already made in this column just after the end of the war, but due to the trend of the times since then, and the important significance of the directives, we demand again a complete cleaning up of these individuals in economic spheres of influence.

If these directives will be put into practice according to the ideas behind them camouflaged militarists could be driven out by making reforms in two or three Imperial Ordinances and laws. However, some will elude the law and remain in the economic sphere of influence. Then the post-war administration of our economy will fall into confusion and the revival of national economy will be delayed. The government should make the directives absolute law on this occasion and carry out a thorough house-cleaning.

ITEM 3 A Fair System ands Resonable Tax Payment - Provincial Newspaper Chubu Nippon Shimbun (Nagoya) - 14 Jan 46. Translator: K. Ketel.
Summary:

The payment of taxes demands the highest morality from the Nation. The Government, which collects there taxes, needs understanding and solicitude on the part of the taxpayers. Measures for seizing the original tax, appraisal, and collection methods of the new unprecedented tariff project with its property tax, corporate war profit tax, and private property increase tax, which should reach an estimated amount of more than 100,000,000,000 yen, should be carefully considered and examined. The recently announced outline of the assessment and the conference with the Vice-Minister of Finance show us some doubtful points which incur our suspicion.

- 2 -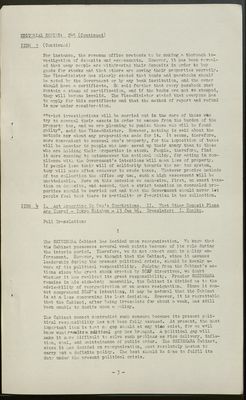 (View Page Image)
EDITORIAL SERIES: 245 (Continued)
For instance, the revenue office pretends to be making a thorough investigation of deposits and assessments. However, it has been revealed that many people are withdrawing their deposits in order to buy goods for stocks and that others are moving their properties secretly. The Vice-Minister has clearly stated that bonds and passbooks should be noted by the Government or by any bank institution, and the owner should have a certificate. He said further that every passbook must contain a stamp of certification, and if the books are not so stamped, they will become invalid. The Vice-Minister stated that everyone has to apply for this certificate and that the method of report and refund is now under consideration.

"Strict investigations will be carried out in the care of those who try to conceal their assets in order to escape from the burden of the property tax, and we are planning to punish those who will be found guilty", said the Vice-Minister. However, nothing is said about the methods nor about any preparations made for it. It seems, therefore, more convenient to conceal one's property, for the imposition of taxes will be heavier to people who have saved up their money than to those who are holding their properties in stock. People, therefore, find it more cunning to outmaneuver the national policy, for acting in compliance with the Government's intentions will mean loss of property. If people lose their will of solidarity towards the new tax system, they will more often endeavor to evade taxes. Whatever precise methods of tax collection the office may use, such a high assessment will be unattainable. Here on this occasion we emphasize, first, an exact taxation on deposits, and second, that a strict taxation on concealed properties should be carried out and that the Government should never let people feel that there is partiality or favoritism in tax collection.

ITEM 4 I. Act According To One's Convictions. II. What Other Deposit Plans Are There? -Tokyo Shimbun - 13 Jan 46. Translator: I. Kuniko.
Full Translation:

I

The SHIDEHARA Cabinet has decided upon reorganization. We know that the Cabinet possesses several weak points because of its role during the interim period. Therefore, we do not expect much in policy enforcement. However, we thought that the Cabinet, since it assumes leadership during the present political crisis, should be keenly aware of its political responsibility. Judging from the Cabinet's actions since the great shock created by SCAP directives, we doubt whether it has realized its great responsibility. Premier SHIDEHARA remains in his sick-bed; meanwhile, the Cabinet is divided as to the advisability of reorganization or en masse resignation. Since it cannot comprehend SCAP's intentions, it may be natural that the Cabinet is at a loss concerning its last decision. However, it is regrettable that the Cabinet, after being irresolute for about a week, has still been unable to decide upon a policy.

The Cabinet cannot contradict such censure because its present political responsibility has not been fully assumed. At present, the most important item is that no gap should at any time exist, for we well know what results a political gap has brought. A political gap will make it more difficult to solve such problems as rice delivery, inflation, coal, and maintainance of public order. The SHIDEHARA Cabinet, since it has decided on reorganization, must resolutely hasten to carry out a definite policy. The best should be done to fulfil its duty under the present political crisis.

- 3 -

(View Page Image)
EDITORIAL SERIES: 245 (Continued)
ITEM 4 (Continued)

II

A summary of such taxations as the property tax, an individual's increased property tax, and a person's legal war profits tax has been made public. It is needless to repeat that the increased taxation bill has a wide influence upon our society. We think it proper that the authorities concerned are synthetically taking measures to enforce the hill. But what are the facts?

The imposition of the three increased taxations was foretold by the Government before the issuance of the SCAP directives. Accordingly, the taxpayers unfortunately either have already taken measures to meet the situation or are now taking them. Apart from the partition of their properties by donation or other means, it is a well-known fact that they are doing their utmost to acquire or conceal goods by withdrawing deposits. The authorities concerned cannot actually confess their ignorance of the fact that in concert with a sudden rise in the prices of commodities, withdrawals are greatly stimulating inflation.

The new year has begun, but the banknotes issued by the Bank of JAPAN (the NIPPON GINKO) have not yet been contracted effectively. Loans are increased, but deposits decreased and the cause is clear. The financiers have controlled the loans of speculative funds by common consent, but the problem is not necessarily confined to loans. It consists of freely withdrawing the deposit which is the reserve fund, amounting to 100,000,000,000 yen. It is common sense to make withdrawals unrestricted in order to attract new deposits.

But we cannot surmount the present financial crisis by such common sense. It is assumed that the general increased taxation will also be made public shortly. In the meantime, inflation is continuing. No one can be certain that such a storm as would wreck our economic world will not overtake the country before the enforcement of the epoch-making increased taxation. We already have sufficient knowledge of economics to realize that unrestricted withdrawing cannot remain alone. How are the authorities thinking about it? They not only permit withdrawing, but are even going to release those deposits frozen during the war. This attitude of the authorities must be considered as "incomprehensible".

DISTRIBUTION "X"

- 4 -