Press translations [Japan]. Editorial Series 0207, 1946-01-06.
translation-number: editorial-0643
call-number: DS801 .S82
---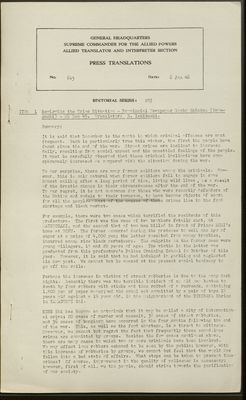 (View Page Image)
GENERAL HEADQUARTERS

SUPREME COMMANDER FOR THE ALLIED POWERS

ALLIED TRANSLATOR AND INTERPRETER SECTION

PRESS TRANSLATIONS

EDITORIAL SERIES: 207

ITEM 1 Reviewing the Crime Situation - Provincial Newspaper Bocho Shimbun (Yamguchi) - 26 Dec 45. Translator: B. Ishibashi.
Summary:

It is said that December is the month in which criminal offenses are most frequent. Such is particularly true this winter, the first the people have faced since the end of the war. Street crimes are inclined to increase daily, resulting from social unrest and the unsettled feelings of the people. It must be carefully observed that these criminal inclinations have conspicuously increased compared with the situation during the war.

To our surprise, there are many former soldiers among the criminals. However, this is only natural when former soldiers fail to engage in some honest calling after a long period of time, living wild lives, as a result of the drastic change in their circumstances after the end of the war. To our regret, it is not uncommon for those who were recently defenders of the Nation and models to their townsmen, to have become objects of scorn for all the people. Most of the causes of these crimes lie s in the food shortage and black market.

For example, there were two cases which terrified the residents of this prefecture. The first was the case of two brothers fatally shot, at MATSUOZAKI, and the second that of two men killed in front of Prince MORI's home at BOFU. The former occurred during the pretense to sell one hyo of sugar at a price of 4,000 yen; the latter resulted from money troubles, incurred among rice black marketeers. The culprits in the former case were young villagers, 19 and 20 years of age. The victim in the latter was graduated from this prefecture' s Police Training School in October of this year . However, it is said that he had indulged in. gambling and neglected his new post. We cannot but be amazed at the present social tendency to go off the rails.

Perhaps the increase in victims of street robberies is due to the many dark nights. Recently there was the terrible incident of an old man beaten to death by four robbers with sticks and then robbed of a rucksack, containing 1,500 yen of paper money; and the cruel act committed by a pair of boys 16 years old against a 19 year old, in the neighborhood of the TOYOSAKA Shrine in YAMAGUCHI Shi.

KOBE Shi has become so notorious that it nay be called a city of international crime; 20 cases of murder and assault, 36 cases of street robberies, and 36 cases of burglary have occurred in the four months following the end of the war. This, as well as the food shortage, is a threat to citizens, Moveover, we cannot but regret the fact that frequently these scandolous crimes are committed by groups. Besides the few cases mentioned above, there are many cases in which two or more criminals have been involved. We may effect lone robbers ashamed to be seen by the public; however, with this increase of robberies by groups, we cannot but feel that the world has fallen into a bad state of affairs. What steps can be taken to prevent these crimes? Of course, improvement in the quality of policemen is necessary; however, first of all, we the people, should strive towards the purification of our society.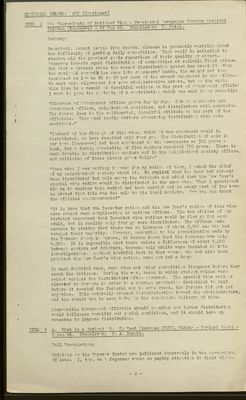 (View Page Image)
EDITORIAL SERIES: 207 (Continued)
ITEM 2 The Whereahouts of Rationed Wine - Provincial Newspaper Hokkoku Mainichi Shimbun (Kanazawa) - 27 Dec 45. Translator: K. Ketel.
Summary:

Everybody, except people from special classes is presently worrying about the difficulty of getting daily commodities. They would be satisfied to receive all the promised goods regardless of their quality or amount. Everyone demands equal distribution of commodities at reliable fixed prices. But what a drastic state the recent distribution system has created
[illegible]
When the rationed commodities came into consumers' hands, the amount had been decreased as low as 80 to 50 per cent of the amount announced by the office. We must make allowances for some administrative errors, but on the whole this loss is a result of deceitful actions on the part of Government official I want to give the contents of a contribution which was sent to me recently;
"Distrust of Government offices grows day by day. Common consumers eye Government offices, neighborhood societies, and distributors with suspicion. The reason lies in the coldhearted, deceitful attitude on the part of the officials. They rust handle matters concerning distribution with more sentiment."

"Instead of the five go of rice wine, which it was announced would be distributed, we have received only four go. The distribution of salt in our town (Kamazawa) had been announced in the newspapers as 350 grams a head, but a family consisting of five members received 750 grams. There is much trouble in distribution centers and in the neighborhood society offices and criticism of these places grows daily."

"Once when I was waiting in vain for my ration of beer, I asked the chief of my neighborhood society about it. He replied that the beer had already been distributed, but only among the drinkers and added that the New Year' s special wine ration would be distributed in the sane way. When I questioned him as to whether this method had been carried out in every part of the town he stated that this was due only to his local society. How can one trust the official announcements?"

"It is true that the December ration and the New Year's ration of rice wine have caused much complication in various offices . The tax offices of our district announced that December wine rations would be five go for each adult, but in reality only four go were distributed. The office made excuses by stating that there was an increase of about 9,000 men who had reached their majority. However, according to the investigation made by the Tobacco Monopoly Bureau, it became known that the increase was only 4,000. It is impossible that there exists a difference of about 5,000 between smokers and drinkers, because only adults were included in both investigations. Another doubtful fact is that women, who had also been promised the New Year's wins ration, have not had a drop.

In such doubtful ways, much wine and other commodities disappear before they reach the citizens. During the war, cases in which student voices were raised against the distributors often occurred. The special wine ration directed to farmers in order to encourage production diminished to half before it reached the farmers; and in some cases, the farmers did not get any wine. This naturally aroused dissatisfaction toward the administrators, and the result can be seen today in the incomplete delivery of rice.

Responsible Government officials should consider how better distribution would influence morality and social conditions, and it should take up measures to improve distribution.

ITEM 3 A. What is a Nation? B. To Head Mistress INOUE, Hideko - Yomiuri Hochi - 4 Jan 46. Translator: Y. A Suzuki.
Full Translation:

Opinions on the Emperor System are published constantly in the newspapers, of late. I, too, as a Japanese women am paying attention to their views.

- 2 -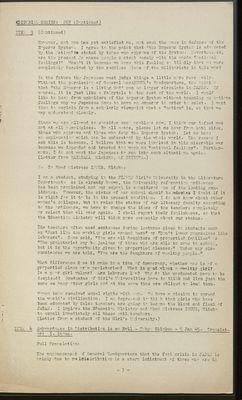 (View Page Image)
EDITORIAL SERIES: 207 (Continued)
However, not one has yet satisfied me, not even the ones in defense of the Emperor System. I agree to the point that "the Emperor System, is advocated by the Nation"
[illegible]
stated by those who approve of the System. Nevertheless are the present Japanese people content merely with the words "National feelings?" Wasn't it because we "bore this fooling as blindly that we were completely deceived by the reckless plans of the militarists in this war?
In the future the Japanese must judge things a little more reasonably. Without the permission of General MacARTHUR's Headquarters, the opinion that "the Emperor is a living God" can no longer circulate in JAPAN. Of course, it is just like a fairytale to the rest of the world. I would like to hear from upholders of the Emperor System without touching on nations feelings why we Japanese have to have an emperor in order to exist. I want them to explain from a scholarly viewpoint what a "nation" is, so that we may understand cleanly.

Since we are allowed to consider such problems now, I think our defeat was not at all meaningless. By all means, please let me hear from both sides, those who approve and those who deny the Emperor System. Let us have an explanation which can be understood by the whole world. The reason I ask this is because, I believe that we were involved in this miserable war because more depended and trusted too much on "national feelings". Furthermore, I do not want the Japanese to run into such situations again. (Letter from HAYASAKA Michiko, of SHIBUYA.)

3. To Head mistress INOUE, Hideko.

I am a student, studying in the NIPPON Girl' s University in the Literature Department. As is already known, the University reformation ordinance has been proclaimed and our school is considered one of the leading candidates. However, the status of our school should, be raised as I doubt if it is right for it to be in its present condition. I do not know about other women's colleges, but to raise the status of our literary faculty according to the ordinance, we have to change the ideas of the teachers completely or select them all over again. I shall report their foolishness, so that the Education Ministry will think more earnestly about our status.

The teachers often used sentences during lectures given to students such as "Just like the working girls around here" or "Don't lower yourselves like laborers". Some said, "You are all daughters of propertied families" or "The proletariat may be jealous of those who are able to come to school, but it is the opportunity given to propertied classes." Under any circumstances we are told, "You are the daughters of wealthy people."

What difference does it make in a time of democracy, whether one is of a propertied class or a proletarian? What is good about a wealthy girl? Is a poor girl vulgar? Are laborers law? Why do the uneducated have to be despised? Graduates of Girl's Universities have to think and live just the same as many other girls and at the same time are obliged to lean them.

Women have received equal rights with men. We have a mission to spread, the world's civilization. I am depressed to think that girls who have been educated by false teachers are going to become the blood and flesh of JAPAN. I implore the Education Ministry and Head Mistress INOUE, Hideko to expell immediately all these evil teachers.
(Letter from a student of the Girl's University.)

ITEM 4 Awkwardness in Distribution is an Evil - Tokyo Shimbun - 5 Jan. Translator: I. Inoue.
Full Translation:

The announcement of General Headquarters that the food crisis in JAPAN is mainly due to maldistribution is a stern indictment of those who are in

- 3 -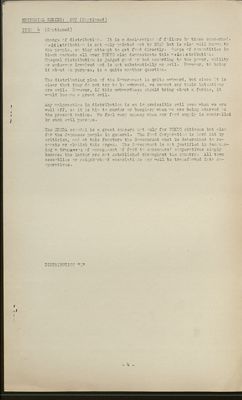 (View Page Image)
EDITORIAL SERIES: 207 (Continued)
charge of distribution. It is a declaration of failure by those concerned. Maldistribution is not only pointed out by SCAP but is also well known to the people, so they attempt to get food directly. Heaps of commodities in black markets all over TOKYO also demonstrate this maldistribution. Unequal distribution is judged good or bad according to the power, ability or endeavor involved and is net substantially an evil. However, to bring it about on purpose, is a quite another question.

The distributing plan of the Government is quite awkward, but since it is clear that they do not try to be awkward, we cannot say their intentions are evil. However, if this awkwardness should bring about a famine, it would become a great evil.

Any malpractice in distribution is an impermissible evil even when we are well off, so it is kin to murder or burglary when we are being starved on the present ration. We feel very uneasy when our food supply is controlled by such evil persons.

The EKODA scandal is a great concern not only for TOKYO citizens but also for the Japanese people in general. The Food Corporation is hard hit by criticism, and at this functure the Government must be determined to renovate or abolish this organ. The Government is not justified in denouncing a tr
[illegible]
of management of food to consumers' cooperatives simply because the latter are not established throughout the country. All town assemblies or neighborhood associations may well be transformed into cooperatives.
DISTRIBUTION "X"

- 4 -