Press translations [Japan]. Editorial Series 0200, 1946-01-05.
translation-number: editorial-0623
call-number: DS801 .S82
---
(View Page Image)
GENERAL HEADQUARTERS

SUPREME COMMANDER FOR THE ALLIED POWERS

ALLIED TRANSLATOR AND INTERPRETER SECTION

PRESS TRANSLATIONS

EDITORIAL SERIES: 200

ITEM 1 A New Resolution After the Defect - Nippon Sangyo Keizai - 1 Jan 46. Translator: K. Takahashi.
Full Translation:

A new year has come. We do not knew whether we should great the New Year with cheer or with grief. However, the defeat is an accomplished fact four and a half months have elapsed since the day of surrender. It is a bad dream and a past memory, which we would like to blot out, if possible, but there still remain real and cruel phases of the defeat.

We have celebrated every new year with new emotion and hope, but have we ever experienced or expected to experience such a new year as this? The Nation may be said to have been benumbed so much that it can entertain no sentiments for the new year. With meaningless joy, but not with a bright hope, the people are tempted to run desperately away from-deep grief. "Real property, a real purpose" as the proverb goes, says that poverty is apt to induce men to wayward ways.

Moral delinquency and social restlessness are nothing but the reflection of the realities of defeat. Though time may wear away the reality of the memorable day of surrender, the spiritual and material hardships of the defeat will last through this year.

Hardships, following the defeat, are the deserved torture and atonement for the people who are entirely responsible for the ear. Hence, we have no right to be in high spirits and to be intoxicated with the new year spirit.

As compared with, the years of suppression, when we were misguided with a baseless hope for victory and charmed by the meaningless idea of the Greater East Asia Co-prosperity Sphere, this new year may be a cursed one. All our people, stripped of the sense of superiority in every way, must welcome the new year with the selfrealization of having been relegated to the position of a fourth-class nation. On the other hand we are confronted with a living which totters on the edge of the cliff of starvation.

In these respects, this new year is one unworthy of its name and without precedent in our history. But these material and spiritual hardships are bared realities without vanity and. disguise, however, we prefer unveiled hardships to false and disguised easygoing ways, and thus we can find significance in the first new year of the defeat and a hope for the future.

The Allied Powers promise and expect us here after, as a peaceful Nation, to participate in international relations and to render our substantial contribution to the advancement of the world. This is not compulsory but rather something thsy hope we can accomplish. If not, we shall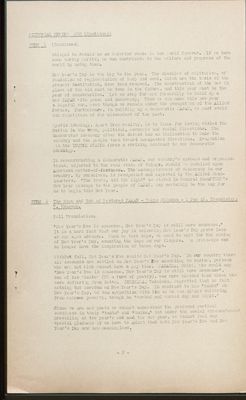 (View Page Image)
EDITORIAL SERIES: 200 (Continued)
Obliged to remain as an inferior state in the world forever. If we have some worthy merits, we can contribute to the welfare and progress of the world by using them.

New Year's Day is the Key to the year. The shackles of militarism, of feudalism of regime relation of body and soul, which are the basis of the present destitution, have been removed. The construction of the new in place of the old must be done in the future, and this year must be the year of construction. Let us step forward forcefully to build up a new JAPAN with peace and democracy. Thus we can make this new year a hopeful one, even though we remain under the occupation of the Allied Forces. Furthermore, in building up a democratic JAPAN, we must avoid any repetition of the misconduct of the past.

Mystic ideology, apart from reality, is to blame for having misled the Nation in the wrong political, economic and social directions. The democratic ideology after the defeat has an inclination to make the country and the people turn toward unexpected directions. Pragmatism in the UNITED STATES forms a striking contrast to our democratic ideology.

In reconstructing a democratic JAPAN, our country's systems and organizations , adjusted to the real state of things, should be modelled upon American matter-of-factness. The accomplishment of democracy in our country, by ourselves, is recognized and expected by the Allied Headquarters. "The truth, and the light" as stated in General MacARTHUR's New Year message to the people of JAPAN, may certainly be the way for us to begin this New Year.

ITEM 2 The Hope and Vow of Restored JAPAN - Tokyo Shimbun - 1 Jan 46. Translator: T. Unayama.
Full Translation:

"New Year's Eve is nonsense, New Year's Day is still more nonsense." It is a hard fact that our joy in welcoming New Year's Day grows less as our ages advance. When we were boys, we used to wait for the coming of New Year's Day, counting the days on our fingers. We grown-ups can no longer have the inspiration of those days.

Without fail , New Year's Eve awaits New Year's Day. In our country where all accounts are settled on New Year's Eve according to custom, persons who are not rich cannot have a gay time. MASAOKA, Shiki, who could say "New Year's Eve is nonsense, New Year's Day is still more nonsense", one of his 'haiku' (TN a form of poetry), was more blessed than those who were suffering from debts. ISHIKAWA, Takuboku, regretted that he felt nothing but boredom on New Year's Day. In contrast to his "tanka" on New Year's Day, we can sympathize with him as he was always suffering from extreme poverty, though he "worked and worked day and night."

Since we are not poets we cannot understand the profound poetical sentiment in their "tanka" and "haiku," but under the social circumstances prevailing at the year's end and the new year, we cannot feel any special gladness if we have to admit that both New Year's Eve and Nee Year's Day are new meaning loss.

- 2 -

(View Page Image)
EDITORIAL SERIES: 200 (Continued)
ITEM 2
The masses are hardly maintaining a livelihood. During, last year's end, although there was restlessness among the people, they still had enough composure to decorate their gates with a spray of pine branch. This year, however, most of then forgot it, and thus not even the sacred straw festoons can be found on the front of the houses. The New Year's pine decorations and straw festoons can never satisfy their appetite, and their purses cannot afford the expense. Their minds are pre-occupied in another direction.
At any rate, the year 1945, which cannot be forgotten as long, as JAPAN exists, or as lonas the Japanese race remains, has rolled away. Next year, when it comes around again, it may be accompanied by more misfortune. What can overcome the expected misfortune is only the people's own effort. We shall never again rely on "divine guidance." Let us do our best to support the hope of a New JAPAN.

Do without the pine decorations. We will pledge to the flag of the rising sun the hopes and prayers for a restored JAPAN.

ITEM 3 Is the New Year Happy? - Tokyo Shinbun - 1 Jan 46. Translator: S. Fukuda.
Full Translation:

In spite of the severe food shortage, the authorities considerately rationed extra rice and rice-cake materials to citizens at the year's end, to help celebrate, New Year's. Because of their hard work and good will, however: some people objected to our being, allowed to celebrate tae New Year's holiday as usual this year. They say that this is the first January of defeat in the history of JAPAN.

It is, to be sure, a fact that a New Year has come. Do Japanese wish to celebrate the happy New Year? Air-raid victims, who have trembled from cold and hunger, fellow Japanese overseas who have not yet been repatriated, unemployed, faced by the hardships of living, and poor citizens cannot celebrate. People of better living standards should sympathise with them. One man states that some of those who are glad to celebrate the New Year are the black market dealers who made money last year. That is a radical statement. People who extol freedom of speech and religion may enjoy a pleasant New Year such as they have not had for years. There may be many who think of themselves as released from the heavy oppression of many years and have utter disregard for the waves of destitution.

Originally, greeting; the New gear is a ceremonial thought of the people with a long tradition, and many explanations have been made in the study of local customs, the study of races and the study of folk-lore. The primary significance and feelings gradually have been lost. Though the words "happy" or "anspicous" are put on people's lips, the people think only of eating rice-cake, sending. New Year's cards and making New Year's calls. To be happy means that all members of a family celebrate and enjoy the New Year safely.

In one adage we say that "The plans of a year must be made on the .first day of the year." That the New Year is happy because there is a complete renewal and a bright hope for the future is common knowledge today. In this meaning, we must think of the present situation as unprecedentedly

- 3 -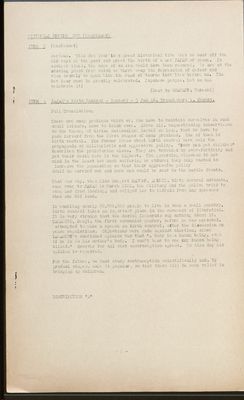 (View Page Image)
EDITORIAL SERIES: 200 (Continued)
serious. This New Year is a great historical time when we cast off the old nays or the past and greet the birth of a new JAPAN of peace. In ancient times, the name of an era would have been renamed. We are at the stating point from which we throw away the depression of defeat and rise bravely to open wide the road of thorns that lies before us. The New Year must be greatly celebrated. Japanese people. Let us all celebrate it:

(Sent by OSATAKE; Takeshi)

ITEM 4 JAPAN's Birth Control - Yomiuri - 3 Jan 46. Translator: Y. Suzuki.
Full Translation:

There are many problems which we, who have to maintain ourselves in such small islands, have to think over. Above all, unquestioning subservience to the theory of divine nationalism lasted so long, that we have to push forward from the first stages of many problems. One of them is birth control. The former ideas about birth control were only the propaganda of militaristic and aggerssive policy. "Poor men get children" describes the proletarian class. They are troubled by over-fortibity and yet their death rate is the highest. The governing classess do not mind in the least how much suffering we endure; they only wanted to increase the population so that their aggressive policy
[illegible]
could be carried out and more men could be sent to the battle fronts.
That was why, when Miss Margret SANCER, AMERICA birth control advocate, came over to JAPAN in March 1922, the military and the police tried to stop her from landing, and obliged her to refrain free any speeches when she did land.

In enabling nearly 80,000,000 people to live in such a small country, birth control takes an important place in the movement of liberation. It is very strange that the Social Democrats say nothing about it. YAMAMOTO, Senji, the first communist member, before he was executed, attempted to make a speech on birth control, after the discussion on peace regulations. Objections were made against abortion, since YAMAMOTO'S cherished opinion was that "A baby is a human being, even if he is in his mother's body. I can't bear to see any human being, killed." However for all that contraception spread. To this day his opinion is repeated.

For the future, we must study contraception scientifically and, by gradual stages, make it popular, so that there will be some relief in bringing up children.

DISTRIBUTION "X"

- 4 -