Press translations [Japan]. Editorial Series 0169, 1945-12-27.
translation-number: editorial-0537
call-number: DS801 .S82
---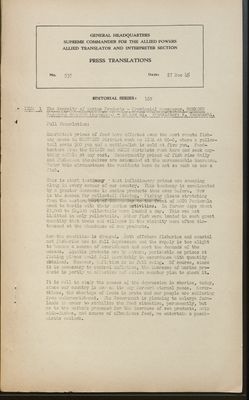 (View Page Image)
GENERAL HEADQUARTERS

SUPREME COMMANDER FOR THE ALLIED POWERS

ALLIED TRANSLATOR AND INTERPRETER SECTION

PRESS TRANSLATIONS

EDITORIAL SERIES: 169

ITEM 1 The Scarcity of Marine Products - Provincial Newspaper. HOKKOKU MAINICH SH

[illegible]

BUN (KAHAZAWA) - 18 Dec 45. Translator: K. Takahashi.
Full Translation:

Exorbitant prices of food have affected even the most remote fishing areas in HOKURIKU District such as IIDA at NO-O, where a yellow-tail costs 500 yen and a cuttle-fish is sold at five yen. Food-hunters from the KEIHIN and TOKLYO districts rush hero and seek anything edible at any cost. Consequently prices of fish rise daily and fishermen themselves are astounded at the unreasonable increase. Under this circumstance the residents here do not so much as see a fish.

This is stark testimony - that inflationary prices are sweeping along in every corner of our country. This tendency is accelerated by a greater decrease in marine products than ever before. Now is the season for yellowtail fishing. Fishing places stretching from the western part of TOY
[illegible]
, Bay to the front of NOTO Peninsula used to bustle with their marine activities. In former days about 20,000 to 50,000 yellowtails were landed a day. This was not limited to only yellowtails. Other fish were landed in such great quantity that towns and villages in the vicinity were often distressed at the abundance of sea products.
Now the condition is changed. Both offshore fisheries and coastal net fisheries are in full depression and the supply is too slight to become a source of nourishment and meet the demands of the masses. Aquatic products are by nature, perishable as prices at fishing places would fall inevitably in accordance with quantity obtained. However, inflation is in full swing. Of course, since it is necessary to control inflation, the increase of marine products is partly an effective and active counter plan to check it.

It is well to study the causes of the depression in sheries, today, since our country is now on its way forward eternal peace. Neverthless, the shortage of foods is acute and our people are suffering from undernorishment. The Government is planning to enlarge farmlands in order to stabilize the food situation, permanently, but as to the methods proposed for the increase of sea products, main side-dishes, and source of albuminous food, we entertain a pessimistic outlook.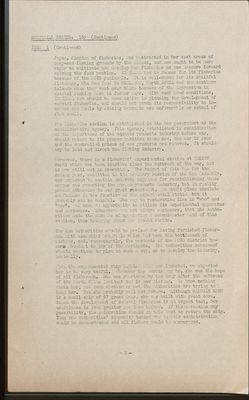 (View Page Image)
EDITORIAL SERIES: 169 (Continued)
Japan, Kingdom of fisheries, was restricted in her vast areas of deep-sea fishing grounds by the defeat, and now ought to be more eager to cultivate and develop her fisheries as one measure forward solving the food problem. ISHIKAWA Ken is famous for its fisheries because of the NOTO peninsula. It is well-known for its skillful fishermen, who won fame in HOKKAIDO, North KOREA and the southern islands when they went over there because of the depression in coastal fishing here in former days. With such good conditions, ISHIKAWA Ken should be more active in planning the development of coastal fisheries, and should not evade its responsibility to increase sea hauls by stating currents are unfavorable or school of fish small.

The fisheries section is established in the ken government as the administrative agency. This agency, established in consideration of the importance of the aquatic products industry before war, should return to its proper position since now, the war is over and the controlled prices of sea products are removed. It should try to lead and direct the fishing industry.

Moreover, there is a fisheries' experimental station at UDETSU Machi which has been inactive since the outbreak of the war, and is now still not in operation. The budget of this Ken for the coming year, submitted to the ordinary session of the Ken Assembly, ' was expected to contain moderate expenses for reestablishing those organs and promoting the marine products Industry, but in reality proved otherwise to our great resentment. We don't place absolute confidence in the function of the experimental station but it probably can be helpful. The way to restoration lies in "who" and "how". We have an opportunity to utilize its experimental apparatus and engineers. Educators are not always engineers, that the authorities made the mistake of appointing a schoolmaster head of this station, thus bringing about the recent strike.

The Ken authorities should be praised for having furnished fisher-men with essential materials which had been the bottleneck of fishing, and, consequently, the products of the KOTO district became abundant to joy of the residents. The authorities concerned should continue to plan in such a way, as to develop the industry, basically.

When the experimental ship HAKUSANMARU was launched, we expected her do be very useful. Whatever her merits may be, she was the hope of all fishermen. She was chartered by the army after the outbreak of the North CHINA Incident and is now missing. We know nothing about her, not even whether or not the authorities are trying to keep her. But she probably will not return. Although HAKUSAN MARU is a small ship of 97 gross tons, she was built with great care. Since the development of coastal fisheries is an urgent task, her usefulness is even greater now than before. If there remains any possibility, the authorities should do this rest to return the ship. Thus the authorities' sincerity toward the aquatic administration would be demonstrated and all fishers would be encouraged.

- 2 -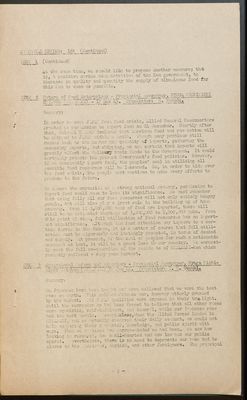 (View Page Image)
EDITORIAL SERIES: 169 (Continued)
At the same time, we should like to propose another measure; that is, a positive marine administration of the Ken government, to increase in quality and quantity the supply of albuminous food for this Ken as soon as possible.

ITEM 2 Future of Food Enterprises - Provincial newspaper, HYUGA NICHINCHI SHIMBUN (NIYAKI) - 19 Dec 45. Translator: S. Fukuda.
Summary:

In order to save JAPAN from food crisis, Allied General Headquarters granted us permission to import food on 24 December. Shortly after that, Colonel KRAMER declared that American food and raw cotton will be shipped to JAPAN within a month. Though many problems still remain such as the number and quantity of imports, gathering the necessary exports, and shipping, we are certain that imports will greatly affect the delivery basic foods to the Government. It would certainly promote the present a Government's food policies. However, if we constantly import food, the peoples' zeal in utilizing all possible food resources will be lessened. So, in order to tide the food crisis, the people must continue to make every efforts to produce in the future.

To insure the expansion of a strong national economy, permission to import food would come to lose its significance. We must remember that using fully all our food resources will not only satisfy hungry people, but will also play a great role in the building up of home economy. Even if 3,000,000 tons of food are imported, there will still be an estimated shortage of 3,000,000 to 5,000,000 koku. From this point of view full utilization of food resources has an important significance. Although the food situation may improve to a certain degree in the future, it is a matter of course that full utilization must be nigorously and lastingly promoted, in terms of demand and supply. At present, if the zeal of peoples for such a nationwide movement is lost, it will be a great loss to our country. We earnestly seek the full co-operation of the residents of MIYAZAKI-Ken which recently suffered a very poor harvest.

ITEM 3 Educational Reform and Educators - Provincial Newspaper, Hyuga Nichinichi Shimbun (

[illegible]

KI) 20 Dec 45. Translator: Y. H. Suzuki.
Summary:

We Japanese have been taught and have believed that we were the best race on earth. This self-confidence war, however utterly crushed by the defeat. All JAPAN qualities were exposed in their true light. Until the surrender we had been forced to believe that all other races were egotistic, self-indulgent, and immoral, while our Japanese race had the best morals. evertheless, when the Allied Forces landed in MIYAZAKI, and we actually abserved their daily conduct, we could not help comparing their
[illegible]
acter, knowledge, and public spirit with ours. Then we realized narrow-minded we had been. We saw how lacking in research, how small-hearted and how low was our public spirit in evertheless, there is no need to deprecate our race and be slaves to the
[illegible]
ericans, English, and other foreigners. The principal
- 3 -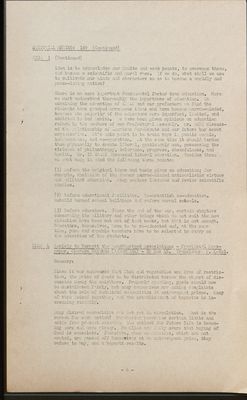 (View Page Image)
EDITORIAL SERIES: 169 (Continued)
idea is to acknowledge our faults and weak points, to overcome these, and become a scientific and moral race. If we do, what shall we use to cultivate our minds and characters so as to become a worldly and peace-loving nation?

There is no more important fundamental factor than education. Here we must understand thoroughly the importance of education. In examining the education of JAPAN and our prefecture we find the students have grasped erroneous ideas and have become narrow-minded, because the majority of the educators were imperfect, limited, and addicted to bad habits. We have been given opinions on education reform by two members of our Prefectural. Assembly, Mr.
[illegible]
ORI discussed relationship of American Boy-Scouts and our future boy scout organization. It's main point is to train boys in public morale, independence, and co-operation. At the same time it should harden them physically to create liberal, gentlemanly men, possessing the virtures of philanthropy, tolerance, progress, chearfulness, and health. Mr. IS IS
[illegible]
IGAMI discussed liberal education. Besides these we must keep in mind the following three points:
Reform the original ideas and basic plans on education; for example, abolition of the former narrow-minded nationalistic virtues and militant education. Stop useless lectures and review scientific studies.
Reform educational facilities. Re-establish co-education. Rebuild burned school buildings and reform normal schools.
Reform educators. Since the end of the war, certain chapters concerning the military and other things which do not suit the new situation have been cut out of text books, but that is not enough. Educators, themselves, have to be re-educated and, at the same time, pure and capable teachers have to be selected to carry on the education of the students.
ITEM 4 Society to Boycott the Neighborhood Associations - Provincial Newspaper, Chugoku Shimbun (HIROSHIMA) - 20 Dec 45. Translator: K. Ketel.
Summary:

Since it was announced that fish and vegetables are free of restriction, the price of goods to be distributed became the object of discussion among the neighbors. Properly speaking, goods should now be distributed fairly, but many housewives are making complaints about the sale of undesired commodities at extravagant prices. Many of them joined together, and the establishment of boycotts is increasing steadily.

Many disired commodities are not yet in circulation. What is the reason for such action? Purchasing power has certain limits and aside from present situation the outlook for future life is becoming more and more gloomy. Families are fully aware that buying of food is senseless. Therefore, when comodities, which are not wanted, are passed off housewives at an extravagant price, they refuse to buy, and a boycott results.

- 4 -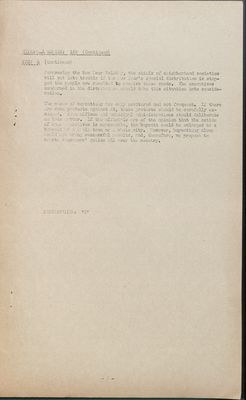 (View Page Image)
EDITORIAL SERIES: 169 (Continued)
Foreseeing the New hear Holiday, the chiefs of neighborhood societies will get into trouble if the new Year's special distribution is stopped the people are resolved to receive these goods. The executives concerned in the distribution should take this situation into consideration.

The cases of boycotting are only scattered and not frequent. If there are some protests against it, these protests should be carefully examined. Town offices and municipal administrations should deliberate on this matter. If the officials are of the opinion that the action of a some
[illegible]
us
[illegible]
ives is reasonable, the boycott could be enlarged to a boycott of a whole town a whole city. However, boycotting alone would not bring successful results, and, therefore, we propose to create consumers' guilds all over the country.
DISTRIBUTION: "X"

- 5 -