Press translations [Japan]. Editorial Series 0164, 1945-12-26.
translation-number: editorial-0522
call-number: DS801 .S82
---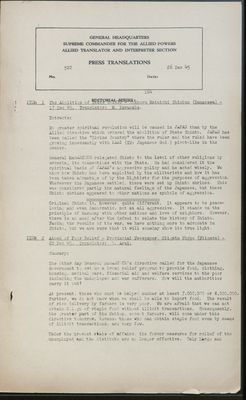 (View Page Image)
GENERAL HEADQUARTERS

SUPREME COMMANDER FOR THE ALLIED POWERS

ALLIED TRANSLATOR AND INTERPRETER SECTION

PRESS TRANSLATIONS

EDITORIAL SERIES: 164

ITEM 1 The Abolition of State SHINTO - Hokkoku Mainichi Shimbun (Kanazawa) - 17 Dec 45. Translator: M. Kawanabe.
Extracts:

No greater spiritual revolution will be caused in JAPAN than by the Allied directive which ordered the abolition of State Shinto. JAPAN has been called the "Divine Country" where the ruler and the ruled have been growing incessantly with KAMI (TN: Japanese God.) pivot-like in the center.

General MacARTHUR relegated Shinto to the level of other religions by severing its connections with the State. He had considered it the spiritual basis of JAPAN's aggressive policy and he acted wisely. We know how Shinto has been exploited by the militarists and how it has been taken advantage of by the Rightists for the purposes of aggression. Wherever the Japanese settled, there were set up Shinto shrines. This was considered partly the natural feelings of the Japanese, but these Shinto shrines appeared to other nations as symbols of aggression.

Original Shinto is, however, quite different. It appears to be peace-loving and even democratic, not at all aggressive. It stands on the principle of harmony with other nations and love of neighbors. However, there is no need after the defeat to relate the history of Shinto. Facing the results of the war, we have nothing more to advocate in Shinto, but we are sure that it will someday show its true light.

ITEM 2 Aimed of Poor Relief - Provincial Newspaper, Niigata Hippo Niigata) - 20 Dec 45. Translator: H. Arai.
Summary:

The other day General MacARTHUR's directive called for the Japanese Government to sat up a broad relief program to provide food, clothing, housing, medical care, financial aid and welfare services to the poor including the unemployed and war sufferers. How will the authorities carry it out?

At present, those who must be helped number at least 7,000,000 or 8,000,000. Further, we do not know when we shall be able to import food. The result of rice delivery by farmers is very poor. We are afraid that we can not obtain 2.1 go of staple food without illicit transactions. Consequently, the greater part of the Nation, except farmers, will come under this directive tomorrow, because those who can obtain staple food even by means of illicit transactions, are very few.

Under the present state of affairs, the former measures for relief of the unemployed and the distitute are no longer effective. Only large and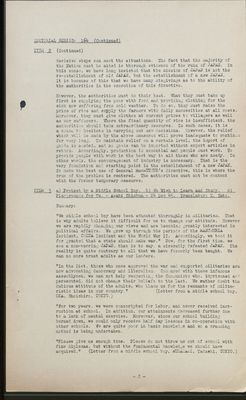 (View Page Image)
EDITORIAL SERIES: 164 (Continued)
decisive steps can meet the situations. The fact that the majority of the Nation must be aided is thorough evidence of the ruin of JAPAN. In this sense, we have long insisted that the mission of JAPAN is not the re-establishment of old JAPAN, but the establishment of a now JAPAN. It is because of this that we have many misgivings as to the ability of the authorities in the execution of this directive.

However, the authorities must do their best. What they must take up first is supplying the poor with food and providing clothing for the sick now suffering from cold weather. To do so, they must raise the price of rice and supply the farmers with daily necessities at all costs. Moreover, they must give clothes at current prices to villagers as well as war sufferers. Where the fixed quantity of rice is insufficient, the authorities should take extraordinary measures. In such cases, it is a crime to hesitate in carrying out new decisions. However, the relief which will be made by the above measures will prove inadequate to continue for very long. To maintain relief on a certain level, the import of goods is needed, and no goods can be imported without export articles in return. Accordingly, production is essential and people must work. To provide people with work is the best way to aid those who are needy. In other words, the encouragement of industry is necessary. That is the very foundation and starting point in the establishment of a new JAPAN. To make the best use of General MacAUTHUR's directive, this is where the crux of the problem is centered. The authorities must not be content with the former temporary measures.

ITEM 3 a) Protest by a Middle School Boy. b) We Wish to Learn and Study. c) Playgrounds for Us. - Asahi Shimbun - 24 Dec 45. Translator: K. Sato.
Summary:

"We middle school boy have been educated thoroughly in militarism. That is why adults believe it difficult for us to change our attitude. However we are rapidly changing our views and are becoming greatly interested in political affairs. We grew up through the periods of the MANCHURIA Incident, CHINA Incident and the World War II. Accordingly, we tood it for granted that a state should make war." Now, for the first time, we see a non-warring JAPAN, that is to say, a miserably defeated JAPAN. The reality is quite contrary to all that we have formerly been taught. We can no more trust adults as our leaders.

"In the Diet, those who once approved the war and supported militarism are now advocating democracy and liberalism. Compared with these infamous assemblymen, we can not help respecting the Communists who, imprisoned and persecuted, did not change their beliefs to the last. We rather doubt the dubious attitude of the adults, who blame us for the remnants of militaristic ideas in our country." (Letter from a middle school boy, OKA, Shoichiro, TOKYO.)

"For two years, we were conscripted for labor, and never received instruction at school. In addition, our attainments decreased further due to a lack of mental exercise. Moreover, since our school building burned down, we could only receive half day lessons in co-operation with other schools. We are quite poor in basic knowledge and so a cramming method is being undertaken.

"Please give us enough time. Please do not throw us out of school with fine diplomas, but without the fundamental knowledge we should have acquired." (Letter from a middle school boy, MURAKAMI, Tadashi, TOKYO.)

- 2 -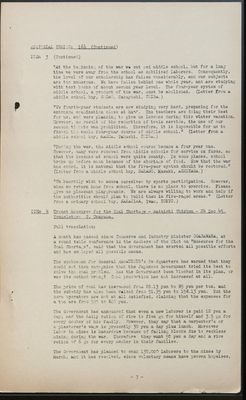 (View Page Image)
EDITORIAL SERIES: 164 (Continued)
"At the beginning of the war we entered middle school, but for a long time we were away from the school as mobilized laborers. Consequently, the level of our scholarship has fallen considerably, and our subjects are too numerous. We have fallen behind one whole year, and are studying with text books of about second year level. The four-year system of middle school, a product of the war, must be abolished. (Letter from a middle school boy, SHIMO, Kazuyoshi, CHIBA.)

"We fourth-year students are now studying very hard, preparing for the entrance examination close at hand. The teachers are doing their best for us, and were planning to give us lessons during this winter vacation. However, as result of the reduction of train service, the use of our season tickets was prohibited . Therefore, it is impossible for us to finish the whole four-year course of middle school." (Letter from a middle school boy, NAEDA, Takashi, CHIBA.)

"During the war, the middle school course became a four year one. However, many were removed from middle schools for service on farms, so that the lessons at school were quite scanty. In some places, school broke up before noon because of the shortage of food. Now that the war has ended, it is natural that the five-year system should be restored." (Letter from a middle school boy, NAKANO, Masaki, ASHIKAGA.)

"We heartily wish to amuse ourselves by sports participation. However, when we return home from school, there is no place to exercise. Please give us pleasant playgrounds. We are always willing to work and help if the authorities should plan to build them in fire-raged areas." (Letter from a primary school boy, NAKAJIMA, Iwao, TOKYO.)

ITEM 4 Urgent Measurer for the Coal Shortage - Mainichi Shimbun - 24 Dec 45. Translator: T. Unayama.
Full translation:

A month has passed since Commerce and Industry Minister OGASAWARA, at a round table conference in the members of the Diet on "Measures for the Coal Shortage", said that the Government has exerted all possible efforts and has employed all possible means.

The spokesman for General MacAUTHUR's Headquarters has warned that they could not then recognize that the Japanese Government tried its best to solve the coal problem. Has the Government been blocked in its plan, or was its method wrong? Coal production has not increased at all.

The price of coal has increased from 20.13 yen to 85 yen per ton, and the subsidy has also been raised from 51.95 yen 158.13 yen. But the more operators are not at all satisfied, claiming that the expenses for a ton are from 500 to 800 yen.

The Government has announced that even a new laborer is paid 12 yen a day, and the daily ration of rice is five go for himself and 3-5 for every member of his family. However, they say that a carpenter's or a plasterer's wage is presently 30 yen a day plus lunch. Moreover labor in mines is hazardous because of falling blocks due to reckless mining during the war. Therefore they want 50 yen a day and a rice ration of 6 go for every member in their families.

The Government has planned to send 130,000 laborers to the mines by March, and it has resolved, since voluntary means have proven hopeless,

- 3 -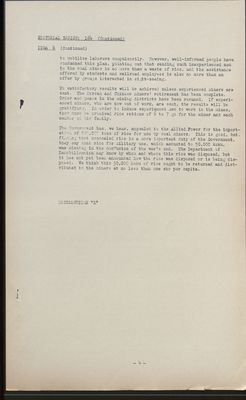 (View Page Image)
EDITORIAL SERIES: 164 (Continued)
to mobilize laborers compulsorily. However, well-informed people have condemned this plan, pointing out that sending such inexperienced men to the coal mines is no more than a waste of rice, and the assistance offered by students and railroad employees is also no more than an offer by groups interested in sight-seeing.

No satisfactory results will be achieved unless experienced miners are sent. The Korean and Chinese miners' retirement has been complete. Order and peace in the mining districts have been resumed. If experienced miners, who are now out of work, are sent, the results will be gratifying. In order to induce experienced men to work in the mines, they must be promised rice rations of 6 to 7 go for the miner and each member of his family.

The Government has, we hear, appealed to the Allied Power for the importation of 100,000 tons of rice for use by coal miners. This is good, but, finding that concealed rice is a more important duty of the Government, they say that rice for military use, which amounted to 50,000 koku, was missing in the confusion of the war's end. The Department of Demobilization may know by whom and where this rice was disposed, but it has not yet been announced how the rice was disposed or is being disposed. We think this 50,000 koku of rice ought to be returned and distributed to the miners at no less than one sho per capita.

DISTRIBUTION "X"

- 4 -