Press translations [Japan]. Editorial Series 0122, 1945-12-19.
translation-number: editorial-0403
call-number: DS801 .S82
---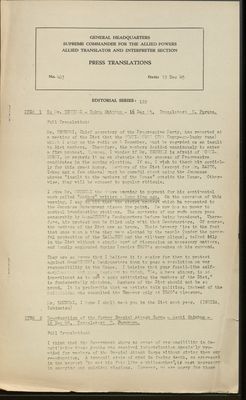 (View Page Image)
GENERAL HEADQUARTERS

SUPREME COMMANDER FOR THE ALLIED POWERS

ALLIED TRANSLATOR AND INTERPRETER SECTION

PRESS TRANSLATIONS

EDITORIAL SERIES: 122

ITEM 1 To Mr. TSURMI - Tokyo Shimbun - l6 Dec 45. Translator: H. Furuka.
Full Translation:

Mr. TSURUMI, Chief secretary of the Progressive Party, has reported at a meeting of the Diet that the NONKI-BUSHI (TN: Happy-go-lucky tune) which I sang on the radio on 4 December, must be regarded as an insult to Diet members. Therefore, the members decided unanimously to enter a firm protest. However, I wonder if Mr. TSURUMI is afraid of NONKI-BUSHI, or regards it as an obstacle to the success of Progressive candidates in the coming election. If so, I wish to thank him cordially for this great honor. Members of the Diet (except for Mr. SAITO, Takao and a few others) must be careful about using the Japanese phrase "insult to the members of the House" outside the House. Otherwise, they will be exposed to popular ridicule.

I give Mr. TSURUMI the above warning in payment for his sentimental work called "Mother" written a long time ago. On the occasion of this warning, I say to him that the strict protest which he presented to the Japanese Government misses the point. He now has no power to control broadcasting stations. The contents of our radio songs pass censorship by MacARTHUR's Headquarters before being broadcast. Therefore, his protest can be filed only with that Headquarters. Of course, the members of the Diet are so brave. Their bravery lies in the fact that once upon a time they were elected by the people (under the powerful protection of the ZAIBATSU and the military clique), talked
[illegible]
dly in the Diet without a single word of discussion on necessary matters, and loudly applauded during Premier TOJO's speeches at his command.
They are so brave that I believe it is easier for them to protest against MacARTHUP's Headquarters than to pass a resolution on war responsibility in the House. I believe that your fossil-like self-conpla
[illegible]
and your tend
[illegible]
to think, "He, a mere singer, is so impertinent as to use a song criticizing the members of the Diet," is fundamentally mistaken. Members of the Diet should not be so proud. It is preferable that we artists talk politics, instead of the pol
[illegible]
colon
[illegible]
who consulted the Emperor only at TOJO's pleasure.
Mr. TSURUMI, I hope I shall meet you in the Diet next year. (ISHIDA, Ichimatsu)

ITEM 2 Re

[illegible]

ducation of the former Special Attack Corps - Asahi Shimbun - l6 Dec 45 Translator: H. Furuk

[illegible]

owa.
Full Translation:

I think that the Government shows no sense of responsibility in demobilizing those youths who received indoctrination specially provided for members of the Special Attack Corps without giving them any re-education. A tranquil state of mind in facing death, as expressed in the proverb "he met his fat
[illegible]
s like a philosopher", is most necessary in carrying out suicidal missions. However, we are sorry for those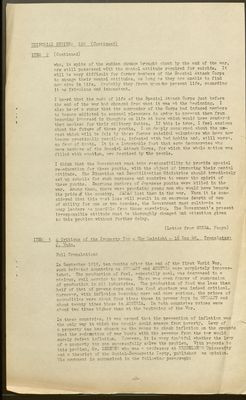 (View Page Image)
EDITORIAL SERIES: 122 (Continued)
who, in spite of the sudden change brought about by the end of the war, are still possessed with the mental attitude required for suicide. It will be very difficult for former members of the Special Attack Corps to change their mental attitudes, as long as they are unable to find new aims in life. Probably they frown upon the present life, regarding it as frivolous and inconstant.

I heard that the mode of life of the Special Attack Corps just before the end of the war had changed from what it was at the beginning. I also heard a rumor that the commander of the Corps had induced members to become addicted to sensual pleasures in order to prevent them from becoming immersed in thoughts on life at hone which would have rendered them useless for their military duties. If this is true, I feel anxious about the future of these youths. I am deeply concerned about the unrest which will be felt by these former suicidal volunteers who have now become practically penniless, infected with bad habits and, still worse, no fear of death. It is a lamentable fact that some degenerates who were members of the Special Attack Corps, for which the whole nation was filled with emotion, are despised by the people.

I think that the Government must take responsibility to provide special re-education for these youths, with the object of improving their mental attitude. The Education and Demobilization Ministries should immediately set up schools for such purposes and contrive to renew the spirit of these youths. Enormous numbers of Japanese youths were killed in the war. Among them, there were promising young men who would have become the pride of the country. JAPAN lost them in the war. When it is considered that this vast loss will result in an enormous dearth of men of ability for one or two decades, the Government must cultivate as many leaders as possible from those surviving. The Government's present irresponsible attitude must be thoroughly changed and attention given to this problem without further delay.

(Letter from SHIGA, Naoya)

ITEM 3 A Critique of the Property Tax - The Mainichi - l6 Dec 45. Translator: J. Wada.
Full Translation:

In September 1919, ten months after the end of the first World War, such defeated, countries as GERMANY and AUSTRIA were completely impoverished. The production of fuel, especially coal, was decreased to a minimum, rail service to cease. There was even danger of suspension of production in all industries. The production of food was less than half of that of prewar days and the food shortage was indeed critical, moreover, with inflation becoming more and more serious, the prices of commodities were about four times those in prewar days in GERMANY and about twenty times those in AUSTRIA. In both countries prices were about two times higher than at the beginning of the War.

In these countries, it was argued that the prevention of inflation was the only way in which the people could emerge from poverty. Levy of a property tax has chosen as the means to check inflation on the grounds that the redemption of war bonds with the revenue from the tax would surely defeat inflation. However, it is very doubtful whether the levy of a property tax can successfully solve the problem. With regards to this problem, Mr. LEDERER who was a professor at HEIDELBERG University and a theorist of the Social-Democratic Party, published an opinion. His argument is summarized in the following paragraph:

- 2 -

(View Page Image)
EDITORIAL SERIES: 122 (Continued)
"Production in GERMANY and AUSTRIA cannot continue after stock left over from the war are used up without utilizing the captial which has been accumulated in the past. Of course, industry has been relieved of the necessity of exhausting its productive capacity in manufacturing unproductive munitions, but even now industry is not in a normal economic situation, one in which a portion of the profits earned in production can be invested in further production. To continue production, industry is forced to consume accumulated capital, which results in a lowering of productive capacity. In this sense, the present economies of GERMANY and AUSTRIA are the same as they were during the war. It may be more accurate to say that the unproductive elements peculiar to a war economy have been made much greater. Both individual enterprise, and industry as a whole are suffering from deficits. To make good these losses, credit must he advanced. If no credit is given, all enterprises will suspend production. This extension of credit does much toward solving problems of inflation.

"In GERMANY and AUSTRIA, at present, financial deficits are not the only causes of inflation. Fundamentally speaking, the deficit in the national economy is its most important cause. When the economy is in a liquid and favorable state, a property tax is very effective in making good financial deficits. However, when conditions exist as in GERMANY and AUSTRIA, the levy of a property tax will accomplish nothing. Even if we can redeem all national bonds by the levy of a property tax, the national economy will be as deficient as ever."

That is Professor LED
[illegible]
RER's opinion opposing the levy of a property tax. In our country, industrialists are continuing production with stocks on hand. However, when all of these stocks are used, the only way production can be continued is by the consumption of accumulated capital. And if that occurs, our productive power will naturally be weakened. Moreover, there is the matter of reparations. Since reparations must be paid in kind, they will bring about a direct destruction of productive capacity.
Thus, our economy is deficient and is, in effect, the same as our war economy. Our inflation cannot be overcome without the reconstruction of our unfavorabley balanced economy. Moreover, as mentioned by Professor LEDERER, our national economy cannot be reconstructed through the levy of a property tax alone. We do not, however, insist on not using a property tax. The collection of 100 billion yen by means of property and war profits taxes will do much toward checking inflation. We do insist, however, that these two taxes alone cannot successfully defeat inflation since other fundamental measures are needed.

DISTRIBUTION "X"

- 3 -