Press translations [Japan]. Editorial Series 0120, 1945-12-18.
translation-number: editorial-0399
call-number: DS801 .S82
---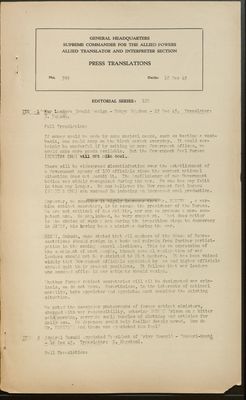 (View Page Image)
GENERAL HEADQUARTERS

SUPREME COMMANDER FOR THE ALLIED POWERS

ALLIED TRANSLATOR AND INTERPRETER SECTION

PRESS TRANSLATIONS

EDITORIAL SERIES: 120

ITEM 1 War Leaders Should Resign - Tokyo Shimbun - 15 Dec 45. Translator: S. Fukuda.
Full Translation:

If money could be made by some magical means, such as beating a washbasin, one could shop on the black market everyday. It would certainly be wonderful if by setting up more Government offices, we could make more goods available. But the Government Coal Bureau (SEKITAN CHO) will not mine coal.

There will be widespread dissatisfaction over the establishment of a Government agency of 100 officials since the current national situation does net permit it. The inefficiency of new Government bodies was widely recognized during the war. No one has any faith in them any longer. No one believes the Government Coal Bureau (SW
[illegible]
ITAN CHO) can succeed in inducing an increased coal production.
Moreover, we consider it highly improper that Mr. KOBIYA
[illegible]
, a wartime cabinet secretary, is to assume the presidency of the Bureau. We are not critical of his ability, nor can we propose a more competent man. He may, indeed, be very competent. What does matter is the choice of such a man during the transition stage to democracy in JAPAN, his having been a minister during the war.
OZAKI, Gakudo, once stated that all members of the House of Representatives should resign in a body and refrain from further participation in the coming general elections. This is an expression of the sentiment of most people, though general resignation of war leaders should not be restricted to Diet members. It has been voiced widely that Government officials appointed by Law and higher officials should quit their present positions. It follows that war leaders who assumed office in war cabinets should resign.

Whether former cabinet secretaries will all be designated war criminals, we do not know. Nevertheless, in the interests of national morality, both appointor and appointee must consider the existing situation.

We noted the newspaper photographs of former cabinet ministers, charged with war responsibility, entering SUGAYO Prison on a bitter cold morning, carrying small bundles of clothing and articles for daily use. No Japanese could help feeling deeply moved. How do Mr. KO
[illegible]
I
[illegible]
A
[illegible]
A and those who appointed him feel?
ITEM 2 Admiral Suzuki Appointed President of Privy Council - Yomiuri-Hochi - 16 Dec 45. Translator: K. Nagatani.
Full Translation: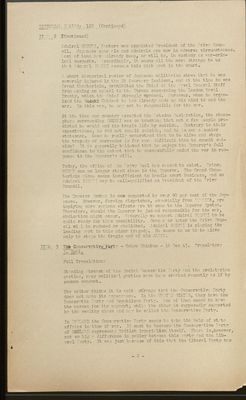 (View Page Image)
EDITORIAL SERIES: 120 (Continued)
Admiral SUZUKI, Kantaro was appointed President of the Privy Council. Japanese generals and admirals are now in adverse circumstances. Most of them have already been, or will be, in custody as war-criminal suspects. Accordingly, it seems all the more strange to us that Admiral SUZUKI assumes this high post in the court.

A short historical review of Japanese militarism shows that he was severely injured in the 26 February Incident, and at the time he was Grand Chamberlain, prohibited the Chief of the Naval General Staff from making an appeal to the Throne concerning the London Naval Treaty, which the Chief strongly opposed. Moreover, when he organized the Suzuki Cabinet he had already made up his mind to end the war. In this way, he may not be responsible for the war.

At the time, our country accepted the Potsdam Declaration, the atmosphere surrounding SUZUKI was so touching that not a few people predicted he would end his tragic life by suicide. Contrary to their expectations, he did not commit suicide, and he is now a senior statesman. Does he really understand that to be alive and stage the tragedy of surrender is far more difficult than to commit suicide? It is generally believed that he enjoys the Emperor's full confidence to the extent that he successfully ended the war in response to the Emperor's will.

Today, the office of the Privy Seal has ceased to exist. Prince KONOE can no longer stand close to the Emperor. The Grand Chamberlain alone seems insufficient to handle court business, and so Admiral SUZUKI may be well-qualified as President of the Privy Council.

The Emperor System is now supported by over 90 per cent of the Japanese. However, foreign dispatches, especially from AMERICA, are implying more serious effects are to come to the Emperor System. Therefore, should the Emperor be judged responsible for the war, abdication might occur. Naturally we expect Admiral SUZUKI to be quite ready for this possibility. Sooner or later the Privy Council will be reduced or abolished. Admiral SUZUKI is playing the leading part in this minor tragedy. He seems to us to be alive only to stage the tragic end of old JAPAN.

ITEM 3 The Conservative Party - Tokyo Shimbun - 16 Dec 45. Translator: I. Imai.
Full Translation:

Standing abreast of the Social Democratic Party and the proletarian parties, many political parties have been created recently as if by common consent.

The writer thinks it is quite strange that the Conservative, Party does not make its appearance. In the UNITED STATES, they have the Democratic Party and Republican Party. One of them, seems to have the masses for its support, while the other is supposedly supported by the wealthy class and may be called the Conservative Party.

In ENGLAND the Conservative Party seems to take the helm of state affairs in time of war. It must be because the Conservative Party of ENGLAND represents British imperialism itself. There is, however, not so big a difference in policy between this party and the Liberal Party. It was just because of this that the Liberal Party has

- 2 -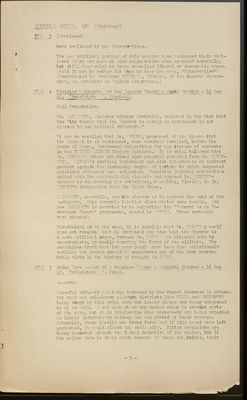 (View Page Image)
EDITORIAL SERIES: 120 (Continued)
been swallowed by the Conservatives.

The new political parties of this country have announced their platforms which are more or less conservative when examined carefully, but still they stick to these so-called liberal or democratic names. Would it not be better for them to bear the name, "Conservative"? (Contributed by Professor FUKUHARA, Rintaro, of the Bunrike University, an authority on English literature.)

ITEM 4 Minister Matsumoto and the Emperor Theory - Asahi Shimbun - 16 Dec 45. Translator: K. Nagatani.
Full Translation:

Dr.
[illegible]
AT
[illegible]
OTO, Minister without Portfolio, declared in the Diet that the "the theory that the Emperor is merely an instrument is not opposed to our national structure."
It may be recalled that Dr.
[illegible]
INOBE, proponent of the theory that the Emperor is an instrument, once severely assailed, before the House of Peers, Government authorities for the torture of suspects in the TEIKOKU JINKEN Company Incident. It is still believed that Dr. MINOBE's attack was based upon material received from Dr. MATSUMOTO. MINOBE's scathing indictment was also intended as an indirect protest against the increasing degree of torture to which suspected political offenders were subjected. Fascistic judicial authorities united with the nationalistic elements and opposed Dr. MINOBE's charges by suppressing his activities, resulting, finally, in Dr. MINOBE's resignation from the Upper House.
MATSUMOTO, meanwhile, was too cleaver as to approve the acts of the judiciary. This cowardly behavior disappointed some people. And now MATSUMOTO is reported to be supporting the "Emperor as an Instrument Theory" proponents, headed by MINOBE. Times certainly have changed.

Paradoxical as it may seem, it is possible that Dr. MINORE himself does not remember that he professed the idea that the Emperor is a mere political organ, because Dr. MINORE was attacked only by opportunists, apparently currying the favor of the military. The scandalous truth that too many people have been busy solicitously coddling the powers should be considered one of the most regrettable blots in the history of thought in JAPAN.

ITEM 5 Crime Wave Lament of a Homeless Person - Mainichi Shimbun - 16 Dec 45. Translator: K. Ketel.
Summary:

Peaceful citizens are being harassed by the recent increase in crimes. Not only are well-known pleasure districts like GINZA and SHINSHUKU being swept by this crime wave but lonely places are being subjected to it as well. I can understand why crimes occur in crowded parts of the city, but it is intolerable when passers-by are being attacked in lonely districts by hold-up men and robbed of their savings. Naturally, these bandits use brute force and if this trend were left unchecked, it would affect the whole city. Bitter complaints are being launched against the fedual despotism of the police, but if the police were to stand aside because of these complaints, their

- 3 -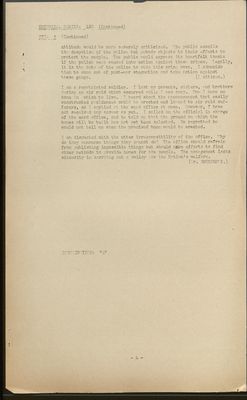 (View Page Image)
EDITORIAL SERIES: 120 (Continued)
attitude would be more severely criticized. The public assails the despotism of the police but nobody objects to their efforts to protect the people. The public would express its heartfelt thanks if the police were roused into action against these crimes. Legally, it is the duty of the police to stop this crime wave. I admonish them to come out of post-war stagnation and take action against these gangs. (A citizen.)

I am a repatriated soldier. I lost my parents, sisters, and brothers during an air raid which occurred while I was away. Now I have no home in which to live. I heard about the announcement that easily constructed residences could be erected and loaned to air raid sufferers, so I applied at the ward office at once. However, I have not received any answer as yet. I called on the official in charge of the ward office, and he told me that the ground on which the homes will be built has not yet been selected. He regretted he could not tell me when the promised homo would be erected.

I am disgusted with the utter irresponsibility of the office. Why do they announce things they cannot do? The office should refrain from publishing impossible things but should make efforts to find other methods to provide homes for the people. The management lacks sincerity in carrying out a policy for the Nation's welfare.

(Mr. SHINAGAWA.)

DISTRIBUTION: "X"

- 4 -