Press translations [Japan]. Editorial Series 0056, 1945-12-02.
translation-number: editorial-0225
call-number: DS801 .S82
---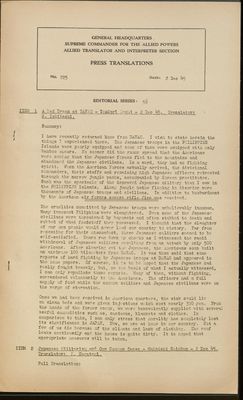 (View Page Image)
GENERAL HEADQUARTERS

SUPREME COMMANDER FOR THE ALLIED POWERS

ALLIED TRANSLATOR AND INTERPRETER SECTION

PRESS TRANSLATIONS

EDITORIAL SERIES: 56

ITEM 1 A Bad Dream at DAVAO - Yomiuri Hochi - 2 Dec 45 Translator: B. Ishibashi.
Summary:

I have recently returned home from DAVAO. I wish to state herein the things I experienced there. The Japanese troops in the PHILIPPINE Islands were poorly equipped and some of them were equipped with only bamboo spears. No sooner did the rumor spread that the Americans were coming than the Japanese forces fled to the mountains and abandoned the Japanese civilians. In a word, they had no fighting spirit. When the American Forces actually arrived, the divisional commanders, their staffs and remaining high Japanese officers retreated through the narrow jungle paths, accompanied by Korean prostitutes. Such was the spectacle of the depraved Japanese military that I saw in the PHILIPPINE Islands. Along jungle paths fleeing in disorder were thousands of Japanese troops and civilians. In addition to bombardment by the American air forces severe rifle was received.

The cruelties committed by Japanese troops were unbelievably inhuman. Many innocent Filipinos were slaughtered. Even some of the Japanese civilians were threatened by bayonets and often stabbed to death and robbed of what foodstuff they possessed. I thought that the slaughter of our own people would never lead our country to victory. Far from repenting for their misconduct, these Japanese soldiers seemed to be self-satisfied. Tears ran down my checks as I witnessed the rapid withdrawal of Japanese soldiers resulting from an attack by only 500 Americans. After clearing out the Japanese, the Americans soon built an airdrome 100 kilometers from DAVAO. It was then said that some reports of hard fighting by Japanese troops at DAVAO had appeared in the home papers. Of course, it is to be hoped that the Japanese had really fought bravely, but, on the basis of what I actually witnessed, I can only repudiate those reports. Many of them, without fighting, surrendered voluntarily to the Americans, The officers had a full supply of food while the common soldiers and Japanese civilians were on the verge of starvation.

Once we had been received in American quarters, the sick could lie on clean beds and were given injections which cost nearly 300 yen. From the hands of the former enemy, we were benevolently supplied with several useful commodities such as, canteens, blankets and clothes. In comparison to this, I can only stress that morality has completely lost its significance in JAPAN. Now, we are at home in our country. Not a few of us die because of the climate and lack of clothing. The roof leaks continuedly and the house is quite dirty. It is hoped that appropriate measures will be taken.

ITEM 2 Japanese militarism and Our Common Sense - Mainichi Shimbun- 2 Dec 45. Translator: K. Nagatani.
Full Translation:

(View Page Image)
EDITORIAL SERIES: 56 (Continued)
JAPAN has become a disarmed nation. If the Government grasps the significance of this fact, it should not have established the First and Second Demobilization Ministries. Acknowledging the fact that it requires three years to complete demobilization of Japanese servicemen, one bureau or section within the Cabinet should be sufficient to handle the demobilization task. It is unnecessary to appoint a minister for this task alone. However, in this connection, the government's statement that the Premier will assume the concurrent posts of First and Second Demobilization Minister, appears to have calmed public opposition Nevertheless, the people remain doubtful as to why the Government deemed it necessary to establish two ministers for demobilization, that is to say, for the remaining business of demobilization.

Although JAPAN has become a disarmed nation, her ideals should be different from those entertained by other disarmed nations. It is not JAPAN but Japanese militarism which has perished. In the event that JAPAN is given an opportunity to be a military power in the future, even then, the Japanese should not reconstruct the Army and Navy. The principle that strength is essential in order to fight aggression, is the premise of an outdated world order. We must construct a new world order without military power.

JAPAN should by no means return to the past and repeat her mistakes. Since the MEIJI Restoration the ideal of JAPAN has been to gain riches and power. Consequently, it may be natural that at a time when JAPAN has lost both riches and power, the Japanese Nation has also lost its prestige. That mental collapse of our people which continued for a time after the surrender is accounted for by the drugging effects of militaristic education's. It can not be denied that the Japanese were affected by an inferiority complex as regards western people, even though our people outwardly appeared to possess prestige as one of the great world powers. Our aggression against Western Powers was intended to demonstrate JAPAE'S greatness before the world. This childish, silly vanity is based upon our inferiority complex regarding the West. The so-called "Japanese way of thinking" which had been stressed these years was merely propaganda of Japanese militarism. Our militarists were busily engaged in the introduction of militarism from EUROPE, in armament races and meaningless competition with the Western powers, and they professed that JAPAN was not a militaristic nation. This egotistical, self-complacent theory was the so-called "Japanism" which the military clique and its cohorts inspired in our people during the war. Consequently it was not surprising that Japanese militarism was characterized by its utter lack of common sense and reason.

The defeat of JAPAN means the defeat of Japanese militarism which lacked common sense. Our nation had been a race of people with common sense, moral enough to refrain from being dragged into aggressive hostilities. In this respect educators as well as commentators should be held responsible and accused of having aided militarism.

We could not help laughing at the military clique because of its utter lack of common sense. Their haughty, arrogant attitude was a cause for our laughter. Therefore the more militaristic JAPAN became, the wider a gap grew between the Nation and the Military. It is up to the post war Japanese people to remove their inferiority complex and to restore common sense in politics.

ITEM 3 Signal for Re-opening The Peace Industries - Nippon Sangyo Keizai - 2 Dec 45. Transactor: S. Ota.
Full Translation:

It was revealed by Finance Minister OGASAWARA in his reply to the Diet

- 2 -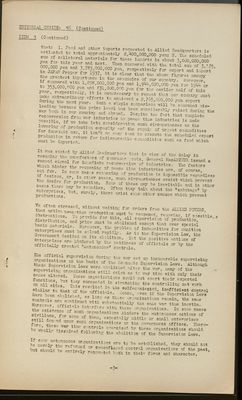 (View Page Image)
EDITORIAL SERIES: 56 (Continued)
that: 1. Food and other imports requested to Allied Headquarters is estimated to total approximately 2,400,000,000 yen; 2. The scheduled sum of collateral materials for these imports is about 3,000,000,000 yen for this year and next. When compared with the total sum of 3,
[illegible]
75,000,000 yen and 3,783,000,000 yen, respectively for export and import in JAPAN Proper for 1937, it is clear that the above figures occupy the greatest importance in the economics of our country. Moreover, if compared with 1,298,000,000 yen and 1,944,000,000 yen for I944 or to 353,000,000 yen and 831,000,000 yen for the earlier half of this year, respectively, it is unnecessary to repeat that our country must make extraordinary efforts to achieved a 2,765,000,000 yen export during the next year. Such a simple comparison will be somewhat misleading because the price level has been considerably raised during the war both in our country and abroad. Despite the fact that complete reconversion from war industries to peace time industries is made possible, if we take into consideration such circumstances as the lowering of production capacity and the supply of urgent commodities for domestic use, it isn't an easy task to execute the scheduled export production in return for indisponsable commodities such as food which must be imported.
It was stated by Allied Headquarters that in view of the delay in resuming the manufacture of consumer goods, General MacARTHUR issued a second signal for immediate reconversion of industries. The factors which hinder the reopening of peace time industries are, of course, not few. In some cases reopening of production is impossible regardless of desires, or, in other cases, such circumstances exsist which prevent the desire for production. Some of these may be inevitable and in other cases there may be remedies. Often they talk about the "sabotage" by enterprises, but, surely, there exist some other causes which prevent productions.

We often stressed, without waiting for orders from the ALLIED POWERS, that active Reacetime production must be reopened, removing, if possible, a obstructions. To provide for this, all supervision of production, distribution, and price must be abolished except that over special basic materials. Moreover, the problem of indemnities for munition enterprises must be solved rapidly. As to the Supervision Law, the Government decided on its abolition. Yet the positive actions of enterprises are hindered by the pettiness of officials or by the officially created "Autonomous" controls.

The official supervision during the war set up innumerable supervising organizations on the basis of the Economic Supervision Laws. Although these Supervision Laws were abolished after the war, many of the supervising organizations still exist as in war time with only their names altered. These organizations could not exert their expected functions, but they succeeded in stretching the controlling network on all sides. This resulted in the self-contented, inefficient Control similar to that of the officials Hence, even if the Supervision Laws have been abolished, as long as these organizations remain, the same controls are continued with substantially the same war time inertia. Moreover, officials interfere with these organizations. In some cases the existence of such organizations hinders the autonomous actions of civilians, for some of them, especially middle or small enterprises still depend upon such organizations or the government offices. Therefore, these war time controls exercised by these organizations should be wholly dissolved following the abolition of the Supervision Laws.

If some autonomous organizations are to be established, they should not be merely the reformed or camouflaged control organizations of the past, but should be entirely renovated both in their forms and character.

- 3 -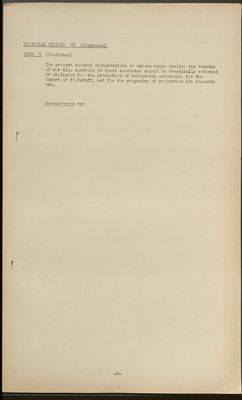 (View Page Image)
EDITORIAL SERIES: 56 (Continued)
The present control organizations or unions which involve the residue of war time controls in their character should be drastically reformed or abolished for the production of collateral materials, for the import of foodstuff, and for the reopening of production for domestic use.

DISTRIBUTION "X"

- 4 -