Press translations [Japan]. Editorial Series 0047, 1945-12-03.
translation-number: editorial-0199
call-number: DS801 .S82
---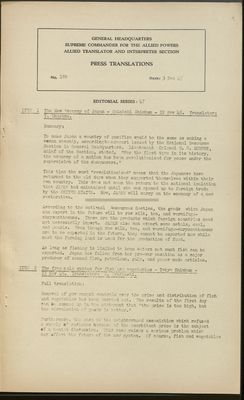 (View Page Image)
GENERAL HEADQUARTERS

SUPREME COMMANDER FOR THE ALLIED POWERS

ALLIED TRANSLATOR AND INTERPRETER SECTION

PRESS TRANSLATIONS

EDITORIAL SERIES: 47

ITEM 1 The New Economy of Japan - Mainichi Shimbun - 22 Nov 45. Translator: T. Unayama.
Summary:

To make Japan a country of pacifism would be the same as making a woman womanly, according to are port issued by the National Resource Section in General Headquarters. Lieutenant Colonel H. G. SCHENK, chief of the Section, stated, "For the first time in its history, the economy of a nation has been revolutionized for peace under the supervision of the conquerors."

This time the word "revolutionized" means that the Japanese have returned to the old days when they supported themselves within their own country. This does not mean the return to the national isolation that JAPAN had maintained until she was opened up to foreign trade by the UNITED STATES. Now, JAPAN will carry on the economy of a new restoration.

According to the National Resources Section, the goods which Japan can export in the future will be raw silk, tea, and vermifuge-chrysanthemums. Those are the products which foreign countries need not necessarily import. JAPAN also can export some metals, coal, and pearls. Even though raw silk, tea, and vermifuge-chrysanthemums are to be exported in the future, they cannot be exported now while most the farming land is used for the production of food.

As long as fishing is limited to home waters not much fish can be exported. Japan has fallen from her pre-war position as a major producer of canned fish, petroleum, pulp, and paper made articles.

ITEM 2 The free sale system for fish and vegetables - Tokyo Shimbun - 23 Nov 45. Translator: B. Ishibashi.
Full translation:

Removel of government controls over the price and distribution of fish and vegetables has been carried out. The results of the first day can be summed up in the statement that "the price is too high, but the circulation of goods is better."

Furthermore, the case of the neighborhood association which refused a supply of radishes because of the exorbitant price is the subject of a heated discussion. This case raises a serious problem which may affect the future of the new system. Of course, fish and vegetables

(View Page Image)
EDITORIAL SERIES: 47 (Continued)
are both small in their absolute quantities, and therefore, we can not expect these goods to circulate in abundance at once. However, this system may be welcomed by those who cannot go out and buy the products directly from the producers, even though the goods are too high priced.

They must, by all means, live. Leaving out those who are resigned to die when they have spent their last penny, a man with any resolve to contribute to new JAPAN cannot overlook this question. The neighborhood association which refused the supply of radishes may evoke sympathy.

It is said that the green grocer threatened them saying that he would not supply any goods hereafter. Nothing could be more imprudent than this attitude. In fact, it is quite natural that the vast majority of neighborhood associations should refuse supplies if such high prices are not lowered hereafter. Then, greengrocer's shops will not be able to maintain themselves.

Properly speaking, a greengrocer should be an agency of consumers, and buyers having sufficient comprehension about farm conditions. In deciding the price for consumers, it is said that five per cent commission for the market, and 30 per cent for the commercial association are added to the bidding price.

Nevertheless, it is hard to understand why goods, bid for at 10 yen, come to 15 yen in price for consumer. Of course, all greengrocers are not always unjust, but it is stressed that this free sale system cannot be smoothly executed, unless the duty of merchants is firmly established as well as strict supervision over them by consumers.

ITEM 3 Japan must be Wholly Electrified - Tokyo Shimbun - 23 - Nov 45. Translator: S. Ohta.
Full Translation:

Now, we are much troubled by the shortage of coal; gas is scarcely available and transportation by railway is difficult. Since there was a shortage of gasoline, most automobiles were converted to cars which use substitute fuels. As a result, the mountains which were once beautiful and green have turned bare; waters threaten to flood the countrysides, and crops in farms are consequently reduced by floods. Moreover, the shortage of the lumber duo to the random cutting of trees delays rehabilitation all over the country. Haven't we any measures to counteract this? The President of the Rehabilitation Bureau, KOBAYASHI, said recently that cities and towns will most effectively be rehabilitated by electrification. But rehabilitation is not the only problem to be solved by electrification. We believe that the construction of a new JAPAN will be greatly accelerated by overall electrification. For example, more than 2 million kilo-watts of electric power is said to be in excess, but measures for utilizing it in large quantities have not yet boon taken. Only the use of electric heaters in the home is encouraged now, and conversion of the power for mechanical use on a large scale has rarely been accomplished. It is as absurd shouting for water and being in the midst of it. The Government ought to know these circumstances very well, yet why does it not make an effort to utilize the excess electric power? According to Mr. HIRAIWA, Shinichi, who is doing research on this problem, the excess water power which remains unused in our country is valued at more than

- 2 -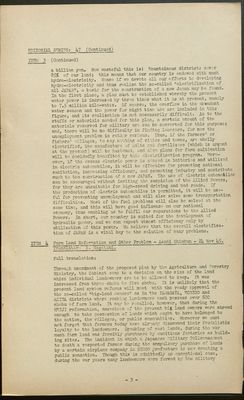 (View Page Image)
EDITORIAL SERIES: 47 (Continued)
a billion yen. How wasteful this is! Mountainous districts cover 85% of our land; this means that our country is endowed with much hydro-electricity. Hence if we devote all our efforts to developing hydro-electricity and thus realize the so-called "electrification of all JAPAN", a basic for the construction of a new Japan may be found. In the first place, a plan must be established whereby the present water power is increased by three times what it is at present, namely to 7.5 million kilo-watts. Of course, the overflow in the abundant water season and the power for night time use are included in this figure, and its realization is not necessarily difficult. As to the stuffs or materials needed for this plan, a certain amount of the materials reserved for military use can be converted for this purpose; and, there will be no difficulty in finding laborers, for now the unemployment problem is rather serious. Thus, if the farmers' or fishers' villages, to say nothing of cities and towns, are wholly electrified, the manufacture of salts end fertilizers (which is urgent at the present) will be hastened, and also plans for farm cultivation will be decidedly benefited by this electrification program. Moreover, if the excess electric power is shored in batteries and utilized in electric automobiles, it will be effective for promoting national sanitation, increasing efficiency, and promoting industry and contribute much to the construction of a new JAPAN. The use of electric automobiles can be encouraged without inviting the suspicion of the Allied Powers, for they are unsuitable for high-speed driving and bad roads. If the production of electric automobiles is permitted, it will be useful for preventing unemployment and will also solve some transportation difficulties. Mos
[illegible]
of the fuel problems will also be solved at the same time, and this will have good influence on our national economy, thus enabling us to fulfil our reparations to the Allied Powers. In short, our country is suited for the development of hydraulic power, and we can expect utmost efficiency only by utilization of this power. We believe that the overall electrification of JAPAN is a vital key to the solution of many problems.
ITEM 4 Farm Land Reformation and Other Problem - Asahi Shimbun - 24 Nov 45. Translator: K. Nagatani.
Full translation:

Through amendment of the proposed plan by the Agriculture and Forestry Ministry, the Cabinet came to a decision on the size of the land which individual landowners are to be allowed to keep. It was increased from three chobu to five chobu. It is unlikely that the present land system reforms will meet with the ready approval of the so-called "big-land owners" as in the YAMAGATA, ECHIGO and AKITA districts where ranking landowners each possess over 500 chobu of farm land. It may be recalled, however, that during the MEIJI reformation, ancestors of the present big land owners were shrewd enough to take possession of lands which ought to have belonged to the nation, the villages, or public communities. Moreover we must not forget that farmers today have already disavowed their feudalistic loyalty to the landowners. Speaking of vast lands, during the war much farm land was forcibly purchased by munitions factories as building sites. The incident in which a Japanese Military Policeman beat to death a respected farmer during the compulsory purchase of lands by a certain airplane company in HYOGO prefecture is new creating a public sensation. Though this is admittedly an exceptional case, during the war years many landowners wore forced by the military

- 3 -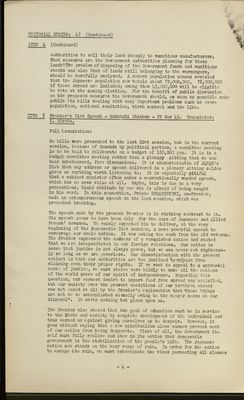 (View Page Image)
EDITORIAL SERIES: 47 (Continued)
authorities to sell their land cheaply to munitions manufacturers. What measures are the Government authorities planning for these lands? The problem of disposing of the Government funds and munitions stocks and also that of lands still belonging to the warmongers, should be carefully analyzed. A recent population census revealed that the Japanese population now totals about 72,000,000, 78,000,000 if those abroad are included; among them 43,000,000 will be eligible to vote at the coming election. For the benefit of public discussion on the proposed measures the Government should, as soon as possible make public its bills dealing with many important problems such as overpopulation, national sanitation, birth control and the like.

ITEM 5 Premier's Diet Speech - Ma

[illegible]

nichi Shimbun - 29 Nov 45. Translator: K. Hirata.
Full translation:

No bills were presented to the last Diet session, but in the current session, because of demands by political parties, a committee meeting is to be held to deliberate on a budget of 180,000 yen. It is in a budget committee meeting rather than a plenary sitting that we can hear unrehearsed, free discussions. It is characteristic of JAPAN'S Diet that any address or speech delivered in a plenary sitting seldom gives us anything worth listening to. It is especially pitiful that a cabinet minister often makes a conventionally warded speech, which has no news value at all. Maybe, this is due to a very precautious, timid attitude by one who is afraid of being caught in his word. In this connection, Prince HIGASHIKUNI, ex-Premier, made an extemporaneous speech in the last session, which was precedent breaking.

The speech made by the present Premier is in striking contrast to it. His speech seems to have been only for the ears of Japanese and Allied Powers' newsmen. We vainly expected him to deliver, at the very beginning of the democratic Diet session, a more powerful speech to encourage our whole nation. It was asking too much from the old veteran. The Premier expressed the sadness of a vanquished nation and stated that we are incapacitated in our foreign relations. Our nation is aware that justice is not always power, but we can never act righteously so long as we are powerless. Our dissatisfaction with the present cabinet is that our authorities are too inclined to refrain from claiming even their proper rights. If we want to appeal to a universal sense of justice, we must strive more boldly to make all the nations of the world aware of our spirit of independence. Regarding this question, our earnest desire to import food from abroad was satisfied, but our anxiety over the present conditions of our brethren abroad was not eased at all by the Premier's explanation that "these things are not to be accomplished so easily owing to the meager means at our disposal". It casts nothing but gloom upon us.

The Premier also stated that the goal of education must be in service to the State and society by complete development of the individual and thus warned us against giving ourselves up to despair. However, it goes without saying that a new spiritualism alone cannot prevent most of our nation from being desperate. First of all, the Government itself must fully realize and show in its action that democratic government is the stabilization of the people's life. The Japanese nation now stands on the very verge of ruin. In order for the nation to escape the ruin, we must exterminate the vices permeating all classes

- 4 -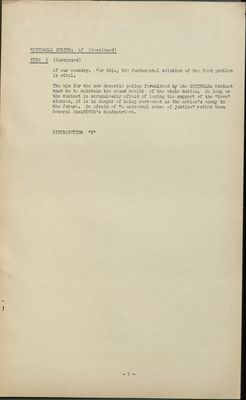 (View Page Image)
EDITORIAL SERIES: 47 (Continued)
of our country. For this, the fundamental solution of the food problem is vital.

The aim for the new domestic policy formulated by the SHIDEHARA Cabinet must be to maintain the sound health of the whole nation. So long as the cabinet is scrupulously afraid of losing the support of the "Have" classes, it is in danger of being sentenced as the nation's enemy in the future. Be afraid of "a universal sense of justice" rather than General MacARTHUR's Headquarters.

DISTRIBUTION "X"

- 5 -