Press translations [Japan]. Economic Series 0271, 1946-02-07.
translation-number: economic-1180
call-number: DS801 .S81
---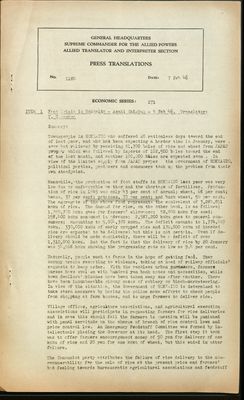 (View Page Image)
GENERAL HEADQUARTERS

SUPREME COMMANDER FOR THE ALLIED POWERS

ALLIED TRANSLATOR AND INTERPRETER SECTION

PRESS TRANSLATIONS

ECONOMIC SERIES: 271

ITEM 1 Food O

[illegible]

isis in Hokkadido - Ashai Shimbun - 5 Feb 46. Translator: T. Kitagawa
Summary:

Townspeople in HOKKAIDO who suffered 20 rationless days toward the end of last, year, and who had been expecting a harder time in January, were, somewhat relieved by receiving 81,700 bales of rice and wheat from JAPAN proper which was followed by imports of 162,500 bales toward the end of the last month, and another 100,000 bales are expected soon. In view of the limited supply from JAPAN proper the Government of HOKKAIDO, political parties, producers and consumers took up the problem from their own standpoint.

Meanwhile, the production of food stuff s in HOKKAIDO last year was very low due to unfavorable, weather and the shortage of fertilizer. Production of rice in 1945 was only 43 per cent of normal; wheat, 68 per cent; beans, 37 per cent; potatoes, 70 per cent; and buck wheat, 50 per cent. The aggregate of the above food represent s the equivalent of 3,289,891 koku of rice. The demand for rice, on the other hand, is as follows; 1, 790,780 koku goes for farmers' allowance; 52,800 koku for seed; 158,400 koku consumed in advance; 2,587,200 koku goes to general consumers; amounting to 5,064,380 koku. The deficit amounts to 1,774,489 koku. 330,000 koku of early cropped rice and 132,000 koku of hoarded rice are expected to be delivered but this is not certain. Even if delivery should be made completely, there will be a deficit of over 1,312,000 koku. But the fact is that the delivery of rice by 20 January was 94,968 koku showing the progressing rate as low as 9.4 per cent.

Naturally, people rush to farms in the hope of getting food. They occupy trains resorting to violence, taking no heed of railway officials' request s to keep order. With the reckless urban purchasers, farmers purses have swollen with hundred yen bank notes and necessities, while town dwellers
[illegible]
kimones have been taken away one after another. There have been innumberable gloomy cases of robbery or black-marketeering. In view of the situation, the Government of HOKKAIDO is determined to take stern measures by having the police make efforts to check people from shopping at farm houses, and to urge farmers to deliver rice.
Village offices, agriculture associations, and agricultural execution associations will participate in requesting farmers for rice deliveries and in case this should fail the farmers in question will be punished with penal servitude on the charge of breach of rice control laws and price control law. An Emergency Foodstuff Committee was formed by intellectuals placing the Governor at its head. The first step it took was to offer farmers encouragement money of 50 yen for deliver y of one koku of rice and 20 yen for one koku of wheat, but this ended in utter failure.

The Communist party attributes the failure of rice deliver y to the non-remunerability for the sale, of rice at the present price and farmers' bad feeling towards bureaucratic agricultural associations and foodstuff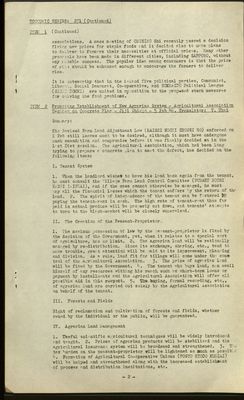 (View Page Image)
ECONOMIC SERIES: 271 (Continued)
associations. A mass meeting of OBIHIRO Shi recently passed a decision fixing new price s for staple foods and it decided also to make plans to deliver to farmers their necessities at official prices. Many other proposals have been made in different cities, including SAPPORO, without any notable success. The popular idea among consumers is that the price of rice should be enhanced enough to encourage the farmers to deliver rice.

It is noteworthy that in the island five political parties, Communist, Liberal, Social Democrat, Co-operative, and HOKKAIDO Political League (SEIJA DOMEI) are united in opposition to the proposed stern measures for solving the food problems.

ITEM 2 Promoting Establishment of New Agrarian System - Agricultural Association Decides on Concrete Plan - Jiji Shimpo - 5 Feb 46. Translator: T. Ukai
Summary:

The Revised Farm Land Adjustment Law (KAISEI NOCHI CHOSEI HO) enforced on 1 Feb still leaves much to be desired, although it must have undergone much emendation and compromise before it was finally decided on in the last Diet session. The Agricultura1 Association, which had been long trying to prepare a concrete plan to meet the defect, has decided on the following items:
Tenant System



When the landlord wishes to have his land back again from the tenant, he must consult the Village Farm Land Control Committee (BURAKU NOCHI KANRI II-INKAI), and if the case cannot otherwise be managed, he must pay all the financial losses which the tenant suffers by the return of the land. 2. The spirit of independence of the tenant can be fostered by paying the tenant-rent in cash. The high rate of tenant-rent thus far paid in actual produce will be properly cut down, and tenants ' attempt s to turn to the black-market will be closely supervised.
The Creation of the Peasant-Proprietor.


The maximum possession of law by the peasant-proprietor is fixed by the decision of the Government, yet, when it relates to a special sort of agriculture, has no limit. 2. The agrarian land will be rationally managed by re-distribution. Since its exchange, sharing, etc., tend to make trouble, great attention will be paid to its improvement, planning and division. As a rule, land fit for tillage will come under the control of the agricultural Association. 3. The price of agrarian land will be fixed by the Government. 4. The tenant who buys land, can avail himself of any resources withing his reach such as short-term loans or payment by installments and the agricultural Association will offer all possible aid in this respect. 5. The buying, formal recording, etc,, of agrarian land are carried out solely by the Agricultural Association on behalf of the tenant.
Forest s and Fields

Right of reclamation and cultivation of forests and fields, whether owned by the individual or the public, will be guaranteed.
Agrarian Land Management



Useful scientific agricultural techniques will be widely introduced and taught. 2. Prices of agrarian products will be stabilized and the agricultural insurance system will be broadened and strengthened. 3. Too tax burden on the peasant-proprietor will be lightened as much as possible. 4. Formation of agricultural Co-operative Unions (NOGYO KYODO KUMIAI) will be helped and strengthened along with the increased establishment of process and distribution institutions, etc.



- 2 -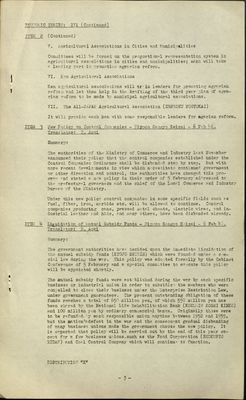 (View Page Image)



ECONOMIC SERIES: 271 (Continued)





ITEM 2

(Continued)
Agricultural Associations in Cities and Municipalities

Committees will be formed on the proportional representation system in agricultural associations in cities and municipalities; each will take a leading part in promoting agrarian reform.
Ken Agricultural Associations

Ken agricultural associations will tr

[illegible]

in leaders for promoting agrarian reform and let them help in the drafting of the third year plan of agrarian reform to be made by municipal agricultural associations.
The All-JAPAN Agricultural Association (ZENKOKU NOGYOKAI)
It will provide each ken with some responsible leaders for agarian reform.

ITEM 3 New Policy on Control Companies - Nippon Sangyo Keizai - 6 Feb 46. Translator: R. Aoki.
Summary:

The authorities of the Ministry of Commerce and Industry last November announced their policy that the control companies established under the Control Companies Ordinance shall be disbanded step by step. But with more recent developments in view which necessitate continued government or other direction and control, the authorities have changed this program and stated a new policy in their order of 5 February addressed to the prefectural governers and the chief of the Local Commerce and Industry Bureau of the Ministry.

Under this new policy control companies in some specific fields such as fuel, fiber, iron, carbide etc. will be allowed to continue. Control companies producing cans, pressed metal sheets, electric wires, and industrial leather and hide, and many others, have been disbanded already.

ITEM 4 Liquidation of Mutual Subsidy Funds - Nippon Sangyo Keizai - 6 Feb 46. Translator: R. Aoki
Summary:

The government authorities have decided upon the immediate liquidation of the mutual subsidy funds (KYOJO SHIKIN) which were founded, under a special law during the war. This policy was adopted formally by the Cabinet Conference of 5 February and a special committee to execute this policy will be appointed shortly.

The mutual subsidy funds were established during the war by each specific business or industrial union in order to subsidize the members who were to compelled to close their business under the Enterprise Restriction Law, under government guarantees. The present outstanding obligation of these funds reaches a total of 650 million yen, of which 550 million yen has been shared by the National Life Rehabilitation Bank (KOKUMIN KOSEI KINKO) and 100 million yen by ordinary commercial banks. Originally these were to be refunded, by each responsible union anytime between 1952 and 1955, but the nation's defeat in the war and the consequent gradual disbanding of many business unions made the government choose the new policy. It is expected that policy will be carried out by the end of this year except for a few business unions such as the Food Corporation (SHOKURYOEIDAN) and Coal Control Company which will continue to function.

DISTRIBUTION "X"

- 3 -