Press translations [Japan]. Economic Series 0247, 1946-02-02.
translation-number: economic-1082
call-number: DS801 .S81
---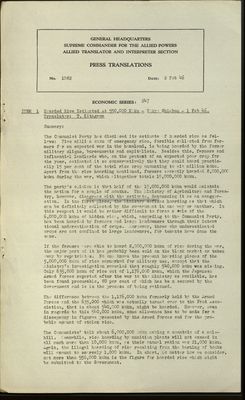 (View Page Image)
GENERAL HEADQUARTERS

SUPREME COMMANDER FOR THE ALLIED POWERS

ALLIED TRANSLATOR AND INTERPRETER SECTION

PRESS TRANSLATIONS

ECONOMIC SERIES: 247

ITEM 1 Hoarded Rice Estimated At 550,000 Koku Tokyo Shimbun 1 Feb 46. Translator: T. Kitagawa
Summary:

The Communist Party has disclosed its estimate of hoarded rice as follows: Five million koku of emergency rice, forcible collected from farmers for an expected war in the homeland, is being hoarded by the former military clique, bureaucrats and capitalists. Besides this, farmers and influential landlords who, on the pretext of an expected poor crop for the year, estimated it so conservatively that they could hoard practically 15 per cent of the total rice crop amounting to six million koku. Apart from the rice hoarding mentioned, farmers secretly hoarded 8,000,000 koku during the war, which altogether totals 19,000,000 koku.

The party's opinion is that half of the 19,000,000 koku would maintain the nation for a couple of months. The Ministry of Agriculture and Forestry, however, disagrees with the estimate, denouncing it as an exaggeration. In the first piece, the Ministry defines hoarding as that which can be definitely collected by the government in one way or another. In this respect it would be rather difficult to force a sale of the 6,000,000 koku of hidden rice, which, according to the Communist Party, has been hoarded by farmers and largo landowners through their intentional underestimation of crops. Moreover, those who underestimated crops are not confined to large landowners, for tenants have done the same.

If the farmers were able to hoard 8,000,000 koku of rice during the war, the major part of it has probably been sold on the black market or taken way by repatriates. No one knows the present hoarding places of the 5,000,000 koku of rice earmarked for military use, except that the Ministry's investigation revealed that roughly 540,000 koku was missing. Only 635,000 koku of rice out of 1,176,000 koku, which the Japanese Armed Forces reported after the war to the Ministry as available, has been found procurable, 80 per cent of which has been secured by the Government and is in the process of being rationed.

The difference between the 1,176,000 koku formerly held by the Armed Forces and the 635,000 which was actually turned over to the Food Association, that is about 540,000 koku, might be hoarded. However, even in regards to this 540,000 koku, some allowance has to be made for a discepancy in figures presented by the Armed Forces and for the probable amount of stolen rice.

The Communists' talk about 6,000,000 koku making a mountain of a molehill. Meanwhile, rice hoarding by munition plants will not exceed in all much more than 10,000 koku, their annual ration was 21,000 koku. Again, the illegal hoarding of rice resulting from the burning of books will amount to scarcely 1,000 koku. In short, no matter how we consider, not more than 550,000 koku is the figure for hoarded rice which might be submitted to the Government.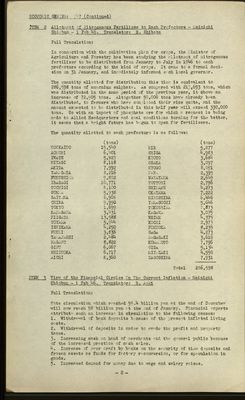 (View Page Image)
ECONOMIC SERIES: 247 (Continued)
ITEM 2 Allotment of Nitrogenous Fertilizer to Each Prefecture - Mainichi Shimbun -1 Feb 46. Translator: R. Shibata
Full Translation:

In connection with the cultivation plan for crops, the Minister of Agriculture and Forestry has been studying the allotment of nitrogenous fertilizer to he distributed from January to July in 1946 to each prefecture according to the kind of crops. It came to a formal decision on 31 January, and immediately informed each local governor.

The quantity allotted for distribution this time is equivalent to 286,598 tons of ammonium sulphate. As compared with 213,693 tons, which was distributed in the same period of the previous year, it shows an increase of 72,905 tons. Altogether 50,000 tons have already been distributed, to farmers who have completed their rice quota, and the amount expected to be distributed in this half year will exceed 330,000 tons. So with an import of phosphate ore for which a request is being made to Allied Headquarters and coal conditions turning for the better, it seems that a bright future has begun to open for fertilizers.

The quantity allotted to each prefecture is as follows:
| | | | |
| --- | --- | --- | --- |
| | (tons) | | (tons) |
| HOKKAIDO | 19,540 | MIE | 5,877 |
| AOMORI | 6,401 | SHIGA | 4,983 |
| IWATE | 5,923 | KYOTO | 3,684 |
| MIYAGI | 8,118 | OSAKA | 3,097 |
| AKITA | 7,992 | HYOGO | 8,091 |
| YAMTGATA | 8,216 | NARA | 2,395 |
| FUKUSHIMA | 9,802 | WAKAYAMA | 2,649 |
| IBARAGI | 10,771 | TOTTORI | 2,796 |
| TOCHIGI | 8,100 | SHIMANE | 4,273 |
| GUMMA | 5,932 | OKAYAMA. | 7,222 |
| SAITAMA | 8.908 | HIROSHIMA | 6,446 |
| CHIBA | 9,990 | YAMAGUCHI | 5,646 |
| TOKYO | 1,699 | TOKUSHIMA | 2,873 |
| KANAGAWA | 3,431 | KAGAWA | 3,075 |
| NIIGATA | 13,588 | EHIME | 4,375 |
| TOYAMA | 5,944 | KOCHI | 2,973 |
| ISHIKAWA | 4,250 | FUKUOKA | 8,235 |
| FUKUI | 3,836 | SAGA | 4,273 |
| YAMANASHI | 2,484 | NAGASAKI | 3,616 |
| NAGANO | 8,822 | KUMAMOTO | 7,796 |
| GIFU | 6,067 | OITA | 5,134 |
| SHIZUOKA | 6,717 | MIYAZAKI | 4,550 |
| ALCHI | 8,360 | KAGOSHIMA | 7,931 |
| | | Total | 286,598 |
ITEM 3 View of the Financial Circles On The Current Inflation Mainichi Shimbun - 1 Feb 46. Translator: R. Aoki
Full Translation:

Note circulation which reached 55.4 billion yen at the end of December will now reach billion yen at the end of January. Financial experts attribute such an increase in circulation to the following causes:
Withdrawal of bank deposits because of the present inflated living costs.
Withdrawal of deposits in order to evade the profit and property taxes.
Increasing cash on hand of merchants and the general public because of the increased practice of cash sales.
Increase of over draft by banks on the security of time deposits and frozen assets as funds for factory reconversion, or for speculation in goods.
Increased demand for money due to wage and salary raises.

- 2 -



(View Page Image)



ECONOMIC SERIES: 247 (Continued)





ITEM 3

(Continued)
A seasonal inflation of currency in many rural districts where the people observe New Year according to the lunar calender. In fact, deposits of member banks of the TOKYO Bankers' Association decreased by 1,331,000,000 yen in December and by 445 million yen in the first ten-day period of January, while loans increased by 3,256,000,00 yen and 339 million yen respectively for the same periods.
Because of these developments, there is at present a strong demand for restriction on the withdrawing of bank deposits. Others, however, feel that at this stage of inflation a mere moratorium may not be able to stave off the current tides: Concerning this question of conditional moratorium, a financial group opposing it expressed the following views.

The bank restriction would enhance social unrest among the people who cannot live on their cash on hand.
The restriction may increase the circulation of the currency outstanding, thus stimulating the inflation further.
The restriction may tend to stimulate withdrawals of deposits up to the limit.
A moratorium may encourage the present tendency to barter goods, thus defeating its own purpose of stabilizing currency.
So much for the question of moratorium. The present conditions are so acute that they do not permit any delay. Financial circles hold the view that the present inflation is a kind of "hunger inflation," that is, an inflation caused by the shortage of foods and other supplies and that in order to meet the situation the authorities should abandon at once the effortless policies of the past and take the following measures:
Take strong measures to facilitate rice delivery by the farmers and buy up hoarded food stuffs.
Readjust wages and commodity prices in accordance with a just distribution system.
DISTRIBUTION "X"

- 3 -