Press translations [Japan]. Economic Series 0238, 1946-01-31.
translation-number: economic-1047
call-number: DS801 .S81
---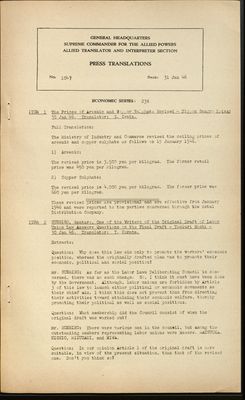 (View Page Image)
GENERAL HEADQUARTERS

SUPREME COMMANDER FOR THE ALLIED POWERS

ALLIED TRANSLATOR AND INTERPRETER SECTION

PRESS TRANSLATIONS

ECONOMIC SERIES: 238

ITEM 1 The Prices of Arsenic and Copper Sulphate Revised. - Nippon Sangyo Keizai 30 Jan 46. Translator: S. Iwata.
Full Translation:

The Ministry of Industry and Commerce revised the ceiling prices of arsenic and copper sulphate as follows on 19 January 1946.

1) Arsenic:

The revised price is 3,500 yen per kilogram. The former retail price was 450 yen per kilogram.

2) Copper Sulphate:

The revised price is 4,000 yen per kilogram. The former price was 660 yen per kilogram.

These revised prices are provisional and are effective from January 1946 and were reported to the parties concerned through the Metal Distribution Company.

ITEM 2 SUEHIRO, Gentaro, One of the Writers of the Original Draft of Labor Union Law Answers Questions on the Final Draft - Yomiuri Hochi - 30 Jan 46. Translator: Y. Kurata.
Extracts:

Question: Why does this law aim only to promote the workers' economic position, whereas the originally drafted plan was to promote their economic, political and social position?

Mr. SUEHIRO: As far as the Labor Laws Deliberating Council is concerned, there was no such change. So, I think it must have been done by the Government. Although, labor unions are forbidden by Article 3 of this law to launch either political or economic movements as their chief aim, I think this does not prevent them from directing their activities toward attaining their economic welfare, thereby promoting their political as well as social positions.

Question: What membership did the Council consist of when the original draft was worked out?

Mr. SUEHIRO: There were various men in the council, but among the outstanding members representing labor unions were Messrs. MATSUOKA, NISHIO, MIZUTANI, and MIWA.

Question: In our opinion Article 1 of the original draft is more suitable, in view of the present situation, than that of the revised one. Don't you think so?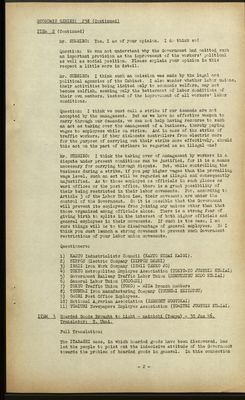 (View Page Image)
ECONOMIC SERIES: 238 (Continued)
Mr. SUEHIRO: Yes, I am of your opinion. I do think so.

Question: We can not understand why the Government had omitted such an important provision as the improvement of the workers' political as well as social position. Please explain your opinion in this respect a little more in detail.

Mr. SUEHIRO: I think such an omission was made by the legal and political agencies of the Cabinet. I also wonder whether labor unions, their activities being limited only to economic welfare, may not become selfish, seeking only the betterment of labor conditions of their own members, instead of the improvement of all workers' labor conditions.

Question: I think we must call a strike if our demands are not accepted by the management. But as we have no effective weapon to carry through our demands, we can not help having recourse to such an act as taking over the management of a business, thereby paying wages to employees while on strike. And in case of the strike of traffic workers, if they dislocate controllers from electric cars for the purpose of carrying out their strike more effectively, should this act on the part of strikers be regarded as an illegal one?

Mr. SUEHIRO: I think the taking over of management by workers in a dispute under present conditions can be justified, for it is a means necessary for carrying through dispute. But, while controlling the business during a strike, if you pay higher wages than the prevailing wage level, such an act will be regarded as illegal and consequently unjustified. As to those employed as officials in such places as ward offices or the post office, there is a great possibility of their being restricted in their labor movements. For, according to Article 3 of the Labor Union Law, their movements are under the control of the Government. So it is possible that the Government will prevent its employees from joining any unions other than that those organized among officials alone. There is a strong fear of giving birth to splits in the interest of both higher officials and general employees in their movements. If such is the case, I am sure things will be to the disadvantage of general employees. So I think you must launch a strong movement to prevent such Government restrictions of your labor union movements.

Questioners:
KANTO Industrialists Council (KANTO KODAI KAIGI).
NIPPON Electric Company (NIPPON DENKI)
ISHII Iron Work Company (ISHII TEKKO JO)
TOKYO Metropolitan Employes Association (TOKYO-TO JUGYOIN KUMIAI)
Government Railway Traffic Labor Union (KOKUTETSU RODO KUMIAI)
General Labor Union (SODOMEI)
TOKYO Traffic Union (TOKO) - MITA Branch Members
TSURUMI Iron Manufacturing Company (TSURUAI SEITETSU)
OMORI post Office Employees.
National Agrarian Association (ZENKOKU NOGYOKAl)
YOMIURI Newspapers Employes Association (YOMIURI JUGYOIN KUMIAI)
ITEM 3 Hoarded Goods Brought to Light - Mainichi (Tokyo - 30 Jan 46. Translator: T. Ukai.
Full Translation:

The ITABASHI case, in which hoarded goods have been discovered, has led the people to point out the indecisive attitude of the Government towards the problem of hoarded goods in general. In this connection

- 2 -

(View Page Image)
ECONOMIC SERIES: 238 (Continued)
in a recent cabinet meeting Mr. NARAHASHI, Chief Secretary of the Cabinet, expressed himself and requested sincerely that every mini-strative organ should exert its utmost effort in finding out such hoarded goods. Mr. MITSUCHI, Minister of the Home Affairs has ordered the Investigation Department and the Police Bureau to be strict in these cases. Consequently, the Police Bureau, which is furnished with police force, playing the main role, and other authorities from the ministries of Agriculture, Industry, Repatriation, etc., are expected to act most vigorously towards those similiar cases at ITABASHI.

According to authorities concerned, the actions on hoarded goods are expected to cover such cases as:-

Whereabouts of rice and other cereals, clothes, fuel, arms and ammunition stored in large quantity in various areas for military use provided for the final battles on the Japanese mainland which were not reported. With the closing of the war, repatriation and demobilization being speeded up, those who had charge of these stocks in the Army hastened to their homes without paying due concern to them. As a result, manifests of military equipment presented by the Government to the GHO failed to include them, and the Government as well as the American Forces know nothing of them except for the personnel who had charge of and the people inhabiting the area concerned.
As orders had been given at the end of the war, that military provisions of any sort of every fighting force should be freed and disposed of as soon as possible, they were transferred, paid or unpaid, to government offices, municipalities, control corporations and civilians, allowing opportunities for some people to take advantage of the situation to their own profit.
Illegally hoarded goods by generals, officers and warrant officers.
The Mutual Prosperity Society (KYOEI KAI) organized at the ITABASHI Arsenal is a case, in which a corporation formed under the auspices of an official agency, was favored with the goods disposed of, and later as its members decreased in number, the society came into possession of more quantity than had been thought to be proper.
It has long been ordered that such goods, if they happened to be found, should immediately be turned over to the full care of local authorities who should quickly inform the proper distribution channels. The American Forces have been in search of such goods. The government will henceforth try to make positive efforts in this direction. Some local government offices are in search of such goods and are really disclosing some cases. However, they would rather have voluntary reports by those concerned than simply punish people after discovery, for such people would be guilty of storing hoarded goods. Punishment will be severe for those who ignore the new regulations.

Hoarded goods in small localities are easily discovered, but this is not so in urban centers. Therefore, urban authorities are expecting especially active or voluntary reports in the first place by those concerned, rather than await their detection or disclosure by the police, and when hoarded goods are found, they will distribute them without delay through ordinary distribution channels.

Mr. TANIKAWA, Director of the Police Bureau, Home Office said, "Local authorities are in search of hoarded goods, discovery of which in cities is very difficult. That demands, as you see, our good effort. We expect above all voluntary report and when personal selfishness comes in question we will have recourse to unsparing disclosure. We are opposed to having the discovered goods controlled and disposed of among those or an individual who have or has discovered the goods. The goods discovered must be handed over for distribution through right and ordinary ration-routes."

DISTRIBUTION "X"

- 3 -