Press translations [Japan]. Economic Series 0235, 1946-01-30.
translation-number: economic-1031
call-number: DS801 .S81
---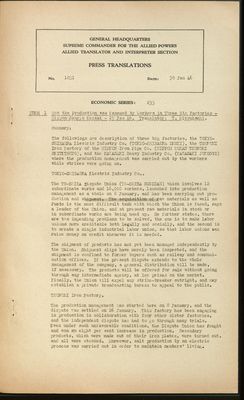 (View Page Image)
GENERAL HEADQUARERS

SUPREME COMMANDER FOR THE ALLIED POWERS

ALLIED TRANSLATOR AND INTERPRETER SECTION

PRESS TRANSLATIONS

ECONOMIC SERIES: 235

ITEM 1 How the Production was Managed by Workers in Three Big Factories - Nippon Sangyo Keizai - 29 Jan 46. Translator: T. Mitsuhashi.
Summary:

The followings are description of three big factories, the TOKYO- SHIBAURA Electric Industry Co. (TOKYO-SHIBAURA DENKI) , the TSURUMI Iron Factory of the NIPPON Iron Pipe Co. (NIPPON KOKAN TSURUMI SEITETSUJO), and the KAWASAKI Heavy Industry Co. (KAWASAKI JUKOGYO) where the production management was carried out by the workers while strikes were going on.

TOKYO-SHIBAURA Electric Industry Co..

The TO-SHIBA Dispute Union (TO-SHIBA SOGIDAN) which involves 12 subordinate works and 16,000 workers, launched into production management as a whole on 8 January, and has been carrying out production and shipment. The acquisition of raw materials as well as funds is the most difficult task with which the Union is faced, says a leader of the Union, and at present raw materials in stock or in subordinate works are being used up. He further states, there are two impending problems to be solved, the one is to make labor unions more creditable both legally and socially, and the second is to create a single industrial labor union, so that labor unions can raise money on credit whenever it is needed.

The shipment of products has not yet been managed independently by the Union. Shipment slips have merely been inspected, and the shipment is confined to former buyers such as railway and communication offices. If the present dispute extends to the whole management of the company, a general distribution will be made, if necessary. The products will be offered for sale without going through any intermediate agency, at low prices on the market. Finally, the union will expel any strike-breaker outright, and may establish a private broadcasting bureau to appeal to the public.

TSURUMI Iron Factory.

The production management was started here on 8 January, and the dispute was settled on 26 January. This factory has been engaging in production in collaboration with four other sister factories, and the independent dispute has had to go through many trials. Even under such unfavorable conditions, the Dispute Union has fought and won an eight per cent increase in production. Secondary products, which were made out of their iron plates, were turned out, and all were stocked. Moreover, salt production by an electric process was carried out in order to maintain members' living.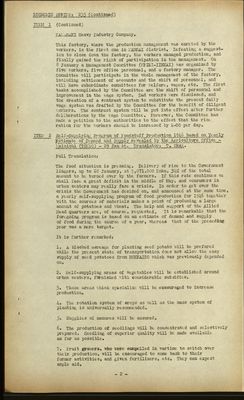 (View Page Image)
ECONOMIC SERIES: 235 (Continued)
KAWASAKI Heavy industry Company,

This factory, where the production management was carried by the workers, is the first one in KANSAI district. Defeating a suggestion to close down the factory, the workers managed production, and finally gained the right of participation in the management. On 8 January a Management Committee (KEIEI-IINKAI) was organized by five workers, five office personnel, and a factory manager. The Committee will participate in the whole management of the factory, including settlement of accounts and the shift of personnel, and will have subordinate committees for welfare, wages, etc. The first tasks accomplished by the Committee are the shift of personnel and improvement in the wage system. Bad workers were dismissed, and the creation of a contract system to substitute the present daily wage system was drafted by the Committee for the benefit of diligent workers. The contract system will be put into effect after further deliberations by the wage Committee. Moreover, the Committee has made a petition to the authorities to the effect that the rice ration for the workers should be increased by 4-GO per day.

ITEM 2 Self-Supplying Program of Foodstuff Production 1946 based on Yearly Estimate of Demand and Supply revealed by the Agriculture Office - Mainichi (TOKYO) - 29 Jan 46. Translator: T. Okai.
Full Translation:

The food situation is pressing. Delivery of rice to the Government lingers, up to 20 January, at 9,071,000 Koku, 34% of the total amount to be turned over by the farmers. If this rate continues we shall face a great deficit in the middle of May, and consumers in urban centers may really face a crisis. In order to get over the crisis the Government has decided on, and announced at the same time, a yearly self-supplying program of food production for 1946 together with the sources of materials makes a point of producing a large amount of potatoes and wheat. The help and support of the Allied Headquarters are, of course, requested. It is remarkable that the foregoing program is based on an estimate of demand and supply of food during the course of a year, whereas that of the preceding year was a mere target,

It is further remarked:
A blocked acreage for planting seed potato will be prefared while the present state of transportation does not allow the easy supply of seed potatoes from HOKKAIDO which was previously depended on.
Self-supplying areas of vegetables will be established around urban centers, furnished with considerable subsidies,
Those areas which specialize will be encouraged to increase production.
The rotation system of crops as well as the mass system of planting is universally recommended.
Supplies of manures will be assured.
The production of seedlings will be concentrated and selectively prepared. Seedling of superior quality will be made available as far as possible.
Fruit growers, who were compelled in wartime to switch over their production, will be encouraged to come back to their former activities, and given fertilizers etc. They can expect ample aid.
- 2 -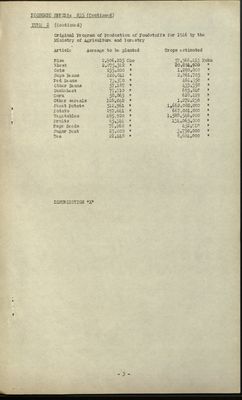 (View Page Image)
ECONOMIC SERIES: 235 (Continued)
Original Program of Production of Foodstuffs far 1946 by the Ministry of Agriculture and Forestry

| | | |
| --- | --- | --- |
| Article | Acreage to be planted | Crops estimated |
| Rice | 2,906,205 Cho | 57,566,413 Koku |
| Wheat | 2,075,342 " | 20,094,920 " |
| Oats | 235,000 " | 1,200,000 " |
| Soya Beans | 420,841 " | 2,861,705 " |
| Red Beans | 75,570 " | 462,550 " |
| Other Beans | 57,187 " | 433,358 " |
| Buckwheat | 77,710 " | 693,840 " |
| Corn | 58,863 " | 628,429 " |
| Other cereals | 128,042 " | 1,272,230 " |
| Sweet Potato | 512,961 " | 1,662,082,000 " |
| Potato | 297,041 " | 667,001,000 " |
| Vegetables | 485,920 " | 1,588,546,000 " |
| Fruits | 65,344 " | 134,065,000 " |
| Rape Seeds | 76,068 " | 452,910 " |
| Sugar Beat | 25,000 " | 3,750,000 " |
| Tea | 22,448 " | 8,604,000 " |
DISTRIBUTION "X"

- 3 -