Press translations [Japan]. Economic Series 0227, 1946-01-29.
translation-number: economic-1011
call-number: DS801 .S81
---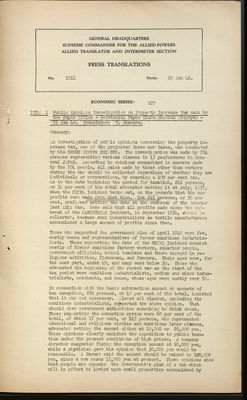 (View Page Image)
GENERAL HEADQUARTERS

SUPREME COMMANDER FOR THE ALLIED POWERS

ALLIED TRANSLATOR AND INTERPRETER SECTION

PRESS TRANSLATIONS

No. 1011 Date:
29 Jan 46
.
ECONOMIC SERIES: 227

ITEM 1 Public Opinions Investigation on Property Increase Tax made by the Paper Office - Provincial Paper Chubu Shimbun (Nagoya) - 25 Jan 46. Translator: T. Okamura.
Summary:

An investigation of public opinions concerning the property increase tax, one of the projected three new taxes, was conducted by the CHUBU NIPPON SHIMBUN. The investigation was made by 704 persons representing various classes in 13 prefectures in Central JAPAN. According to opinions summarized in answers made by the 704 people, all gains made by the se other than workers during the war should be collected regardless of whether they are individuals or corporations, by enacting a 100 per cent tax. As to the date beginning the period for taxation, 241 persons, or 34 per cent of the total advocated setting it at July, 1937, when the CHINA Incident broke out, on the grounds that the war profits were made from that time. But 215 persons, or 30 per cent, preferred setting the date at the outbreak of the Greater East ASIA War. Some said that all profits made since the out-break of the MANCHURIAN Incident, in September 1931, should be collected, because such industrialists as textile manufacturers accumulated a large amount of profits since then.

Those who supported the government plan of April 1940 were few, mostly women and representatives of former munitions industrialists. These supporting the date of the CHINA Incident consist mostly of former munitions factory workers, salaried people, government officials, school teachers and the se engaged in religious activities, fishermen, and farmers. Their ages were, for the most part, under 49, and many were below 30. Those who advocated the beginning of the recent war as the start of the tax period were munitions industrialists, medium and minor industrialists, merchants, and women, whose ages were mostly over 50.

In connection with the basic subtraction amount or amounts of tax exemption, 282 persons, or 40 per cent of the total, insisted that it was not necessary. Almost all classes, excluding the munitions industrialists, supported the above opinion. That should give government authorities something to think about. Those supporting the exemption system were 60 per cent of the total, of which 17 per cent, or 125 persons, who represented educational and religious circles and munitions labor classes, advocated setting the amount either at 10,000 or 20,000 yen. Those opinions clearly manifest the opposition to public taxation under the present conditions of high prices. A company director suggested fixing the exemption amount at 50,000 yen, while a physician gave his opinion that 30,000 yen would be reasonable. A farmer said the amount should be raised to 100,000 yen, since a cow costs 15,000 yen at present. These opinions show that people are opposing the Government's plan of a tax which will in effect be levied upon small properties accumulated by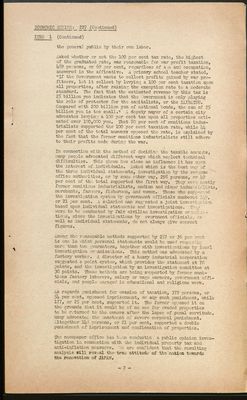 (View Page Image)
ECONOMIC SERIES: 227 (Continued)
the general public by their own labor.

Asked whether or not the 100 per cent tax rate, the highest of the graduated rate, was reasonable for war profit taxation, 489 persons, or 69 per cent, regardless of age and occupation, answered in the affirmative. A primary school teacher stated, "If the Government wants to collect profits gained by war profiteers, let it collect by levying a 100 per cent taxation upon all properties, after raising the exemption rate to a moderate standard. The fact that the estimated revenue by this tax is 25 billion yen indicates that the Government is only playing the role of protector for the capitalists, or the ZAIBATSU. Compared with 200 billion yon of national bonds, the sum of 25 billion yen is too small." A deputy mayor of a certain city advocates levying a 100 per cent tax upon all properties estimated over 100,000 yen. That 80 per cent of munitions industrialists supported the 100 per cent taxation rate, while 44 per cent of the total answers opposed the rate, is explained by the fact that the former munitions industrialists still adhere to their profits made during the war.

In connection with the method of deciding the taxable amounts, many people advocated different ways which neglect technical difficulties. This shows how close an influence it has upon the interest of individuals. Asked which is the best way of the three individual statements, investigation by the revenue office authorities, or by some other way, 298 persons, or 42 per cent of the total supported the first way. They were mostly former munitions industrialists, medium and minor industrialists, merchants, farmers, fishermen, and women. Those who supported the investigation system by government officials numbered 149, or 21 per cent. A salaried man suggested a joint investigation based upon individual statements and investigations. They were to be conducted by fair civilian investigation organizations, since the investigations by government officials, as well as individual statements, do not always give correct figures.

Among the reasonable methods supported by 257 or 36 per cent is one in which personal statements would be used requiring more than two guarantors, together with investigations by local investigation organizations. This method was advocated by a factory worker. A director of a heavy industrial corporation suggested a point system, which provides the statement at 70 points, and the investigation by an investigation committee at 30 points. These methods are being supported by former munitions factory laborers, salary or wage earners, government officials, and people engaged in educational and religious work.

As regards punishment for evasion of taxation, 379 persons, or 54 per cent, opposed imprisonment, or any such punishment, while 177, or 25 per cent, supported it. The former opposed it on the grounds that it would be of no use for evaded properties to be returned to the owners after the lapse of penal servitude. Many advocated the enactment of severe corporal punishment. Altogether 148 persons, or 21 per cent, supported a double punishment of imprisonment and confiscation of properties.

The newspaper office has been conducting a public opinion investigation in connection with the individual property tax and anti-inflation measures. We are confident that the resulting analysis will reveal the true attitude of the nation towards the renovation of JAPAN.

- 2 -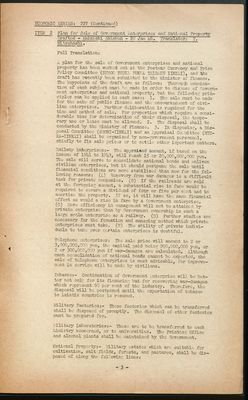 (View Page Image)
ECONOMIC SERIES: 227 (Continued)
ITEM 2 Plan for Sale of Government Enterprises and National Property Drafted - Mainichi Shimbun - 28 Jan 46. Translator: T. Mitsuhashi.
Full Translation:

A plan for the sale of Government enterprises and national property has been worked out at the Postwar Currency and Price Policy Committee (SENGO TSUKA BUKKA TAISAKU IINKAI), and the draft has recently been submitted to the Minister of Finance. The keypoints of the draft are as follows: Through examination of each subject must be made in order to dispose of Government enterprises and national property, but the following principles can be applied in each case: 1. The sale must be made for the sake of public finance and the encouragement of civilian enterprises. Further deliberation is required for the time and method of sale. For properties which require a considerable time for determination of their disposal, the temporary use or lease must be allowed. 2. The disposal shall be conducted by the ministry of Finance. 3. In disposing, a Disposal Committee (SHORI-IINKAI) and an Appraisal Committee (HYOKA-IINKAI) shall be organized by non-government personnel, chiefly to fix sale prices or to settle other important matters.

Railway Enterprises:- The appraised amount, if based on the income of 194l to 1943, will reach 15 or 20,000,000,000 yen. The sale will serve to consolidate national bonds and enliven civilian enterprises, but it should postpone the sale until financial conditions are more stabilized than now for the following reasons: (A) Recovery from war damages is a difficult task for private companies. (B) If the railroads are sold at the foregoing amount, a substantial rise in fare would be required to secure a dividend of four or five per cent and to amortize the property. If so, it will have the same financial effect as would a rise in fare by a Government enterprise, (C) More efficiency in management will not be attained by private enterprise than by Government ownership in such a large scale enterprise as a railway. (D) Further studios are necessary for the formation and managing method which private enterprises must take. (E) The ability of private individuals to take over certain enterprises is doubtful.

Telephone enterprises: The sale price will amount to 2 or 3,000,000,000 yen, the capital paid being 900,000,000 yen, or 2 or 300,000,000 yen if war-damages are calculated. Although much consolidation of national bonds cannot be expected, the sale of telephone enterprises is most advisable, for improvement in service will be made by civilians.

Tobacco:- Continuation of Government enterprise will be better not only for its financing but for recovering war-damages which represent 60 per cent of the industry. Therefore, the disposal will be postponed until the exportation of tobacco to Asiatic countries is resumed.

Military Factories:- Those factories which can be transferred shall be disposed of promptly. The disposal of other factories must be prepared for.

Military Laboratories:- These are to be transferred to each ministry concerned, or to universities. The Printing Office and alcohol plants shall be maintained by the Government.

National Property:- Military estates which are suitable for cultivation, salt fields, forests, and pastures, shall be disposed of along the following lines:

- 3 -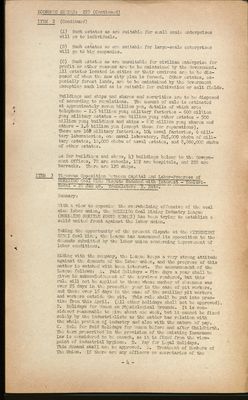 (View Page Image)
ECONOMIC SERIES: 227 (Continued)
Such estates as are suitable for small scale enterprises will go to individuals.
Such estates as are suitable for large-scale enterprises will go to big companies.
Such estates as are unsuitable for civilian enterprise for profit or other reasons are to be maintained by the Government. All estates located in cities or their environs are to be disposed of when the new city plan is formed. Other estates, especially forest lands, are to be maintained by the Government excepting such land as is suitable for cultivation or salt fields.
Buildings and ships and shares and securities are to be disposed of according to regulations. The amount of sale is estimated at approximately seven billion yen, details of which are: telephone - 2.5 billion yen; military factories - 600 million yen; military estates - one billion yen; other estates - 500 million yen; buildings and ships - 800 million yen; shares and others - 1.6 billion yen (except those for reparations). There are 168 military factories, 104 naval factories, 6 military laboratories, one naval laboratory, 245,000 chobu of military estates, 18,000 chobu of naval estates, and 8,860,000 chobu of other estates.

As for buildings and ships, 43 buildings belong to the Government Offices, 70 are schools, 112 are hospitals, and 220 are barracks. There are 120 ships.

ITEM 3 Vigorous Opposition Between Capital And Labor-Progress of HOKKAIDO Coal Mine Dispute Watched with Interest - Yomiuri - Hochi - 28 Jan 46. Translator: H. Sato.
Summary:

With a view to opposing the overwhelming offensive of the coal mine labor union, the HOKKAIDO Coal Mining Industry League (HOKKAIDO SEKITAN KOGYO REMMEI) has been trying to establish a solid united front against the labor union.

Taking the opportunity of the present dispute at the MITSUBISHI BIBAI Coal Mine, the League has announced its opposition to the demands submitted by the labor union concerning improvement of labor conditions.

Siding with the company, the League keeps a very strong attitude against the demands of the labor union, and the progress of this matter is watched with keen interest. The announcement of the League follows: A. Paid Holidays - Five days a year shall be given in acknowledgement of the services rendered, but this rule will not be applied to those whose number of absences was over 25 days in the preceding year in the case of pit workers, and those over 15 days in the case of the availing pit workers and workers outside the pit. This rule shall be put into practise from this April. (All other holidays shall not be approved). B. Holidays for Women on Physiological Grounds. It is considered reasonable to give about one week, but it cannot be fixed solely by the industrialists as the matter has relation with the whole problem of industry and also with the nature of pay. C. Rule for Paid Holidays for Women before and after Childbirth. The term prescribed in the provision of the existing Insurance Law is considered to be enough, as it is fixed from the view-point of industrial hygiene. D. Pay for Legal Holidays. This demand shall not be approved. E. Treatment of Members of the Union. If there are any officers or secretaries of the

- 4 -

(View Page Image)
ECONOMIC SERIES: 227 (Continued)
union under employment of the company who do not engage in labor, they shall be urged to engage in labor, and if they continue to be idle, they shall be dismissed.

Meanwhile the Federation of HOKKAIDO Coal Miners Unions (HOKKAIDO TANKO RODO KUMIAI RANCOKAI) has decided to hold its second annual meeting on 2 March at the MITSUBISHI BIBAI Coal Mine. The Federation is planning to convert its organization into a single labor union and send its representatives to the meeting of All-JAPAN Coal Mine Labor Unions' (ZENKOKU TANKO RODO KUMITAI) representatives to be held on 10 March.

This Federation is planning to take up the problem of labor unions' participation in the management of the enterprise, settlement of food problems, denouncement of company unions, and taking over funds and establishments of SAMPO (TN: The Wartime Industrial Association) and ROHO ( TN: The Wartime Labor Association). The Federation is also planning to have its representatives negotiate with the HOKKAIDO Coal Mining Industry League concerning the pending problem of the minimum wages of 27 yen per day for pit workers and 15 yen for workers outside the pit.

Thus the dispute between capital and labor is now facing a critical moment of total collision over the problem of coal mine labor.

DISTRIBUTION "X"

- 5 -