Press translations [Japan]. Economic Series 0224, 1946-01-29.
translation-number: economic-0996
call-number: DS801 .S81
---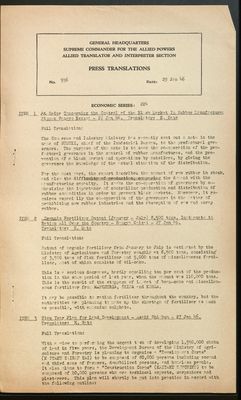 (View Page Image)
GENERAL HEADQUARTERS

SUPREME COMMANDER FOR THE ALLIED POWERS

ALLIED TRANSLATOR AND INTERPRETER SECTION

PRESS TRANSLATIONS

ECONOMIC SERIES: 224

ITEM 1 An Order Concerning the Control of the Black Market In Rubber Manufautures Nippon Sangyo Keizai - 27 Jan 46. Translator: K. Sato
Full Translation:

The Commerce and Industry Ministry has recently sent out a note in the name of SUZUKI, chief of the Industrial Bureau, to the prefectural governors. The purpose of the note is to seek the co-operation of the prefectural governors in the control of rubber manufactures, and the prevention of a black market and operations by outsiders, by giving the governors the knowledge of the actual situation of the distribution.

For the most part, the report describes the amount of raw rubber in stock, and also the difficulty of production, comparing the demand with the manufacturing capacity. It seeks the co-operation of governors by emphasizing the importance of controlling production and distribution of rubber commodities in order to prevent black markets. Moreover, it requires especially the co-operation of the governors in the matter of prohibiting new rubber industries and the absorption of raw and scrap rubber.

ITEM 2 Organic Fertilizer Output (January - July) 8,500 tons, Inadequate to Ration All Over the Country - Sangyo Kaizai - 27 Jan 46. Translator: H. Sato
Full Translations:

Output of organic fertilizer from January to July is estimated by the Ministry of Agriculture and Forestry roughly at 8,500 tons, consisting of 3,500 tons of fish fertilizer and 5,000 tons of miscellaneous fertilizer, most of which consists of oil-cake.

This is a serious decrease, hardly equalling ten per cent of the production in the same period of last year, when the amount was 110,000 tons. This is the result of the stoppage of import of bean-cake and miscellaneous fertilizer from MANCHURIA, CHINA and KOREA.

It may be possible to ration fertilizer throughout the country, but the authorities are planning to make up the shortage of fertilizer as much as possible, with ammonium sulphate.

ITEM 3 Five Year Plan for Land Development - Asahi Shimbun - 27 Jan 46. Translator: H. Sato
Full Translation:

With a view to performing the urgent task of developing 1,550,000 chobu of land in fire years, the Development Bureau of the Ministry of agriculture and Forestry is planning to organize a "Development Corps" (K
[illegible]
ITAKU ZAISAN TAI) to be composed of 80,000 persons including second and third sons of farmers, demobilized persons, and homeless people. It also plans to form a "Construction Corps" (KAITAKU KEMCHIKU) to be composed of 10,000 persons who are technical experts, carpenters and plasterers. This plan will shortly be put into practice in accord with the following outline: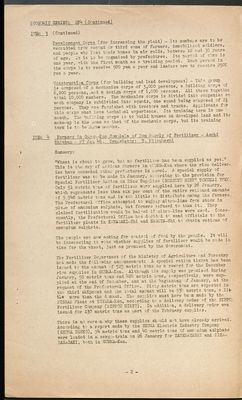 (View Page Image)
ECONOMIC SERIES: 224 (Continued)
Development Corps
(for increasing the yield) - Its members are to be recruited from second or third sons of farmers, demobilized soldiers, and people who lost their homes in air raids, between l8 and 30 years of age. It is to be organized by prefectures. Its period of time is one year, with the first month as a training period. Each person in the corps is to receive 500 yen a year and leaders are to receive 2500 yen a year.
Construction Corps
(for building and land development) - This group is composed of a mechanics corps of 3,000 persons, a building corps of 6,000 persons, and a design corps of 1,000 persons. All three together total 10,000 members. The mechanics corps is divided into companies an each company is subdivided into squads, one squad being composed of 21 persons. They are furnished with tractors and trucks. Applicants for this corps must have technical experience. Its training term is one month. The building corps is to build houses on developed land and its make-up is the same as that of the mechanic corps, but its training term is to be three months.
ITEM 4 Farmers in Gumma-Kon Complain of Non-Supply of Fertilizer - Asahi Shimbun - 27 Jan 46. Translator: T. Mitsuhashi
Summary:

"Wheat is about to grow, but no fertilizer has been supplied as yet." This is the cry of anxious farmers in GUNMA-Ken where the rice deliveries have exceeded other prefectures in speed. A special supply of fertilizer was to be made in January, according to the provision for Special Fertilizer Ration on Rice Supplies (HOSHOYO HIRYO TOKUHAI YOKO) Only 51 metric tons of fertilizer were supplied here by 26 January, which represents less than six per cent of the entire rationed amounts of 9,948 metric tons and is too little to distribute among the farmers. The Prefectural Office attempted to supply nitro-lime from stock in place of ammonium sulphate, but farmers refused to take it. They claimed fertilization would be halted if nitro-lime were used. Consequently, the Prefectural Office has decided to send officials to the fertilizer plants in KAWASAKI-Shi and NAGOYA-Shi to obtain rations of ammonium sulphate.

The people are now asking for control of food by the people. It will be interesting to vote whether supplies of fertilizer would be made in time for the wheat, just as premised by the Government.

The Fertilizer Department of the Ministry of Agriculture and Forestry has made the following announcement: A special ration ticket has been issued to the amount of 525 metric tons as a reward for the December rice supplies in GUNMA-Ken. Although the supply was promised during January, 50 metric tons and 424 metric tons, respectively, were supplied at the end of December, and at the beginning of January, at the request of the Prefectural Office. Sixty metric tons are expected in the third shipment and the total amount will be 534 metric tons, a little more than the demand. The supplies must have been made by the NISSAN Plant at TOYAMA-Ken, according to a delivery order of the NIPPON Fertilizer Company (NIPPON HIRYO). In addition, a delivery order was issued for 130 metric tons as part of the February supplies.

There is no reason why these supplies should not have already arrived. According to a report made by the SHOWA Electric Industry Company (SHOWA DENKO), 94 metric tons and 40 metric tons of ammonium sulphate were loaded in a cargo-train on 26 January for TATEBAYASHI and KITATAKASAKI, both in GUNMA-Ken.

- 2 -

(View Page Image)
ECONOMIC SERRIES: 224 (Continued)
ITEM 5 Labor Unions Making Headway Toward a Democratic Front - Mainichi Shimbun - 27 Jan 46. Translator: S. Kinoshita
Summary:

With the enforcement of a Labor Union Law in sight, rapid progress has been made of late in organizing labor unions. The number or persons organized exceeds 450,000, the pre-war peak of 1935, Labor disputes caused by high prices, having started in HOKKAIDO and KANTO district, are now spreading over the whole country, and through these disputes, the labor union movement has been increasingly strengthened and expanded.

Outstanding features of the present labor union movement are: (l) a unified democratic front rapidly developing among the subordinate unions; (2) union participation in management, forming an important part of labor's demands in almost all disputes; (3) Workers' tendency to organize themselves into a single industrial union, instead of trade unions, has become prominent, especially among coal minors.

The Workers' Representatives Conference of the KAMAGAWA Area (KANAGAWA CHIKU KODAI KAI
[illegible]
), which was held on 28 December, took the initiative in labor unions united front movement, which should form a base for a unified democratic front, and is now drawing the attention of labor leaders as well as political party leaders everywhere. Following this conference, meetings on the same pattern were held in the southern and western districts of TOKYO since the begining of January. Through these conferences, Labor Union Council of KANTO District (KANTO CHIHO RODO KUMIAT KYOGIKAI) is duo to be organized shortly. The newly-created Council is to enlist all the working people in the KANTO district under its banner.
Though the formation of a popular front by the Communist Party and the Social Democratic Party has not been attained as yet, a powerful united front of organized labor has speedily developed in the KANTO district, and the working people under this banner are very actively fighting for their common interests. Labor's participation in business management, through a management council made up of representatives of both labor and capital, has become a big concern of labor since they won the YOM
[illegible]
URI dispute. At the 89th Diet session replying to a certain representative, the Government declared that it supports labor's participation in management.
Labor's production control is also one of the big concerns of organized labor. This was taken up successfully for the first time by coal miners of the BIB
[illegible]
Mines. HOKKAIDO, and employees of the KEISEI Electric Railway Company (KEISEI DENTETSU KAISHA). The same measure was employed by the KANTO Electric Power Distribution Company (KANTO HAIDEN KAISHA) workers too. This step may admit many criticisms However, the fact that the working people took this step instead of striking, which is legally admitted, reflects an advancement in their political and social consciousness.
A coal miner's union was organized for the first time in HOKKAIDO immediately after the end of the war. Ever since, they have been organized one by one in almost all the mining districts throughout the country. At present, the time is ripe for the formation of a single big organization comprising all of these unions. It is announced that representatives of miners' unions of the whole country will meet shortly in TOKYO to discuss the matter of a nation-wide organization.

DISTRIBUTION "X"

- 3 -