Press translations [Japan]. Economic Series 0222, 1946-01-28.
translation-number: economic-0989
call-number: DS801 .S81
---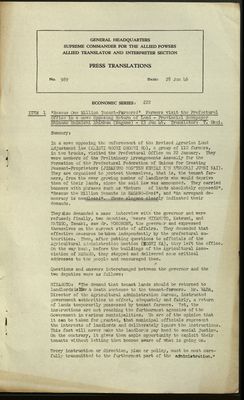 (View Page Image)
GENERAL HEADQUARTERS

SUPREME COMMANDER FOR THE ALLIED POWERS

ALLIED TRANSLATOR AND INTERPRETER SECTION

PRESS TRANSLATIONS

ECONOMIC SERIES: 222

ITEM 1 "Rescue One Million Tenant-Farmers!" Farmers visit the Prefectural Office in a move Opposing Return of Land - Provincial Newspaper Shinano Mainichi Shimbun (Nagano) - 23 Jan 46. Translator: T. Ukai.
Summary:

In a move opposing the enforcement of the Revised Agrarian Land Adjustment Law (KAISEI NOCHI CHOSEI HO), a group of 110 farmers, in two trucks, visited the Prefectural Office on 22 January. They were members of the Preliminary Arrangements Assembly for the Formation of the Prefectural Federation of Unions for Creating Peasant-Proprietors (JISAKUNO SOSETSU KUMIAI KEN RENGOKAI JUMBI KAI). They are organized to protect themselves, that is, the tenant farmers, from the ever growing number of landlords who would deprive them of their lands, since the said law was announced. They carried banners with phrases such as "Return of lands absolutely opposed!", "Rescue the Million Tenants in NAGANO-Ken!", and "An arrogant democracy is needless!". These slogans clearly indicated their demands.

They also demanded a mass interview with the governor and were refused; finally, two deputies, Messrs MIYAMOTO, Katsumi, and MATSUO, Tamaki, saw Mr. MONONOBE, the governor and expressed themselves on the current state of affairs. They demanded that effective measures be taken independently by the prefectural authorities. Then, after putting questions to officials of the Agricultural Administration Section (NOSEI KA), they left the office. On the way back, before the buildings of the Agricultural Association of NAGANO, they stopped and delivered some critical addresses to the people and encouraged them.

Questions and answers interchanged between the governor and the two deputies were as follows:

MIYAMOTO: "The demand that tenant lands should be returned to landlords is like a death sentence to the tenant-farmers. Mr. WADA, Director of the Agricultural Administration Bureau, instructed government authorities to effect, adequately and fairly, a return of lands temporarily possessed by tenant farmers. Yet, the instructions are not reaching the furthermost agencies of the Government in various municipalities. We are of the opinion that it can be taken for granted, that municipal officials represent the interests of landlords and deliberately ignore the instructions. This fact will never make the landlords pay heed to social justice. On the contrary, it gives them ample opportunity to exploit their tenants without letting them become aware of what is going on.

Every instruction or direction, plan or policy, must be most carefully transmitted to the furthermost part of the administration."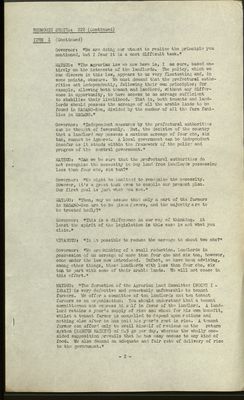 (View Page Image)
ECONOMIC SERIES: 222 (Continued)
Governor: "We are doing our utmost to realize the principle you mentioned, but I fear it is a most difficult task."

MATSUO: "The agrarian law we now have is, I am sure, based entirely on the interests of the landlords. The policy, which we can discern in this law, appears to us very fluctuating and, in some points, obscure. We must demand that the prefectural authorities act independently, following their own principles; for example, allowing both tenant and landlord, without any difference in opportunity, to have access to an acreage sufficient to stabilize their livelihood. That is, both tenants and landlords should possess the acreage of all the arable lands to be found in NAGANO-Ken, divided by the number of all the farm families in NAGANO."

Governor: "Independent measures by the prefectural authorities can be thought of favorably. But, the decision of the country that a landlord may possess a maximum acreage of four cho, six tan, cannot be ignored. A local government can be independent insofar as it stands within the framework of the policy and program of the central government."

MATSUO: "Can we be sure that the prefectural authorities do not recognize the necessity to buy land from landlords possessing less than four cho, six tan?"

Governor: "We might be inclined to recognize the necessity. However, it's a great task even to compile our present plan. Our first goal is just what you see."

MATSUO: "Then, may we assume that only a part of the farmers in NAGANO-Ken are to be given favors, and the majority are to be treated badly?"

Governor: "This is a difference in our way of thinking. At least the spirit of the legislation in this case is not what you claim."

MIYAMOTO: "Is it possible to reduce the acreage to about two cho?"

Governor: "We are thinking of a small reduction. Landlords in possession of an acreage of more than four cho and six tan, however, come under the law now introduced. Infact, we have been advising, among other things, those landlords with less than four cho, six tan to part with some of their arable lands. We will not cease in this effort."

MATSUO: "The formation of the Agrarian Land Committee (NOCHI I - INKAI) is very defective and remarkably unfavorable to tenant farmers. We offer a committee of ten landlords and ten tenant farmers as an organization. You should understand that a tenant committeeman can express himself in favor of the landlord. A landlord retains a year's supply of rice and wheat for his own benefit, whilst a tenant farmer is compelled to depend upon rations and nothing else after he has paid his year's rent in rice. A tenant farmer can afford only to avail himself of rations on the return system (KANGEN HAIKYU) of 0.5 go per day, whereas the wholly one-sided supposition prevails that he has easy access to any kind of food. We also demand an adequate and fair rate of delivery of rice to the government."

- 2 -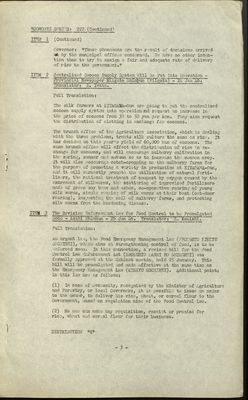 (View Page Image)
ECONOMIC SERIES: 222 (Continued)
Governors "These phenomena are the result of decisions arrived at by the municipal offices concerned. We have no other intention than to try to assign a fair and adequate rate of delivery of rice to the government."

ITEM 2 Centralized Cocoon Supply System Will Be Put Into Operation - Provincial Newspaper Niigata Shimbun (Niigata) - 24 Jan 46. Translator: S. Iwata.
Full Translation:

The silk farmers at KITAGAMA-Gun are going to put the centralized cocoon supply system into operation and request an increase in the price of cocoons from 30 to 50 yen per kan. They also request the distribution of clothing in exchange for cocoons.

The branch office of the Agriculture Association, which is dealing with the three problems, treats silk culture the same as rice. It has decided on this year's yield of 60,000 kan of cocoons. The same branch office will effect the distribution of rice in exchange for cocoons, and will encourage mulberry cultivation in the spring, summer and autumn so as to increase the cocoon crop. It will also encourage catch-cropping on the mulberry farms for the purpose of promoting a variety in production at KITAGAMA-Gun, and it will earnestly promote the utilization of natural fertilizers, the rational treatment of compost by oxygen caused by the excrement of silkworms, the scattering of improvised fertilizers made of green soy bean and ashes, co-operative rearing of young silk worms, simple rearing of silk worms at their best (out-door rearing), inspecting the soil of mulberry farms, and protecting silk worms from the hardening disease.

ITEM 3 The Revision Enforcement Law For Food Control to be Promulgated Soon - Asahi Shimbun - 26 Jan 46. Translator: Z. Konishi.
Full Translation:

An urgent law, the Food Emergency Management Law (SHOKURYO KINKYU SOCHIREI), which aims at strengthening control of food, is to be enforced soon. In this connection, a revised bill for the Food Control Law Enforcement Act (SHOKURYO KANRI HO SHIKOREI) was formally approved at the Cabinet meeting held 25 January. This bill will be promulgated and made effective at the same time as the Emergency Management Law (KINKYU SOCHIREI). Additional points in this law are as follows:
In case of necessity, recognized by the Minister of Agriculture and Forestry, or local Governors, it is possible to issue an order to the owner, to deliver his rice, wheat, or cereal, flour to the Government, based on regulation nine of the Food Control Law.
No one can make any requisition, receipt or promise for rice, wheat and cereal flour for their business.
DISTRIBUTION "X"

- 3 -