Press translations [Japan]. Economic Series 0220, 1946-01-27.
translation-number: economic-0984
call-number: DS801 .S81
---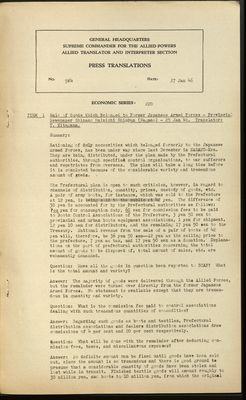 (View Page Image)
GENERAL HEADQUARTERS

SUPREME COMMANDER FOR THE ALLIED POWERS

ALLIED TRANSLATOR AND INTERPRETER SECTION

PRESS TRANSLATIONS

ECONOMIC SERIES: 220

ITEM 1 Sale of Goods Which Belonged to Former Japanese Armed Forces - Provincial Newspaper Shinano Mainichi Shimbun (Nagano) - 25 Jan 46. Translator: T. Kitagana.
Summary:

Rationing of daily necessities which belonged formerly to the Japanese Armed Forces, has been under way since last December in NAGANO-Ken. They are being distributed, under the plan made by the Prefectural authorities, through specified control organizations, to war sufferers and repatriates from overseas. The plan will take a long time before it is completed because of the considerable variety and tremendous amount of goods.

The Prefectural plan is open to much criticism, however, in regard to channels of distribution, quantity, prices, custody of goods, etc. A pair of army boots, for instance, which was sold to the Prefecture at 12 yen, is being sold to the public at 42 yen. The difference of 30 yen is accounted for by the Prefectural authorities as follows: 700 yen for consumption duty,
60
sen for commission fees to be paid to Boots Control Associations of the Prefecture, 3 yen 50 sen to provincial and urban boots equipment associations, 1 yen for shipment, 12 yen 10 sen for distributors, and the remaining 17 yen 90 yen to the Treasury, National revenue from the sale of a pair of boots of 42 yen will, therefore, be 36 yen 90 sen—12 yen as the selling price to the prefecture, 7 yen as tax, and 17 yen 90 sen as a donation. Explanations on the part of prefectural authorities concerning the total amount of goods to be disposed of, total amount of sales, etc. are vehemently demanded.
Question: Have all the goods in question been reported to SCAP? What is the total amount and variety?

Answer: The majority of goods were delivered through the Allied Forces, but the remainder were turned over directly from the former Japanese Armed Forces. No statement is available except that they are tremendous in quantity and variety.

Question: What is the commission fee paid to control associations dealing with such tremendous quantities of commodities?

Answer: Regarding such goods as boots and textiles, Prefectural distribution associations and dealers distribution associations draw commissions of 4 per cent and 20 per cent respectively.

Question: What will be done with the remainder after deducting commission fees, taxes, and miscellaneous expenses?

Answer: No definite amount can be fixed until goods have been sold out, since the amount is so tremendous and there is good ground to presume that a considerable quantity of goods have been stolen and lost while in transit. Finished textile goods will amount roughly to 30 million yen, and boots to 10 million yen, from which the original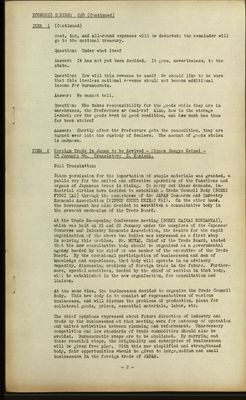 (View Page Image)
ECONOMIC SERIES: 220 (Continued)
cost, tax, and all-round expenses will be deducted; the remainder will go to the national treasury.

Question: Under what item?

Answer: It has not yet been decided. It goes, nevertheless, to the state.

Question: How will this revenue be used? We should like to be sure that this itemless national revenue should not become additional income for bureaucrats.

Answer: We cannot tell.

Question: Who takes responsibility for the goods while they are in warehouses, the Prefecture or dealers? Also, how is the storage locked; are the goods kept in good condition, and how much has thus far been stolen?

Answer: Shortly after the Prefecture gets the commodities, they are turned over into the custody of dealers. The amount of goods stolen is unknown.

ITEM 2 Foreign Trade In Japan to be Revived - Nippon Sangyo Keizai - 25 January 46. Translator: Z. Konishi.
Full Translation:

Since permission for the importation of staple materials was granted, a public cry for the united and effective operation of the functions and organs of Japanese trade is rising. To carry out these demands, industrial circles have decided to establish a Trade Council Body (BOEKI YYOGI KAI) through the assistance of the JAPAN Commerce and Industry Economic Association (NIPPON SEOKO KEIZAI KAI). On the other hand, the Government has also decided to establish a consultative body in the present mechanism of the Trade Board.

At the Trade Re-opening Conference meeting (BOEKI SAIKAI KONDANKAI), which was held on 21 and 22 January under the auspices of the Japanese Commerce and Industry Economic Association, the desire for the rapid organization of the above two bodies was expressed as a first step in solving this problem. Mr. MUKAI, Chief of the Trade Board, stated that the new consultative body should be organized as a governmental agency headed by the chief or one member of the executive of the Trade Board. By the occasional participation of businessmen and men of knowledge and experience, that body will operate in an advisory capacity, discussing problems of foreign trade in the future. Further-more, special committees, headed by the chief of section in that body, will be established in the new organization, for consultation and liaison.

At the same time, the businessmen decided to organize the Trade Council Body. This new body is to consist of representatives of various businesses, and will discuss the problems of production, plans for collateral goods, prices, essential materials, labor, etc.

The chief opinions expressed about future direction of industry and trade by the businessmen at that meeting were for autonomy of operation and united activities between planning and reforcement. Unnecessary competition and low standards of trade commodities should also be avoided. Bureaucratic steps are to be abolished. By carrying out these remedial steps, the originality and enterprise of businessmen will be given free play. With this new simplified and strengthened body, fair opportunities should be given to large, medium and small businessmen in the foreign trade of JAPAN.

- 2 -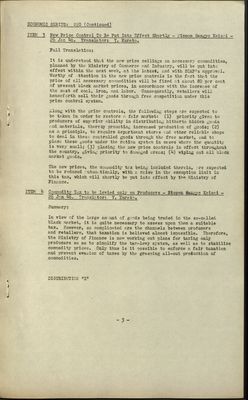 (View Page Image)
ECONOMIC SERIES: 220 (Continued)
ITEM 3 New Price Control To Be Put Into Effect Shortly - Nippon Sangyo Keizai - 26 Jan 46. Translator: Y. Kurato.
Full Translation:

It is understood that the new price ceilings on necessary commodities, planned by the Ministry of Commerce and Industry, will be put into effect within the next week, at the latest, and with SCAP's approval. Worthy of attention in the new price controls is the fact that the price of all necessary commodities will be fixed at about 80 per cent of present black market prices, in accordance with the increase of the cost of coal, iron, and labor. Consequently, retailers will henceforth sell their goods through free competition under this price control system.

Along with the price controls, the following steps are expected to be taken in order to restore a fair market: (1) priority given to producers of superior ability in distributing hitherto hidden goods and materials, thereby promoting increased production of goods; (2) as a principle, to require department stores and other reliable shops to deal in these controlled goods through the free market, and to place these goods under the ration system in cases where the quantity is very small; (3) placing the new price controls in effect throughout the country, giving priority to damaged areas; (4) wiping out all black market goods.

The new prices, the commodity tax being included therein, are expected to be reduced automatically, with a raise in the exemption limit in this tax, which will shortly be put into effect by the Ministry of Finance.

ITEM 4 Commodity Tax to be Levied only on Producers - Nippon Sangyo Keizai - 26 Jan 46. Translator: Y. Karato.
Summary:

In view of the large amount of goods being traded in the so-called black market, it is quite necessary to assess upon them a suitable tax. However, so complicated are the channels between producers and retailers, that taxation is believed almost impossible. Therefore, the Ministry of Finance is now working out plans for taxing only producers so as to simplify the tax-levy system, as well as to stabilize commodity prices. Only thus is it possible to enforce a fair taxation and prevent evasion of taxes by the grasping all-out production of commodities.

DISTRIBUTION "X"

- 3 -