Press translations [Japan]. Economic Series 0216, 1946-01-27.
translation-number: economic-0973
call-number: DS801 .S81
---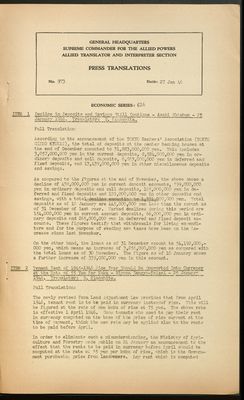 (View Page Image)
GENERAL HEADQUARTERS

SUPREME COMMANDER FOR THE ALLIED POWERS

ALLIED TRANSLATOR AND INTERPRETER SECTION

PRESS TRANSLATIONS

ECONOMIC SERIES: 216

ITEM 1 Decline in Deposits and Savings Still Continue - Asahi Shimbun - 25 January 1946. Translator: S. Kinoshita.
Full Translation:

According to the announcement of the TOKYO Bankers' Association (TOKYO GINKO KYOKAI), the total of deposits at the member banking houses at the end of December amounted to 31,883,000,000 yen. This includes 3,057,000,000 yen in the current deposits, 8,524,000,000 yen in ordinary deposits and call deposits, 6,863,000,000 yen in deferred and fixed deposits, and 13,439,000,000 yen in other miscellaneous deposits and savings.

As compared to the figures at the end of November, the above shows a decline of 438,000,000 yen in current deposit accounts, 599,000,000 yen in ordinary deposits and call deposits, 165,000,000 yen in deferred and fixed deposits and 129,000,000 yen in other deposits and savings, with a total decline amounting to 1,331,000,000 yen. Total deposits as of 10 January are 445,000,000 yen less than the amount as of 31 December of last year. Marked declines during this period are 154,000,000 yen in current account deposits, 66,000,000 yen in ordinary deposits and 265,000,000 yen in deferred and fixed deposit accounts. These figures testify that withdrawals for living expenditure and for the purpose of evading new taxes have been on the increase since last November.

On the other hand, the loans as of 31 December amount to 54,192,000,000 yen, which means an increase of 3,256,000,000 yen as compared with the total loans as of 30 November. The figure as of 10 January shows a further increase of 339,000,000 yen in this account.

ITEM 2 Tenant Rent of 1945-1946 Rice Year Should Be Converted Into Currency at the Rate of 55 Yen Per Koku - Nippon Sangyo-Keizai - 25 January 1946. Translator: S. Kinoshita.
Full Translation:

The newly revised Farm Land Adjustment Law provides that from April 1946, tenant rent is to be paid in currency instead of rice. This will be figured at the rate of one koku of rice at 75 yen. The above rate is effective 1 April 1946. Some tenants who used to pay their rent in currency computed on the base of the price of rice current at the time of payment, think the new rate may be applied also to the rents to be paid before April.

In order to eliminate such a misunderstanding, the Ministry of Agriculture and Forestry made public on 24 January an announcement to the effect that the rents to be paid in currency before April should be computed at the rate of 55 yen per koku of rice, which is the Government purchasing price from landowners. Any rent which is computed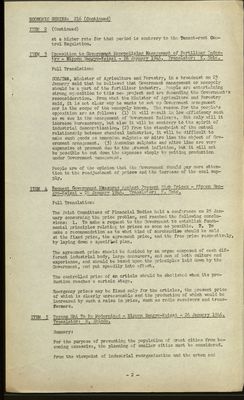 (View Page Image)
ECONOMIC SERIES: 216 (Continued)
at a higher rate for that period is contrary to the Tenant-rent Control Regulation.

ITEM 3 Opposition to Government Monopolizing Management of Fertilizer Industry - Nippon Sangyo-Keizai - 26 January 1946. Translator: K. Sato.
Full Translation:

SOEJIMA, Minister of Agriculture and Forestry, in a broadcast on 23 January said that he believed that Government management or monopoly should be a part of the fertilizer industry. People are entertaining strong opposition to this new project and are demanding the Government's reconsideration. From what the Minister of Agriculture and Forestry said, it is not clear why he wants to set up Government management nor is the scope of the monopoly known. The reason for the people's opposition are as follows: (1) It will result in low efficiency such as we see in the management of Government Railways. Not only will it increase bureaucracy, but also it will be contrary to the spirit of industrial democratization. (2) From the standpoint of the mutual relationship between chemical industries, it will be difficult to make such goods as ammonium sulphate or nitro lime the object of Government management. (3) Ammonium sulphate and nitro lime are very expensive at present due to the present inflation, but it will not be possible to cut down the expenses simply by putting production under Government management.

People are of the opinion that the Government should pay more attention to the readjustment of prices and the increase of the coal supply.

ITEM 4 Request Government Measures Against Present High Prices - Nippon Sangyo-Keizai - 26 January 1946. Translator: K. Sato.
Full Translation:

The Joint Committees of Financial Bodies held a conference on 25 January concerning the price problem, and reached the following conclusions: 1. To make a request to the Government to establish fundamental principles relating to prices as soon as possible. 2. To make a recommendation as to what kind of merchandise should be sold at the fixed price, the agreement price, and the free price respectively, by laying down a specified plan.

The agreement price should be decided by an organ composed of each different industrial body, large consumers, and men of both culture and experience, and should be based upon the principles laid down by the Government, and put speedily into effect.

The controlled price of an article should be abolished when its production reaches a certain stage.

Emergency prices may be fixed only for the articles, the present price of which is clearly unreasonable and the production of which would be increased by such a raise in price, such as radio receivers and transformers.

ITEM 5 Toyama Shi To Be Modernized - Nippon Sangyo-Keizai - 26 January 1946. Translator: H. Shindo.
Summary:

For the purpose of preventing the population of great cities from becoming excessive, the planning of smaller cities must be considered.

From the viewpoint of industrial reorganization and the urban and

- 2 -

(View Page Image)
ECONOMIC SERIES: 216 (Continued)
rural population problem for the majority of cities in JAPAN to have been devastated by fire bombs is in some ways a blessing. TOYAMA Shi had cherished its own city planning before its devastation by air raids. Immediately after over 80 per cent of the city was laid waste on 2 August, the City Planning Department set out to make an epoch-making plan for the city, utilizing its geographical features. This plan was the first to be submitted to the Rehabilitation Board (FUKKO-IN) of all the devastated cities. The plan is that a main road, likely to be called "Prefecutral Office Line" (KENCHO-SEN), will run through the city directly south from the front of the station. This road will have many intersections and there will be a loop line around the city.

The KOCHI Shi plan also is on its way to completion. There are many obstacles in the way because of fluctuating and rising commodity prices. It will be interesting to see how the city planning will deal with these obstacles.

ITEM 6 Bank Notes in Circulation Reach 57,100 Million Yen - Nippon Sangyo-Keizai - 26 January 1946. Translator: H. Shindo.
Full Translation:

At present 56,660 million yen of bank notes have been issued and 38,600 million yen of credit cashed; increases in each case have been some 100 million yen per day, according to the ten-day report for the later part of January published by the Bank of JAPAN. Notes in circulation have gone on increasing some 200 million yen per day since the beginning of the last ten days. They reached 57,100 million yen at last on the 24th of this month, which surpasses the total of 55,400 million yen at the year end by some 1,700 million yen. This is because inflation is being accelerated due to the large demand for cash. The bond and securities accounts have decreased 100 million yen because of disposal by sale of bonds and securities. Surplus revenue has added 120 million yen to the agencies account. The Government's account has grown 590 million yen greater, mainly because revenue paid to agencies and branches was transferred to account at the bond office. In this reference the ten-day report reads:

Ten-Day Report by the Bank of JAPAN (Unit—1,000 yen; *shows decrease)

| | | |
| --- | --- | --- |
| Liabilities | On 20 January | Previous Ten Days |
| Issued Bank Notes | 56,064,900 | 1,61,938 |
| Government Account | 18,349,423 | 593,556 |
| Other Deposits | 3,725,464 | 138,027* |
| Miscellaneous Accounts | 11,594,738 | 27,617* |
| Capital and Reserved Funds | 211,810 | —- |
| Total | 79,946,337 | 1,589,850 |
| | | |
| --- | --- | --- |
| Assets | | |
| Loan | 38,602,112 | 1,123,712 |
| Cash and Bullion | 532,786 | 1,011 |
| Bonds and Other Securities | 16,944,463 | 1,109,290* |
| Agencies Account | 18,596,262 | 125,792 |
| Miscellaneous Accounts | 5,215,713 | 448,623 |
| Capital Unpaid | 55,000 | —- |
| Total | 79,946,337 | 1,589,850 |
DISTRIBUTION: "X"

- 3 -