Press translations [Japan]. Economic Series 0191, 1946-01-22.
translation-number: economic-0878
call-number: DS801 .S81
---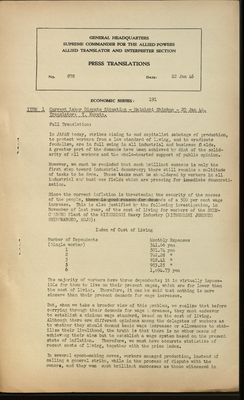 (View Page Image)
GENERAL HEADQUARTERS

SUPREME COMMANDER FOR THE ALLIED POWERS

ALLIED TRANSLATOR AND INTERPRETER SECTION

PRESS TRANSLATIONS

ECONOMIC SERIES: 191

ITEM 1 Current Labor Dispute Situation - Mainichi Shinbun - 20 Jan 46. Translator: Y. Kurata.
Full Translation:

In JAPAN today, strikes aiming to end capitalist sabotage of production, to protect workers from a low standard of living, and to eradicate feudalism, are in full swing in all industrial and business fields. A greater part of the demands have been achieved by dint of the solidarity of all workers and the whole-hearted support of public opinion.

However, we must be reminded that such brilliant success is only the first step toward industrial democracy; there still remains a multitude of tasks to be done. These tasks must be shouldered by workers in all industrial and business fields which are pressing for immediate democratization.

Since the current inflation is threatening the security of the masses of the people, there is good reason for demands of a 500 per cent wage increase. This is also justified by the following investigation, in November of last year, of the cost of living for workers of the SHIMOMARUKO Plant of the MITSUBISHI Heavy Industry (MITSUBISHI JUKOGYO SHIMOMARUKO, KOJO):

Index of Cost of Living

| | |
| --- | --- |
| Number of Dependents | Monthly Expenses |
| (Single worker) | 341.66 yen |
| 1 | 501.74 yen |
| 2 | 762.28 " |
| 3 | 918.41 " |
| 5 | 983.25 " |
| 6 | 1,094.73 yen |
The majority of workers have three dependents; it is virtually impossible for them to live on their present wages, which are far lower than the cost of living. Therefore, it can be said that nothing is more sincere than their present demands for wage increases.

But, when we take a broader view of this problem, we realize that before carrying through their demands for wage increases, they must endeavor to establish a minimum wage standard, based on the cost of living. Although there are different opinions among the delegates of workers as to whether they should demand basic wage increases or allowances to stabilize their livelihood, the truth is that there is no other means of achieving their aims but to establish a wage system based on the present state of inflation. Therefore, we must have accurate statistics of recent costs of living, together with the price index.

In several epoch-making moves, workers managed production, instead of calling a general strike, while in the process of dispute with the owners, and they won such brilliant successes as those witnessed in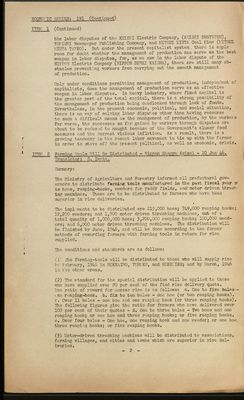 (View Page Image)
ECONOMIC SERIES: 191 (Continued)
the labor disputes of the KEISEI Electric Company, (KEISEI DENTETSU), YOMIURI Newspaper Publishing Company, and MITSUI MIUTA Coal Mine (MITSUI MIUTA TANKO). But under the present capitalist system there is ample room for doubt whether the management of production can serve as the best weapon in labor disputes, for, as we saw in the labor dispute of the NIPPON Electric Company (NIPPON DENKI KAISHA), there are still many obstacles preventing workers from carrying out the smooth management of production.

Only under conditions permitting management of production, independent of capitalists, does the management of production serve as an effective weapon in labor disputes. In heavy industry, where fixed capital is the greater part of the total capital, there is a strong possibility of the management of production being deadlocked through lack of funds. Nevertheless, in the present economic, political, and social situation, there is no way of solving labor disputes other than having recourse to such a difficult means as the management of production, by the workers Far worse, the successes so far gained by workers through disputes are about to be reduced to naught because of the Government's clumsy food measures and the current vicious inflation. As a result, there is a growing tendency in the recent labor movement to tie up with the farmer in order to stave off the present political, as well as economic, crisis.

ITEM 2 Farming Tools Will Be Distributed - Nippon Sangyo Keizai - 20 Jan 46. Translator: S. Iwata.
Summary:

The Ministry of Agriculture and Forestry informed all prefectural governors to distribute farming tools manufactured in the past fiscal year
[illegible]
as hoes, reaping-hooks, weeders for paddy fields, and motor driven threshing machines. These are to be distributed to farmers who have been superior in rice deliveries.
The implements to be distributed are 215,000 hoes; 749,000 reaping hooks; 12,200 weeders; and 1,700 motor driven threshing machines, out of a total quantity of 1,000,000 hoes; 3,200,000 reaping hooks; 100,000 weeders; and 6,000 motor driven threshing machines. The distribution will be finished by June, 1946, and will be done according to the former methods of rewarding farmers with farming tools in return for rice supplied.

The conditions and standards are as follows:
The farming-tools will be distributed to those who will supply rice by February, 1946 in HOKKAIDO, TOHOKU, and HOKUKIKU; and by March, 1946 In the other areas.
The standard for the special distribution will be applied to those who have supplied over 80 per cent of the find rice delivery quota. The ratio of reward for excess rice is as follows: a. One to five bales-one reaping-hook. b. Six to ten bales - one hoe (or two reaping hooks). c, Over 11 bales - one hoe and one reaping hook (or three reaping hooks). The following figures give the ratio for farmers who have delivered over 100 per cent of their quotas - d. One to three bales - Two hoes and one reaping hook; or one hoe and three reaping hooks; or five reaping hooks. e. Over four bales - One hoe, one reaping hook and one weeder; or one hoe, three reaping hooks; or five reaping hooks.
Motor-driven threshing machines will be distributed to associations, farming villages, and cities and towns which are superior in rice deliveries.
- 2 -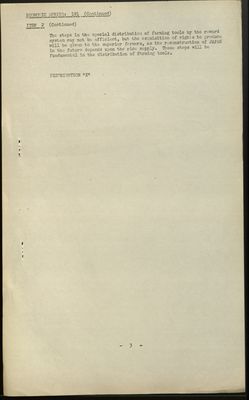 (View Page Image)
ECONOMIC SERIES: 191 (Continued)
The steps in the special distribution of farming tools by the reward system may not be efficient, but the acquisition of rights to produce will be given to the superior farmers, as the reconstruction of JAPAN in the future depends upon the rice supply. These steps will be fundamental in the distribution of farming tools.

DISTRIBUTION "X"

- 3 -