Press translations [Japan]. Economic Series 0190, 1946-01-22.
translation-number: economic-0875
call-number: DS801 .S81
---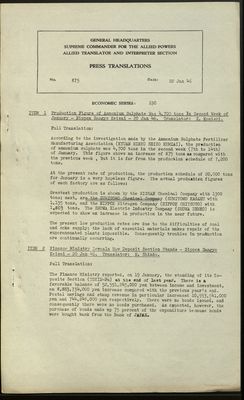 (View Page Image)
GENERAL HEADQUARTERS

SUPREME COMMANDER FOR THE ALLIED POWERS

ALLIED TRANSLATOR AND INTERPRETER SECTION

PRESS TRANSLATIONS

ECONOMIC SERIES: 190

ITEM 1 Production Figure of Ammonium Sulphate Was 4,700 tons In Second Week of January - Nippon Sangyo Keizai - 20 Jan 46. Translator: Z. Konishi.
Full Translation:

According to the investigation made by the Ammonium Sulphate Fertilizer Manufacturing Association (KYUAN HIRYO SEIZO KUMIAI), the production of ammonium sulphate was 4,700 tons in the second week (7th to l4th) of January. This figure shows an increase of 875 tons as compared with the previous week, but it is far from the production schedule of 7,200 tons.

At the present rate of production, the production schedule of 20,000 tons for January is a very hopeless figure. The actual production figures of each factory are as follows:

Grestest production is shown by the NISSAN Chemical Company with 1300 tons; next, are the SUMITOMO Chemical Company (SUMITOMO KAGAKU with 1,135 tons, and the NIPPON Nitrogen Company (NIPPON CHITSUSO) with 1,803 tons. The SHOWA Electric Industry Company (SHOWA DENKO) is expected to show an increase in production in the near future.

The present low production rates are due to the difficulties of coal and coke supply; the lack of essential materials makes repair of the superannuated plants impossible. Consequently troubles in production are continually occurring.

ITEM 2 Finance Ministry Reveals How Deposit Section Stands - Nippon Sangyo Keizai - 20 Jan 46. Translator: H. Shindo.
Full Translation:

The Finance Ministry reported, on 19 January, the standing of its Deposits Section (YOKIN-Bu) at the end of last year. There is a favorable balance of 52,591, 243,000 yen between income and investment, an 8,883,734,000 yen increase compared with the previous year's end. Postal savings and stamp revenue in particular increased 10,993,941,000 yen and 744,248,000 yen respectively. There were no bonds issued, and consequently there were no bonds purchased. As expected, however, the purchase of bonds made up 75 percent of the expenditure because bonds were bought back from the Bank of JAPAN.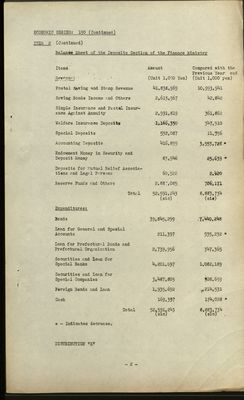 (View Page Image)
ECONOMIC SERIES: 190 (Continued)
Balance Sheet of the Deposits Section of the Finance Ministry
Items
Amount
Compared with the Previous Year end

Revenue:

(Unit 1,000 Yen)
(Unit 1,000 yen)
Postal Saving and Stamp Revenue
41,838,969
10,993,941
Saving Bonds Income and Others
2,613,567
42,842
Simple Insurance and Postal Insurance Against Annuity
2,991,819
361,862
Welfare Insurance Deposits
1,166,350
347,910
Special Deposits
532,087
11,956
Accounting Deposits
416,895
3,553,728*
Endowment Money in Security and Deposit Money
83,946
25,639*
Deposits for Mutual Relief Associations and Legal Persons
60,522
2,420
Reserve Funds and Others
2,88

[illegible]

,085
706,171
Total
52,591,243 (sic)
8,883,734 (sic)

Expenditures:

Bonds
39,845,299
7,440,248
Loan for General and Special Accounts
211,397
935,232*
Loan for Prefectural Bonds and Prefectural Organization
2,739,956
347,365
Securities and Loan for Special Banks
4,201,697
1,082,189
Securities and Loan for Special Companies
3,487,805
908,659
Foreign Bonds and Loan
1,935,692
214,531
Cash
169,397
174,028*
Total
52,591,243 (sic)
8,883,734 (sic)
* - Indicates decrease.

DISTRIBUTION "X"

- 2 -