Press translations [Japan]. Economic Series 0184, 1946-01-20.
translation-number: economic-0847
call-number: DS801 .S81
---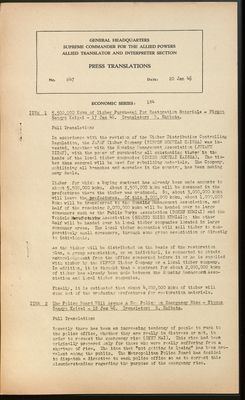 (View Page Image)
GENERAL HEADQUARTERS

SUPREME COMMANDER FOR THE ALLIED POWERS

ALLIED TRANSLATOR AND INTERPRETER SECTION

PRESS TRANSLATIONS

ECONOMIC SERIES: 184

ITEM 1 5,500,000 Koku of Timber Purchased For Restoration Materials - Nippon Sangyo Keizai - 17 Jan 46. Translator: R. Shibata.
Full Translation:

In accordance with the revision of the Timber Distribution Controlling Regulation, the JAPAN Timber Company (NIPPON MOKUZAI KAISHA) was invested, together with the Housing Management Association (JUTAKU EIDAN), with the power of purchasing all outstanding timber in the hands of the local timber companies (CHIHO MOKUZAI KAISHA). The timber thus secured will be used for rebuilding materials. The Company, mobilizing all branches and agencies in the country, has been making many deals.

Timber for which a buying contract has already been made amounts to about 5,500,000 koku. About 2,500,000 koku will be consumed in the prefectures where the timber was produced. So, about 3,000,000 koku will leave the prefectures. Of this 3,000,000 koku, about 1,000,000 koku will be transferred to the Housing Management Association, and half of the remaining 2,000,000 koku will be handed over to large consumers such as the Public works Association (DOKEN KUMIAI) and the Vehicle Manufacturing Association (SHARYO SEIZO KUMIAI); the other half will be handed over to local timber companies located in large consumer areas. The local timber companies will sell timber to comparatively small consumers, through some group association or directly to individuals.

As the timber will be distributed on the basis of the restoration plan, a group association, or an individual, is requested to obtain acknowledgement from the office concerned before it or he is supplied with timber by the NIPPON Timber Company or a local timber company. In addition, it is thought that a contract for about 2,000,000 koku of timber has already been made between the Housing Management Association and local timber companies.

Finally, it is estimated that about 4,000,000 koku of timber will come out of the producing prefectures for restoration materials.

ITEM 2 The Police Board Will Assume A New Po1icy on Emergency Rice - Nippon Sangyo Keizai - 18 Jan 46. Translator: R. Shibata.
Full Translation:

Recently there has been an increasing tendency of people to rush to the police office, whether they are really in distress or not, in order to request the emergency rice (OKYU MAI). This rice had been originally prepared only for those who were really suffering from a shortage of rice. The idea that "not getting is losing" has been prevalent among the public. The Metropolitan Police Board has decided to dispatch a directive to each police office so as to correct this misunderstanding regarding the purpose of the emergency rice.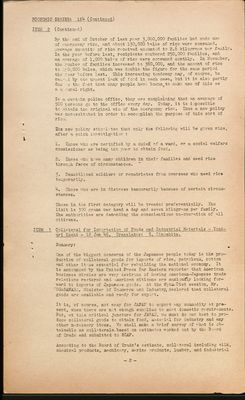 (View Page Image)
ECONOMIC SERIES: 184 (Continued)
By the end of October of last year 3,000,000 families had made use of emergency rice, and about 130,000 bales of rice were consumed. Average quantity of rice received amounted to 2.6 kilograms per family. In the year before last, recipients numbered 250,000 families, and an average of 1,000 bales of rice were consumed monthly. In November, the number of families increased to 360,000, and the amount of rice to 150,000 bales which was double the figure for the same period the year before last. This increasing tendency may, of course, be caused by the urgent lack of food in each case, but it is also partly due to the fact that many people have begun to make use of this as a natural right.

In a certain police office, they are complaining that an average of 500 persons go to the office every day. Today, it is impossible to attain the original aim of the emergency rice. Thus a new policy was necessitated in order to accomplish the purpose of this sort of rice.

The new policy stipulates that only the following will be given rice, after a quick investigation:
Those who are certified by a chief of a ward, or a social welfare commissioner as being too poor to obtain food.
Those who have many children in their families and need rice through force of circumstances.
Demobilized soldiers or repatriates from overseas who need rice temporarily.
Those who are in distress temporarily because of certain circumstances.
Those in the first category will be treated preferentially. The limit is 300 grams per head a day and seven kilograms per family. The authorities are demanding the conscientious co-operation of all citizens.

ITEM 3 Collateral for Importation of Foods and Industrial Materials - Yomiuri Hochi - 18 Jan 46. Translator: S. Kinoshita.
Summary:

One of the biggest concerns of the Japanese people today is the production of collateral goods for imports of rice, petroleum, cotton and other items essential for rebuilding the national economy. It is announced by the United Press Far Eastern reporter that American business circles are very desirous of having American-Japanese trade relations restored and American citizens are anxiously looking forward to imports of Japanese goods. At the 89th Diet session, Mr. "OGASAWARA, Minister of Commerce and Industry, declared that collateral goods are available and ready for export.

It is, of course, not easy for JAPAN to export any commodity at present, when there are not enough supplies to meet domestic requirements. But, at this critical juncture for JAPAN, we must do our best to produce collateral goods to obtain food, material for industry and any other necessary items. We shall make a brief survey of what is obtainable as collaterals based on estimates worked out by the Board of Trade and submitted to SCAP.

According to the Board of Trade's estimate, collateral including silk, chemical products, machinery, marine products, lumber, and industrial

- 2 -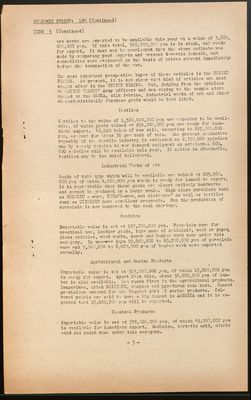 (View Page Image)
ECONOMIC SERIES: 184 (Continued)
art works are expected to be available this year at a value of 3,660, 000,000 yen. Of this total, 560,000,000 yen is in stock, and ready for export. It must not be overlooked that the above estimate was made by comparing past exports and present domestic demands, and commodities were evaluated on the basis of prices current immediately before the termination of the war.

The most important prospective buyer of these articles is the UNITED STATES. At present, it is not clear what kind of articles are most sought after in the UNITED STATES But, judging from the opinions of UNITED STATES' Army officers and men coming to the sample store opened on the GINZA, silk fabrics, industrial works of art and other characteristically Japanese goods would be best liked.

Textiles

Textiles to the value of 1,560,000,000 yen are expected to be available, of which goods valued at 298,000,000 yen are ready for immediate export. 46,000 bales of raw silk, amounting to 207,000,000 yen, account for about 70 per cent of this. The present productive capacity of the textile industry is estimated at 2,700,000 spindles and by speedy repairs to war damaged equipment an additional 600, 000 spindles will be available this year. If cotton is obtainable, textiles may be the chief collateral.

Industrial Works of Art

Goods of this type which will be available are valued at 205,000,000 yen of which 4,000,000 yen worth is ready for immediate export. It is regrettable that these goods are almost entirely handworks and. cannot be produced on a large scale. High class porcelain such as SHIMIZU - ware, KUTANI-ware, and cloisonne' as well as textiles such as NISHIJIN have excellent prospects. But the production of porcelain is now hampered by the coal shortage.

Sundries

Exportable value is set at 157,000,000 yen. Porcelain ware for practical use, leather goods, toys made of celluloid, wood or paper, glass articles, wood works, paper and bamboo work come under this category. In pre-war days 50,000,000 to 60,000,000 yen of porcelain ware and 5,000,000 to 6,000,000 yen of bamboo work were exported annually.

Agricultural and Marine Products

Exportable value is set at 323,000,000 yen, of which 15,000,000 yen is reedy for export. Apart from this, about 58,000,000 yen of lumber is also available. Tea ranks first in the agricultural products. Tangerines, dried SHIITAKE, camphor and pyrethrum come next. Canned provisions account for the biggest part of marine products. Cultured pearls are said to have a big demand in AMERICA and it is expected that 15,000,000 yen will be exported.

Chemical Products

Exportable value is set at 378,000,000 yen, of which 49,000,000 yen is available for immediate export. Medicine, tartaric acid, citric acid and paint come under this category.

- 3 -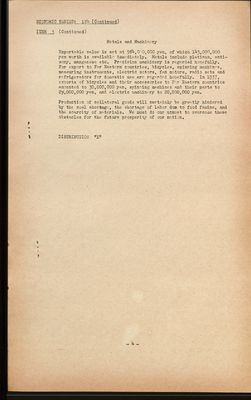 (View Page Image)
ECONOMIC SERIES: 184 (Continued)
Metals and Machinery

Exportable value is set at 984,000,000 yen, of which 143,000,000 yen worth is available immediately. Metals include platinum, antimony, manganese etc. Precision machinery is regarded hopefully. For export to Far Eastern countries, bicycles, spinning machines, measuring instruments, electric motors, fan motors, radio sets and refrigerators for domestic use are regarded hopefully. In 1937, exports of bicycles and their accessories to Far Eastern countries amounted to 30,000,000 yen, spinning machines and their parts to 20,000,000 yen, and electric machinery to 20,000,000 yen.

Production of collateral goods will certainly be greatly hindered by the coal shortage, the shortage of labor dun to food famine, and the scarcity of materials. We must do our utmost to overcome these obstacles for the future prosperity of our nation.

DISTRIBUTION "X"

- 4 -