Press translations [Japan]. Economic Series 0183, 1946-01-19.
translation-number: economic-0838
call-number: DS801 .S81
---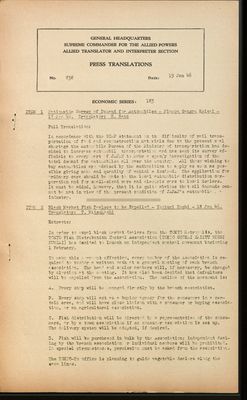 (View Page Image)
GENERAL HEADQUARTERS

SUPREME COMMANDER FOR THE ALLIED POWERS

ALLIED TRANSLATOR AND INTERPRETER SECTION

PRESS TRANSLATIONS

ECONOMIC SERIES: 183

ITEM 1 Nationwide Survey of Demand for Automobiles - Nippon Sangyo Keizai - 18 Jan 46. Translator: H. Sato
Full Translation:

In accordance with the SCAP statement on the difficulty of rail transportation of food and reconstruction materials due to the present coal shortage the Automobile Bureau of the Ministry of transportation has decided to increase automobile transportation and has sent its survey officials to every part of JAPAN to make a speedy investigation of the total demand for automobiles all over the country. All those wishing to buy automobiles are advised by the authorities to apply as soon as possible giving name and quantity of vehicles desired. The application for ordinary cars should be made to the local automobile distribution corporation and for small-sized cars and electric cars to local dealers. It must be added, however, that it is quite abvious that all demands cannot be met in view of the present condition of JAPAN'S automobile. industry.

ITEM 2 Black Market Fish Dealers to be Expelled - Yomiuri Hochi - 18 Jan 46. Translator: T. Mitsuhashi
Extracts:

In order to expel black market dealers from the TOKYO Metropolis, the TOKYO Fish Distribution Control Association (TOKYO GYOKAI HAIKYU TOSEI KUMIAl) has decided to launch an independent control movement beginning 1 February.

To make this movement effective, every member of the Association is required to tender a written path at a general meeting of each branch association. The head and senior members will, if necessary, be changed by election at the meeting. It has also been decided that defaulters will be expelled from the Association. The outline of the movement is:
Every shop will be managed directly by the branch association.
Every shop will act as a "buying agency for the consumers in a certain area, and will have close liaison with a consumer or buying association, or an agricultural association.
Fish distribution will be directed by a representative of the consumers, or by a. town association if no consumer association is set up. The delivery system will be adopted, if desired.
Fish will be purchased in bulk by the Association; independent dealing by the branch association or individual members will be prohibited. In special circumstances, permission must be asked from the association.
The TOKYO-To office is planning to guide vegetable dealers along the same lines.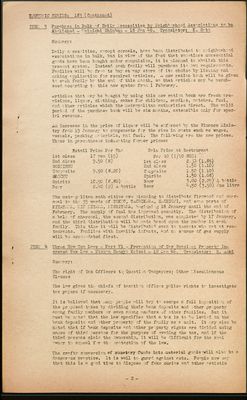 (View Page Image)
ECONOMIC SERIES: 183 (Continued)
ITEM: 3 Purchase in Bulk of Daily Necessities by Neighborhood Associations to be Abolished - Mainichi Shimbun - 18 Jan 46. Translator: K. Sato
Summary:

Daily necessities, except cereals, have been distributed to neighborhood associations in bulk, but in view of the fact that sometimes unessential goods have been bought under compulsion, it is planned to abolish this present system. Instead each family will purchase its own requirements. Families will be free to buy at any store of its choice by listing and making application for required articles. A new ration book will be given to each family by the end of this month, so that articles may be purchased according to this new system from 1 February.

Articles that may be bought by using this new ration book are fresh provisions, liquor, clothing, cakes for children, candles, matches, fuel, and other articles which the metropolitan authorities direct. The valid period of the purchase book will be six months, extensible only for special reasons.

An increase in the price of liquor will be enforced by the Finance Ministry from 19 January to compensate for the rise in costs such as wages, vessels, packing materials, and fuel. The following are the new prices. Those in parentheses indicating former prices:
Retail Price Per Sho
Sale Price at Restaurant
Per GO (l/10 SHO)
1st class
17 yen (15)
2nd class
9.50 (8)
1st class
2.30 (1.85)
GOSFISHU
2nd class
1.50 (1.10)
Composite
9.50 (8.20)
Composite
1-50 (l-10)
SHOCHU
Spirits
1.50 (1.08)
Spirits
10.50 (8.80)
Beer
3.00 (2.25) A bottle
Beer
2.40 (2) A bottle
Beer
4.50 (3-50) One litre
The metropolitan authorities are planning to distribute firewood and charcoal to the 35 wards of TOKYO, TACHIKAWA, HACHIOJI, and some parts of KITATAMA, MIN. MITAMA, MISHITAKA, beginning 18 January until the end of February. The supply of fuel has improved recently. The distribution of a bale of charcoal the second distribution, was completed by 17 January, and the third distribution will be made based upon the number in each family, This time it will be distributed even to tenants who eat at restaurants. Families with invalids infants, and no source of gas supply will be accomodated first.

ITEM 4 Three Now Tax Laws - Part VI - Prevention of Tax Evasion; Property Increase Tax law - Nippon, Sangyo Keizai -.18 Jan 46, Translator: R. Aoki
Summary:

The right of Tax: Officers to Question Taxpayers; Other Miscellaneous Clauses

The law gives the chiefs of taxation offices police rights investigate tax payers if necessary.

It is believed that many people will try to escape a full imposition of the proposed taxes by dividing their bank deposits and other property among family members or even among members of other families. But it must be noted that the law specifies that a tax is to be levied on the bank deposits and other property of the family as a unit. It may also be noted that If bank deposits and other property rights are divided using names of third persons for the purpose of evading the tax, and if the third persons claim the ownership, it will be difficult for the real owner to appeal for the protection of the law.

The crafty conversion of monetary funds into material goods will also be a dangerous practice. It is well to guard against acts. People now say that this is a good time to dispose of fake curios and other artistic

- 2 -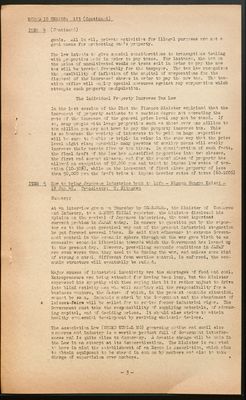 (View Page Image)
ECONOMIC SERIES: 183 (Continued)
goods. All in all, private activities for illegal purposes are not a good means for protecting one's property.

The law intends to give special considerations to transactions dealing with properties made in order to pay taxes. For instance, the tax on the price of uncultivated woods or trees sold in order to pay the new tax will he treated favorably for the taxpayer. The tax law recognizes the possibility of inflation of the capital of corporations for the disposal of the increased shares in order to pay the new tax. The taxation office will employ special measures against any corporation which attempts such property manipulation.

The Individual Property Increase Tax Law

In the last session of the Diet the Finance Minister explained that the increment of property estimate to a certain degree not exceeding the rate of the increase of the general price level may not be taxed. If so, many people with large properties such as those over one million to ten million yon may not have to pay the property increase tax. This is so because the variety of interests to be paid on huge properties will be sure to double or triple in value in the same way that the price level might rise; meanwhile many persons of smaller means will easily increase their assets five or ten times. In consideration of such facts, the final draft of the law has classified properties into two classes, the first and second classes, and for the second class of property has allowed an exemption of 50,000 yen and tried to impose low rates of taxation (10-30%), while on the increment of first class property of less than 50,000 yen the draft tries to impose heavier rates of taxes (60-100%)

ITEM 5 How to bring Japanese Industries back to Life - Nippon Sangyo Keizai - 18 Jan 46. Translator: T. Kitagawa
Summary:

At an interview given on Thursday by OGASAWARA, the Minister of Commerce and Industry, to a SANGYO KEIZAI reporter, the Minister disclosed his opinion on the revival of Japanese industries, the mote important, current problem in JAPAN today. In answer to question put by the reporter as to the most practical way out of the present industrial stagnation he put forward several ideas. He said that adherence to extreme Government control in the economic sphere throughout the war gave birth to an excessive economic liberalism towards which the Government has leaned up to the present day. However, prevailing economic conditions in JAPAN are even worse than they used to be during the war, and unless some kind of strong control different from wartime control, is enforced, the economic structure will eventually be ruined.

Major causes of industrial inactivity are the shortages of food and coal. Entrepreneurs are being attacked for having been lazy, but the Minister expressed his sympathy with them saying that it is rather unjust to drive into blind activity men who will shoulder all the responsibility for a business venture, the future of which, in the present economic situation, cannot be seen, Economic control by the Government and the abandoment of laisseser-fairs will be called for to revive former industrial vigor. The Government must take the responsibility of supplying materials, of advancing capital, and of deciding prices. It should also strive to attain healthy commercial development by reviving wholesale dealers.

The Association Law (SHOKO KUKIAL HO) governing medium and small size commerce and industry is a wartime product full of Government interferences and is quite alien to democracy. A drastic change will be made in the Law in an attempt at its democratization. The Minister is reported to have in mind the establishment of an Economic Association, which aims to obtain equipment to be shared in common by members and also to take charge of supervision over members.

- 3 -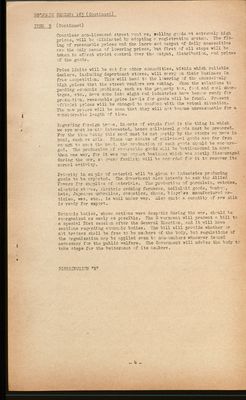 (View Page Image)
ECONOMIC SERIES: 183 (Continued)
Countless non-licensed street venders, selling goods at extremely high, prices, will he eliminated by adopting a registration system. The fixing of reasonable prices and the increased output of daily necessities are the only means of lowering prices, but first of all steps will be taken to effect strict control over the output, distribution, and prices of the goods.

Price limits will be set for other commodities, within which reliable dealers, including department stores, will carry on their business in free competition. This will head to the lowering of the excessively high prices that the street vendors are asking. Whom the solutions to pending economic problems, such as the property tax, food and coal shortages, etc., have come into sight and industries have become ready for production, reasonable price levels for goods will be found. Present official prices will be changed to conform with the actual situation. The new prices will be such that they will not become unreasonable for a (considerable length of time.

Regarding foreign trade, imports of staple food is the thing in which we are most keenly interested, hence collateral goods must be prepared. For the time being this need must be met partly by the stocks we have in hand, such as silk. Since our stocks of collateral goods are far from enough to meet the need, the production of such goods should be encouraged. The production of exportable goods will be bottlenecked in more than one way, for it was our export business which was mostly discouraged during the war, so every facility will be accorded for it to recover its normal activity.

Priority in supply of material will be given to industries producing goods to be exported. The Government also intends to ask the Allied Powers for supplies of materials. The production of porcelain, watches, electric stores, electric cooking furnaces, celluloid goods, bamboo, hats, Japanese umbrellas, cosmetics, shoes,
[illegible]
manufactured articles, wax, etc., is well under way. Also quite a quantity of raw silk is ready for export.
Economic bodies, whose actions were despotic during the war, should be reorganized as early as possible. The Government will present a bill to a special Diet session after the General Election, and it will have sections regarding economic bodies. The bill will provide whether or not traders shall be free to be members of the body, but regulations of the organization may be applied even to non-members whenever deemed necessary for the public welfare. The Government will advise the body to take steps for the betterment of its members.

DISTRIBUTION "X"

- 4 -