Press translations [Japan]. Economic Series 0177, 1946-01-18.
translation-number: economic-0821
call-number: DS801 .S81
---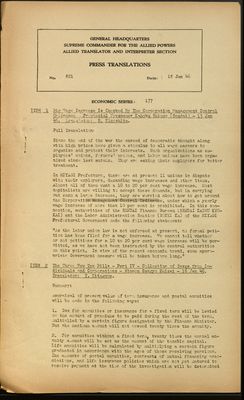 (View Page Image)
GENERAL HEADQUARTERS

SUPREME COMMANDER FOR THE ALLIED POWERS

ALLIED TRANSLATOR AND INTERPRETER SECTION

PRESS TRANSLATIONS

ECONOMIC SERIES: 177

ITEM 1 Big Wage Increase Is Checked By The Corporation Management Control Ordinance Provincial Newspaper Kahoku Shimpo (Sendai) - 13 Jan 46. Translator S. Kinoshita.
Full Translation:

Since the end of the war the spread of democratic thought along with high prices have given a stimulus to all wage earners to organize and protect their interests. Such Organizations as employees' unions, farmers' unions, and labor unions have been organized since last autumn. They are asking their employers for better treatment.

In MIYAGI Prefecture, there are at present 11 unions in dispute with their employers, demanding wage increases and other items. Almost all of them want a 10 to 20 per cent wage increase. Most Capitalists are willing to accept these demands, but in carrying out such a large increase, they are worried about how to get around the Corporation Management Control Ordinance, under which a yearly wage increase of more than 10 per cent is prohibited. In this connection, authorities of the SENDAI Finance Bureau (SENDAI ZAIMU KYOKAI) and the Labor Administration Section (ROSEI KA) of the MIYAGI Prefectural Government made the following statement:

"As the labor union law is not enforced at present, no formal petition has been filed for a wage increase. We cannot tell whether or not petitions for a 10 to 20 per cent wage increase will be permitted, as we have not been instructed by the central authorities on this point. In view of the recent economic trend, some appropriate Government measure will be taken before long."

ITEM 2 The Three New Tax Bills - Part IV - Collection of Taxes from Individuals and Corporations - Nippon Sangyo Keizai -16 Jan 46. Translator: T. Kitagawa.
Summary:

Appraisal of present value of term insurance and postal annuities will be made in the following ways:
Tax for annuities or insurance for a fixed term will be levied on the amount of premiums to be paid during the rest of the term, multiplied by a certain figure designated by the Finance Minister. But the maximum amount will not exceed twenty times the annuity.
For annuities without a fixed term twenty tines the annual annuity amount will be set as the amount of the taxable capital. Life annuities will be calculated by multiplying a certain figure graduated in accordance with the ages of those receiving pensions. The amounts of postal annuities, contracts of mutual financing associations, and life insurance policies which are not yet matured to receive payment at the tine of the investigation will be determined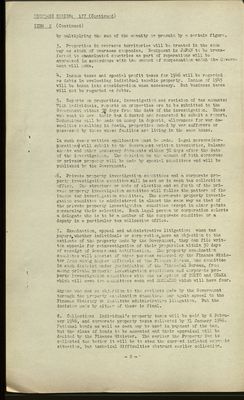 (View Page Image)



ECONOMIC SERIES: 177 (Continued)





ITEM 2

(Continued)

by multiplying the sum of the annuity or premium by a certain figure.
Properties in overseas territories will be treated in the same way as stock of overseas companies. Equipment in JAPAN to be transferred to enancipated countries as part of reparations will he appraised in accordance with the amount of compensation which the Government will make.
Income taxes and special profit taxes for 1946 will he regarded as debts in evaluating individual taxable property. Income of 1945 will be taken into consideration when necessary. But business taxes will not be regarded as debts.
Reports on properties, investigation and revision of tax amounts: With individuals, reports on properties are to be submitted to the Government within 30 days from the date of the investigation. Those who want to have their tax deducted are requested to submit a report. Deductions will be made on money in deposit, allowances for war casualties resulting in death, properties owned by war sufferers or possessed by those whose families are living in the same house.

In such cases written application must be made. Legal persons (corporations) will submit to the Government written inventories, balance sheets and other necessary documents within 30 days after the date of the investigation. The decision on the amount of both corporate or private property will be made by special committees and will be published by the Government.
Private property investigation committees and a corporate property investigation committee will be set up in each tax collection office. The structure or mode of election and so forth of the private property investigation committee will follow the pattern of the income tax investigation committee. The corporate property investigation committee is administered in almost the same way as that of the private property investigation committee except in minor points concerning their selection. Each legal person or corporation selects a delegate who is to be a member of the corporate committee or a deputy in a particular tax collection office.
Examination, appeal and administrative litigation; when tax payers, whether individuals or corporation, have an objection to the estimate of the property made by the Government, they can file written appeals for reinvestigation of their properties within 30 days of receipt of Government notification. The property examination committee will consist of three persons selected by the Finance Minister from among higher officials of the Finance Bureau, one committee in each district under jurisdiction of the Final Bureau, from among private property investigation committees and corporate property investigation committees with the exception of TOKYO and OSAKA which will have two committees each and HOKKAIDO which will have four.

Anyone who has an objection to the estimate made by the Government through the property examination committees may again appeal to the Finance Ministry or institute administrative litigation. But the decision made by either of these is final.
Collection: Individual's property taxes will be paid by 8 February 1946, and corporate property taxes collected by 31 January 1946, National bonds as well as cash may be used in payment of the tax, but the class of bonds to be accepted and their appraisal will be decided by the Finance Minister. The earlier the Property Tax is collected the better it will be to stem the current inflated economic situation, but technical difficulties obstruct earlier collection.
- 2 -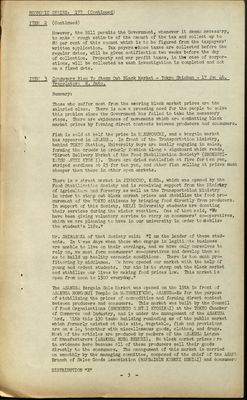 (View Page Image)
ECONOMIC SERIES: 177 (Continued)
However, the Bill permits the Government, whenever it deems necessary, to make a rough estimate of the amount of the tax and collect up to 80 per cent of this amount which is to be figured from the taxpayers' written application. Tax payers whose taxes are collected before the regular dates, will be given notification two weeks before the day of collection. Property and war profit taxes, in the case of corporations, will be collected as each investigation is completed and not on a fixed date.

ITEM 3 Consumers Rise To Stamp Out Black Market - Tokyo Shimbun - 17 Jan 46. Translator: H. Sato.
Summary:

Those who suffer most from the searing black market prices are the salaried class. There is now a pressing need for the people to solve this problem since the Government has failed to take the necessary steps. There are evidences of movements which are combatting black market prices by forming direct contacts between producers and consumers.

Fish is sold at half the price in MARUNOUCHI, and a bargain market has appeared in ASAKUSA. In front of the Transportation Ministry, behind TOKYO Station, University boys are busily engaging in sales, forming the crowds in orderly fashion along a signboard which reads, "Direct Delivery Market of the Food Stabilization Society" (SHOKUSEIKATSU ANTEI KYOK
[illegible]
I). There are dried cuttlefish at five for ten yen, striped sardines at 25 for ten yen, and other fish selling at prices much cheaper than these in other open markets.
There is a street market in JIMBOCHO, KANDA, which was opened by the Food Stabilization Society and is receiving support from the Ministry of Agriculture and Forestry as well as the Transportation Ministry in order to stamp out black market prices and stabilize the food procurement of the TOKYO citizens by bringing food directly from producers. In support of this Society, MEIJI University students are donating their services during the winter vacation. One of them said, "We have been giving voluntary service to carry on consumers' co-operatives, which we are planning to have in our university in order to stabilize the student's life."

Mr. SHIRASAKA of that Society said: "I am the leader of these students. In these days when those who engage in legitimate business are unable to live on their earnings, and we have only ourselves to rely on, we must form consumers' co-operatives and develop them so as to build up healthy economic conditions. There is too much profiteering by middlemen. We have opened our market with the help of young and ardent students. Our aim is to stamp out the black market and stabilize our lives by making food prices low. This market is open from noon to 1500 everyday."

The ASAKUSA Bargain Sale Market was opened on the 15th in front of ASAKUSA HONGANJI Temple in MATSUKIYOCHO, ASAKUSA-Ku for the purpose of stabilizing the prices of commodities and forming direct contact between producers and consumers. This market was built by the Council of Food Organizations (SHOKURYO SANTAI KYOGIKAI) at the TOKYO Chamber of Commerce and Industry, and is under the management of the ASAKUSA Ward. With this 130 tsubo building reminding us of the public market which formerly existed at this site, vegetable, fish and provisions are on s
[illegible]
le, together with miscellaneous goods, clothes, and drugs. Most of the articles are produced by members of the ASAKUSA League of Manufacturers (ASAKUSA KOBA REMMEI). No black market prices are in evidence here because all of these producers sell their goods directly to the consumers. The management of this market is carried on smoothly by the managing committee, composed of the chief of the ASA
[illegible]
Branch of Sales Goods Association (HAMBAIHIN KANKEI KUMIAI) and consumers
DISTRIBUTION "X"

- 3 -