Press translations [Japan]. Economic Series 0167, 1946-01-15.
translation-number: economic-0774
call-number: DS801 .S81
---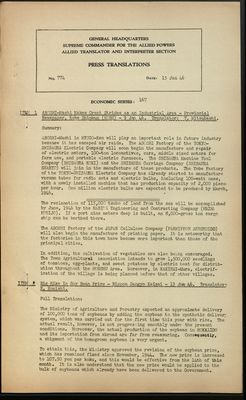 (View Page Image)
GENERAL HEADQUARTERS

SUPREME COMMANDER FOR THE ALLIED POWERS

ALLIED TRANSLATOR AND INTERPRETER SECTION

PRESS TRANSLATIONS

ECONOMIC SERIES: 167

ITEM 1 ABOSHI-Machi Makes Great Strides as an Industrial Area - Provincial Newspaper, Kobe Shimbun (KOBE) - 9 Jan 46. Translator: T. Mitsubashi.
Summary:

ABOSHI-Machi in HYOGO-Ken will play an important role in future industry because it has escaped air raids. The ABOSHI Factory of the TOKYO-SHIBAURA Electric Company will soon begin the manufacture and repair of electric motors, 100-ton locomotives, cars, middle sized motors for farm use, and portable electric furnaces. The SHIBAURA Machine Tool Company (SHIBAURA KOKI) and the SHIBAURA Carriage Company (SHIBAURA SHARYO) will join in the manufacture of these products. The Yobe Factory of the TOKYO-SHIBAURA Electric Company has already started to manufacture vacuum tubes for radio sets and electric bulbs, including 100-watt ones, with a newly installed machine that has production capacity of 2,000 pieces per hour. One million electric bulbs are expected to be produced by March, 1946.

The reclamation of 115,000 tsubo of land from the sea will be accomplished by June, 1946 by the HARIMA Engineering and Contracting Company (HRIMA KOEIJO). If a port nine meters deep is built, an 8,000-gross ton cargo ship can be berthed there.

The ABOSHI Factory of the JAPAN Cellulose Company (PARNIPPON SERUROIDO) will also begin the manufacture of printing paper. It is noteworthy that the factories in this town have become more important than those of the principal cities.

In addition, the cultivation of vegetables are also being encouraged. The Town Agricultural Association intends to grow 1,500,000 seedlings of tomatoes, egg-plants, and sweet potatoes by electric heat for distribution throughout the HONSHU Area, Moreover, in KAKINAI-Mura, electrification of the village is being planned before that of other villages,

ITEM 2 Big Hike In Soy Bean Price - Nippon Sangyo Keizai - 13 Jan 46. Translator: Z. Konishi.
Full Translation:

The Ministry of Agriculture and Forestry expected an approximate delivery of 100,000 tons of soybeans by adding the soybean to the synthetic delivery system, which was carried out for the first time this year with rice. The actual result, however, is not progressing smoothly under the present conditions. Moreover, the actual production of the soybean in HOKKAIDO and its importation from abroad are far from reassuring. Consequently, a shipment of the homegrown soybean is very urgent.

To attain this, the Ministry approved the revision of the soybean price, which has remained fixed since November, 1944. The new price is increased to 107.50 yen per koku, and this would be effective from the 14th of this month. It is also understood that the new price would be applied to the bulk of soybeans which already have been delivered to the Government.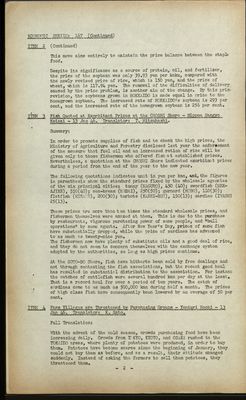 (View Page Image)
ECONOMIC SERIES: 167 (Continued)
This move aims entirely to maintain the price balance between the staple food.

Despite its significance as a source of protein, oil, and fertilizer, the price of the soybean was only 39.93 yen per koku, compared with the newly revised price of rice, which is 150 yen, and the price of wheat, which is 117.94 yen. The removal of the difficulties of delivery caused by the price problem, is another aim of the change. By this price revision, the soybeans grown in HOKKAIDO is made equal in price to the homegrown soybean. The increased rate of HOKKAIDO'S soybean is 293 per cent, and the increased rate of the homegrown soybean is 256 per cent.

ITEM 3 Fish Quoted at Exorbitant Prices at the CHOSHI Shore - Nippon Sangyo Keizai - 13 Jan 46. Translator: T. Mitsuhashi.
Summary:

In order to promote supplies of fish and to check the high prices, the Ministry of Agriculture and Forestry disclosed last year the enforcement of the measure that fuel oil and an increased ration of rice will be given only to those fishermen who offered fish at established prices. Nevertheless, a quotation at the CHOSHI Shore indicated exorbitant prices during a period from the end of the year to the new year.

The following quotations indicates unit in yen per kan, and, the figures in parenthesis show the standard prices fixed by the wholesale agencies of the six principal cities: tunny (MAGURO), 450 (40); swordfish (MEKAJIKE), 550(40); sea-bream (MADAI), 250(50); gurnard (HOBO), 110(30); flatfish (HIRALE), 200(30); turbots (KAREI-RUI), 150(13); sardine (IWASHI 25(13).

Those prices are more than ten times the standard wholesale prices, and fishermen themselves were amazed at them. This is due to the purchase by restaurants, vigorous purchasing power of some people, and "bull operations" by some agents. After New Year's Day, prices of some fish have substantially dropped, while the price of sardines has advanced to as much as twenty-nine yen.

The fishermen now have plenty of substitute oils and a good deal of rice, and they do not seem to concern themselves with the exchange system adopted by the authorities, so long as high prices continue.

At the SOTO-BO Shore, fish have hitherto been sold by free dealings and not through contacting the fish associations, but the recent good haul has resulted in substantial distribution to the association. For instance the catches of cuttlefish were several hundred kan per day at the least. That is a record haul for over a period of ten years. The catch of sardines came to as much as 500,000 kan during half a month. The prices of high class fish have consequently been lowered by an average of 50 per cent.

ITEM 4 Farm Villages are Threatened by Purchasing Groups - Yomiuri Hochi - 13 Jan 46. Translator: K. Sato.
Full Translation:

With the advent of the cold season, crowds purchasing food have been increasing daily. Crowds from TOKYO, KYOTO, and OSAKA rushed to the TOKAIDO areas, where plenty of potatoes were produced, in order to buy them. Potatoes have become scarce since the beginning of January, they could not buy them as before, and as a result, their attitude changed suddenly. Instead of asking the farmers to sell them potatoes, they threatened them.

- 2 -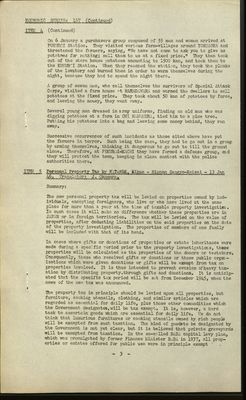 (View Page Image)
ECONOMIC SERIES: 167 (Continued)
On 6 January a purchasers group composed of 55 men and women arrived at FUKUROI Station. They visited various farm-villages around YOKOSUKA and threatened the farmers, saying, "We have not come to ask you to give us potatoes far nothing; sell them to us at a fixed price," They then took out of the store house potatoes amounting to 1500 kan, and took them to the KUKUROI Station. When they reached the station, they took the planks of the lavatory and burned them in order to warm themselves during the night, because they had to spend the night there.

A group of seven men, who call themselves the survivors of Special Attack Corps, visited a farm house at HARADAWARA and warned the dwellers to sell potatoes at the fixed price. They took about 50 kan of potatoes by force, and leaving the money, they went away.

Several young men dressed in army uniforms, finding an old man who was digging potatoes at a farm in CHI HAMAMURA, tied him to a pine tree. Putting his potatoes into a bag and leaving some money behind, they ran away.

Successive occurrences of such incidents as those cited above have put the farmers in terror. Such being the case, they had to go out in a group by arming themselves, thinking it dangerous to go out to till the ground alone. Therefore, at FUKUROI-MACHI they have formed a defense group, aid they will protect the town, keeping in close contact with the police authorities there.

ITEM 5 Personal Property Tax by WATANBE, Kikuo - Nippon Sangyo-Keizai - 13 Jan 46. Translator: J. Okamura.
Summary:

The new personal property tax will be levied on properties owned by individuals, excepting foreigners, who live or who have lived at the same place for more than a year at the time of taxable property investigation. In such cases it will make no difference whether these properties are in JAPAN or in foreign territories, The tax will be levied on the value of properties, after deducting liabilities on the said properties on the date of the property investigation. The properties of members of one family will be included with that of its head.

In cases where gifts or donations of properties or estate inheritance were made during a specific period prior to the property investigations, these properties will be calculated as the properties of the donors or testators. Consequently, those who received gifts or donations or those public organizations which were given donations or gifts will be exempt from tax on properties involved. It is thus intended to prevent evasion of heavy taxation by distributing property through gifts and donations. It is anticipated that the specific tax period will be set from December 1945, when the news of the new tax was announced.

The property tax in principle should be levied upon all properties, but furniture, cooking utensils, clothing, and similar articles which are regarded as essential for daily life, plus those other commodities which the Government designates, will be tax exempt. It is, however, a hard task to ascertain goods which are essential for daily life. We do not think that luxurious furnitures or cooking utensils owned by rich people will be exempted from such taxation. The kind of goods to be designated by the Government is not yet clear, but it is believed that private graveyards will be exempted from taxation. In the so-called BABA capital levy plan, which was promulgated by former Finance Minister BABA in 1937, all properties or estates offered for public use were in principle exempt

- 3 -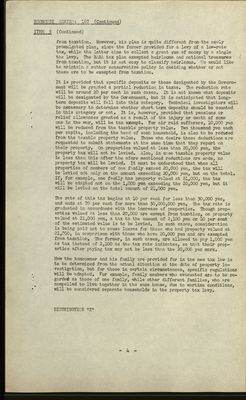 (View Page Image)
ECONOMIC SERIES: 167 (Continued)
from taxation. However, his plan is quite different from the newly promulgated plan, since the former provided for a levy of a low-rate tax, while the latter aims to collect a great sum of money by a single tax levy. The BABA tax plan exempted heirlooms and national treasures from taxation, but it is not easy to classify heirlooms. We would like to maintain a rather conservative policy in deciding whether or not these are to be exempted from taxation.

It is provided that specific deposits or those designated by the Government will be granted a partial reduction in taxes. The reduction rate will be around 20 per cent in such cases. It is not known what deposits will be designated by the Government, but it is anticipated that long-term deposits will fall into this category. Technical investigators will be necessary to determine whether short term deposits should be counted in this category or not. It is, however, provided that pensions or relief allowances granted as a result of the injury or death of some one in the war, will be tax exempt. For air raid sufferers, 10,000 yen will be reduced from the taxable property value. Two thousand yen each per capita, including the head of each household, is also to be reduced from the taxable property value. Those who desire these deductions are requested to submit statements at the same time that they report on their property. On properties valued at less than 20,000 yen, the property tax will not be levied. Also, in case taxable property value is less than this after the afore mentioned reductions are made, no property tax will be levied. It must be understood that when all properties of members of one family exceed 20,000 yen, the tax will be levied not only on the amount exceeding 20,000 yen, but on the total. If, for example, one family has property valued at 21,000, the tax will be adapted not on the 1,000 yen exceeding the 20,000 yen, but it will be levied on the total amount of 21,000 yen.

The rate of this tax begins at 10 per cent for less than 30,000 yen, and ends at 70 per cent for more than 50,000,000 yen. The tax rate is graduated in accordance with the increase of properties. Though properties valued at less than 20,000 are exempt from taxation, on property valued at 21,000 yen, a tax to the amount of 2,100 yen or 10 per cent of the estimated value is to be levied. In such cases, consideration is being paid not to cause losses for those who had property valued at 21,000, in comparison with those who have 20,000 yen and are exempted from taxation. The former, in such cases, are allowed to pay 1,000 yen as tax instead of 2,100 as the tax rate indicates, so that their properties after paying tax may not be less than the 20,000 yen mark.

How the homeowner and his family are provided for in the new tax law is to be determined from the actual situation at the date of property investigation, but for those in certain circumstances, specific regulations will be adapted. For example, family members who evacuated are to be regarded as those of one family, while other different families, who are compelled to live together in the same house, due to wartime conditions, will be considered separate households in the property tax levy.

DISTRIBUTION "X"

- 4 -