Press translations [Japan]. Economic Series 0159, 1946-01-14.
translation-number: economic-0753
call-number: DS801 .S81
---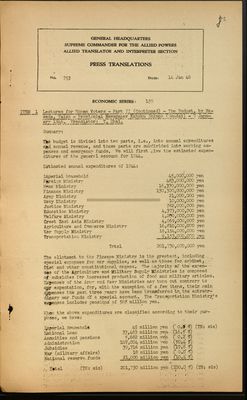 (View Page Image)
GENERAL HEADQUARTERS

SUPREME COMMANDER FOR THE ALLIED POWERS

ALLIED TRANSLATOR AND INTERPRETER SECTION

PRESS TRANSLATIONS

ECONOMIC SERIES: 159

ITEM 1 Lectures for Women Voters - Part II (Continued) - The Budget, by Haseda, Taizo - Provincial Newspaper Kahoku Shimpo (Sendai) - 7 January 1946. Translator: T. Ukai.
Summary:

The budget is divided into two parts, i.e., into annual expenditures and annual revenue, and these parts are subdivided into working expenses and emergency funds. We will first give the estimated expenditures of the general account for 1944.

Estimated annual expenditures of 1944:
| | |
| --- | --- |
| Imperial Household | 45,000,000 yen |
| Foreign Ministry | 483,000,000 yen |
| Home Ministry | 16,330,000,000 yen |
| Finance Ministry | 130,300,000,000 yen |
| Army Ministry | 21,000,000 yen |
| Navy Ministry | 10,000,000 yen |
| Justice Ministry | 782,000,000 yen |
| Education Ministry | 4,373,000,000 yen |
| Welfare Ministry | 4,200,000,000 yen |
| Great East Asia Ministry | 4,069,000,000 yen |
| Agriculture and Commerce Ministry | 16,810,000,000 yen |
| War Supply Ministry | 16,154,000,000 yen |
| Transportation Ministry | 8,153,000,000 yen |
| Total | 201,730,000,000 yen |
The allotment to the Finance Ministry is the greatest, including special expenses for war supplies, as well as those for cabinet, Diet and other constitutional organs. The majority of the expenses of the Agriculture and Military Supply Ministries is composed of subsidies for increased production of food and military articles. Expenses of the Army and Navy Ministries may turn out contrary to our expectation, for, with the exception of a few items, their main expenses the past three years have been transferred to the extraordinary war funds of a special account. The Transportation Ministry's expenses includes pensions of 568 million yen.

When the above expenditures are classified according to their purposes, we have:
| | |
| --- | --- |
| Imperial Household | 45 million yen (0.0 %) (TN: sic) |
| National Loan | 33,463 million yen (16.5 %) |
| Annuities and pensions | 5,682 million yen (0.2 %) |
| Administration | 107,804 million yen (50.4 %) |
| Subsidies | 39,716 million yen (19.6 %) |
| War (military affairs) | 18 million yen (0.0 %) |
| National reserve funds | 21,000 million yen (10.4 %) |
| Total (TN: sic) | 201,730 million yen (100.0 %) (TN: sic) |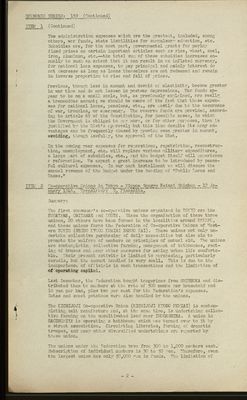 (View Page Image)
ECONOMIC SERIES: 159 (Continued)
The administration expenses which are the greatest, included, among others, war funds, state liabilities for compulsory education, etc. Subsidies are, for the most part, governmental grants for paying fixed prices on certain important articles such as rice, wheat, coal, iron, aluminum, etc.—the total sum of these subsidies increases annually to such an extent that it can result in an inflated currency, for national loan expenses, to pay principal and mainly interest do not decrease as long as loans themselves are not redeemed and remain in inverse proportion to rise and fall of prices.

Previous, though less in amount and devoid of elasticity, become greater in war time and do not lessen in postwar depressions. War funds appear to be on a small scale, but, as previously explained, are really a tremendous amount; we should be aware of the fact that those expenses for national loans, pensions, etc., are mostly due to the occurrence of war, troubles, or emergency. The reserve funds are provided, according to Article 69 of the Constitution, for possible cases, in which the Government is obliged to pay more, or for other purposes, than is justified by the Diet's approval; but this item despite its many advantages can be frequently abused by growing even greater in amount, avoiding, though lawfully, the approval of the Diet.

In the coming year expenses for reparations, repatriation, reconstruction, unemployment, etc. will replace various military expenditures, a large part of subsidies, etc., and the budget itself will experience a reformation. We expect a great increase to be introduced by peaceful cultural expenses. In our next installment we will discuss the annual revenue of the budget under the heading of "Public Loans and Taxes."

ITEM 2 Co-operative Unions in Tokyo - Nippon Sangyo Keizai Shimbun - 12 January 1946. Translator: S. Kinoshita.
Summary:

The first consumer's co-operative unions organized in TOKYO are the KUGAYAMA, OMIYAMAE and EGOTA. Since the organization of these three unions, 20 others have been formed in the localities around NAKANO, and these unions forms the Federation of Co-operative Unions of Western TCKYO (SEIBU KYODO KUMIAI RENGO KAI). These unions not only undertake collective purchasing of daily necessities but also aim to promote the welfare of members on principles of mutual aid. The unions are contemplation collective farming, management of bathhouses, renting of houses and many other measures for making urban life comfortable. Their present activity is limited to purchasing, particularly cereals, but the amount handled is very small. This is due to the inexperience of officials in such transactions and the limitation of operating capital.

Last December, the Federation bought tangerines from SHIZUOKA and distributed them to members at the rate of 500 momme per household and 18 yen per kan, plus two per cent for the Federation's expenses. Getas and sweet potatoes were also handled by the unions.

The KICHIJOJI Co-operative Union (KICHIJOJI KYODO KUMIAI) is contemplating salt manufacture and, at the same time, is undertaking collective farming on the uncultivated land near INOGASHIRA. A union in SAGINOMIYA is operating a bathhouse which was turned over to it by a street association. Circulating libraries, forming of dramatic troupes, and many other diversified undertakings are reported by these union.

The unions under the Federation have from 300 to 1,000 members each. Subscription of individual members is 30 to 50 yen. Therefore, even the largest union has only 50,000 yen in funds. The limitation of

- 2 -

(View Page Image)
ECONOMIC SERIES: 159 (Continued)
funds is one of the reasons why these unions are not capable of doing their business more vigorously. In view of the recent rapid rise in prices of commodities, it is necessary to raise subscriptions to continue their activities. The salary of officials is between 200 and 400 yen. Expenditures are paid from the brokerage fee which is two per cent of total transactions. Monthly transactions, at the most, are about 150,000 yen with a profit of 3,000 yen.

On the whole, the movement is still in an immature state, but its future seems quite hopeful. It is feared, however, that the co-operative union's interests may clash in the future with the interests of retail shops. The solution of this problem will be one of the Federation's greatest concerns.

The co-operative unions, based on workshops, are able to offer collateral for their purchases of food and other necessities, while cooperatives based on localities are unable to do this, which leaves them at a disadvantage. It is, therefore, advisable for the co-operatives based on localities to work with retail dealers.

DISTRIBUTION: "X"

- 3 -