Press translations [Japan]. Economic Series 0152, 1946-01-12.
translation-number: economic-0722
call-number: DS801 .S81
---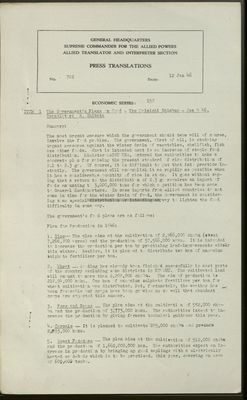 (View Page Image)
GENERAL HEADQUARTERS

SUPREME COMMANDER FOR THE ALLIED POWERS

ALLIED TRANSLATOR AND INTERPRETER SECTION

PRESS TRANSLATIONS

ECONOMIC SERIES: 152

ITEM 1 The Government's Plans on Food - The Mainichi Shimbun - Jan 9 46. Translator: R. Shibata
Summary:

The most urgent measure which the government should take will of course, involve the food problem. The government, first of all, is studying urgent measures against the winter drain of vegetables, shellfish, fish and other foods. What is intended next is an increase of staple food distribution. Minister MATSU URA, ordered the authorities to make a concrete plan for raising the present standard of rice distribution of 2.1 to 2.3 go. Of course, it is difficult to put that into practice instantly. The government will accomplish it as rapidly as possible when it has a considerable quantity of rice in stock. It goes without saying that a return to the distribution of 2.3 go requires an import of foods amounting to 3,000,000 tons for which a petition has been made to General Headquarters. In case imports from Allied countries do not come in time for the winter drain of food, the Government is considering some special distribution or intending anyway to lighten the food difficulty in some way.

The government's food plans are as follows:

Plan for Production in l946:
Rice

—— The plan aims at the cultivation 2,966,000 chobu (about 7,266,700 acres) and the production of 57,566,000 koku. It is intended to increase the production per tan by practising land-improvements widely this winter. Besides, it is planed to distribute two kan of ammonium sulphate fertilizer per tan.
Wheat

—— Seeding has already been finished sucessfully in most parts of the country excluding some districts in KYUSHU. The cultivated land will amount to more than 2,208,000 chobu. The aim of production is 218,94,000 koku. One kan of ammonium sulphate fertilizer per tan for wheat cultivation was distributed. But, fortunately, the weather has been favorable and crops have been growing up so well that abundant crops are expected this summer.
Peas and Beans

—— The plan aims at the cultivation of 552,000 chobu and the production of 37773,000 koku. The authorities intend to increase the production by giving farmers technical guidance this year.
Cereals

—— It is planned to cultivate 285,000 chobu and produce 2,893,000 koku.
Sweet Potatoes

—— The plan aims at the cultivation of 512,000 chobu and the production of 1,662,000,000 kan. The authorities expect an increase in production by bringing up good saplings with a electrically heated seed-beds which is to be practised, this year, covering an area of 600,000 tsuo.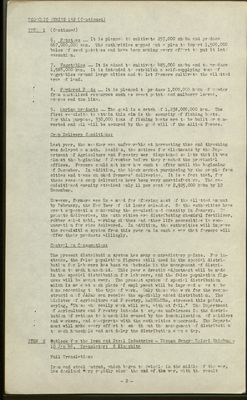 (View Page Image)



ECONOMIC SERIES 152 (Continued)





ITEM 1

(Continued)
Potatoes

—— It is planned to cultivate 297,000 chobu and produce 667,000,000 kan. The authorities mopped out a, plan to import 1,500,000 bales of seed potatces and have been making every effort to put it into execution.
Vegetables

—— It is aimed to cultivate 485,000 chobu and to produce 1,588,000 kan. It is intended to establish a self-supplying zone of vegetables around large cities and to let farmers cultivate the allotted area of land.
Powdered Foods

—— It is planned to produce 1,000,000 koku of powder from unutilized resources such as sweet potato and mulberry leaves, acorns and the like.
Marine products

—— The goal is a catch of 1,238,000,000 kan. The first requisite to attain this aim is the security of fishing boats. For this purpose, 330,000 tons of fishing boats are to be built or converted and oil will be secured by the good will of the Allied Forces.
Crop Delivery Conditions:
Last year, the weather was unfavorable at harvesting time and threshing was delayed a month. Besidas, the notices for allotments by the Department of Agriculture and Forestry were dispatched so late that it was almost the beginning of November before they reached the provincial offices. Farmers could not know how much to offer until the beginning of December. In addition, the black market purchasing by the people from cities and towns checked farmers' deliveries. It is a fact that, for these reasons crop deliveries have been very unsatisfactory. The requisitioned quantity attained only 11 per cent or 2,925,000 koku by 12 December.

However, farmer are in a mood for offering most of the allotted amount by February, the New Year of old lunar calender. So the authorities have great expectation concerning the requistioned quantity in January. To promote deliveries, the authorities are distributing chemical fertilizer, rubber soled tabi, working clothes and other life necessities in remuneration for rice delivered. In addition, the authorities will improve the requisition system from this year on in such a way that farmers will offer their products willingly.

The present distribution system has many contradictory points. For instance, the false population figures still used in the special distribution for laborers has been an obstacle in the management of distribution to each household. This year a drastic adjustment will be made in the special distribution for laborers, and the false population figures will be swept away. The present system of special distribution which is made at each place of employment will be improved so as to be done according to the type of work. Only these who work for the reconstruction of JAPAN can receive, the specially added distribution. The Minister of Agriculture and Forestry, MATSUMURA, stressed this point, saying, "These who really work will eat, without fail." The Department of Agriculture and Forestry intends to expose unfairness in the distribution of rations to households caused by the demobilization of soldiers and workers, and co-operate with the authorities concerned. The Department will make every effort to smooth out the management of distribution to each household and not delay the distribution even a day.

ITEM 2 Outlook for the Iron and Steel Industries - Nippon Sangyo Keizai Shimbun - 10 Jan 46. Translator: S Kineshita
Full Translation:

Iron and steel output, which began to dwindle in the middle of the war, has declined very rapidly since the end of the war, with the result.

- 2 -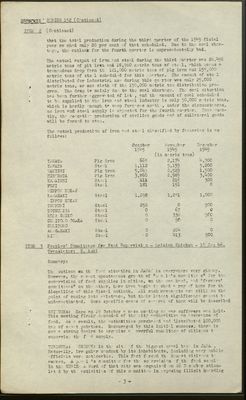 (View Page Image)
ECONOMIC SERIES 152 (Continued)
that the total production during the third quarter of the 1945 fisial year reached only 20 per cent of that scheduled. Due to the coal shortage, the outlook for the fourth quarter is unprecedentedly bad.

The actual output of iron and steel during the third quarter was 26,456 metric tons of pit iron end 18,960 metric tons of steel, which means a tremendous drop from the 121,000 metric tons of pig iron and 155,000 metric tons of steel scheduled for this quarter. The amount of steel distributed for industrial use during this quarter was only 25,000 metric tons, or one sixth of the 150,000 metric ton distribution program. The drop is mainly due to the coal shortage. The coal situation has been further aggravated of data, and the amount of coal scheduled to be supplied to the iron and steel industry is only 50,000 metric tons, which is hardly enough to keep furnaces usable, under the circumstrances, no iron and steel supply is expected for the fourth quarter. Consequently, the peacetion production of civilian goods and of collateral goods will be forced to stop.

The actual production of iron and steel classified by factories is as follows:
October
1945
November 1945
(in metric tons)
December 1945
YAWATA
Pig iron
665
2,174
4,300
YAWATA
Steel
1,112
5,199
5,200
WANISHI
Pig iron
5,043
2,529
1,500
NIRCHATA
Pig iron
3,860
2,985
3,400
KAMAISHI
Steal
111
215
300
FUJI
Steal
181
151
0
NIPPON KOKAN
KAWASAKI
Steel
1,298
1,281
1,000
NIPPON KOKAN
TSURUMI
Steel
258
0
500
TOTSUMIYA
Steel
0
67
0
KOBE SEIKO
Steel
0
330
500
SUMITOMO OSAKA
Steel
0
50
0
SUMITOMO
AMAGASAKI
Steel
0
204
0
MIYO
Steel
0
413
500
ITEM 3 Peoples' Committees for Food Supervision - Mainich Shimbun - 10 Jan 46. Translator: B. Aoki
Summary:

The outlook on the food situation in JAPAN is everywhere very gloomy. However, the recent spontaneous growth of "people's committees" for the supervision of food supplies in cities, on the one hand, and "farmers' committees" on the other, here have begin to shod a ray of hope for the dispelling of this dismal outlook. All such movements are still on the point of coming into existence, but their latent significance cannot be underestimated. Some specific cases of several of them will be described

SHI
[illegible]
UOKA: Here on 29 October a mass meeting of war sufferers was held. This meeting firmly demanded of the city authorities an assurance of food. As a result, the authorities purchased and distributed 100,000 kan of sweat potatoes. Encouraged by this initial success, there is now a strong desire to organize a powerful committee of citizens to supervise the food supply.
YOKOSUKA: YOKOSUKA is the site of the biggest navel base in JAPAN, Naturally, irregular conduct by its inhabitants, including many public officials were noticeable. This fact forced the honest citizens to awaken. A people's committee for the supervision of the food supply in the KURIHAWA Word of that city was organized on 26 December stimulated by the activities of this committee in exposing illicit hoarding

- 3 -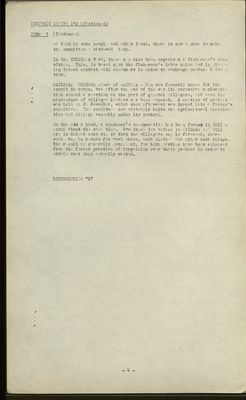 (View Page Image)
ECONOMIC SERIES 152 (Continued)
of food by some people and other facts, there is now a move to make the committee a city-wide body.

In the KURISHAMA Word, there has also been organized a fishermen's committee. This is based upon the fishermen's labor union and is planning direct contact with consumers in order to exchange produce between them.

SAITAMA: ORIHARA -Mura of SAITAMA - Ken was formerly known for its esprit do corps, but after the end of the war its excessive regimentation caused a reaction on the part of general villagers, even the misconduct of villages loaders has been exposed. A meeting of protest was held on 20 November, which soon afterward was turned into a farmer's committee. The committee now virtually holds the agricultural association and village assembly under its control.

On the other hand, a consumer's co-operative has been formed in OSHI - Machi about the same time. Now these two bodies in ORIHARA and OSHI are in direct contact, so that the villagers supply firewood, charcoal etc. in return for work shoes, work clothes and other such things. The result is generally excellent, for both parties have been released from the former practice of forgaining over their produce in order to obtain what they actually wanted.

DISTRIBUTION "X"

- 4 -