Press translations [Japan]. Economic Series 0150, 1946-01-11.
translation-number: economic-0717
call-number: DS801 .S81
---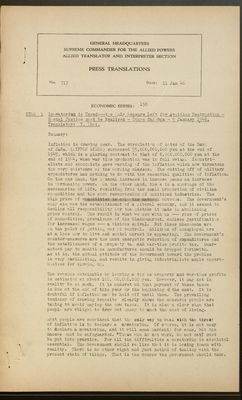 (View Page Image)
GENERAL HEADQUARTERS

SUPREME COMMANDER FOR THE ALLIED POWERS

ALLIED TRANSLATOR AND INTERPRETER SECTION

PRESS TRANSLATIONS

ECONOMIC SERIES: 150

ITEM 1 Inovatorium is Urged—-the Only Measure Left for Avoiding Destruction - Social Justice must be Realized - Tokyo Shimbun - 9 January 1946 Translator: Y. Ukai.
Summary:

Inflation is drawing near. The circulation of notes of the Bank of JAPAN (NIPPON GINKO) surpassed 55,000,000,000 yen at the end of 1945, which is a glaring contrast to that of 8,000,000,000 yen at the end of 1944, when war time production was in full swing. Industrialists and economists gave warning of the inflation which now threatens the very existence of the working classes. The cutting off of military expenditures has nothing to do with the essential qualities of inflation. On the one hand, the general increase in incomes means an increase in purchasing power. On the other hand, there is a shortage of the necessaries of life, resulting from the small production of civilian commodities and the slow reconversion of munitions industries. The high price of commidities is only the natural outcome. The Government's only aim was the establishment of a liberal economy, and it seemed to decline all responsibility for the mistake it made in abolishing price control. The result is what we see with us —- rise of prices of commodities, prevalence of the black-market, endless justification for increased wages —- a vicious spiral. But these phenomena are on the point of getting out of control. Millions of unemployed are at a loss now to live and social unrest is appearing. The Government's counter-measures are the most energetic reduction of expenditures and the establishment of a property tax and war-time profits tax. Guaranteed pay to munitions manufactures should be dropped forthwith. As it is, the actual attitude of the Government toward the problem is very vacillating, and results in giving industrialists ample opportunities for slowing up.

The revenue obtainable by levying a tax on property and war-time profits is estimated at about 100, 00,000,000 yen. However, it may not in reality be so much. It is understood that payment of these taxes is due at the end of this year or the beginning of the next. It is doubtful if inflation can be held off until then. The prevailing tendency of drawing deposits clearly shows the measures people are taking to avoid paying the new taxes. It is also a clear sign that people are obliged to draw out money to meet the cost of living.

Most people are convinced that the only way to deal with the threat of inflation is to declare a moratorium. Of course, it is not easy to declare a moratorium, and it will mean hardship for some, but the masses must be safeguarded. "Those who do not work, do not eat" must be put into practice. For all the difficulties a moratorium is absolutely essential. The Government should realize that it is losing touch with reality. There is no other right and just method of dealing with the present state of things. That is the course the government should take.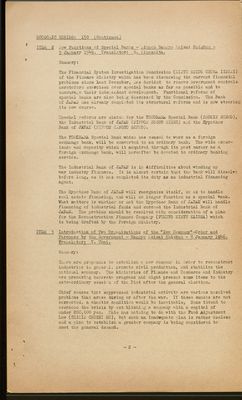 (View Page Image)
ECONOMIC SERIES: 150 (Continued)
ITEM 2 New Functions of Special Bands - Nippon Sangyo Keizai Shimbun - 9 January 1946. Translator: S. Kinoshita.
Summary:

The Financial System Investigation Commission (KINYU SEIDO CHOSA IINKAI) of the Finance Ministry which has been discussing the current financial problems since last December, has decided to remove Government controls heretofore exercised over special banks as far as possible and to encourage their independent development. Functional reforms of special banks are also being discussed by the Commission. The Bank of JAPAN has already completed its structural reforms and is now steering its new course.

Epochal reforms are slated, for the YOKOHAMA Special Bank (SHOKIN GINKO), the Industrial Bank of JAPAN (NIPPON KOGYO GINKO) and the Hypothec Bank of JAPAN (NIPPON KANGYO GINKO).

The YOKCHAMA Special Bank which has ceased to work as a foreign exchange bank, will be converted to an ordinary bank. The wide experience and capacity which it acquired through its past career as a. foreign exchange bank, will hereafter be devoted to ordinary banking service.

The Industrial Bank of JAPAN is in difficulties about winding up war industry finances. It is almost certain that the bank will dissolve before long, as it has completed its duty as an industrial financing agent.

The Hypothec Bank of JAPAN will reorganize itself, so as to handle real estate financing, and will no longer function as a special bank. What matters is whether or not the Hypothec Bank of JAPAN will handle financing of industrial funds and succeed the Industrial Bank of JAPAN. The problem should be resolved with consideration of a plan for the Reconstruction Finance Company (FUKUYO KINYU KAISHA) which is being drafted by the Foreign Ministry.

ITEM 3 Introduction of Two Organizations of the "New Company"-Order and Purchase by the Government - Sangyo Keizai Shimbun - 9 January 1946. Translator: Y. Ukai.
Summary:

There are proposals to establish a new company in order to reconstruct industries in general, promote civil production, and stabilize the national economy. The Ministries of Finance and Commerce and Industry are preparing concrete programs and might present some items to the extraordinary session of the Diet after the general election.

Chief causes that suppressed industrial activity are various unsolved problems that arose during or after the war. If these causes are not corrected, a chaotic condition would be inevitable. Some intend to overcome the crisis by establishing a company with a capital of under 200,000 yen. This has nothing to do with the Fund Adjustment Law (SHIKIN CHOSEI HO), but such an inadequate plan is rather useless and a plan to establish a greater company is being considered to meet the general demand.

- 2 -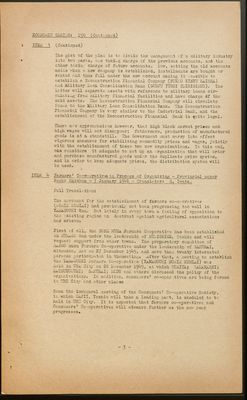 (View Page Image)
ECONOMIC SERIES: 150 (Continued)
The gist of the plan is to divide the management of a military industry into two parts, one taking charge of the previous accounts, and the other taking charge of future accounts. Now, setting the old accounts aside when a new company is established, installments are bought or rented end thus fall under the new account making it possible to establish a Reconstruction Financial Company (FUKKO KINYU KAISHA) and Military Loan Consolidation Bank (GUNJU YUSHI SEIRIGINKO). The latter will separate assets with reference to military loans circulating from military financial facilities and have charge of the said assets. The Reconstruction Financial Company will circulate funds to the Military Loan Consolidation Bank. The Reconstruction Financial Company is very similar to the Industrial Bank, and the establishment of the Reconstruction Financial Bank is quite legal.

There are apprehensions however, that high black market prices and high wages will not disappear; futhermore, production of manufactured goods is at a standstill. The Government must carry into effect vigorous measures for stabilizing commodity prices and wages, jointly with the establishment of these two new organizations. To this end, one considers it adequate to set up an organization that will order and purchase manufactured goods under the duplicate price system, and in order to keep adequate prices, the distribution system will be used.

ITEM 4 Farmers' Co-operatives in Process of Organizing - Provincial paper Bocho Shimbun - 7 January 1946 - Translator: S. Iwata.
Full Translation:

The movement for the establishment of farmers co-operatives (YOMIN KUMIAI) had previously not been progressing too well in YAMAGUCHI Ken. But lately in every town a feeling of opposition to the existing regime an destrust against agricultural associations has arisen.

First of all, the SONE MURA Farmers Cooperative has been established in KUMAGE Gun under the leadership of KUNISHIGE, Toshio and will request support from other towns. The preparatory committee of MANSO Mura Farmers Co-operative under the leadership of SAKURAI, Mitsudeo, met on 27 December 1945, and more than twenty interested persons participated in the meeting. After that, a meeting to establish the YAMAGUCHI Farmers Co-operative (YAMAGUCHI NOMIN KUMIAI) was held in UBE City on 28 December 1945 at which TOMITA; TAKAHASHI; KATSUZUKURI; SAKURAI; KODO and others discussed the policy of the organizations. In addition, consumers' co-operatives are being formed in UBE City and other places

Soon the inaugural meeting of the Consumers' Co-operative Society, in which KAJII, Yoshio will take a leading part, is skeduled to be held in UBE City. It is expected that farmers co-operatives and Consumers' Co-operatives will advance further as the new year progresses

- 3 -

(View Page Image)
ECONOMIC SERIES: 150 (Continued)
ITEM 5 Fish to be Sold at Set Prices - Asahi Shimbun - 10 January 1946. Translator: K. Sato.
Summary:

A "tie-in system" of selling fish at the source has been adopted since 10 January. Those fishermen who sell fish at the fixed price are given a special ration of rice and oil. As a result fish will be sold at half the former price, and this cheaper fish will be distributed to TOKYO citizens from 15 January on.

To distinguish the cheaper fish from the higher priced ones, a special two-price method will be adopted. I case of "the tie-in" fish, there will be a card designating them as being sold at fixed prices, distinguishing them from other fish.

There is the danger, however, that fish dealers may not sell all of the fixed price fish at a cheaper rate. They may set some aside for black marketing, or they may sell some at the market price by mixing them with other supplies of fish. To cope with this, the Metropolitan authorities and the Control Companies (TOSEIKAISHA) plan to send qualified persons to the market to keep a sharp watch over the dealers so that there may be no unjust transactions.

ITEM 6 Outline of Three Bills For New Taxes - Nippon Sangyo Keizai - 10 January 1946. Translator: Y. Kurata.
Summary:

In view of the present economic situation, and especially of the monetary situation, the Government is expected to give an outline of three bills for new taxes: the property tax, corporation war profits tax, and the property increase tax for individuals, all of which are now under the study of Supreme Headquarters.

ITEM 7 Revised Control Regulations Thwart Timber Supply - Mainichi Shimbun - 10 January 1946. Translator: I. Mitsuhashi.
Summary:

The building of easily constructed houses has been so much delayed that out of 55,000 houses, only 2,617 were built by the House Corporation (JUTAKU EIDAN); cut of 10,000 houses planned by the Metropolitan Office, only 273 house were built and 1,325 houses are now under construction. Also, the repair of sunken huts and cottages could not be expected as the supply of lumber was no more than 15,000 koku for 34,000 houses, which represents a half koku per house. All this is a result of the shortage of timber. Before the revised Control Regulations of Timber (MORUZAI TOSHI HOKI) were put into effect, about, 5000 koku of timber had been arriving every day, but since then the supply has ceased because the NIPPON Timber Company (NIPPON MOKUZAI), which is nothing but a commission agency, has become the sole agency for handling all the timber from each local timber company (CHIHO MOKUZAI). As long as this situation exists much of the timber can not be supplied. However, removal of the present regulations would inevitably entail black market prices, and the majority of people cannot pay such high rents, though many houses might be built. To make the best of this adverse situation, there can be no solution but the revision of the present regulations.

The Metropolitan Office announced that they nave already provided for workers and processing mills, and can undertake the scheduled plan if a reasonably amount of timber is supplied. They also revealed that 10,000 simply, constructed houses will be built by this April with lumber to be supplied from neighboring prefectures such as SAITAMA-Ken is no other hope at present.

- 4 -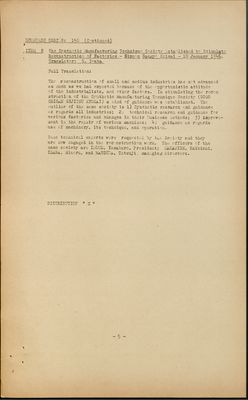 (View Page Image)
ECONOMIC SERIES: 150 (Continued)
ITEM 8 The Synthetic Manufacturing Technique Society Established to Stimulate Reconstruction of Factories - Nippon Sangyo Keizai - 10 January 1946. Translator: S. Iwata.
Full Translation:

The reconstruction of small and medium industries has not advanced as much as we had expected because of the opportunistic attitude of the industrialists, and other factors. In stimulating the reconstruction of the Synthetic Manufacturing Technique Society (SOGO SEISAN GIJITSU KYOKAI) a kind of guidance was established. The outline of the same society is 1) Synthetic research and guidance as regards all industries; 2) technical research and guidance for various factories and changes in their business methods; 3) improvement in the repair of various machines; 4) guidance as regards use of machinery, its technique, and operation.

Some technical experts were requested by the Society and they are now engaged in the reconstruction work. The officers of the same society are INOUE, Yasaburo, President; NAKANISH, Kaikichi, INABA, Minoru, and MATSUDA, Tatsuji, managing directors.

DISTRIBUTION "X"

- 5 -