Press translations [Japan]. Economic Series 0130, 1946-01-06.
translation-number: economic-0634
call-number: DS801 .S81
---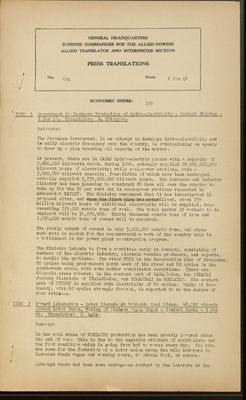 (View Page Image)
GENERAL HEADQUARTERS

SUPREME COMMANDER FOR THE ALLIED POWERS

ALLIED TRANSLATOR AND INTERPRETER SECTION

PRESS TRANSLATIONS

ECONOMIC SERIES: 130

ITEM 1 Government to Increase Production of Hydro-electricity - Yomiuri Shimbun - 3 Dec 45. Translator: S. Kitagewa.
Extracts:

The Japanese Government, in an attempt to develop hydro-electricity and to unify electric frequency over the country, is commissioning an agency to draw up a plan covering all aspects of the matter.

At present, there are in JAPAN hydro-electric plants with a capacity of 5,800,000 kilowatts which, during 1944, actually supplied 28,505,000,000 kilowatt hours of electricity; while coal-power stations, with a. 3,000,000 kilowatt capacity, four-fifths of which have been destroyed, actually supplied 3,735,000,000 kilowatt hours. The Commerce and Industry Ministry has been planning to construct 80 dams all over the country to make up for the 50 per cent cut in coal-power stations requested by Ambassador PAULEY. The Ministry announced that it has investigated 11 proposed sites, and when the first plan has materilized, about 755 million kilowatt hours of additional electricity will be supplied, representing 755,000 metric tons of coal. The total number of workers to be employed will be 14,290,000. Thirty thousand metric tons of iron and 1,290,000 metric tons of cement will be required.

The yearly output of cement is only 3,000,000 metric tons, and since much more is needed for the reconstruction work of the country this is a bottleneck in the power plant construction program.

The Ministry intends to form a committee early in January, consisting of members of the electric industry, electric machine producers, and experts, to handle the problems. The river FUJI is the demarcation line of frequency, 50 cycles being predominant north east of the river and 6o cycles in the south-west areas, with some rather complicated exceptions. There are 60-cycle areas however, in the eastern part of HAGANO-Ken, the HITACHI factory districts of IBARAGI-Ken, and TOMAKOMAI in HOKKAIDO. The eastern part of KYUSHU is supplied with electricity of 60 cycles. Unity of frequency, with 60 cycles strongly favored, is reported to be the desire of most citizens.

ITEM 2 Toward Liberation - Labor Dispute At Hokkaido Coal Mines. 40,000 already joined Labor Union, Fixing of Minimum wages Urged - Yomiuri Hochi - 3 Jan 46. Translator: H Sato.
Summary:

In the coal mines of HOKKAIDO production has been greatly lowered since the end of war. This is due to the negative attitude of capitalists and, the food condition which is going from bad to worse every day. The time has come for the formation of a labor union among the mine laborers to increase their wages and working hours, to obtain food, et cetera.

Although there had been same outrageous conduct by the laborers at the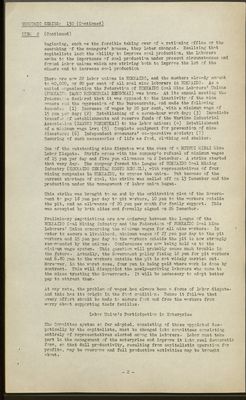 (View Page Image)
ECONOMIC SERIES: 130 (Continued)
beginning, such as the forcible taking over of a rationing office or the searching of the managers' houses, they later changed. Realizing that capitalists lack the ability to improve coal production, the Laborers awoke to the importance of coal production under present circumstances and formed labor unions which are striving both to improve the lot of the miners and to increase coal production

There are now 22 labor unions in HOKKAIDO, and the members already amount to 40,000, or 80 per cent of all coal mine laborers in HOKKAIDO. As a united organization the Federation of HOKKAIDO Coal Mine Laborers' Unions (HOKKAIDO; TANKO RODOKUMIAI RENGOKAl) was born. At its annual meeting the Federation declared that it was opposed to the inactivity of the mine owners and the oppression of the bureaucrats, and made the following demands: (1) Increase of wages by 20 per cent, with a minimum wage of 15 yen per day; (2) Establishing of a seven-hour work day; (3) Immediate transfer of establishments and reserve funds of the Wartime Industrial Association (SANGYO HOKOKUKAI) to the labor unions; (4) Establishment of a minimum wage law; (5) Complete equipment for prevention of mine disasters; (6) Independent consumers' co-operative society; (7) Securing of such necessaries of life as food, clothing and shelter.

One of the outstanding mine disputes was the case of a MITSUI MIBAI Mine Labor Dispute. Strife arose with the company's refusal of minimum wages of 15 yen per day and five yen allowance on 2 December. A strike started that very day. The company formed the League of HOKKAIDO Coal Mining Industry (HOKKAIDO SEKITAN KOGYO REMIEL), with representatives of four mining companies in HOKKAIDO, to oppose the union. But because of the current shortage of coal, the strike was called off on 13 December and the production under the management of labor union began.

This strike was brought to an end by the arbitration plan of the Government to pay 18 yen per day to pit workers, 10 yen to the workers outside the pit, and an allowance of 20 yen per month for family support. This was accepted by both sides and formally signed on 26 December.

Preliminary negotiations are now underway between the league of the HOKKAIDO Coal Mining Industry and the Federation of HOKKAIDO Coal Mine Laborers' Union concerning the minimum wages for all mine workers. In order to secure a livelihood, minimum wages of 27 yen per day to the pit workers and 15 yen per day to the workers outside the pit is now strongly recommended by the unions. Conferences are now being held as to the minimum wage system. This question will probably cause much trouble in the future. Actually, the Government policy fixing 12 yen for pit workers and 6.80 yen to the workers outside the pit is not widely carried out. Moreover, in the worst case, four yen is being paid where work is done by contract. This will disappoint the newly-arriving laborers who come to the mines trusting the Government. It will be necessary to adopt better pay to attract them.

At any rate, the problem of wages has always been a focus of labor dispute. And this has its origin in the food condition. Hence it follows that every effort should be made to secure food and free the workers from worry about supporting their families.

Labor Union's Participation in Enterprise

The Committee system so far adopted, consisting of those appointed despotically by the capitalists, must be changed into committees consisting entirely of representatives elected among the laborers. Labor must take part in the management of the enterprise and improve it into real democratic form, so that dull productivity, resulting from capitalistic operation for profits, may be overcome and full productive activities may be brought about.

- 2 -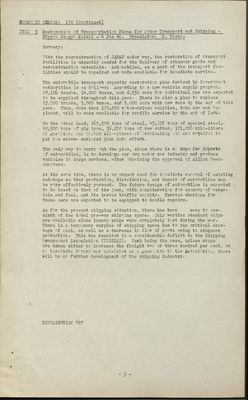 (View Page Image)
ITEM 3 Restoration of Transportation Plans for Motor Transport and Shipping - Nippon Sangyo Keizai - 4 Jan 46. Translator; K. Yasuo.
Summary:

With the reconstruction of JAPAN under way, the restoration of transport facilities is urgently needed for the delivery of consumer goods and reconstruction materials. Automobiles, as a part of the transport facilities should he repaired and made available for immediate service.

The automobile transport capacity restoration plan devised by Government authorities is as follows: According to a new vehicle supply program, 28,106 trucks, 14,000 buses, and 8,530 cars for individual use are expected to be supplied throughout this year. There is also a plan to replace 13,500 trucks, 5,000 buses, and 5,000 cars with new ears by the end of this year. Thus, more than 170,000 motor-driven vehicles, both new and replaced, will he made available for traffic service by the end of 1946.

On the other hand, 165,500 tens of steel, 43,600 tons of special steel, 50,900 tons pig iron, 36,200 tons of raw rubber, 171,000 kilo-liters of gasoline, and 51,500 kilo-litres of lubricating oil are required to put the above-mentioned plan into effect.

The only way to carry out the plan, since there is now hope .for imports of automobiles, is to develope our own motor car industry and produce vehicles in large numbers, after obtaining the approval of Allied Headquarters.

At the same time, there is an urgent need for immediate removal of existing red-tape so that production, distribution, and repair of automobiles can be more effectively pursued. The future design of automobiles is expected, to be based on that of the jeep, with consideration for economy of materials and fuel, end its larger traffic capacity. Service stations for these cars are expected to be equipped to handle repairs.

As for the present shipping situation, there has been ease to one-sixth of the total pre-war shipping space. Only wartime standard ships are available since luxury ships were completely lost during the war. There is a temporary surplus of shipping space due to the critical shortage of coal, as well as a decrease in flow of goods owing to stagnant production. This has resulted in a considerable deficit to the Shipping Management Association (UNEIKAI). Such being the case, unless steps are taken either to increase the freight two or three hundred per cent, or to institute Government subsidies as a guarantee to the Association, there will be no further development of the shipping industry.

DISTRIBUTION "X"

- 3 -