Press translations [Japan]. Economic Series 0111, 1945-12-28.
translation-number: economic-0548
call-number: DS801 .S81
---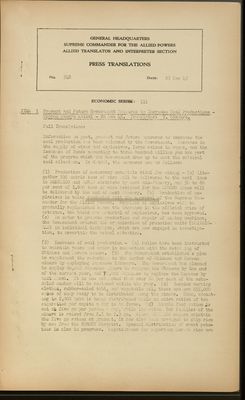 (View Page Image)
GENERAL HEADQUARTERS

SUPREME COMMANDER FOR THE ALLIED POWERS

ALLIED TRANSLATOR AND INTERPRETER SECTION

PRESS TRANSLATIONS

ECONOMIC SERIES: 111

ITEM 1 Present and Future Government Heacures to Increase Coal Productions - Nippon Sangyo Keizai - 26 Dec 45. Translator: T. Okamura.
Full Translation:

Information on past, present and future measures to increase the coal production has been released by the Government. Increase in the supply of wires and explosives, large raises in wages, and the issuance of funds amounting to three hundred million yen are part of the program which the Government drew up to meet the critical coal situation. In detail, the measures are as follows:
Production of necessary materials vital for mining - (a) Altogether 900 metric tons of wire will be delivered to the coal mines in HOKKAIDO and JOBAN Districts by next mid-January, and 50 to 60 per cent of 1,600 tons of wire assigned for the KYUSHU mines will be delivered by the end of next January. (b) Production of explosives is being conducted with the approval of the Supreme Commander for the Allied Powers. Supplies of explosives will be gradually replenished since the increase in the official price of nitrates, the basic raw material of explosives, has been approved, (c) In order to promote production and repair of mining machines, the Government ordered the organization of promotion units (SUISHINKAN) in individual distracts, which are now engaged in investigation, to ascertain the actual situation.
Increase of coal production - (a) Police have been instructed to maintain peace and order in connection with the returning of Chinese and Korean miners. (b) The Government established a plan to supplement the reduction in the number of Chinese and Korean miners by employing Japanese laborers. The Government has planned to employ 60,000 Japanese miners to replace the Chinese by the end of the current year, and 70,000 Japanese to replace the Koreans by next March. It is now estimated that over 80 per cent of the scheduled number will be replaced within the year. (c) Besides working clothes, rubber-soled tabi, and vegetable oil, these are now 655,000 cages of soap ready to be distributed along the miners. Sake, amounting to 2,000 koku is being distributed while an extra ration of two cigarettes per capita a day is in force. (d) Staple food ration is set at five go per person a day, while the ratio for families of the miners is raised from 2.1 to 2.3 go. Since

[illegible]

cannot maintain the five go ration at present, it has also been arranged to ship rice by sea from the TOHOKU District. Special distribution of sweet potatoes is also in progress. Negotiations for importing Korean rice are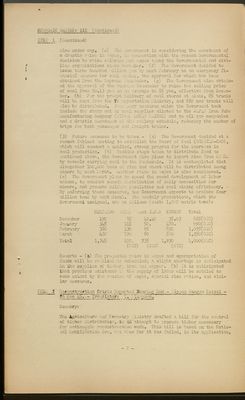 (View Page Image)



ECONOMIC SERIES: 111 (Continued)





ITEM 1

(Continued)

also under way. (e) The Government is considering the enactment of a drastic raise in wages, in connection with the recent Governmental decision to raise salaries and wages among the Governmental and civilian organizations since December. (f) The Government decided to issue three hundred million yen by next February as an emergency financial measure for coal mining, the approval for which has been obtained from the Supreme Commander. (g) The Government also obtained the approval of the Supreme Commander to raise the selling price of coal from 20.13 yen on an average to 85 yen, effective from December. (h) For the prompt delivery of coal stored at mines, 85 trucks will be sent from the Transportation Ministry, and 260 new trucks will also be distributed. Emergency measures which the Government took include the sharp cut of coal supplies alloted to the JAPAN Iron Tube Manufacturing Company (NIPPON KOKAN KAISHA) and to all gas companies and a drastic amendment of the railway schedule, reducing the number of trips for both passenger and freight trains.
Future measures to be taken - (a) The Government decided at a recent Cabinet meeting to establish the Board of Coal (SEKITAN-CHO), which will conduct a unified, strong program for the increase in coal production. (b) Besides steps taken to distribute food as mentioned above, the Government also plans to import rice from KOKEA by vessels carrying coal to the Peninsula. It is contemplated that altogether 100,000 koku of rice and wheat will be distributed among miners by next March. Another raise in wages is also considered. (c) The Government plans to speed the sound development of labor unions, to conduct smooth distribution of daily necessities for miners, and promote welfare facilities and coal mining efficiency. By enforcing these measures the Government expects to produce four million tons by next March. The monthly productions, which the Government assigned, are as follows (unit: 1,000 metric tons):
| | | | | | |
| --- | --- | --- | --- | --- | --- |
| | HOKKAIDO | JOBAN | West JAPAN | KYUSHU | Total |
| December | 190 | 85 | 40.40 | 35.03 | 665 (SIC) |
| January | 345 | 115 | 50. | 470. | 990 (SIC) |
| February | 330 | 130 | 65 | 520 | 1,095 (SIC) |
| March | 430 | 190 | 80 | 590 | 1,250 (SIC) |
| Total | 1,316 | 490 (SIC) | 235 (SIC) | 1,930l (SIC) | 4,000 (SIC) |
Remarks - (a) The projected raise in wages and appropriation of funds will be realized as scheduled; a slight shortage is anticipated in the supplies of timber, iron and copper. (b) It is anticipated that problems existence in the supply of labor will be settled to some extent by the raising of wages, special rice ration, and similar measures.

ITEM 2 Reconstruction Crisis Reported Hearing End - Nippon Sangyo Keizai - 26 Dec 45. - Translator: T. Kitagawa.
Summary:

The Agriculture and Forestry Ministry drafted a bill for the control of timber distribution, in an attempt to procure timber necessary for nationwide reconstruction work. This bill is based on the National Mobilization Law, but thus far it has failed, in its application,

- 2 -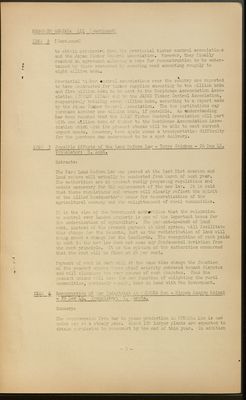 (View Page Image)
ECONOMIC SERIES: 111 (Continued)
to obtain permission from the provincial timber control associations and the Japan Timber Control Association. However, they finally reached an agreement allowing a hope for reconstruction to be entertained by these concerned by securing wood amounting roughly to eight million koku.

Provincial timber control associations over the country are reported to have contracted for timber supplies amounting to two million koku and five million koku to be sent to the Residence Accomodation Association (JUTAKU EIDAK) aid to the JAPAN Timber Control Association, respectively totaling seven million koku, according to a report made by the Japan Timber Control Association. The two institutions may purchase another one million koku, if possible. An understanding has been reached that the JAPAN Timber Control Association will part with one million koku of timber to the Residence Accomodation Association which with its present stocks will be able to meet current urgent needs. However, here again comes a transportation difficulty for the purchase was understood to be a spot delivery.

ITEM 3 Possible Effects of the Land Reform Law - Tokyo Shimbun - 26 Dec 45. Translator: R .Aoki.
Extracts:

The Farm Land Reform Law was passed at the last Diet session and land reform will actually be conducted from March of next year. The authorities are at present busily preparing regulations and orders necessary for the enforcement of the new law. It is said that these regulations and orders will clearly reflect the spirit of the Allied Headquarter's order for democratization of the agricultural economy and the enlightenment of rural communities.

It is the view of the Government authorities that the relaxation of control over landed property is one of the important bases for the modernization of agriculture. The payment-in-cash of land rent, instead of the present payment in kind system, sill facilitate this change for the tenants, just as the redistribution of land will bring about a change for the landlords. The recognition of rent paids in cash in the new low does not mean any fundamental deviation from the rent principle. It is the opinion of the authorities concerned that the rent will be fixes at 25 per cent.

Payment of rent in cash will at the same time change the function of the peasant unions - whoso chief activity embraced tenant disputes and will eliminate very source of such disputes. Thus the peasant unions will have the new function of enlighting the rural communities, curiously enough, hand in hand with the Government.

ITEM 4 Reconversion of War Industries in - FUKUOKA Ken - Nippon Sangyo Keizai - 26 Dec 45. Translator: Y. Kurata.
Summary:

The reconversion from war to peace production in FUKUOKA Ken is now under way at a steady pace. About 120 larger plants are expected to obtain permission to reconvert by the end of this year. In addition

- 3 -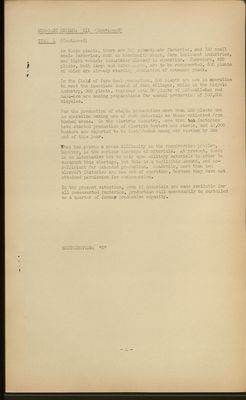 (View Page Image)
ECONOMIC SERIES: 111 (Continued)
to these plants, there are 800 subordinate factories, and 700 small scale factories, such as blacksmith shops, farm implement industries, and light vehicle industries already, in operation. Therefore, 920 plants, both large and subordinate, are to be reconverted, 600 plants of which are already starting production of consumer goods.

In the field of farm tool production, 500 plants are now in operation to meet the immediate demand of farm villages, while in the bicycle industry, 200 plants, together with 80 plants of NAGASAKI-Ken and SAGA-Ken are making preparations for annual production of 500,000 bicycles.

For the production of staple commodities more than 100 plants are in operation making use of such materials as those collected from bombed areas. In the electric industry, more than ten factories have started production of electric heaters and stoves, and 10,000 heaters are expected to be distributed among war victims by the end of this year.

What has proven a great difficulty in the reconversion problem, however, is the serious shortage of materials. At present, there is no alternative but to rely upon military materials in order to surmount this shortage, but this is a negligible amount, and insufficient for extended production. Meanwhile, more than ten aircraft factories are now out of operation, because they have not obtained permission for reconversion.

In the present situation, even if materials are made available for all reconverted factories, production will necessarily be curtailed to a quarter of former productive capacity.

DISTRIBUTION: "X"

- 4 -