Press translations [Japan]. Economic Series 0102, 1945-12-24.
translation-number: economic-0495
call-number: DS801 .S81
---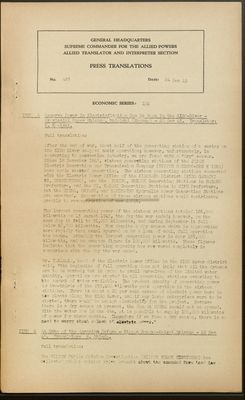 (View Page Image)
GENERAL HEADQUATERS

SUPREME COMMANDER FOR THE ALLIED POWERS

ALLIED TRANSLATOR AND INTERPRETER SECTION

PRESS TRANSLATIONS

ECONOMIC SERIES: 102

ITEM 1 Reserve Power In Electricfication Can Be Seen In the KISO-River - Provincial Paper Shinano, Mainichi (Nagano) - 20 Dec 45. Translator: Z. Kenishi.
Full translation:

After the end of war, about half of the generating station of a series on the KISO River stopped their operation; however, unfortunately, in converting to peace-time industry, we are faced with a "dry" season. Since 18 December 1945, sixteen generating stations of the JAPAN Electric Generation and Transmission Company (NIPPON HATSUSO-DEN KAISHA) have again started generating. The sixteen generating stations connected with the Electric Power Office of the KISOGAWA District (KISO GAWACHI KU, DENRYOKUSHO), are the TOKIWA, NEZAME Generating Stations in NAGANO Prefecture, and the OI, KASAGI Generating Stations in GIFU Prefecture, but the MIURA, ONTAKE, and KAMIMATSU Hydraulic Power Generating Stations are expected Reoperation of these sixteen stations would contributes greatly to reconstruction of new JAPAN.

The largest generating power of the sixteen stations totaled 186,000 kilowatts on 15 August 1945, the day the war ended; however, on the next day it felt to 91,000 kilowatts, and during September it fell below 60,000 kilowatts. Now despite a dry season which is approaching more rapidly than usual spurred on by a lack of coal, full operation has begun. Actually the largest generating power is near 185,000 kilowatts, and an average figure is 100,000 kilowatts. These figures indicate that the generating capacity has recovered completely in comparison with the day the war ended.

Mr. TAKASAKA, head of the Electric Power Office in the KISO River district said, "the beginning of full operation does not imply that all the dynamos are to be worked; but in order to avail ourselves of the limited water quantity, operations are started in all generating stations according to the amount of water available. The present quantity of generating power is two-thirds of the 293,400 kilowatts peak operation in the sixteen stations. There is about a 20 per cent excess of electric power here in the plants along the KISO River, and if any large enterprises were to be started, there would be enough electricity for the project. Because there is a dry season at present, the dam, at MIURA should not be opened. With the water now in the dam, it is possible to supply 100,000 kilowatts of power for three months. Therefore if we face a dry season, there is no need to worry about a leak of electric power."

ITEM 2 An Echo of the Agrarian Reform - Nippon Sangyo-Keizai Shimbun - 22 Dec 45. Translator: H. Shindo.
Full translation:

The NIPPON Public Opinion Investigation (NIPPON YORON KENKYUSHO) has collected public opinion which brought about the amended Farm Land Law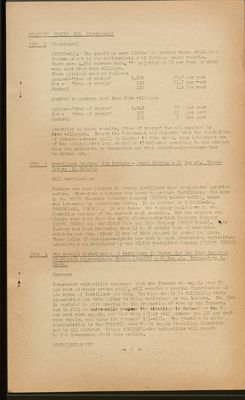 (View Page Image)
ECONOMIC SERIES 102 (Continued)
(NOCHI-HO). The questions were limited to whether there shall be a change or not in the redistribution of farmland among tenants. There were 4,552 answers made, the majority or 72 per cent of which were sent from farm villages.

These opinions were as follows:
| | | |
| --- | --- | --- |
| Against-' free of charge' | 3,899 | 85.7 per cent |
| For - 'free of charge' | 533 | 11.7 per cent |
| Neutral | 120 | 2.6 per cent |
Limited to answers sent from farm villages:
| | | |
| --- | --- | --- |
| Against-'free of charge' | 2,848 | 77 per cent |
| For - 'free of charge' | 325 | 10 per cent |
| Neutral | 100 | 3 per cent |
According to these results, 'free of charge' was not expected by farm villagers. Though the Government has directed that the landholding of absentee-owners shall be limited to five chobu, many landowners are of the opinion that land should be distributed according to the acreage they can cultivate by themselves and that absentee-land-owners must be driven out.

ITEM 3 Fertilizer Produced for Farmers - Asahi Shimbun - 22 Dec 45. Translator: H. Shindo.
Full translation:

Farmers are more patient to obtain fertilizer than prospective agrarian reform. Therefore a company has begun to produce fertilizer. Its name is the NITTO Chemical Industry Company (NITTOH KAGAKU KOGYO), which was intouched by incendiary bombs. It is located at DAIKOKU-Cho, TSURUMI-KU, YOKOHAMA. It was feared the company would have to stop operation because of the current coal shortage. But the company can obtain some coal from the SHOWA Electric-Chemical Industry Company (SHOWA DENKO) and the NIHON Pipe and Tube Company (NIHON KOKAN). This factory has been producing from 15 to 20 metric tons of ammonium- sulphate per day. Every 12 Kan of this product is packed in bales. These bales of ammonium-sulphate are sent to each prefectural agriculture association as stipulated by the NIPPON Fertilizer Company (NIOPON HIRYO).

ITEM 4 The Special Distribution of Fertilizer in Reward for the Rice Supply - Provincial Paper - Kahoku Shimpo (Sendai) - 22 Dec 45. Translator: S Zwata.
Summary:

Government authorities announced that the farmers who supply over 70 per cent of their entire yield, will receive a special distribution of one kanme of fertilizer per bag. The rice supply is fulfilling every expectation but this policy is being criticized by the leaders. The plan is designed to give impetus to the prosuction of rice by the farmers, but it will be unfavorable because the attention is focused on the 70 per cent rice supply, and that this policy will disturb the 100 per cent rice supply, and incur the farmers' ill-will. The question is under consideration by the FUKUSHIMA-Ken Foods Supply Propelling Committee and by all district offices FUKUSHIMA-Ken authorities will report to the Government about this problem.

DISTRIBUTION "X"

- 2 -