Press translations [Japan]. Economic Series 0100, 1945-12-23.
translation-number: economic-0486
call-number: DS801 .S81
---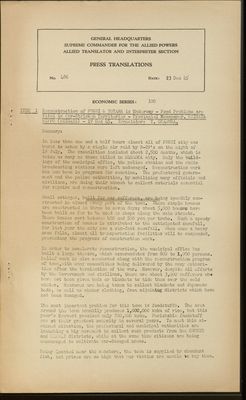 (View Page Image)
GENERAL HEADQUARTERS

SUPREME COMMANDER FOR THE ALLIED POWRS

ALLIED TRANSLATOR AND INTERPRETER SECTION

PRESS TRANSLATIONS

ECONOMIC SERIES: 100

ITEM 1 Reconstruction of FUKUI & TOYAMA is Underway - Food Problems are Vital in War-Stricken Territories - Provincial Newspaper, NIIGATA NIPPO (NIIGATA) - 19 Dec 45. Translator: T. OKAMURA.
Summary:

In less than one and a half hours almost all of FUKUI city was burnt to ashes by a single air raid by B-29's on the night of 19 July. The casualities included about 2,500 deaths, which is twice as many as those killed in NAGAOKA city. Only the buildings of the municipal office, the police station and the radio broadcasting stations were left undamaged. Reconstruction work has now been in progress for sometime. The prefectural government and the police authorities, by mobilizing many officials and civilians, are doing their utmost to collect materials essential for repairs and reconstruction.

Small cottages, built for war sufferers, are being speedily constructed in almost every part of the town. These simple houses are constructed in three to seven days; about 5,000 houses have been built so far to be used as shops along the main streets. These houses cost between 400 and 500 yen per tsubo. Such a speedy construction of houses is attributed to the anticipated snowfall, for last year the city saw a six-foot snowfall. When once a heavy snow falls, almost all transportation facilities will be suspended, preventing the progress of construction work.

In order to accelerate reconstruction, the municipal office has built a large theatre, which accormodates from 800 to 1,000 persons. Relief work is also conducted along with the reconstruction program of town, with many commodities being delivered by the army authorities after the termination of the war. However, despite all efforts by the Government and civilians, there are about 3,000 sufferers who have not been given beds or blankets to tide them over the cold winter. Measures are being taken to collect blankets and Japanese beds, as well as winter clothing, from adjoining districts which have not been damaged.

The most important problem for this town is foodstuffs. The area around the town annually produces 1,000,000 koku of rice, but this year's harvest promised only 700,000 koku. Perishable foodstuff are at their greatest scarcity in several years. To meet this strained situation, the prefectural and municipal authorities are launching a big movement to collect such products from the CHUKYO and KANSAI districts, while at the same time citizens are being encouraged to cultivate war-damaged areas.

Being located near the seashore, the town is supplied by abundant fish, but prices are so high that war victims are unable to buy them.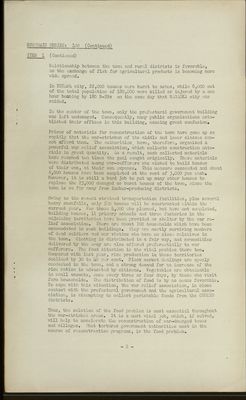 (View Page Image)
ECONOMIC SERIES: 100 (Continued)
Relationship between the town and rural districts is favorable, as the exchange of fish for agricultural products is becoming more wide spread.

In TOYAMA city, 22,000 houses were burnt to ashes, while 8,000 out of the total population of 180,000 were killed or injured by a one hour bombing by 180 B-29s on the same day that NAGAOKA city was raided.

In the center of the town, only the prefectural government building was left undamaged. Consequently, many public organizations established their offices in this building, causing great confusion.

Prices of materials for reconstruction of the town have gone up so rapidly that the war-stricken of the middle and lower classes cannot afford them. The authorities have, therefore, organized a powerful war relief association, which collects construction materials in great quantity. As a result, such collected materials have reached ten times the goal sought originally. These materials were distributed among war-sufferers who wished to build houses of their own at their own expense. This measure succeeded and about 6,000 houses have been completed at the cost of 3,000 yen each. However, it is still a hard job to put up many other houses to replace the 23,000 damaged or burnt houses of the town, since the town is so far away from lumber-producing districts.

Owing to the recent strained transportation facilities, plus several heavy snowfalls, only 500 houses will be constructed within the current year. For those 4,000 who planned, but have not completed, building houses, 11 primary schools and three factories in the adjoining territories have been provided as shelter by the war relief association. There are about 700 households which have been accomodated in such buildings. They are mostly surviving members of dead soldiers and war victims who have no close relatives in the town. Clothing is distributed in a fair way, and commodities delivered by the Army are also offered preferentially to war sufferers. The food situation is the vital problem there too. Compared with last year, rice production in these territories declined by 30 to 40 per cent. Black market dealings are openly conducted in the town, and a strong demand for an increase of the rice ration is advocated by citizens. Vegetables are obtainable in small amounts, once every three or four days, by those who visit farm households. The distribution of food is by no means favorable. To cope with this situation, the war relief association, in close contact with the prefectural government and the agricultural association, is attempting to collect perishable foods from the CHUKYO districts.

Thus, the solution of the food problem is most essential throughout the war-stricken areas. It is a most vital job, which, if solved, will help to accelerate the reconstruction of war-damaged towns and villages. That tortures government authorities most in the course of reconstruction programs, is the food problem.

- 2 -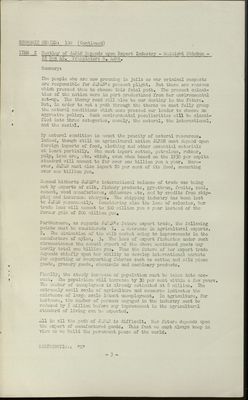 (View Page Image)
ECONOMIC SERIES: 100 (Continued)
ITEM 2 Destiny of JAPAN Depends upon Export Industry - Mainichi Shimbun - 22 Dec 45. Translator: R. Aoki.
Summary:

The people who are now groaning in jails as war criminal suspects are responsible for JAPAN's present plight. But there are reasons which pressed them to choose this fatal path. The present calamities of the nation were in part predestined from her environmental set-up. The thorny road will also be our destiny in the future. But, in order to cut a path through the thorns we must fully grasp the natural conditions which once pressed our leader to choose an aggresive policy. Such environmental peculiarities will be classified into three categories, namely, the natural, the international, and the social.

By natural condition is meant the paucity of natural resources. Indeed, though still an agricultural nation JAPAN must depend upon foreign imports of food, clothing and other essential materials at least partially. She must import cotton, petroleum, rubber, pulp, iron ore, etc. which, even when based on the 1930 per capita standard will amount to far over one billion yen a year. Moreover, JAPAN must also import 20 per cent of its food, amounting over one billion yen.

Second hitherto JAPAN'S international balance of trade was being met by exports of silk, fishery products, pyrethrum, fruits, coal, cement, wood manufactures, chinaware etc, and by credits from shipping and insurance charges. The shipping industry has been lost to JAPAN permanently. Considering also the lose of colonies, her trade loss will amount to 300 million yen a year instead of the former gain of 200 million yen.

Furthermore, as regards JAPAN's future export trade, the following points must be considered: 1. A decrease in agricultural exports. 2. The diminution of the silk market owing to improvements in the manufacture of nylon, 3. The loss of export fisheries under such circumstances the annual export of the above mentioned goods may hardly total one billion yen. Thus the future of her export trade depends chiefly upon her ability to develop international markets for exporting or re-exporting fabrics such as cotton and silk piece goods, grocery goods, chemicals and machinery products.

Finally, the steady increase of population must be taken into account. The population will increase by 30 per cent within a few years. The number of unemployees is already estimated at 8 million. The extremely small Scale of agriculture and commerce indicates the existence of large scale latent unemployment. In agriculture, for instance, the number of persons engaged in the industry must be reduced by 5 million before any improvement in the agricultural standard of living can be expected.

All in all the path of JAPAN is difficult. Her future depends upon the export of manufactured goods. This fact we must always keep in view as we build the permanent peace of the world.

DISTRIBUTION: "X"

- 3 -