Press translations [Japan]. Economic Series 0097, 1945-12-23.
translation-number: economic-0472
call-number: DS801 .S81
---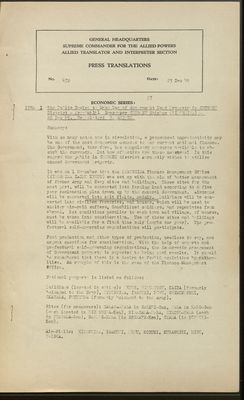 (View Page Image)
GENERAL HEADQUARTERS

SUPREME COMMANDER FOR THE ALLIED POWERS

ALLIED TRANSLATOR AND INTERPRETER SECTION

PRESS TRANSLATIONS

ECONOMIC SERIES: 97

ITEM 1 The Public Desire to Make Use of Government Used Property in CHUGOKU District - Provincial Newspaper CHUGCKU Shinbun (HIROSHIMA) - 22 Dec 45. Translator: H. SHIKDO.
Summary:

With so many notes now in circulation, a pronounced unproductivity may be one of the most dangerous menaces to our current national finance. The Government, therefore, has compulsory measures available to absorb the currency. But how effective are these measures? In this regard the public in CHUGOKU district earnestly wishes to utilize unused Government property.

It was on 1 November that the HIROSHIMA Finance Management office (HIROSHIMA ZAIMU KYOKU) was set up with the aim of better management of former Army and Navy sites and buildings. These sites for the most part, will be converted into farming land according to a five year reclamation plan drawn up by the central Government. Airdroms will be converted into salt fields, mainly. Buildings will be converted into civilian factories, and houses, which will be used to shelter air-raid suffers, demobilized soldiers, and repariates from abroad. But conditions peculiar to each town and village, of course, must be taken into consideration. Use of these sites and buildings will be available for a fixed time only (maybe one year). The prefectural self-governing organizations will participate.

Food production and other types of production, needless to say, are urgent questions for consideration. With the help of experts and prefectural self-governing organizations, the democratic management of Government property is expected to bring good results. It should be remembered that there is a desire to forbid activities by authorities. An example of this is the case of the Finance Management Office.

National property is listed as follows:

Buildings (located in cities): KURE, HIROMITSU, KAIDA (formerly belonged to the Navy), KIRCSHI
[illegible]
A, IWAKURI, BOHU, SHIMON
[illegible]
SEXI, OKAYAMA, FUKUYHMA (formerly belonged to the Army).
Sites (for maneuvers): YAWATA-HARA in SAHEKI-Gun, HARA in KAMO-Gun (each located in HIRCSHIMA-Ken), NIRAYAMA-HARA, HIMOTC-HARA (each in CKAYAMA-Ken), SA
[illegible]
I-HARA (in SHIMAVE-Ken), OYAMA (in TOTTORI-Ken).
Air-Fields: HIRCSHIMA IWAKUMI,
[illegible]
ONU, KOZUKI, KURASHIKI, MIHO, TAISHA.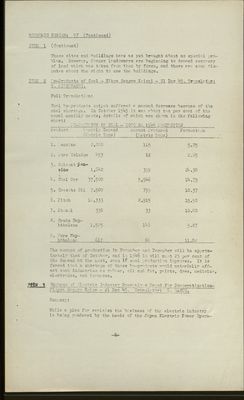 (View Page Image)
ECONOMIC SERIES: 97 (Continued)
These sites and buildings have as yet brought about no special problem. However, former landowners are beginning to demand recovery of land which was taken from them by force, and there are some disputes about the right to use the buildings.

ITEM 2 By-Products of Coal - Nihen Sangye Keizai - 21 Dec 45. Translator: T. MITSUHASHI.
Full Translation:

Coal by-products output suffered a marked decrease because of the coal shortage. In October 1945 it was about ten per cent of the usual monthly need, details of which are shown in the following chart:

BY-PRODUTS OF COAL - OCTOBER 1945 PRODUCTION

Product
Monthly Demand (Metric Tons)
Amount Produced (Metric Tons)
Percentage
1.

[illegible]

enzine
2,000
115
5.75
2. Pure Toluine
453
12
2.65
3. Solvent Benzine
1,642
399
24.30
4. Coal Tar
37,500
5,546
14.79
5. Cresote Oil
7,500
799
10.37
6. Pitch
l8,333
2,915
15.90
7. Phenol
330
33
10.00
8. Crude Naphthalene
1,575
146
9.27
9. Pure Naphthalene
617
66
11.02
The amount of production in November and December will be approximately that of October, and in 1946 it will meet 25 per cent of the demand at the most, even if coal production improves. It is feared that a shortage of these by-products would materially affect such industries as rubber, oil and fat, paints, dyes, medicine, electrodes, and furnaces.

ITEM 3 Shakeup of Electric Industry Executives Urged for Democratization-Nippon Sangy Keize - 21 Dec 45. Translator: K. YASUO.
Summary:

While a plan for revision the business of the electric industry is being pondered by the heads of the Japan Electric Power Opera-

- 2 -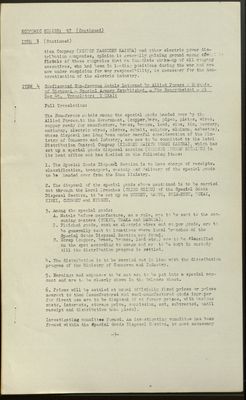 (View Page Image)
ECONOMIC SERIES: 97 (Continued)
tion Company (NIPPON HASSODEN KAISHA) and other electric power distribution companies, opinion is generally gaining ground among officials of these companies that an immediate shake-up of all company executives, who had been in leading positions during the war and are now under suspicion for war responsibility, is necessary for the democratization of the electric industry.

ITEM 4 Confiscated Non-ferrous Metals Returned by Allied Powers - Mothods of Disposal - Special Agency Established - The Sangyokeizai - 21 Dec 45. Translator: T UKAI:
Full Translation:

The Non-ferous totals among the special goods handed over by the Allied Forces to the Government, (copper, bars, pipes, plates, wires, copper ready for manufacture, brass, bronze, lead, zinc, tin, mercury, antimony, electric wires, nickes, cobalt, sulphur, aluminum, asbestos), whose disposal has long been under careful consideration of the Ministry of Commerce and Industry, are now to be committed to the Metal Distribution Control Company (KINZCKU HAIKYU TOSEI KAISHA), which has set up a special goods disposal section (TOKUSHU
[illegible]
UKKGN SHORI
[illegible]
U) in its head office and has decided on the following items:
The Special Goods Disposal Section is to have charge of receipts, classification, transport, custody and deliver of the special goods to be handed over from the Home Ministry.
The disposal of the special goods above mentioned is to be carried out through the Local Branches (CHIHO SEIBU) of the Special Goods Disposal Section, to be set up on TOHOKU, KANTO, SHIN-ETSU, TOKAI, KINKI, CHUGOKU and KYUSHU.
Among the special goods:
A. Metals before manufacture, as a rule, are to be sent to the consuming centers (TOKYO, OSAKA and NAGCYA).
B. Finished goods, such as electric wires and copper goods, are to be generally sent to locations where local branches of the Special Goods Disposal Section are found.
C. Scrap (copper, brass, bronze, lead etc.) are to be classified on the spot according to usage and are to be kept in custody till the distribution program is settled.
The distribution is to be carried out in line with the distribution program of the Ministry of Commerce and Industry.
Earnings and expenses to be met are to be put into a special account and are to be clearly shown in the balance sheet.
Prices will be settled at usual officially fixed prices or prices nearest to them (manufactured and semi-manufactured goods improper for direct use are to be disposed of at former prices, with various costs, interests, storage price, commission, ect, subtracted, until receipt and distribution take place).
Investigating committee formed. An investigating committee has been formed within the Special Goods Disposal Section, to meet necessary

- 3 -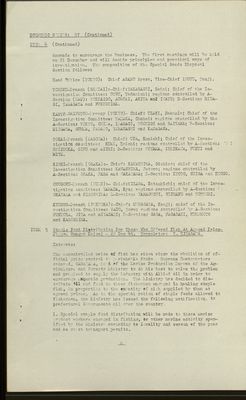 (View Page Image)
ECONOMIC SERIES: 97 (Continued)
demands to encourage the business. The first meetings will be held on 21 December and will decide principles and practical ways of investigation. The composition of the Special Goods Disposal Section follows:

Head Office (TOKYO): Chief ASANO Ryozo, Vice-Chief IMOUE, Tanji.

TOHOKU-Branch (SENDAI):-Chief: TAKAHASHI, Seimi; Chief of the Investigation Committee: OTSU, Tadamichi; regions controlled by A-Section (HAN) : HOKKAIDO, AOMORI, AKITA and IWATE; B-Section: MIYAGI, YAMAGATA and FUKUSHIMA.

KANTO-SHINETSU-Brancy (TOKYO)- Chief: UZAKI, Nakomio; Chief of the Investigation Committee: TANAKA, Chuhei: regions controlled by the A-Section: TOKYO, CHINA, I
[illegible]
ABAGI, TOCHIGI and SAITAMA.; B-Section: NIIGATA, GUMMA, NAGANO, YAMANASHI and KANAGAWA.
TOKAI-Branch (NAGOYA): Chief: UDA, Kanichi; Chief of the Investigation committee: KUME, Koichi; regions controlled by A-Section: SHIZUOKA, GIFU and AICHI; B-Section: TOYAMA, ISHIKAWA, FUKUI and MIYE.

KINKI-Branch (OSAKA):- Chief: KAWASHIMA, Gishiro; chief of the Investigation Committee: KAWASHIMA, Jutoro; regions controlled by A-Section: OSAKA, NARA and WAKAYAMA; I-Secticn: KYOTO, SHIGA and HYOGO.

CHUGOKU-Branch (KURE):- Chief: HIRAGA, Katsukichi; chief of the Investigation committee: YAMADA, Kyu; regions controlled by A-Section: OKAYAMA and HIROSHIMA; B-Section: YAMAGUCHI, SHIMANE and TOTTORI.

KYUSHU-Branch (FUKUOKA) :- Chief: MUNAGATA, Kenji; chief of the Investigation Committee: SADO, Toru; regions controlled by A-Section: FUKUOKA, OITA and MIYAZAKI; B-Section: SAGA, NAGASAKI, KUMAMOTO and KAGOSHIMA.

ITEM 5 Staple Food Distribution For Those Who Offered Fish At Agreed Price-Nippon Sangyo Keizai - 22 Dec 45. Translator: T. KITAGAWA.
Extracts:

The uncontrolled price of fish has risen since the abolition of official price control on perishable foods. Supreme Headquarters ordered, SASAKAMA, head of the Marine Production Bureau of the Agriculture and Forestry Ministry to do his best to solve the problem and promised to supply the industry with Allied oil in order to encourage acuatic production. The Ministry has decided to distribute oil and food to those fishermen engaged in hauling staple fish, in proportion to the quantity of sish supplied by them at agreed prices. As to the special ration of staple foods allowed to fishermen, the Ministry has issued the following notification to prefectural Governments all over the country.

Special staple food distribution will be made to those marine product workers engaged in fishing, or other marine activity specified by the Ministry according to locality and season of the year and as coast transport permits.

- 4 -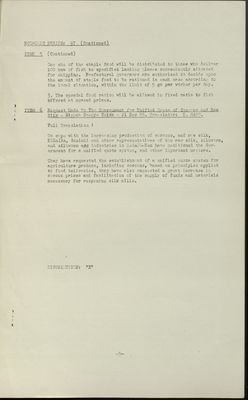 (View Page Image)



ECONOMIC SERIES: 97 (Continued)





ITEM 5

(Continued)
One sho of the staple food will he distributed to those who deliver 100 kaw of fish to specified landing places conveniently situated for shipping. Prefectural governors are authorized to decide upon the amount of stable food to be rationed in each case according to the local situation, within the limit of 5 go per worker per day.
The special food ration will be allowed in fixed ratio to fish offered at agreed prices.
ITEM 6 Request Made To The Government for Unified Quota of Cocoons and Raw Silk - Nippon Sangyo Keiza - 21 Dec 45. Translator: K. SATO.
Full Translation:

To cope with the increasing production of cocoons, and raw silk, KODAIRA, Gonichi and other representatives of the raw silk, silkworm, and silkworm industries in NAGANO-Ken have petitioned the Government for a unified quota system, and other important matters.

They have requested the establishment of a unified quota system for agriculture produce, including cocoons, based on principles applied to food deliveries, they have also requested a great increase in cocoon prices and facilitation of the supply of funds and materials necessary for reopening silk mills.

DISTRIBUTION: "X"

- 5 -