Press translations [Japan]. Economic Series 0092, 1945-12-22.
translation-number: economic-0443
call-number: DS801 .S81
---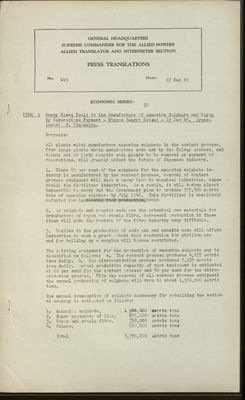 (View Page Image)
GENERAL HEADQUARTERS

SUPREME COMMANDER FOR THE ALLIED POWERS

ALLIED TRANSLATOR AND INTERPRETER SECTION

PRESS TRANSLATIONS

ECONOMIC SERIES: 92

ITEM 1 Heavy Blows Dealt to the Manufacture of Ammonium Sulphate and Rayon by Reparations Payment - Nippon Sangyo Keizai - 19 Dec 45. Translator: S. Kinoshita.
Extracts:

All plants which manufacture ammonium sulphate by the contact process, four large plants which manufacture soda ask by the Solvay process, and twenty out of forty caustic soda plants to be removed as payment of reparations, will greatly affect the future of Japanese industry.

Since 55 per cent of the sulphate for the ammonium sulphate industry is manufactured by the contact process, removal of contact process equipment will deal a heavy blow to chemical industries, especially the fertilizer industries. As a result, it will become almost impossible to carry out the Government plan to produce 325,000 metric tons of ammonium sulphate by July 1946. This fertilizer is absolutely refuried for increasing food production.
As sulphate and caustic soda are the principal raw materials for manufacture of rayon and staple fibre, decreased production in these items will make the revival of the fibre industry very difficult.
Decline in the production of soda ash and caustic soda will affect industries to such a great extent that production for civilian use and for building up a surplus will become restricted.
The existing equipment for the production of ammonium sulphate may be classified as follows: a. The contact process produces 4,675 metric tons daily. b. The nitro-oxidation process produces 7,165 metric tons daily. Actual productive capacity of that equipment is estimated at 60 per cent for the contact process and 40 per cent for the nitro-oxidation process. With the removal of all contact process equipment the annual production of sulphate will drop to about 1,900,000 metric tons.

The annual consumption of sulphate necessary for rebuilding the national economy is estimated as follows:
| | |
| --- | --- |
| 1. Ammonium sulphate, | 1,944,000 metric tons |
| 2. Super phosphate of lime, | 855,000 metric tons |
| 3. Rayon and staple fibre, | 350,000 metric tons |
| 4. Others, | 600,000 metric tons |
| Total | 3,750,000 metric tons |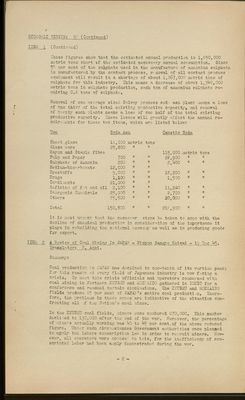 (View Page Image)
ECONOMIC SERIES: 92 (Continued)
These figures show that the estimated annual production is 1,850,000 metric tons short of the estimated necessary annual consumption. Since 55 per cent of the sulphate used in the manufacture of ammonium sulphate is manufactured by the contact process, removal of all contact process equipment will result in a shortage of about 1,067,000 metric tons of sulphate for this industry. This means a decrease of about 1,340,000 metric tons in sulphate production, each ton of ammonium sulphate requiring 0.8 tons of sulphate.

Removal of one average sized Salvay process soda ash plant means a loss of one third of the total existing productive capacity, and removal of twenty such plants means a loss of one half of the total existing productive capacity. These losses will greatly affect the annual requirements for these two items, which are listed below:
| | | |
| --- | --- | --- |
| Use | Soda Ash | Caustic Soda |
| Sheet glass | 18,000 metric tons | |
| Glass ware | 25,800 " " | |
| Rayon and Staple fibre | | 115,000 metric tons |
| Pulp and Paper | 700 " " | 28,900 " " |
| Sulphate of Ammonia | 200 " " | 2,400 " " |
| Sodium-bicarbonate | 12,000 " " | |
| Dyestuffs | 9,000 " " | 18,200 " " |
| Drugs | 1,100 " " | 1,500 " " |
| Condiments | 21,000 " " | |
| Refining of fat and oil | 2,100 " " | 11,200 " " |
| Inorganic Chemicals | 25,000 " " | 2,700 |
| Others | 25,500 " " | 20,000 " " |
| Total | 150,800 " "" | 218,900 " " |
It is most urgent that the necessary steps be taken to cope with the decline of chemical production in consideration of the importance it plays in rebuilding the national economy as well as in producing goods for export.

ITEM 2 A Review of Coal Mining In JAPAN - Nippon Sangyo Keizai - 19 Dec 45. Translator: R. Aoki.
Summary:

Coal production in JAPAN has declined to one-tenth of its wartime peak; for this reason at every field of Japanese industry is now facing a crisis. To meet this crisis officials and operators concerned with coal mining in Northern KYUSHU and HOKKAIDO gathered in TOKYO for a conference and reached certain conclusions. The KYUSHU and HOKKAIDO fields produce 85 per cent of JAPAN's entire coal production. Therefore, the problems in these areas are indicative of the situation confronting all of the Nation's coal mines.

In the KYUSHU coal fields, miners once numbered 270,000, This number declined to 130,000 after the end of the war. Moreover, the percentage of miners actually working was 40 to 45 Per cent of the above reduced figure. Under such circumstances Government authorities once planned to apply the labors conscription law in order to recruit miners. However, all operators were opposed to this, for the inefficiency of conscripted labor had been amply demonstrated during the war.

- 2 -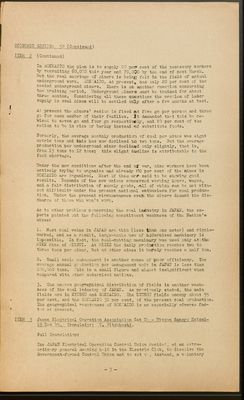 (View Page Image)
ECONOMIC SERIES: 92 (Continued)
In HOKKAIDO the plan is to supply 80 per cent of the necessary workers by recruiting 60,000 this year and 70,000 by the end of next March. But the real shortage of miners is being felt in the field of actual underground work. HOKKAIDO, at present has only 20 per cent of the needed underground miners. There is an another question concerning the training period. Underground miners must he trained for about three months. Considering all these questions the problem of labor supply in coal mines will be settled only after a few months at best.

At present the miners' ration is fixed at five go per person and three go for each member of their families. It demanded that this be revised to seven go and four go respectively, and 80 per cent of the ration to be in rice or barley instead of substitute foods.

Formerly, the average monthly production of coal per mines was eight metric tons and this has now declined to two tons. But the average production per underground miner declined only slightly, that is, from 13 tons to 12 tons; this slight decline is attributable to the food shortage.

Under the new conditions after the end of war, mine workers have been actively trying to organize and already 80 per cent of the mines in HOKKAIDO are organized. Most of them are said to be showing good results. Demands of the new unions concerned working hours, wages, and a fair distribution of supply goods, all of which can be met without difficulty under the present national enthusiasm for coal production. Under the present circumstances even the miners demand the discharge of those who won't work.

As to other problems concerning the coal industry in JAPAN, the experts pointed out the following constituent weakness of the Nation's mines:
Most coal veins in JAPAN are thin (less than one meter) and ripple-marked, and as a result, large-scale use of modernized machinery is impossible. In fact, the coal-cutting machinery was used only at the MIKE Mine of MITSUI. At MIIKE the daily production reaches two to three tons per miner, but at other mines it barely reaches a half ton.
Small scale management is another cause of poor efficiency. The average annual production per management unit in JAPAN is less than 100,000 tons. This is a small figure and almost insignificant when compared with other modernized nations.
The uneven geographical distribution of fields is another weakness of the coal industry of JAPAN. As previously stated, the main fields are in KYUSHU and HOKKAIDO. The KYUSHU fields occupy about 55 per cent, and the HOKKAIDO 30 per cent, of the present coal production. The geographical remoteness of HOKKAIDO is an especially adverse factor at present.
ITEM 3 Japan Electrical Operation Association Set Up - Nippon Sangyo Keizai- 19 Dec 45. Translator: T. Mitsuhashi.
Full Translation:

The JAPAN Electrical Operation Control Union decided, at an extraordinary general meeting held in the Electric Club, to dissolve the Government-formed Control Union and to set up, instead, a voluntary

- 3 -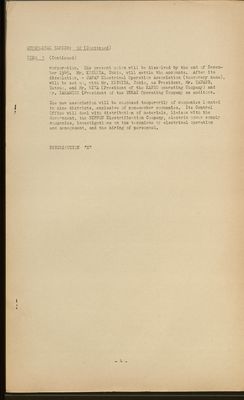 (View Page Image)
ECONOMICAL SERIES: 92 (Continued)
corporation. The present union will be dissolved by the end of December 1945. Mr. KISHIDA, Yukio, will settle the accounts. After its dissolution, a JAPAN Electrical Operation Association (temporary name), will be set up, with Mr. KISHIDA, Yukio, as President, Mr. TANABE, Tetsuo, and Mr. MIWA (President of the KANTO operating Company) and Mr. YAMAMOTO (President of TOKAI Operating Company as auditors.

The new association will be composed temporarily of companies located in mine districts, exclusive of non-member companies. Its Central Office will deal with distribution of materials, liaison with the Government, the NIPPON Electrification Company, electric power supply companies, investigations on the technique of electrical operation and management, and the hiring of personnel.

DISTRIBUTION "X"

- 4 -