Press translations [Japan]. Economic Series 0090, 1945-12-20.
translation-number: economic-0431
call-number: DS801 .S81
---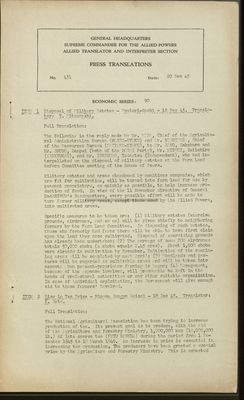 (View Page Image)
GENERAL HEADQUARTERS

SUPREME COMMANDER FOR THE ALLIED POWERS

ALLIED TRANSLATOR AND INTERPRETER SECTION

PRESS TRANSLATIONS

ECONOMIC SERIES: 90

ITEM 1 Disposal of Military Estates - Yomiuri-Hochi - 18 Dec 45. Translator: T. Mitsuhashi.
Full Translation:

The following is the reply made by Mr. WADA, Chief of the Agricultural Administration Bureau (NOSEI-KYOKU) and Mr. NISHIMURA, Chief of the Resources Bureau (KAITAKU-KYOKU), to Mr. SANO, Sakekuro and Mr. SHUNO, Danpei (both of the DOSEI Party), Mr. MITSUI, Seiichiro (KENKYUKAI), and Mr. ISHIGURO, Tadaatsu (Independent), who had interpellated on the disposal of military estates at the Farm Land Reform Committee meeting of the House of Peers.

Military estates and areas abandoned by munitions companies, which are fit for cultivation, will be turned into farm land for use by peasant proprietors, as quickly as possible, to help increase production of food. In view of the 11 November directive of General MacARTHUR's Headquarters, every possible effort will be made to turn former military areas, except those used by the Allied Powers, into cultivated areas.

Specific measures to be taken are: (l) Military estates (exercise grounds, airdromes, and so on) will be given chiefly to neighboring farmers by the Farm Land Committee. In disposing of such estates, those who formerly had farms there will be able to have first claim upon the land they once cultivated. Disposal of exercising grounds has already been undertaken; (2) The acreage of some 200 airdromes totals 50,000 chobu (a chobu equals 2.45 ares). About 1,000 chobu were already in cultivation by November. Cultivation of the remaining areas will be completed by next April; (3) Woodlands and pastures will be regarded as cultivable areas and will be taken into account then peasant-proprietor farming is begun; (4) Management, because of the expense involved, will presumable be left in the hands of prefectural authorities or any other suitable organization. In case of individual exploitation, the Government will give enough aid to those farmers' involved.

ITEM 2 Rise in Tea Price - Nippon Sangyo Keizai - 18 Dec 45. Translator: K. Sato.
Full Translations:

The National Agricultural Association has been trying to increase production of tea. Its present goa1 is to produce, with the aid of the Agriculture and Forestry Ministry, 1,200,000 kan (10,000,000 lb.) of late coarse tea. (FUYU BANCHA) during the period from 1 December 1945 to 10 March 1946. An increase in price is essential in increasing tea production. The producers have been granted a special price by the Agriculture and Forestry Ministry. This is expected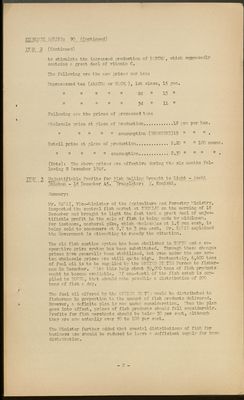 (View Page Image)
ECONOMIC SERIES: 90 (Continued)

to stimulate the increased production of BANCHA, which supposedly contains a great deal of vitamin C.

The following are the new prices per kan:

Unprocessed tea (ARACHA or KOCHA), 1st class, 15 yen.

| | | | | | | | | |
| --- | --- | --- | --- | --- | --- | --- | --- | --- |
| " | " | " | " | " | 2d | " | 13 | " |
| " | " | " | " | " | 3d | " | 11 | " |
Following are the prices of processed tea:

Wholesale price at place of production. . . . . . . . . . . .18 yen per kan.

| | | | | | | | | |
| --- | --- | --- | --- | --- | --- | --- | --- | --- |
| " | " | " | " | " | consumption (SHOHICHI) l9 | " | " | " |
| | | | | |
| --- | --- | --- | --- | --- |
| Retail price at place of production. . . . . . . . . . . . . | 2.20 | " | " | 100 momme. |
| | | | | | | | | | |
| --- | --- | --- | --- | --- | --- | --- | --- | --- | --- |
| " | " | " | " | "consumption. . . . . . . . . . | 2.30 | " | " | " | ". |
(Note): The above prices are effective during the six months following 8 December 1945.

ITEM 3 Unjustifiable Profits for Fish Selling Brought to Light - Asahi Shimbun - 18 December 45. Translator: Z. Konishi.
Summary:

Mr. KAWAI, Vice-Minister of the Agriculture and Forestry Ministry, inspected the central fish market at TSUKIJI on the morning of 18 December and brought to light the fact that a great deal of unjustifiable profit in the sale of fish is being made by middlemen. For instance, mackerel pike, which wholesales at 1.5 yen each, is being sold to consumers at 2.7 to 3 yen each. Mr. KAWAI explained the Government is attempting to remedy the situation.

The old fish auction system has been abolished in TOKYO and a cooperative price system has been substituted. Through these changes prices have generally been stabilized, but even under the new system wholesale prices are still quite high. Fortunately, 6,600 tons of fuel oil is to be supplied by the UNITED STATES Forces to fishermen in December. With this help about 50,000 tons of fish products ought to become available. If one-tenth of the fish catch is supplied to TOKYO, that should make possible a distribution of 200 tons of fish a day.

The fuel oil offered by the UNITED STATES would be distributed to fishermen in proportion to the amount of fish products delivered. However, a definite plan is now under consideration. When the plan goes into effect, prices of fish products should fall considerably. Profits for fish merchants should be below 30 per cent, although they are now actually over 50 to 100 per cent.

The Minister further added that special distributions of fish for business use should be reduced to leave a sufficient supply for home distribution.

- 2 -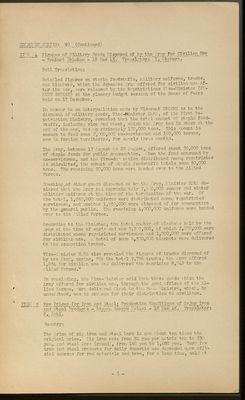 (View Page Image)
ECONOMIC SERIES: 90 (Continued)
ITEM 4 Figures of Military Goods Disposed of by the Army for Civilian Use - Yomiuri Shimbun - 18 Dec 45. Translator: T. Okemura.
Full Translation:

Detailed figures on staple foodstuffs, military uniforms, trucks, and blankets, which the Japanese Arm offered for civilian use after the after released by the Repatriations Vice-Minister (FUKUIN SHIKAN) at the plenary budget session of the House of Peers held on 17 December.

In answer to an interpellation made by Viscount OKOCHI as to the disposal of military goods, Vice-Minister HARA, of the First Repatriation Ministry, revealed that the total amount of staple foodstuffs, including rice and wheat, which the Army had in stock at the end of the war, was approximately 170,000 tons. This amount is enough to feed some 2,000,000 ex-servicemen and 100,000 horses, now in foreign territories, for nearly three months.

The Army, between 17 August to 28 August, offered about 30,000 tons of staple foods for public consumption. When the food consumed by ex-servicemen, and the five-day ration distributed among repatriates is calculated, the amount of staple foodstuffs totals some 50,000 tons. The remaining 90,000 tons were handed over to the Allied Forces.

Speaking of other goods disposed of by the Army, Minister HARA declared that the Army had approximately 7,600,000 summer and winter military uniforms at the time of the termination of the war. Of the total, 1,850,000 uniforms were distributed among repatriated servicemen, and another 1,750,000 were disposed of for consumption by the general public. The remaining 4,000,000 uniforms were handed over to the Allied Forces.

According to the Minister, the total number of blankets held by the Army at the time of war's end was 7,700,000, of which 2,200,000 were distributed among repatriated servicemen and 1,000,000 were offered for civilian use. A total of some 4,500,000 blankets were delivered to the occupation troops.

Vice-Minister HARA also revealed the figures of trucks disposed of by the Army, saying, "Of the total 9,796 trucks, the Army offered 1,054 for civilian use and delivered the remaining 8,742 to the Allied Forces."

In concluding, the Vice-Minister said that those goods which the Army offered for civilian use, through the good offices of the Allied Forces, were delivered first to the Home Ministry, which, he understood, was to arrange for their distribution to civilians.

ITEM 5 New Prices for Iron and Steel; Production Conditions of Major Iron and Steel Products - Nippon Sangyo Keizai - 18 Dec 45. Translator: R Aoki.
Summary:

The price of pig iron and steel bars is now about ten times the original price. Fig iron rose from 81 yen per metric ton to 830 yen, and steel bars (round), from 180 yen to 1,680 yen. Very few iron and steel products for daily domestic use depended upon official sources for raw materials and have, for a long time, sold at

- 3 -

(View Page Image)
ECONOMIC SERIES: 90 (Continued)
black market prices. Therefore, the change of the official price of iron may not affect these prices.

Originally, the prices of iron and steel bars were fixed as of the 18 September 1939 level, and the consequent loss to producers was covered by compensation. This regulation has now been lifted and the prices adjusted to fit the costs of production. The new prices were calculated from the costs of iron and steel mills and allow a four per cent profit. An annual production of 600,000 metric tons of pig iron and 500,000 metric tons of steel bars is expected to be reached. Wire, iron sheets, and other Principal iron and steel products will be affected by the new price system as follows:
Nails, Wire, and Iron Cable: The price of No. 12 nails was raised to 320 yen per keg. The black market price is about 4,000 yen, and the price of No. 8 wire, over 4,000 yen. The price of iron wire without zinc plating is about 70 per cent as much as wire with zinc plating. According to the official plan, then production of these items for the third quarter of this year was to be 12,000 metric tons, but considering the present rate of supply of materials and the inadequate facilities of factories, actual production will barely reach 2,000 tons.
Galvanized Iron Sheets and Tin Plates: The price of No. 31 (3 x 6) galvanized iron sheet (flat base) was raised from 2.35 yen to 19.30 yen per sheet. At present, only one shop of the NIPPON Steel Pipe Company is operating and contrary to the plan of production of 3,000,000 sheets (11,000 metric tons) for the third quarter, actually only 100,000 sheets will be produced. The price of tin plates was fixed at 3,650 yen per metric ton. Nevertheless, the stimulative effect of such a measure on actual production will be rather negligible.
Wire Cables and Other Products: The price of cable was fixed at 16,660 yen per metric ton (564 yen per meter). The actual amount of production for the third quarter will probably be 1,000 metric tons, instead of 4,000 metric tons as planned originally. The production of shovels and picks will be 30 per cent of the amount planned, which was 500 metric tons for each item.
Nickel-chromium wire for electric heaters is the only item left for consideration. Its production is estimated at from five to ten metric tons per month, while the total demand for this winter is estimated at six metric tons.

With regard to steel vessels, vehicles, and machines, 50 per cent of all metal parts going into their construction is used for steel vessels alone. Therefore, if the price of metal increases by ten times, the cost of shipbuilding will rise about 50 per cent.

ITEM 6 Mitsui-Tagawa Mine Workers Strike - Nippon Sangyo Keizai - 18 Dec 45. Translator: K. sato.
Full Translation:

All the miners working in the first, second, and third pits of the MITSUI-TAGAWA Mine formed an organization called the Machinery Labor Union (KIKAI RODO KUMIAI) and demanded higher wages and better treatment. Their demands for a raise in wages and a 48-hour week

- 4 -

(View Page Image)
ECONOMIC SERIES: 90 (Continued)
were not met, however, and they went on strike.

ITEM 7 Ship Building for Minimum Maintenance of Japanese Economy - Nippon Sangyo Keizai - 18 Dec 45. Translator: R. Shibata.
Full Translation:

According to an announcement by the Publication Office of General Headquarters, strenouous efforts are now being made by the Japanese to build various types of ships, such as barges, tugboats, fishing boats end others which are essential to Japanese economy.

A directive has already been issued which allows all available non-combat ships to be used by the Japanese Government. This directive states that the Japanese Government is to take all possible steps necessary for shipbuilding, securing laborers, preventing absenteeism, and carrying on maintenance. The plan is to be carried out within such time as is necessary for the minimum maintenance of Japanese economy. The figures included in the plan are as follows: A. Ships needing repair: 928,559 gross tons. B. Ships under construction: Steel ships—1,221 vessels, 372,600 gross tons (including 23 vessels of more than 5,000 tons); wooden ships—1,356 vessels, 244,000 gross tons. C. Total tonnage: Steel ships (including those now being used)—1,897,100 gross tons; wooden ships—244,000 gross tons.

DISTRIBUTION: "X"

- 5 -